Built to last: Lenovo's ThinkPad 11e Chromebook reviewed

Price (RRP): $769; A model without a touchscreen can be found for $649;
Manufacturer: Lenovo
If you're at all worried that a laptop mightn't survive the backpack of one of your kids, Lenovo's decision to make a military grade computer for under $700 might grab some attention. Now, is it any good?
Features
Windows and Macs may get most of the attention, but Lenovo is showing that a Chromebook can steal the show in the ThinkPad 11e, a machine that takes the DNA of the durable ThinkPads and makes it a little more education friendly by bringing Chrome to the table.
This machine is called the ThinkPad 11e, and it takes that basic black design the Lenovo (and former IBM) ThinkPad computers have had for ages and shrinks it down for a different group of people.
As such, you'll find an 11.6 inch touch-capable display here running the high definition (HD) resolution of 1366×768, a combination that results in a pixel clarity of 135 pixels per inch. Lenovo has included a hinge on this computer capable of making the screen fold back against the computer, making it a 180 degree hinge.
In the main part of the computer, you'll find all the juicy innards which make a computer tick, with Intel's Celeron N2930 processor, a quad-core chip clocked at 1.83GHz that is paired with 2GB RAM and 16GB storage. A full-size SD card slot is included here, providing a way of expanding on the included storage.
Google's Chrome operating system is found here, a departure from the installations of Windows or Android typically found on Lenovo computers, with this operating system based around the experience of using the Google Chrome web browser. Programs are run inside the Chrome browser as tabs or windows, and while it helps to be online to use a Chromebook, it is not a requirement, and you can write documents or use local files like music and pictures without having access to an online connection.
A camera is included with the ThinkPad 11e, a 720p HD camera found just above the 11.6 inch display.
Wired connection options in the ThinkPad 11e include support for one USB 2.0, one USB 2.0, a 3.5mm headset jack, the aforementioned SD card slot, an HDMI, and Lenovo's proprietary charge port, while wireless connectivity options are handled through 802.11a/b/g/n/ac WiFi, with support for Bluetooth 4.0 also used here.
The battery is built into the Lenovo ThinkPad 11e, and is rated up to eight hours (4-cell, 35Wh).
Performance
When picking a computer for the little ones, you don't always have to choose between Windows and Mac, and if they're just going to be writing and surfing the web,
There are other options, of course, and one of these is Chrome, an operating system devised by Google based on the Chrome web browser that many people use around the world.
As such, it won't run apps made for Windows or Mac, and instead runs apps that are like little webpages made for the same browser you can load on your regular Mac or PC. Many of these extra apps are made in a way that you have to be online and connected to the web to use, but if you're not, a Chromebook can still be used.
Office applications such as Google Docs — complete with spreadsheet editing, document writing, and presentation making — can be run from a Chromebook without being connected, and there's even some space for you to store music and movies if you feel you want to use it for entertainment,
Chromebooks also come with the added bonus of not attracting too many viruses because, again, it's a web browser, so this feature makes it suitable for people who aren't too familiar with computers and security, and who spend a lot of time online, whether it be through reading and writing email, going to websites, social networking, and even playing the odd game here and there (because titles like "Angry Birds" and "Minecraft" all exist for Chrome OS, too).
So there's more out there than just Windows and Mac, and Lenovo's ThinkPad 11e takes that "more" and packs it into a machine that is designed and built to resemble a typical ThinkPad, those black marvellously made machines Lenovo (and at one point IBM) were known for making.
The design of this computer is very specific, and we are reminded of the heritage IBM made for the ThinkPad, simply because this is unmistakably in that style.
Black chassis, black keyboard, and a build that says "I can survive your life", which is important, especially where education is concerned.
But more than just a ThinkPad, this is a MILSPEC ThinkPad. If that looks like just another acronym, what it means is the ThinkPad 11e is more rugged than your typical computer, with the ability to withstand drops, falls, and the possibility that someone might throw it at someone else (though try not to do that, not just because it's silly, but also because the 1.4 kilogram laptop will really hurt if it hits you).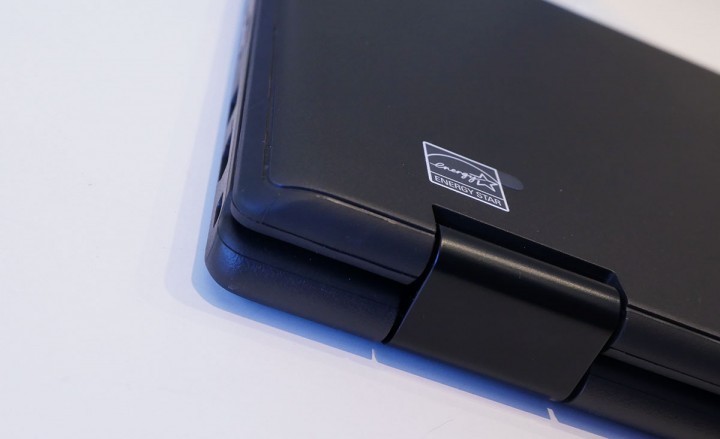 Lenovo makes this machine rugged by throwing in a rubber bumper into the design that takes the brunt of forces, while a thicker plastic body reinforced with glass-fibre is noticeable too, with larger bezels around the LCD to protect the screen from crashes, strengthened hinges and brackets, and a keyboard that apparently has been anchored in place to stop kits from trying to pry the plastic letters off their points.
In fact, whenever a company tells us that a machine is MILSPEC tested, we'll drop the machine to see how it handles, and here in ThinkPad 11e, we found a survivor with no problems. We even stood on the machine for a moment to see if it could handle our weight, which we wouldn't recommend, though this one did survive.
One downside to this impressive ruggedisation is the weight, which is noticeable because it's one solid brick. While most small computers try to keep the load down, Lenovo's ThinkPad 11e feels the full 1.4 kilograms, which is heavy for such a small computer, one with an 11 inch screen. Most of this is reinforced rubber pieces and a chassis that can take a beating, but the weight is definitely noticeable.
But hey, that's one of the things you get for having a rugged computer.
Beyond its ability to survive a fall, you'll find general use of the machine to be fairly good. We're a little surprised to see the touchscreen model of the ThinkPad 11e arrive only with 2GB RAM while its less expensive touch-less brother comes with 4GB, but for the most part, the machine still handles itself well.
There are some slow-downs here and there, usually when you're touching the screen to get the app menu to pop up, or if you're running more than four or five tabs, with some of the lag appearing as the words creep onto the screen when the Chromebook is saving to the cloud, but for the most part, the system cruises along as most Chromebooks do: with ease and stability.
Over to the screen, and this is one area where Lenovo gets good marks, incorporating a 11 inch touchscreen LCD with solid viewing angles and a fair amount of brightness.
We do need to point out that this is most definitely not a tablet, though. Chrome OS just isn't there for touchscreen control, and it's clear that the operating system — being based off a web browser — is mostly made for the mouse. You can touch and prod things if you choose, scrolling webpages with a swipe of a finger or loading up the Chrome app menu by touching the grid icon at the bottom of the screen, but a mouse is going to work best here until Chrome makes it more finger friendly.
That said, this is one computer that could work as a tablet if you wanted to, as the hinge provided can make the screen flip all the way around so that this computer is used like a tablet, similar to what we've seen from previous hybrids.
Used in this way, the touchscreen is relatively snappy, and you could type on the machine if you wanted, but we're not sure why you would specifically do this, mind you, when the keyboard is one of the better features of the ThinkPad 11e.
It has the right amount of travel, a solid click sound, and generally just feels fantastic to use.
This is Lenovo at its best in this keyboard, building something that performs beautifully, and even though Google has a great template for Chromebooks, and this is close, but it feels even better, because it's a Lenovo ThinkPad keyboard tried and true, the sort you get on the good — no, great — ThinkPad machines.
Why can't more keyboards be like this? Hey, why couldn't Lenovo's Yoga keyboards be like this?
This keyboard is stellar, and even competes beautifully against the Apple MacBook keyboard, long considered one of the best keyboards in the business.
We rarely had a spelling error or dash with failed punctuation on this keyboard, and with we saw more like it.
Lenovo's mouse and touch isn't too far off these either, with a quick and responsive touchscreen that had no problem with the few gestures Google's Chrome OS can handle, while the basic touchpad was itself speedy enough to use it to browse the web, too.
We even like knowing there's a USB 3.0 port here, though two would have been more handy than one, and the inclusion of 802.11ac is easily one of the nicest things Lenovo has provided.
This last one is important, because it means wireless speeds can be very speedy, especially when most other laptop companies still struggle with throwing it into their computers unless you spend over $1500. Seeing it in a machine that doesn't nearly net that sort of price tag is very cool.
Make no mistake, Lenovo's ThinkPad 11e Chromebook isn't a bad computer by any stretch of the imagination. It's very well built, and comes with one of the best keyboards in the business (though it can be seen as a tad noisy).
But it's not worth the cost, no way.
Lenovo's Chromebook 11e carries a cost of $749, and we suspect — given what we're seeing — that most of that cost comes from the case, the ruggedisation, and all of that military grade build that has been thrown into this machine.
It's true: the Lenovo ThinkPad 11e Chromebook is beautifully built, and the moment you pick this computer up, you'll feel a quality that few computers have. Not even the aluminium unibody of the MacBook Air feels like this, and we spent time in our review throwing this around, dropping it on occasion, and even standing on it, though we did take our shoes off.
But it's also a Chromebook, and that part of the market was always supposed to be less expensive than the Windows section.
As such, it is very, very hard to justify an over $700 asking price for what is basically a Chrome browser on steroids, it really is. Just under $500 and we'd see it, but tack on well over a hundred more, and it becomes an expensive instance of web surfing and office writing.
The battery could also do with some work, managing a relatively mediocre five to six hours in our experience, though if you use the machine for more of that multimedia — you know, those movies we mentioned earlier — we suspect the life would drop even more.
Lenovo could probably adopt a better charge port, too, which in this computer relies on Lenovo's recent reversible charge connector, a port that is neat because it doesn't matter which way you plug it in, but isn't nearly as useful as the Chromebooks we've seen that charge from the much more standard microUSB port.
Mostly, though, the concerns from this computer come from its price, because while we totally agree with Chromebooks being ideal for education — and the "e" in the model name seems to sit well with that, also — a $649 price for what's on offer is a little unbelievable, even if this will survive the school backpack better than most computers ever will.
The issue here is that while Lenovo has produced a pretty solid computer worthy of the "ThinkPad" name, it's a shame it's just a Chromebook, because this really needs to do more for the price being asked.
Conclusion
You might not know this, but computers can take a bigger beating than most realise. They can survive the way adults treat them, and some of us are pretty brutal.
But kids, well, they're a different group altogether, with backpacks tossed, thrown, falling and landing hard on asphalt and cement, and giving what's inside a serious shake up.
Some computers will survive this treatment, this torture, without a second thought, but others have serious problems and could emerge after months of physical abuse barely hanging on by their hinges.
That definitely won't be what happens to Lenovo's ThinkPad 11e, a machine that brings a hint of drop-resistance to a machine sitting under the thousand dollar mark.
We need to say this: we like what Lenovo has produced, we really do, because here is a laptop that can survive a beating made for an audience that will certainly give it one.
But we're not sold on the price, because spending $769 isn't an easy call for something that is only a Chromebook, especially when that entire market was designed for budgets.
If ruggedisation is something you definitely need, Lenovo's ThinkPad 11e will fit that bill, but just be aware that this is pretty much a writing, web surfing, and social networking machine, and if you're buying it expecting to install Windows apps in the near future, this will not work for you.
Built to last: Lenovo's ThinkPad 11e Chromebook reviewed
Price (RRP): $769; A model without a touchscreen can be found for $649; Manufacturer: Lenovo
Built to survive minor drops and scuffles, and it is very sturdy; Rugged to MILSPEC; Screen can lie completely flat; Touchscreen included; Includes a 180 degree hinge that can fold the touchscreen against the back of the keyboard to make a not-quite-tablet; Runs Google's Chrome OS, and so is very easy to use (provided you know how to use the Chrome web browser); Fantastic keyboard, and one of the best small keyboards we've ever seen; Includes 802.11ac WiFi;
Very, very expensive for what's on offer; Only 16GB storage; Touchscreen model has less memory than the touch-less variant; Occasional speed issue; Heavy; Lenovo proprietary plug port, even though Chromebooks are beginning to adopt microUSB for charging;