A comfortable evolution: LG's flagship G4 reviewed

Price (RRP): $869 for plastic back, $929 for leather and plastic in the same box (expected prices, but could change); Available on plans from Optus, Telstra, and Vodafone;
Manufacturer: LG
LG's 2015 flagship is here boasting a large Quad HD display in a smallish body, a camera with manual controls, and a leather back. Can the G4 tackle the juggernauts that are Samsung's Galaxy and Apple's iPhone?
Features
LG's fourth flagship phone is the G4, also known as the LG-H815, a continuation of the work LG has made with last year's G3. This year, the handset appears to be evolutionary, taking a design from last year and evolving aspects of it, starting with the insides which are totally different.
Gone is the quad-core Qualcomm Snapdragon 801 processor, replaced with a six-core Snapdragon 808, reliant on a setup of one dual-core chip clock at 1.8GHz and another set of four cores clocked at 1.4GHz.
This works with 3GB RAM and comes with the very latest released version of Android "Lollipop", version 5.1, running on 32GB of built-in storage, with room to move via a microSD slot.
Wireless connectivity is offered through the standard flagship fare, with 802.11a/b/g/n and 802.11ac connections, 4G LTE rated at Category 6 (300Mbps down, 50Mbps up max), Bluetooth 4.1 with A2DP and LE, apt-X connectivity, GPS with A-GPS, Near-Field Communication (NFC), and infrared for remote control functionality.
Wired has far less, which is to be expected these days, with only 3.5mm jack and microUSB the only ways of connecting cables.
Cameras can also be found here, with a 16 megapixel camera on the back taking advantage of laser autofocus and optical image stabilisation, as well as a flash, with 4K UHD video capture capable from this camera, also.
The front of the smartphone also features a camera, this one set to 8 megapixels.
All of this sits under and around (in the case of the front-facing camera) the display, which is set to 5.5 inches and supports the Quad HD resolution of 2560×1440, offering up roughly 538 pixels per inch. Corning's scratch-resistant Gorilla Glass 3 protects this display, with the whole screen being gently curved up the vertical edge of the display.
Few buttons are found here, with no soft buttons on the bezel of the handset and just virtual buttons on the display, though physical buttons can be found on the back, with a power button flanked by volume up and volume down above and below the power button, all of this below the camera.
Ports are also equally limited, with only a microUSB port and 3.5mm headset jack on the very bottom of the phone.
The back of the phone is removable, however, revealing a microSD slot and microSIM slot, as well as the battery, which is replaceable and is rated at 3000mAh.
The backs of the phone are replaceable, too, and arrive in either leather-wrapped plastic, or just plastic by itself.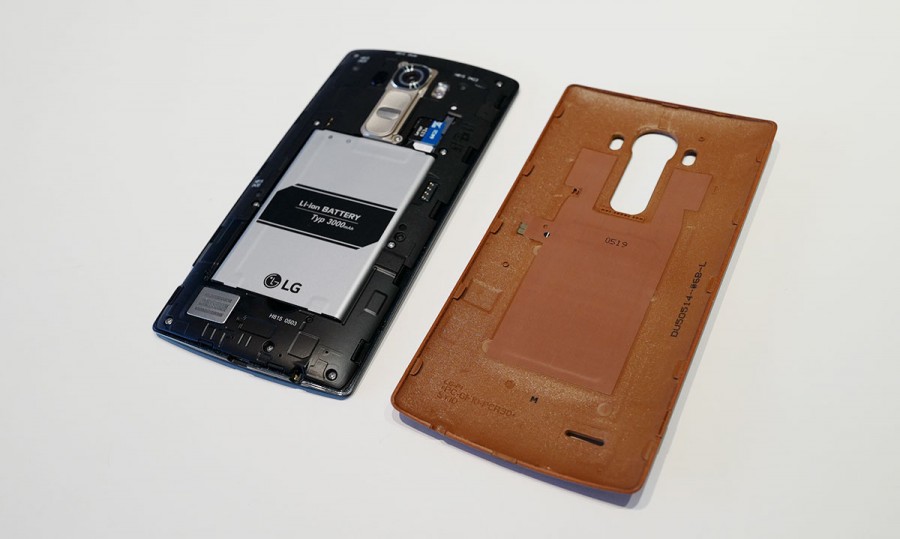 Performance
If you can believe it, we're up to LG's fourth incarnation of a major Android flagship smartphone, with the G4 now well and truly here.
For this iteration, LG has updated the design, improved the screen, replaced the camera, and made something a little more premium, and we've already listed the specs in the features above, so let's just get stuck into the phone, because it's far more interesting in the flesh than on paper.
In the hands, the design of the phone isn't so much a departure from the work LG set out in the G3 before it, but rather an improvement with some learnings applied from the Nexus generation of devices LG built for Google before.
There's a similar body complete with nearly the same look under the removable exterior cover, though it's a little larger and now has tightened up bezels that kind of make you recall the way the Nexus 5 looked. The curves are soft and the corners more angular, and the screen actually features a curve.
Yes, LG's love of playful displays returns in this model, with a display that curves along the vertical, different from the curve found in the Galaxy S6 Edge.
Rather, this is a curve that is reminiscent of what LG put into the G Flex smartphone, curving to fit your leg when you put the phone in your pocket. It does tend to blow out the size a little, something we'll get to a little later as it makes the phone thicker than a lot of other handsets out there in some sections, but it's also a lovely display.
Keep in mind, it's not the same style of display in the G Flex, and you can't sit on it or test its pressure with your fist like you could in that model.
It might survive drops a little better, with some wiggle room from the flex already there, but this appears to be curved for your leg, not for your backside.
That curved display is also 5.5 inches and yields a resolution of 2560×1440, or QuadHD, which is the same as what LG offered in last year's G3, but with a bit more brightness and a bit more contrast. Indeed, this is quite a bright screen and very easy on the eyes, producing 538 pixels per inch, and blowing Apple's many definitions of Retina (usually at least 326 pixels per inch) right out of the water.
Good luck being dissatisfied with this screen, because we most certainly are not.
LG's design also curves into the hand nicely, though it doesn't like sitting on tables, with a plastic based body flowing into a curve at the back. We mentioned that the front is curved, and it is, but the back is curved too, and this helps the phone almost have an organic feel to it, soft and friendly, with a choice of leather or plastic for the back dependent on which model you end up buying.
For the G4, LG has taken the time to use a different processor, skipping on the eight-core processor HTC used in its One M9 and going for something different, likely because of how hot that thing got and how it tends to destroy batteries.
Instead of an octa-core chip, LG is relying on something with six cores, utilising Qualcomm's Snapdragon 808, a processor that is one part dual-core 1.8GHz and another part quad-core 1.4GHz, making the six cores of the 808 processor.
This six-core chip is paired up with 3GB of RAM and 32GB of internal storage, with this set of specs lending itself to some pretty solid performance on both the system and battery fronts.
In system performance, we found only a skerrick of lag as we opened apps and multi-tasked, with often that hint of a slowdown popping up when we brought the phone back from standby right into the camera app, which can be done not just by sliding up on the icon on the lock screen, but also from double clicking the volume down when the phone is on standby.
You might see more lag when excess programs are running, and LG's overlay of Android is pretty close to what Google sets out, so you can simply press the square multitask button and "clear all" apps quickly from one button, or slide out others by flicking them out or pressing their individual "x" button to close them.
Easy.
System performance can also be measured by synthetic benchmarks, and here the results are strong, though not as high-end as what some of LG's competitors offer, the 25712 benchmark we clocked on Quadrant not quite as up there as either of the eight-core chips offered by HTC or Samsung in recent phones.
That said, few will likely exhibit any real issues with the performance on offer, and we found our regular assortment of writing and gaming apps ran without any problem, putting this phone up there in terms of performance, even if it doesn't bench as high as the rest of them.
Using Android is quite easy too, and as mentioned before, LG hasn't exactly reinvented the wheel when it comes to this overlay. It's not LG's first dance with Google Android 5.0, either, updating the G3 with "Lollipop" only recently, and this feels like a continuation of that understanding, of those improvements.
Gone are the typical Android on-screen icons from version 4.0 and higher at the bottom of the display for back, home, and multitask, replaced with a simple triangle, circle, and square.
You'll have several home screens available at your disposal, all except for one widgetised and ready for shortcuts, icons, and the little mini-apps known as "widgets", with LG even including one of its own by default, a weather app that gives you a hint of the day's activities and changes colour to match your backdrop.
You can still pinch to zoom to get a whole picture of those home screens, and push apart your fingers to push all your icons, shortcuts, and widgets aside, letting you gaze at your background picture, which is especially handy if you've set this background to be a photo of a loved one like a digital photo frame.
A second extra home screen is also offered, all the way on the left with no way to be moved (we tried, it doesn't work). This is LG's "Smart Bulletin" screen, which shows up your daily calendar, remote control, health access for LG's own apps, tips for the phone, automated settings creator for the phone (useful if you want an app to load when you're at home or when earphones are plugged in), and a music app.
Overall, this could have more compatibility for other activities, with music only relying on the built-in music player and nothing else — no Google Play or Pandora, for instance — and no third-party apps running through this. If you rely on Jawbone's Up, you can't have a panel that loads this information in your list, nor can you add an RSS reader or Flipboard reader here.
This lack of expandability makes LG's Smart Bulletin screen kind of a waste and very unnecessary, as it doesn't really find a way to weave its way into your life. Thankfully, you can turn it off without any real problems, and just get to using the phone.
And outside of it, you'll find app menus, widget menus, and a fairly flat and clean look that is more Google than LG, which is nice to see. LG has even left some of its trademark Android overlay editing features, such as the ability to edit icons and replace them with other pictures, and even play with the virtual buttons at the bottom of the screen.
If that's a little too complicated for you, LG has included another "easy" home screen with a few screens prepared for you with bigger icons, ideal for the user that doesn't want to fuss or fiddle with much of the Android home screen concepts normally available.
Mobile performance is also strong, tested on the Telstra 4GX network in both Sydney and Melbourne, and producing benchmarks from between 28 and 112Mbps, no real surprise given the Category 6 LTE technology built inside this phone, which typically caters to speeds up to 300Mbps, though this is network dependent, of course.
Most people in Australia will see speeds between the 15 and 60Mbps mark, though it is theoretically possible to hit as high as 160-200 locally as the networks improve.
Even the battery handles itself well, and for this phone, we brought in a new battery test to run alongside our regular day-long rundown test.
In the first test, which has us rely on wired headphones, no Bluetooth, checking the internet, doing some social networking, making phone calls without headphones, reading news, writing and checking emails, and generally using the phone, we found a solid day was possible without any problems, lasting the full 24 hours, though not much more.
The second test was to see if it could last how this journalist usually uses phones, with Android Wear connected, Bluetooth switched on and working with wireless headphones, making phone calls, social networking, web surfing, and the regular assortment of mobile phone use, allowing us to discover that a day of life was again possible, though it would need to be recharged the moment the phone got home.
That's not bad at all, and while it's not the 1.5 to 2 days of life we hope for, something at least one 2014 flagship phone can achieve, it's impressive life for a 2015 flagship phone, with LG winning in battery performance thus far for the top-tier phones this year.
Photographic performance is also quite interesting, and not just because LG has provided the specs for a strong mobile camera, but also because it is embracing Android Lollipop's ability to snag RAW images out of the camera, meaning you get a little more room to work with if you're snapping away photo, though sometimes you may find the RAW files look a little noisier than the JPEG result.
Most of the time, LG's auto and simple modes will do the job you're asking for, firing off a shot here and there from the 16 megapixel camera on the back with its low-light friendly F/1.8 lens, which is the lowest of any other smartphone we've seen.
That alone is an improvement to smartphones, but the sensor size is also a little bigger than what was offered on the G3, meaning it should be a little more friendly to low-light, also, and it is.
Shots taken at night from the auto mode reveals some strong dark areas with little obvious noise, and while you can obviously see motion blur, the quality is quite good, and we're happy, which is also the case for our shots in daylight.
Laser auto-focus also helps as does the element of optical image stabilisation giving you just that much more wiggle room than you might expect, and there's also that manual mode.
Yes, that manual mode.
"That" manual mode provides control of ISO, shutter speed, white balance, manual focus (which you can dial in with a slider), and exposure, though it does lock the aperture to F/1.8. That's not a bad thing, though it would be nice to have true aperture control, because you don't really get that.
Rather, the camera on the LG G4 tends to stay open as wide as it can, letting in as much light as possible, and keeping the depth roughly the same, with close up images giving you the typical depth fall-off you'd expect from a macro with a low aperture, while the landscape and portrait shots tends to keep as much as possible in focus, as if you were focusing on infinity, which we suspect you are, at least from the smartphone's point of view.
Overall, you're likely to be happy from the quality offered by this camera, and especially in regards to colour.
That's one of the surprising inclusions offered by the rear elements, with a colour spectrum sensor on the back to analyse the colour and help recreate accurate colours from photos being shot. It's interesting to watch this at work, with scenes that often look as real — at least from a colour point of view — as when you shot them, and a white balance and colour change that happens quickly from the camera's point of view.
On the front, you'll also find a decent 8 megapixel shooter, providing more than enough room to move for selfies, with the camera here producing decent shots, but nothing quite as detailed as the camera on the back.
LG has included a couple of neat additions, such as the hand tracking that allows you to fire off a selfie simply by tracking your hand and forming it into a fist (giving you a three second timer), a four-shot selfie firing off four selfies when you hold down the volume button on the back, and the selfie with flash that pushes out a frame of pinkish light at your face from the screen adding a bit of extra light to your front-facing self portrait.
And there are finally some of the extra bits and pieces on the LG G4 that round out it as a positive performer, such as the microSD slot, meaning you're not stuck with the 32GB on-board, which is little bit nicer than what another major competitor *cough*Samsung*cough* did with its recent flagship phone.
That's especially handy given that a JPEG from this camera tends to hit around 8 to 10MB in size, and means that with music, photos, videos, and more, you can expand the memory considerably. We loaded in a 64GB microSD, but with microSDXC supported, the sky is the limit, and the new 512GB microSD cards would also work. Yowza.
The microSD upgrade option is also handy given that this phone supports 24-bit high-resolution audio, and that means if you're already into that digital vinyl revolution that is high-res audio, you can play it here, too.
As a point, one of the albums we test regularly for headphones and speakers is a 24-bit 192kHz version of "Kind of Blue" by Miles Davis, which comes in at a massive 1.1GB for 50 minutes of audio. That practically perfect recording will play back on this phone, and paired with the right headphones, it is audio bliss. If we didn't have that microSD card slot, we'd probably have to delete that at the first sign we were running out of memory.
There's also still a remote control, which will be handy if you use a TV, amp, projector, or air conditioner, with this phone supporting that tech, too.
But beyond this, easily the feature that will get the most look in is the back.
Ah yes, the leather back.
The leather back is an interesting touch simply because it's a deviation from what we typically regard as "premium".
For the past few years, it feels like we have been pleading with smartphone makers to take up what many regard as premium materials, things like metal, wood, and glass; materials that feel substantial in your hand and lend themselves not just to a slight degree of heft, but also to strength, because these high-grade materials will always feel better than plastic, especially in a device that you keep with you every day and have to hold frequently.
Apple has been there for quite some time, as has HTC, and we're finally seeing the other majors pick up on that recently, with Sony bringing in glass and aluminium, as well as Samsung for the S6 an S6 Edge.
But LG has a different approach, and that is to rely on a different sort of premium material, a softer premium material.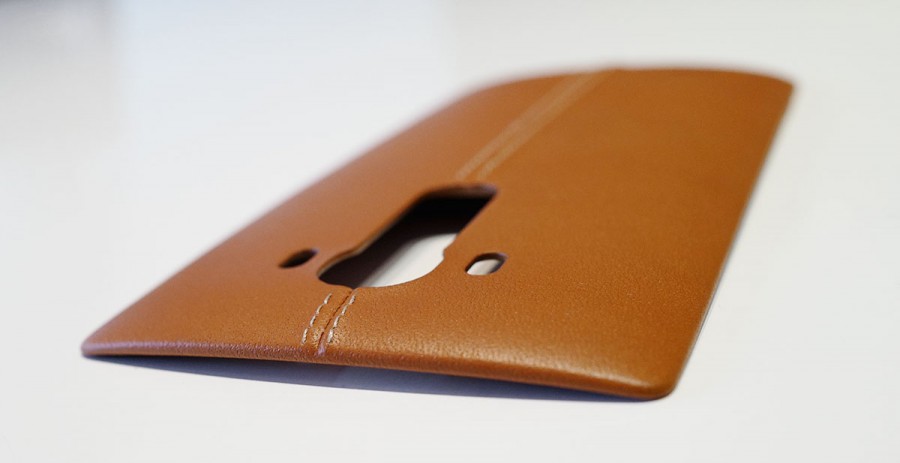 For LG, that softer premium material is none other than leather, with a genuine cowhide used for the backing plate that has seen 12 weeks of work to get it soft enough and tanned properly using vegetable tanning, slimmed and skived down to the right thickness, which is so thin and luxe you'll wonder why LG didn't apply the same process to the watch band it provides with the G Watch R.
We're not sure we get why LG had to include stitching all the way up the middle: if we're being cynical, we have to assume that it's a not-so-subtle nod to Samsung's fake leather plastic stitching on the Galaxy Note phones and tablets, with LG basically saying "hey, we're using real thread, not a plastic imprint of one".
In any case, this use of leather helps to make the G4 achieve a feeling of premium quality, but it's still not the same as using a high-grade material, and it's also not one all users will appreciate.
We can see the vegetarians up in arms already, and for those, there's a plastic only back included in the box too, or with a plastic-only back variant which can also be found for about $60 less. It's the same phone, but you get just the plastic back, which has a fragmented diamond-like look, though it's obvious the back is plastic and just plastic.
There's no heft of metal, no slickness of glass, and no warmth of wood. The leather is nice, and it's comfortable to hold and cradle in your hands, but it's not going to be to everyone's liking.
And that brings us to the problem of the G4: no matter how nice the leather is, and no matter how unique a texture the diamond-like look gives off, it is leather atop plastic, and just plastic. It's not even a high grade polycarbonate body like the sort Nokia and HTC once used in smartphones, either. It's thin plastic, with a hint of rigidity though a slightly feeling of it being flimsy when you take it off, not so dissimilar from the sort that used on LG's previous flagship, the G3.
In fact, there are elements of this phone — the G4 — that feel like they were extracted from the G3 and left the same, but with some updates applied.
We've already touched on this, but the screen is the same size and resolution. It has been improved, though, with more brightness to offer, and it looks like LG's understanding of displays has also impacted the battery life, because this is better, too.
But if you open up the back of the phone, you start to see the resemblance.
For instance, the batteries are almost identical, and yet not. They're both 3000mAh, but off slightly in dimensions and voltage, and the difference is so marginal, so slim that you can't actually put the G3 battery in the G4 because it won't fit.
There's also the same speaker on the back at the bottom left, and while you get a microSD card slot to expand the memory — which we love — you also have a microSIM slot to use, an older format that we're surprised LG didn't upgrade from, because now LG is pretty much the only smartphone maker that doesn't support the nanoSIM format.
It's a minor thing, and any Australian telco will change your SIM over for free if you're a subscriber to their service, but it means if you own a nanoSIM device like the iPhone 5 or iPhone 6, you can't just take your SIM out and slot it into this with ease.
Even Samsung is on-board with nanoSIM in its flagship products, and it resisted for a year, so you have to wonder why LG is still persisting with an older standard when it could have saved some hardware space and gone with the more modern SIM slot.
One feature has been pulled from the G3 design, though, and it's clear from opening the back: wireless charging.
While Samsung is just beginning to embrace the idea of Qi's wireless charging standard, something Nokia (now Microsoft) has been using in smartphones for a couple of years now, LG was here last year, throwing in support for wireless charging in the G3.
And yet in the G4, it's gone, with the required pins missing on the back, and no connection for the wireless technology in the rear case, which is what the pins connected to. You can bring it back, we're told, for an optional cost in one specific case LG is making for the G4, the G4 QuickCircle case, but that's it, and if you don't like the case and want wireless charging, too bad, because according to LG's people, it's not a feature that was really in demand.
Ruggedisation isn't here, either, though LG never really included it, so we can't say we're all that surprised. LG says there's a little bit of room to move on that back cover, with liquids being easy to wipe off leather, which is at least something, though it won't help you if a beer falls on your phone.
It's even thicker than its predecessor, with that curved display increasing the thickness to a maximum of 9.8mm, which is thicker than any other phone it competes with, as the Samsung Galaxy S6 Edge and HTC One M9 both clock in at 7mm and 9.6mm respectively, while LG's G3 even skates by at 8.9mm.
LG could certainly make the case that the gentle curvature of the display means it's not 9.8mm across the unit, and that's true, but this phone is still fairly thick, and with the back curving out, it doesn't balance well on a table when you press on it, bowing and moving from left to right as you balance it on its centre point.
You'll also find a few quirks here and there, such as the inability for the phone to be on mute without leaving vibration on by default. You seem to have to go fairly deep into settings to disable vibration in general, and it would have been nice to have that half step between total silence and vibration offered like other phones.
It's also a little odd to change default internet browser, with the default browser app setting missing from Android.
There's a setting for apps, but this merely shows you your downloaded and installed apps, with the default apps for home screen and messaging displayed in their own settings menus. If you want to change default web browsers — which we wanted to the moment we got the G4 out of its box — you need to actually go into apps, press the settings icon in the top right corner, and press "reset default apps", which will let you start up another browser that you want all for yourself.
There's an easier way to do this, LG, and it's built into Android normally, with a default apps menu. This isn't it, and we're a little surprised LG has made this side of things a little more awkward.
Conclusion
LG's G4 is an interesting little handset, and upon first glance, this journalist didn't really know what to make of it. It's one of those phones that looks and feels so much like its predecessor that it's hard to fathom what has actually changed.
And yet.
And yet LG has actually spent some time refining the design, adding a few improvements here and there, and while the phone doesn't strike you like the slick metal and glass monolith that is the Sony Xperia Z3, nor does it try to be that slick almost amorphous thing that is the Samsung Galaxy S6 Edge, there's something still very, very intriguing about LG's G4. One could say it was an elegant phone.
In a world like ours where plastic is so frequently used in smartphones and metal is the premium, it's nice to see a company branch out and try something different. Leather is that difference, as is the gently curved screen, which feels like it was made for your pocket rather than just another gimmick.
And then there's the camera, and while we thought Samsung's Galaxy S6 and S6 Edge had the best camera in the business, LG's gives it a good run for its money. We're not sure which is better — they both have their flaws — but LG's snapper and its support for a not-quite-manual mode is something that will give smartphone photographers something to cheer for, and that can only be good, which is like the rest of the phone.
Interestingly, we think the G4 is a little like a dance with a familiar partner. You've seen the G3 before, been introduced to her charm, and now the new dance is the G4: two steps forward, one step back.
The design is simple, the body is similar, but this new body is a little thicker than the previous generation. There's a solid battery, and more of a reliance on premium materials, but the wireless charging has disappeared.
That's the dance of LG in the G4: two steps forward, one step back, as the company improves elements and pulls back on others, with the result being a phone that is at both familiar and unexpected.
We actually found we were warming to the device more than any other from the lot this year, even with the quirks that make us wonder why LG went backwards on some and forwards with others.
Every phone this year has gone backwards in some way, too: Samsung ditched water-resistance and upgradeable memory, frustrating us on both in the process, while HTC skipped out on its two-camera concept in exchange for a 4K camera that offered up mediocre exposures. That means there's probably room for LG to go back similarly on some of last year's features, skipping them for whatever reason, if only because they don't think they need to be in there.
And there are features that should be here but aren't, things we miss from other phones, such as a super-slim design like the S6 Edge offers in the Samsung camp, and the high-grade metal finish from the HTC One, not to mention the complete omission of a fingerprint sensor which does make so many phones just that much more secure than the LG G4.
But the G4 has something warm and friendly about its round design, and while we might bicker about whether leather is a true premium material in the grand scheme of smartphone design, the G4 is one of the most comfortable phones you'll hold this year, conforming to the shape of your hand with a material that is soft to the touch.
That combined with an solid spec sheet, fantastic camera, brilliant screen, and one of the leaders in battery for 2015 makes it a star and worth checking out.
A comfortable evolution: LG's flagship G4 reviewed
Price (RRP): $869 for plastic back, $929 for leather and plastic in the same box (expected prices, but could change); Available on plans from Optus, Telstra, and Vodafone; Manufacturer: LG
Feels great in the hands; LG's display is one of the best in the business; Curved display feels like it was used here for a decent reason rather than just a gimmick; Fantastic camera with some manual control in the software; Excellent system performance; Surprisingly solid battery life; Upgradeable memory via the microSD slot;
No fingerprint reader; Thicker than previous model; No water-proofing; While leather might be a premium material, the back is still technically made of plastic and is therefore not all that premium; Leather back doesn't need the stitching; Lacks wireless charging; A few quirks;