A phone with a difference: LG's G5 reviewed

Price (RRP): $1099; Available on plans from Telstra and Optus;
Manufacturer: LG
LG's quest for the ultimate flagship phone has been all about constant evolution, and for its 2016 attempt, we're seeing the best one yet. Is it enough to unseat Samsung and Apple?
Specs
LG has come up with some interesting smartphones over the past decade, but the G5 is different to anything we've seen out of the company prior.
On the surface, you might see a standard phone, but when you get down to brass tacks, the LG is about evolution. Specifically, LG wants to let you make the G5 into something else, with a way of taking out the battery and popping on other ends, such as a camera, a new audio system, and more.
We'll get to how that happens later, but for now, know that the LG has still made the G5 a high end machine, with a Qualcomm Snapdragon four-core 820 processor, much like the HTC 10, with 4GB RAM and 32GB storage, plus a microSD slot in case you want room to move.
Google's Android 6.0 runs here — the version known as "Marshmallow" — and while it looks a little more like iOS in this incarnation, you'll still find support for a fingerprint scanner like other Android 6.0 installations, which is great since one is included on the phone.
A fingerprint scanner isn't the only extra feature you'll get, as you'll find an infrared port for controlling home entertainment devices and appliances, as well as Bluetooth, GPS, Near-Field Communication (NFC) and 802.11a/b/g/n/ac WiFi, as well as the typical assortment of Category 6 4G LTE offering speeds as high as 300Mbps if you need them.
Wired is handled via a USB Type C port at the bottom of the phone, while the top offers a 3.5mm headset jack.
Cameras can be found here — it's a smartphone, after all, and that's pretty important these days — so expect at least one, and closer to three. Specifically, the front offers up an 8 megapixel camera with support for Full HD, while the back delivers two cameras via a 16 megapixel camera and 8 megapixel camera, each with varying lenses for a standard and wide angle respectively. Ultra HD video can be captured from the rear cameras, too.
All of this sits under a 5.3 inch Quad HD display offering a resolution of 2560×1440, with Corning's scratch-resistant Gorilla Glass 4 protecting everything.
You'll need a nanoSIM if you want to play, though, as LG has finally jumped ship to the smaller SIM technology, but the tray here does support both.
Finally, you'll find a 2800mAh battery under the hood, and for a change it is removable.
Design
Sheryl Crow once sang that "a change would do you good", and in the case of LG's smartphone range, that is definitely true.
For three years, we've seen the company try to push out its idea of rear buttons being the best way of using a phone, with the back gradually adopting a curve most companies have shied away from.
And this year, the rear buttons are mostly gone and the curve is completely gone. If you had ever seen an LG phone before this model, before the G5, you'd think the previous designers had all been fired because this is completely different.
This is simple. This is elegant. This is understated, and that's a good thing.
The LG G5 pushes back from that suggestion that a phone is all about fashionably premium materials like leather by actually using the premium materials people have wanted for ages: metal and glass.
This phone is encased completely in metal, with the exception of that 5.3 inch screen on the front, which has your typical coating of Corning's scratch-resistant Gorilla Glass 4.
Try not to drop it, because "scratch-resistant" doesn't equate to "drop-proof", but it should survive an encounter with your keys.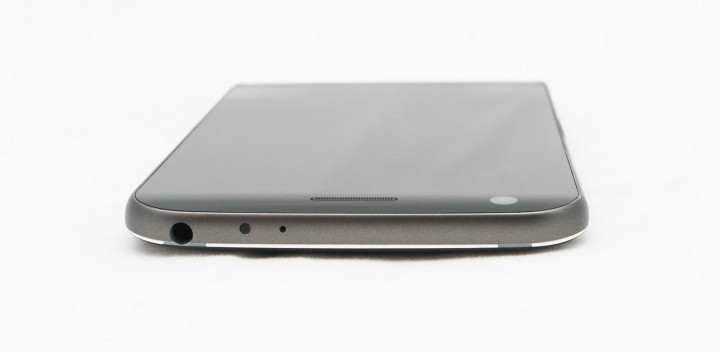 That screen isn't totally straight, though, with the top featuring a gentle curve as it flows up, almost to the point where you could think you're using a curved screen, though it's not quite as pronounced as what we see on Samsung's "Edge" phones.
In fact, the curve here really does nothing, serving to look pretty even though it's barely noticeable, providing just a bit of something extra.
The edges, however, are a little unusual, and that's because as smooth as they are, LG has leg a metal trim in place that has an edge you can feel, making the handholding a little strange.
You'll definitely know when you're picking this phone up, even though the metal can make things a little slippery.
Still, it's not a bad device to hold.
Design is also very different from other phones, and that's because LG has crafted a modular phone.
Along the left edge, you'll find a button that — when pressed — allows the bottom of the phone to drop out and be replaced with other sections.
That means the design of the LG G5 isn't totally set in stone, so while it's a nice and simple looking device out of the box, if you throw in a different accessory, that nice and simple design can change.
Screen
Before we get stuck into the ways the design can change, though, we feel obligated to touch upon the screen.
Seriously, if there's one thing LG knows, it's screens. In the past few years, the company has really proved that it has what it takes to lead this category, releasing some impressive Ultra HD panels in its TVs, the world's biggest supply of OLED TV panels, and making the first Quad HD screen for a mobile phone.
And in the G5, we're getting a third generation Quad HD screen, providing a 2560×1440 panel and a pixel clarity of 554 pixels per inch, meaning razor sharp details. Good luck peeping pixels here, people.
As expected, brightness is pretty top notch here, with excellent viewing angles from all sides, though the G5 doesn't quite have the same sense of dynamism we've seen on competing handsets.
There's no doubting that it's a pretty screen, and definitely very easy on the eyes, but it doesn't quite take on the competition as much as LG might think.
Performance
Aside for a new screen, there's also a new processor under the hood, with Qualcomm's Snapdragon 820 here, a quad-core processor clocked at 2.2GHz that despite having only four cores, handles itself in early tests far better than other processors with more cores used last year.
The reliance on that chip isn't new to the industry, and LG is following a theme. HTC used it this year, and Samsung also did for its overseas Galaxy S7 and S7 Edge models, though Australia received the Samsung-made Exynos processor for its S7 phones.
That makes the G5 the second phone in Australia officially to arrive with the Snapdragon 820 chip, a processor that can certainly handle its own, especially when paired with the right components.
Fortunately for LG, that is exactly what the company has done, bringing in 4GB RAM and 32GB storage, a combination that from what we've seen in the past tends to work well.
Synthetic benchmarks are very good, even if they don't quite put it on par with what Samsung's Exynos-based phones are doing locally, but you shouldn't have any issues regardless.
In fact jumping from app to app and from menu screen to menu screen, the flow of this phone is practically seamless, which is great news for you.
It's hard to pick up on a skerrick of lag, if one exists, and LG has done a pretty good job of optimising the OS, even if Android isn't the way we normally like it. More on that in a moment.
For now, we're finishing up our tally on performance by looking at the 4G speeds, which can support speeds of up to 300Mbps, putting it in Category 6.
LG hasn't yet confirmed exactly which category this sits in, and we've heard variants of the phone exist in both Category 6 (300Mbps down, 50Mbps up) and Category 9 (450Mbps down, 50Mbps up), but regardless of what speed you think it can reach, it is fast.
Tested in Sydney's CBD on Telstra's 4GX network, we found speeds hitting as high as 200Mbps down, practically blowing our eyelids off and making it one of the fastest tests of any smartphone we've ever done. As if we needed a way to churn through our data more quickly, because testing download speeds in this way will definitely do it.
In-use
Outside of performance, there's use, and this one is a little different from what we expected.
We said we'd get to this momentarily, and here it is, with the bad news first: Android on the LG G5 doesn't look as much like Android in its current incarnation.
In the past, LG has offered a pretty lightly skinned interpretation of Google's Android OS, with most of the tweaks there for user customisation.
Care to change the soft buttons at the bottom of the screen? You could do it. Keen to change icons on an individual app basis? You could do that, too.
Theming? No worries, because just as HTC and Samsung have only cottoned onto the fact, it's been with LG phones for a while.
In the LG G5, the same is true except the design of Android has changed: there's no app drawer.
Remember the dots that you used to press on to bring up the app menu that you press on practically every Android phone outside of those from Oppo or Huawei? They're gone.
Instead, the app drawer and widgetised home screens are now one long running flow, with menu-to-menu delivery of app shortcuts on screen-to-screen swiping, similar to what you might see on the Apple iPhone, or the Oppo and Huawei phones we mentioned previously.
We're not sure why on this, to be honest. It's a bizarre jump for LG, which has predominantly kept things pretty close to what Google has offered, and while it might change, Google's Android 6.0 "Marshmallow" does not look like what LG's G5 is showing it, at the moment.
There have been rumblings that it might by Android N, but we'll wait until Google announces that.
And that means the LG G5 isn't Android the way most people familiar with an LG phone — or most other Android phones, for that matter — experience it.
You can get used to it, mind you, because it's more or less the seamless scrolling menu system we've seen time and time again, but you shouldn't necessarily have to, and there should be an option to go back.
There is, of course, provided you download a secondary launcher on the Google Play Store, but this isn't really the same, and we're still a little surprised by the sudden app-menu-less change LG has taken.
A few bugs also pop up here and there, such as with notification sounds stopping the music instead of fading it down and playing the alert on top, or even the physical shortcut for the camera — double press the volume down button — not working when headphones are plugged in, understandably so, but bugs are to be expected.
Fortunately, not all is problematic. Some of the changes are actually great.
After complaining about an LG on-screen keyboard for a while, it has finally improved, with not just customisable height, but more responsiveness and a gesture typing mode that works better than nearly every other gesture typing keyboard out there.
Gesture typing, also known as "Swype" or "Swyping" (capitalised and spelled differently from "swipe" because Swype popularised the concept) is basically a path writing system where you run your fingers from letter to letter on the screen and the software works out the word based on the letters you're gliding your fingers to and from.
Often considered one of the fastest ways to type on a smartphone, keyboards with the concept often get words wrong because letters in gesture typing are of course close to other letters, and so the keyboard is doing its best to extrapolate what it thinks you're going after.
In the LG G5, we were shocked and astonished to discover that gesture typing is super responsive on this phone, providing very speedy and mostly accurate word suggestions, at least in our experience.
We suspect this is helped on by a phone that has been tweaked for better performance, and really this just adds to the overall usability experience.
The other area you may find yourself liking is the fingerprint sensor, and it's clear from this design that LG is borrowing from its work with Google on the Nexus 5X.
Just like in that phone, you'll find a circular scanning point at the back of the phone, and this doesn't just serve as a fingerprint scanner, but also a power button to switch the phone on and off, and return from standby.
Yes, there's a click button underneath the scanner, and you'll need to press that in to switch the phone on and off, but you won't need to press that hard if you're bringing the phone back from standby, as a registered fingerprint will kick the phone back into gear when your finger is held to the scanner.
And this part really works, with a great location meaning your forefinger can easily bring the phone back without adopting an awkward grip just to get the phone back, something both Apple and Samsung still struggle with.
Camera
The camera is one area where LG hopes to show off, and if you've been following smartphones for the past few years, it's poised to be the area that decides whether people plonk down the cash for a phone.
As smartphone cameras signal the death knell for the standard proper compact digital camera, these have to get better to keep people on side, and in the G5, we're seeing something that isn't just better, but also capable of letting you get creative.
We all know that digital cameras are getting better, and developments to the sensors, increased pixel sizes, and smaller circuitry is all helping this area, as is glass capable of letting in more light, but the focal length of a lens is also a big factor for anyone taking a picture.
Most smartphones try to emulate a rough 24 to 28mm focal length, because that's often wide enough to encompass a scene for a 16:9 form-factor, and the LG G5 can do this too with its 16 megapixel sensor.
But the LG G5 also has another trick, and it's one that emulates more of an 8 or a 9mm focal length by providing a 135 degree lens on the back as well. This lens actually works at 8 megapixels, not the full 16, but it essentially gives you to settings to work with, because if you can fit everything you want in using the 16 megapixel camera, awesome, and if not, you have a wider camera to work with.
It's an interesting effect, and while it's not the first smartphone to incorporate two cameras in the one — HTC's One M8 gets that honour, if it is one — LG's G5 is easily the more successful of the two experiments.
Simply jumping between the camera modes is easy, because you'll have an icon at the top of the screen that lets you use the regular lens (one tree in a rectangle) or have the camera dissolve into the wide angle lens using the other icon (three trees in a rectangle).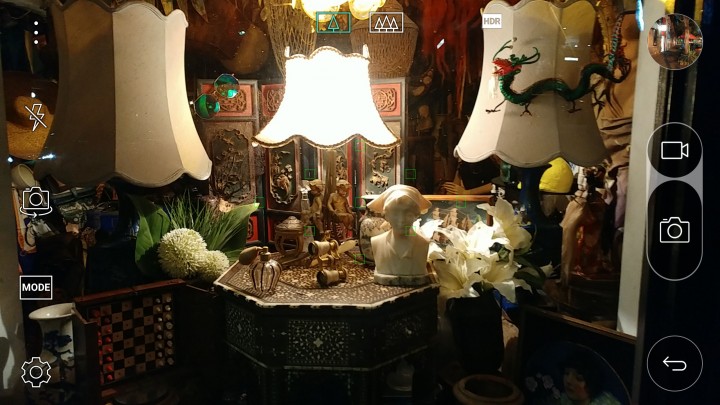 As cool as the technology is, the cameras aren't without fault. Both are capable of some excellent imagery, though the 16 megapixel standard camera is easily the better of the two.
Speed, however, isn't necessarily on the side of the LG G5, because while it can take a shot quickly, it doesn't always, and we actually struggled to capture images efficiently, with the camera often taking its time.
Interestingly, the hardware button that you can add using the camera module seemed to speed things up, if only a smidgeon.
Despite these speed issues, it is possible we'll see some improvements as the firmware tightens up over time.
Get the images off the phone, though, and you'll find some decent quality is to be found, and that's really no shock.
Last year's flagship effort in the G4 resulted in a solid camera with great low-light, and this year's isn't far off, with some decent images in dark conditions and some lovely contrasty daylight.
But those results come from the 16 megapixel standard angle camera, because that extra module — the 8 megapixel one sitting next to it with a wider angle lens — just doesn't feel like it provides images that are good in comparison.
You'll find you can get a wider shot, that's true, but the quality is noticeably lower, with obviously softened details.
For the Instagram and Facebook generation, this won't pose too much of a problem, so don't worry so much, but if you do anything beyond it, the 8 megapixel camera seems like a half measure, making up the middle ground just to come across a little more special, and while that's an interesting addition, it's not enough to make the camera duo remarkable.
Perhaps if LG had found a way to blend the two images, we might have something, but they will always take pictures separately, and your original camera doesn't quite have the edge against some of the other flagships out today.
Battery
The battery is one area that won't let the company properly compete in today's smartphone world.
Let's just get this out of the way, because it needs to be said and chances are you agree, especially if you read GadgetGuy on a regular basis: 2015 was a bit of a joke as far as battery life was concerned.
Last year, the norm was for a phone to come off charge at 7am and need to go back on at 7pm. That's a mere 12 hours of life. Twelve freakin' hours.
That was the norm, and what we expected from most phones. Battery life in phone reviews was marked as "good" last year because a smartphone could reach half a day.
Publications like us would recommend carrying a power brick with you in case you used your phone as a power user and the thing conked out before the 12 hour day mark, and so many of us now have one of these carried with us at all times, too.
The norm didn't allow for many people to operate without one of these, and while we had hoped for a norm of one to two days, it didn't really eventuate, and everyone — from Samsung to LG to HTC to Microsoft to Sony — was pretty much hitting the same 12-15 hour mark as each other.
This year, though the norm has changed, and thank goodness for that. In 2016, the norm is now a full 24 hours.
Yes people, we've doubled to what we should be getting from a smartphone, because it should last a full day of life without needing to run to a wall or power brick. It should be able to even reach into a bit of the next day, when you suddenly realise that "oh no, you forgot to plug it in" and ultra low power saving modes are your only hope.
So, 24 hours is the target. Can LG nail it?
Yes and no, but it's a little more complicated than either a one or three word answer can achieve.
With the standard battery thrown in, it seems as those 12 to 15 hours is still a standard battery life for an LG phone, and we found with wired headphones that we couldn't manage more than that.
Specifically, that was a day off charge at 6am with web surfing, picture taking, email checking, phone call making, social network yakking, and a whole lot of other smartphone capable connected phrases ending with "ing" until around 10pm where the phone life had dropped to around 7 percent.
Not amazing life on par with the other flagship "norms", but not terrible all the same, lasting a work day, just not a full day, which we semi-expected out of a 2800mAh battery.
With 3000mAh becoming the norm in Android phones of this size, we have to wonder if the extra 200mAh would have made the phone go the distance.
There is an upside amidst this, however, and it's one no other 2016 phone can lay claim to: the battery is replaceable.
Provided you pony up $70 per battery you'll be able to slot out the battery in there and stick a new one in, and LG is even suggesting a recharge box with a battery inside will be made available shortly, making this less of a pain.
So while the "norm" isn't quite matched with this phone, there is at least a workaround to get it up to "norm" levels.
Fun with "friends" and the quest for expandability
Looking at the LG G5, it's easy to see the inspiration from previous LG-built phones, provided you're familiar with them.
The front of the LG G3 is here on the front go the G5, while the back is reminiscent of what LG did with Google over on the Nexus 5X last year, while the whole phone feels as well built as the glass bodied LG Optimus G, the very first of the G range, except in metal.
We're delighted to see a change to a more premium material, and we're sure you are too, but LG isn't just evolving the aesthetics in the design here.
No, it wants to make phones more interesting.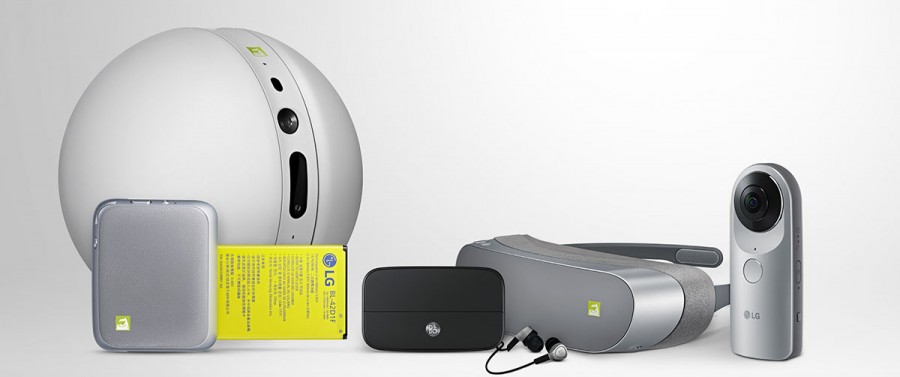 That's the idea, at least, behind LG's "Friends" concept, an idea that sees the LG G5 come apart when you tell it to, allowing you to add accessories or extra functionality by plugging in a new component, delivering a greater experience to the G5 handset.
It's an interesting concept, that's for sure, and one that presents itself in a few ways.
The most obvious is a replaceable battery, because some people may still want one of these, and the LG G5 grants this in an easy way: push the button along the bottom left edge and slide out the bottom of the phone, revealing a battery pre-mounted to the butt of the phone. If you have a spare, you can slide it right in, and voila, more battery life.
You do need to power it back on — because there's no spare temporary battery inside the phone to keep it running while you change batteries — but at least the battery is super easy to switch out.
There's more than just another battery, though, and LG will also be making the "CamPlus" battery pack, which is a grip you need to move your phone battery into with some advanced camera controls, letting you hold and use the LG G5 like a real camera.
Sort of, anyway.
The phrase "like a real camera" is intentional, because you get a grip and a control wheel and a shutter, but it's quite clear you're still holding a phone.
It is kind of awkward getting your phone battery into the camera grip, so you're probably going to want to buy another battery and leave it in the device. Seriously, getting the battery out involves pulling the two apart at a slight angle, which will separate the two and let you load one battery into the other, not something you can do remarkably quickly on the go.
But something is better than nothing, and if you're an avid phone-ographer, it might be a cool gimmick to dial into, much like Nokia's 1020 with the functional camera grip.
You do get a scroll wheel to zoom in, and zooming out far enough will switch you over to the wide-angle lens on the G5. Even the secondary button next to the main shutter records video, which could be super handy.
It's a little uncomfortable to throw in your pocket with this equipped, thanks to that bulky grip, and it doesn't even sit balanced on the table.
Bang & Olufsen will also be releasing a 24-bit media player DAC to the G5 which will bring another headphone jack with more volume and higher grade audio support, ideal if you don't want to buy a separate media player. We have our doubts about the sort of thing this will do to the G5's battery, but will wait until we see it.
And that's the extent of the removable "friends" the G5 will have, but not the limit, with a few other accessories being released made for the whole virtual reality movement about to set fire to the entertainment world.
One of these is a rolling ball you'll be able to control, a bit like a drone but for your home, with the Rolling Bot patrolling the floor and sending back imagery so you can check up on the homestead.
Two other accessories from LG "friends" category include a small 360 degree camera and a small 360 degree virtual reality headset. We'll admit that from our brief time with both the 360 Cam and the 360 VR headset, we like the camera more.
Granted, the gadget feels like it might be a rebadged version of Ricoh's Theta camera, with two ultra-wide lenses on either side of the camera, a microSD card slot, Bluetooth for transmitting back to the phone, and a USB Type C charge port below.
The images captured here appear to just be 360 degree images, not video, but the camera is very easy to use, and works with other Android phones, tested with Samsung's Galaxy S7 Edge, for instance.
The other gadget is a little different, with a VR headset made to compete with Samsung's own Gear VR, but smaller and using different technology.
Instead of strapping the phone to a pair of goggles, these feature LCDs on the inside, one for each eye, and that allows the headset to be more compact. There's also no battery inside, so to get power to the headset — and video and data, for that matter — the headset has to be plugged into the LG G5 using a wired USB Type C connection.
When paired, the screen on the LG G5 switches off and turned the touchscreen phone into a touchscreen mouse, allowing you to flick left and right and up and down and control what happens on-screen with the phone.
We like that, and it reminds us of what Epson is accomplishing in its Moverio augmented reality glasses, but the LG 360 VR headset requires individual ocular adjustments on a "per eye" basis, as well as really lacking an app ecosystem. Instead of just being another Google Cardboard, LG has had to make its own app listing with its own VR apps, and it just needs more. Or anything, because there's not much there.
The headset itself feels like it could do with a lot of tweaks, too, because while we can get used to the headset, it lets light in, is harder than it should be to tweak the dioptre while worn, and has that annoying cable which would be better again if it were wireless.
Super compact, sure, but it keeps you tethered to the phone. It even has a few refresh and lag issues.
But the ideas are sound, and while the docking thing has been done with Apple for ages, you have to appreciate the temerity in LG's plan with accessories that mount directly to your phone. We've seen attempts like it before, but if anyone can pull it off, it's LG, provided it sticks with the design and makes the G6 compatible with G5 accessories, as well as releasing more "friends".
If it strays from either of those paths — changed design making the G5 alone in accessory compatibility, or no other accessories are announced — it'll be a hard one to sell to consumers, and even to reviewers.
Here's hoping, LG. Here's hoping.
Value
And that brings us to value, which is an interesting area because the LG G5 is not a cheap phone.
Before its announcement, we had heard that LG wouldn't necessarily be focusing on the high-end, producing mid-to-high-end devices that could steal the competition right out from underneath, but that's not what has happened.
Instead, we have a phone priced almost as high as any other major flagship, and offering relatively pricey accessories, at that.
By itself, the LG G5 is $1099.
Those "friends" we mentioned before don't come with the handset at all, and if you want a camera grip from the Cam Plus, that'll be $129. The Rolling Bot spy drone ball thing, that's $399. B&O's 24-bit media player addition is $229. And the VR stuff? The 360 camera is $399, and we don't even know how much the headset will be.
Oh, and a battery is $69.95.
Seriously, you can kit the LG G5 and spend a good $2K, which is not cheap for a phone.
It would make it a rather flexible phone, sure, but still an expensive one, and we're not quite sure it's worth it, at least until LG says the next version will keep the design.
Conclusion
It's hard to deny that LG's G5 is one of the more interesting phones we've seen in a long time, but is it the best of 2016? That we're not sure about.
There are certainly some interesting features here, and mixed with a whole heap of customisability, it's easy to see the LG G5 isn't another "me too" phone, because that's easy to build these days.
But at $1099, it's a hard recommendation.
Granted, the smartphone is designed to do so much these days, and LG's G5 does as much as the next phone, but it also seems a tad pricey for a phone that doesn't quite pull the same battery life as the other players.
You also have to hope LG keeps the accessory design around next year, or even introduces more accessories, because if it doesn't, you may feel a little shortchanged, much like when Motorola had the Atrix and its laptop dock, and then never kept the design around leaving you with a one-hit-wonder.
And this makes us think a second generation of this design could get LG to nail it, because while it's a solid idea, it's one that feels like it also has first generation teething issues.
Next time, though, it could be an astounding success. We just hope LG doesn't give up on the concept and there is a next time.
For now, though, it's the ideal phone only if you love customisation and a replaceable battery. If you count yourself in that category, you know what to do.
A phone with a difference: LG's G5 reviewed
Price (RRP): $1099; Available on plans from Telstra and Optus; Manufacturer: LG
Design is nice; A typically lovely screen from LG, though one that isn't OLED; Two cameras, the first of which is pretty good; Blazingly fast 4G speeds; Gesture keyboard is very good in this generation; Replaceable battery; "Friends" accessories bring more functionality to a phone, even if they are optional; Infrared is still here, making it the only manufacturer to keep the phone as a remote!; Best execution of a dual-camera we've seen yet;
Edge is sharper than you expect; Android feels more like iOS, and that may not appeal to all people; No water-proofing; Battery life isn't on par with other 2016 flagships; "Friends" accessories aren't necessarily cheap and don't come with the phone; Changing one of the accessories means switching the phone off; Camera can be relatively slow to fire; Wide-angle camera isn't amazing quality; Some bugs can be seen via music playback and notifications;