LG's $299 Optimus F5 reviewed: a wallet-friendly entry to the world of 4G

Price (RRP): $299
Manufacturer: LG
The words "budget" and "high-speed" rarely go together, but LG is looking to change all of that, with a smartphone that offers both with a premium name. Packing in 4G, a quarter-HD IPS screen, 5 megapixel camera, and $299 price, is this the best in class for budget buyers?
Features
The first product from LG to sit in the Optimus "F" line-up, this handset looks to provide elements from both the inexpensive L series and the flagship G series devices. Sitting in between both, you'll find slightly better specs than the L series, but not as high quality materials used for construction in the G.
As such, the Optimus F5 P875 includes a dual-core 1.2GHz processor running 1GB RAM, down from the quad-core and 2GB inside the Optimus G. Aside for the chassis – which is based in plastic and glass – that's pretty much what the difference is between an "F" and a "G" in the LG Optimus line, and as a result, most of the other specs are close to being the same.
There's the version of Android, which is 4.1 "Jelly Bean" with LG's own overlay touches which stick pretty close to the design Google has put forth, as well as connection options such as Bluetooth 4.0, GPS, WiFi 802.11 a/b/g/n, DLNA, and Near-Field Communication (NFC).
Storage is a little lower than in the G, with 8GB inside ready for you to use, but comes with the bonus of a microSD slot for expanding it considerably, something the Optimus G lacks with its all-in-one design.
The screen is a touch smaller, with a 4.3 inch qHD (960×540) compared to the 4.7 inch HD-capable screen (1280×768) of the Optimus G, both supporting In-Plane Switching (IPS) displays which should improve viewing angles. Cameras are here, too, with a 5 megapixel module on the back and a 1.3 megapixel shooter up front.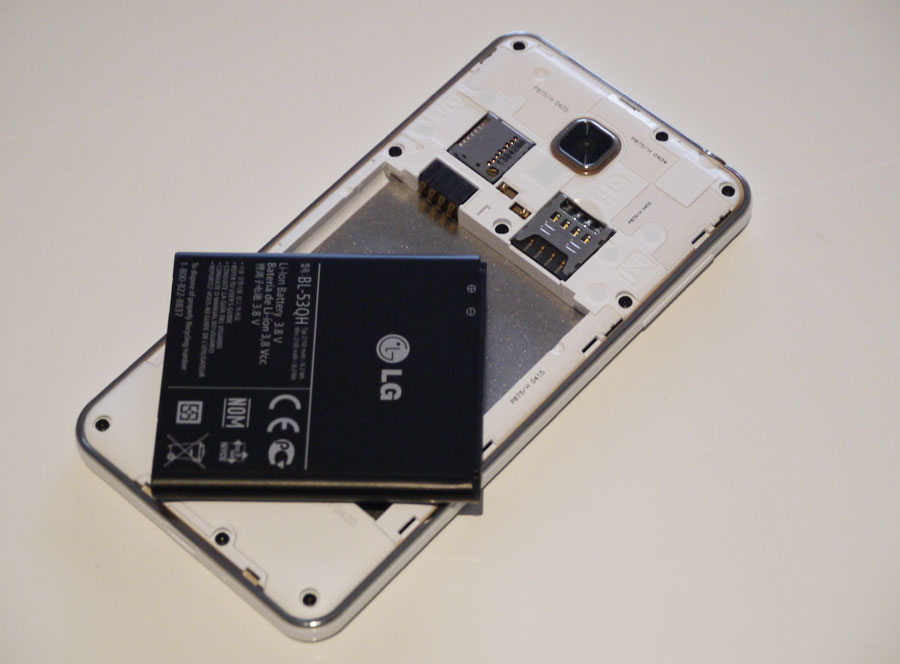 LG's Optimus F5 does have one thing over its brother, however, with a little more juice. A fraction, in fact, as the Optimus F hold 2150mAh over the Optimus G's 2100mAh.
As is typical with most smartphones these days, there are very few buttons or ports, and you'll find a power button on the left side and volume rocker on the left for the first batch of those, while only a 3.5mm headset jack sits up top and a microUSB charge and data port down below for the last batch. Soft buttons do exist on this handset, the light-up touch buttons with vibrating haptic feedback underneath existing below the frame of the display acting for going back, home, and triggering menu options.
The back panel of the mobile handset can be removed to show the replaceable battery, microSD slot, and the place where your microSIM goes.
Performance
Does anyone want a cheap entry into the world of high-speed 4G? That's the question LG is trying to answer with the Optimus F5, a smartphone that brings the similar qualities over from the flagship G to a different price point.
Aesthetically, it's a fairly minimalist affair with a simple white front and dark 4.3 inch diagonal screen inside this frame, set out with a silver reflective LG logo up top and three subtle light-up buttons below it all.
The back has a neat semi-holographic pattern printed into the plastic, which reminds us of the treatment LG gave to both the Google Nexus 4 and the Optimus G.
The feel of this handset is soft, smooth, and quite comfortable, and we're easily reminded of a slightly longer version of what the iPhone would be like if Apple gave up on aluminium and glass, and instead went back to plastic. The edges aren't easily noticed, and neither is the weight of the handset, which fits comfortably in the both the hand and pocket.
From there, we simply need to switch the phone on and start using it. Do that, and if you've ever used another LG Android phone, you'll be at home.
In fact, if you've ever used an Android phone before, you'll be at home, too, as LG's incarnation of the Google operating system – or the overlay, anyway – is relatively stock, with multiple homescreens, an apps menu, and then LG's changes which include a drop down notification bar with editable control shortcuts, brightness control, pinch-to-zoom thumbnail changes in the gallery, notification of messages appearing in a speech bubble at the top of the screen, and several LG QSlide apps which sit over the top of anything you're doing.
As such, Android is easy to use with LG's Optimus F5, and while Samsung still hasn't made it possible for Australian handsets to have their own user modified shortcut dock in flagship smartphones, the $299 F5 has no problems with this, as icons and programs are able to be switched in and out of the bottom bar with ease.
On the performance side of things, the Optimus F5 is surprisingly good. Armed with only a 1.2GHz dual-core processor, the F5 is not only capable of some decent multitasking, but has very little lag as you jump between menus, scroll, and do the regular assortment of gestures.
The synthetic benchmark testing we do here shows that this is faster than last year's HTC One X, with a score a thousand points below that of the Optimus G.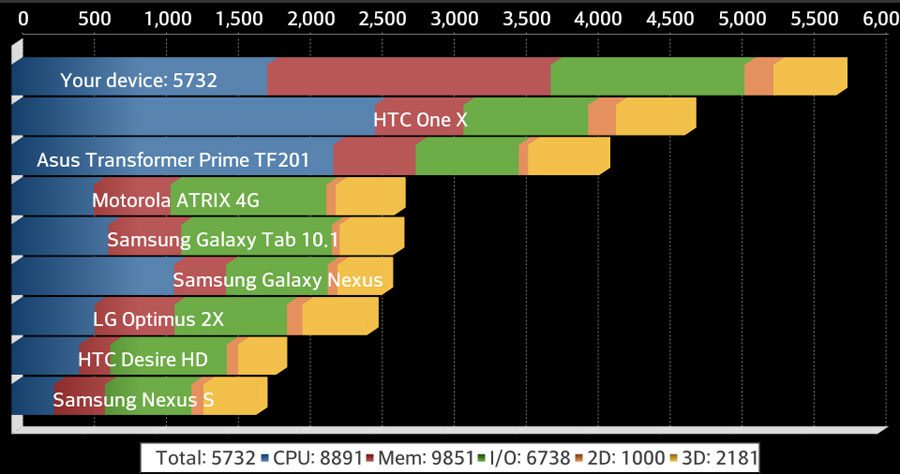 That's one of those differences between this dual-core chip and the quad-core in LG's other handset, but it's not a detriment to the performance at all, and outside of an insane amount of multitasking and/or game playing, you're not likely to notice the chip difference.
Download speeds are equally impressive, with the 4G LTE on offer here as strong as its flagship brother, the Optimus G. Our speed tests showed speeds up to around 60Mbps are capable from this phone, and probably more depending on where you're travelling.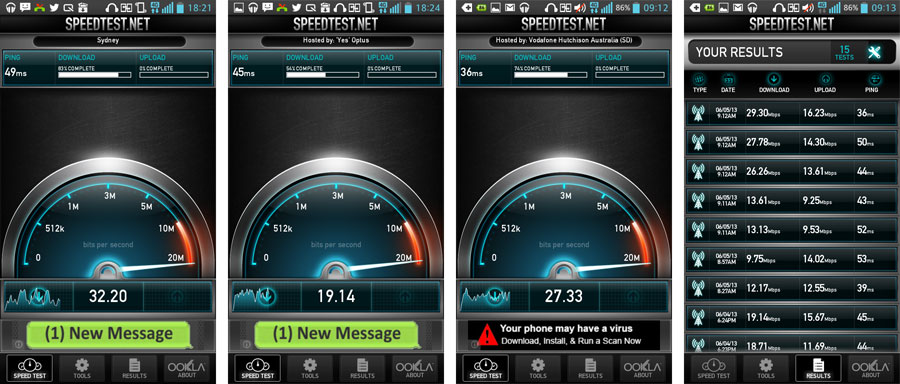 Without a doubt, this is easily one of the fastest sub-$500 phones out there, and at $299 it's a steal.
Even the battery is decent for a 4G device, and while the Optimus F doesn't have a battery as strong as either the HTC One or Samsung Galaxy S4, it's still better than the Optimus G. In that product, our tests indicated that barely a day was possible, and yet on the less pricey Optimus F5, a full day is easily possible from the 2150mAh battery, and that's while surfing the web, making phone calls, sending texts, listening to music over Pandora, and generally using the phone.
Use the F less and you might manage two, but for the most part, you'll be wanting to charge this handset daily, which isn't a bad effort.
The camera isn't the best it could be, though, and while this isn't a flagship device, it's still surprising that LG chose to ignore the need for a flash and went without one. Five megapixels seems like the bare minimum a phone camera should be, and that's precisely what LG is offering, but the omission of the flash is certainly a strange one, as it means low-light shooting is damn near impossible.
It isn't helped by the low quality the camera has, which even in daylight only serves up images that would be useful in a social network. Close up, we're not impressed by the mediocre camera, and we certainly wouldn't want to print any of these shots out.
We're also a little confused as to why there's no auto brightness in the drop down bar or settings screen, even though it says "automatic brightness" is switched on. Perhaps it's just one of those things that LG needs to fix with a patch.
One other thing that could do with a fix is the on-screen keyboard which could also be better. While it offers word suggestions, this virtual keyboard lacks the gesture-based typing methods seen on other devices, a problem easily fixed with a replacement keyboard from Google's Play Store, but one which LG could probably fix itself with a better included keyboard.
The one included isn't terrible, but it's not the best you'll see, and since gesture typing on Android is now fairly standard, we're a little surprised to see it missing in action, even on a budget device.
Conclusion
While 4G phones aren't new, the prices for these high speed devices are rarely below the $500 mark. We've seen one to date – Sony's Xperia SP – but LG's first Optimus F handset breaks new ground with a sub-$300 price.
Provided you have no problems switching to Optus (as it's an exclusive handset), the Optimus F5 is an excellent entry to the world of 4G that won't break the bank and will offer mobile access faster than whatever's currently in your pocket.
LG's $299 Optimus F5 reviewed: a wallet-friendly entry to the world of 4G
Price (RRP): $299 Manufacturer: LG
Budget 4G is still as fast as flagship 4G; Battery performs better than top-end Optimus G; Comfortable design;
On-screen keyboard isn't the best; Rear camera lacks quality and a flash;