Review: LG Z360 Ultrabook

Price (RRP): $1399
Manufacturer: LG
LG has been making computer parts for some time, but it hasn't had a hand in modern notebook computing, at least not in our country. This year, however, we've had a taste for a tablet produced by LG, and now it's time for an Ultrabook, with a thin, light, and white piece of engineering making its way to stores now.
Features
There are lots of exciting things happening in Ultrabook computers, especially with the launch of Intel's latest processor range, the fourth-generation Core technology also called "Haswell."
LG's Z360 was announced and developed before that, however, so LG's first proper Ultrabook in Australia misses out on the new Intel chips.
Despite this, there's still some decent technology in this computer, including an Intel Core i5 processor clocked at 1.8GHz, 4GB RAM, Intel HD4000 graphics, Windows 8 running in 64-bit, and a 128GB solid-state drive.
The display follows the standard Ultrabook size of choice, 13.3 inches, but packs in a Full HD resolution of 1920×1080 and takes advantage of In-Plane Switching technology, the same screen type used for the Apple iPad and other high-grade tablets.
Connectivity is all fairly normal here, with 802.11 b/g/n WiFi, Bluetooth 4.0, Intel wireless display (WiDi), two USB 3.0 ports, one HDMI, Ethernet over a small breakout cable, and the typical 3.5mm headset jack.
Interestingly, there is no SD card slot, but LG has provided something very surprising, and that's two microSD slots, a first for us as a feature.
Other typical laptop pieces are here, including a keyboard, trackpad mouse, webcam at the top of the LCD, and regular Ultrabook feature of a non-replaceable battery. An extra column of keys are also included, making up for the touchscreen with shortcuts to Windows 8 functions such as swiping to bring up the Start Bar, task manager, settings, search, and more.
The casing is made from plastic, and when held, the laptop weighs 1.15 kilograms.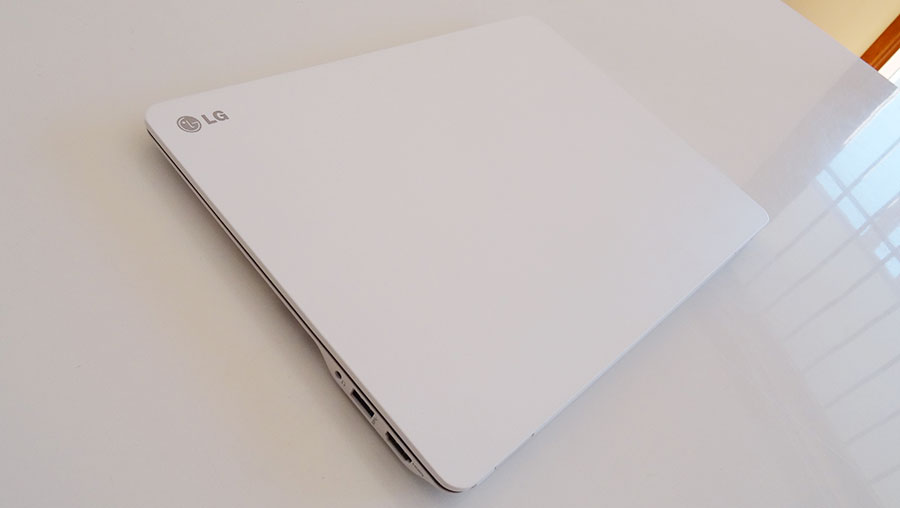 Performance
The second of two computers announced for release in Australia and hinted at earlier in the year at CES, the Z360 is an Ultrabook aimed at the crowd that wants something small and light, but still doesn't want to compromise on performance.
Let's talk aesthetics first, because LG hasn't approached this from the typical "make it metal" view that we commonly see.
In fact, there's not a lick of alloy in the design of this machine, with LG sticking to plastic, and all in white. The lid is matte white, and the inside too where the keyboard matches with more matte white.
The bottom of the casing follows suit with yet more matte white, all un-shiny and unobtrusive. It's not the glossy type of white we came to expect from Apple's polycarbonate white MacBook that has since been retired, but a more "I'll let you sit in the background" form of subtlety.
Picking it up, it's clear that LG has been focusing attention on weight, with barely 1.15 kilograms to its name and size.
That's around 200 grams lighter than the equivalent MacBook Air, and thanks to a resistive white plastic, is also easier to grip.
Overall, it's a sexy design that oozes simplicity, and one we like quite a lot.
Switch it on, and you're greeted with that now familiar Windows 8 icon interface, and one of most colourful Ultrabook screens we've seen in a while.
From what we can tell, it's an LG built display providing a very solid Full HD 1920×1080 resolution in the 13 inch form-factor, which will delight many, and even manages decent viewing angles.
It's also a touch deceiving, because the screen is so glossy and reflective that you'll think it's a touchscreen when it, well, isn't.
We know it lacks touch, but the glossy look made us constantly think it was, regardless of what we did.
Over in the battery department, we managed a decent effort, with just shy of six hours of constant use in writing, surfing the web, checking mail, and generally being the web fiends that we are.
One of the unique design choices has also impressed us greatly: dual microSD slots.
It's easily one of the more surprising aspects of the machine, and we suspect it's one that stems from the idea that solid-state drives don't often provide enough storage for everyone.
With two microSD slots, though, anyone can upgrade their storage quickly, popping in up to two 16, 32, or 64GB microSD cards and providing more space for your files.
The downside to two microSD slots is that LG has ignored the standard full-sized SD card slot, meaning digital cameras will likely have to be plugged in using their dedicated cables, which might bug a few people.
Performance for this system is about standard from what we've seen of computers in the past year. Intel's Core i5 has no problem running multiple apps, switching between them, and while this is by no means a gaming machine, playing the odd title here and there works fine.
It takes a little over ten seconds to switch on from being cold and off, but standby is your usual speedy Ultrabook time of around one second, so nothing to complain about on either of these, and this performance should delight anyone.
Only 128GB of storage sits inside, but you can upgrade that with the microSD slots as we mentioned above, and that's good because only around 75GB of the drive is available once Windows is installed.
There are two areas where LG gets this laptop wrong, though, and it's not just the lack of a touchscreen or the slightly older Intel chipset, both details we're actually fine with.
No, it's the usability side of this laptop where LG needs to  seriously spend some time improving.
We'll start with the mouse, and since there's no touchscreen, Windows 8 seriously needs something decent.
In the LG Ultrabook, you'll find a wide trackpad, but one with no physical buttons.
Rather, the entire thing is a touch panel, but that means there is absolutely no tactile physical buttons for the mouse, which not only lessens the mouse experience, but almost makes it feel like you're grasping at nothing.
Scrolling through menus and moving the mouse also comes off with a delayed feeling, almost as if the mouse is responding a quarter of a second after you tell it to, which is really noticeable when you're trying to work through the Windows 8 menus.
Other times, you'll find you're accidentally making gestures that change programs, and make the whole usability of Windows in this machine frustrating.
Even the distinction of the trackpad from the rest of the wristpad is a little problematic, with only a faint ridge separating this input device from the plastic that comforts your arms when you're typing.
The keyboard is also another place this laptop needs work, as the keys just feel too soft, essentially lessening the keyboard experience to the sort of thing you would get on a netbook or tablet keyboard.
There's also no caps lock light, another pet peeve of ours, but since this is becoming all too frequent on PC laptops, we're not totally bothered by this omission.
What does throw your hands off, though, are LG's extra set of keys, buttons that come with an instruction (make sure to hold the keys down "for more than 0.2 seconds" otherwise they won't work) and activates the Windows 8 gestures. This extra column of keys sit on the side, when they really probably should go along the top.
The power charging brick is also a little out of date for us.
Sure, it's smaller than your traditional laptop charger, but nothing has changed about its design, and we'd like to see a design shift that makes these necessary carry-on pieces easier to take with you.
Conclusion
There's no doubt that LG gets aspects of this Ultrabook right, and we're big fans of the simplicity in the design, the high-resolution screen, and even the microSD expandability on offer here.
We're not fans of the mouse, though, as that's one area where usability can feel slightly hampered.
Despite this, LG's first Ultrabook is worth checking out, but be warned that the mouse can be very, very hard to get used to.
Review: LG Z360 Ultrabook
Price (RRP): $1399 Manufacturer: LG
Thin and light; Clean design; Even without touch, the screen is very nice; Dual microSD slot feature is unique and will make upgrading storage quick and easy; Matte white finish means fingerprints are harder to pickup on the surface;
Not the best keyboard ever; Mouse is really hard to use; Extra keys shouldn't need an instruction to use; No SD slot; Power brick could be redesigned;