A return of sorts: Microsoft's Lumia 950 reviewed

Price (RRP): $999
Manufacturer: Microsoft
If you thought Google's Android and Apple's iOS were the only game in town, think again, because Microsoft is back with a new device sporting an updated look, feel, and the bones to do so much more.
But is this what Microsoft really needs to compete, or just more of the same?
Features
Microsoft's first major smartphone of the year, the Lumia 950 has the luck of being one of the last phones of the year, though looking at its spec, you might be forgiven for thinking that you've seen it all before, and that's because it relies on some of the same technology we've seen time and time again this year.
For starters, there's a six-core Qualcomm Snapdragon 808 processor, just like that out of the LG G4 and LG-made Google Nexus 5X, with this processor paired with 3GB RAM and 32GB of storage, the latter of which can be upgraded using a microSD card slot found under the removable cover. Microsoft's Windows 10 runs on this phone out of the box, too.
Connection options on the device include 802.11a/b/g/n WiFi with support for 802.11ac, too, alongside 4G LTE in the Category 6 part of the market, while Bluetooth 4.1, Near-Field Communication (NFC) and GPS help balance out the last part of the wireless area.
Wired support is found here, also, but with a different port from what you might be anticipating, with the standard 3.5mm headset jack up top, while the regular microUSB port found at the bottom gets replaced with a USB Type C port for charging and data transfer.
All of this sits underneath a 5.2 inch display, offering up the Quad HD resolution of 2560×1440 on an AMOLED panel, protected by Corning's scratch-resistant Gorilla Glass 3 technology.
Buttons are fairly standard for a Windows Phone, with the right edge revealing a volume rocker, power button, and camera button, while the remainder of phone buttons are on-screen on this handset, revealed when you turn the phone on and swipe up from the bottom.
The back is also removable, and it's here that you'll find a 3000mAh replaceable battery covering the nanoSIM and microSD slots, which sit stacked on top of each other.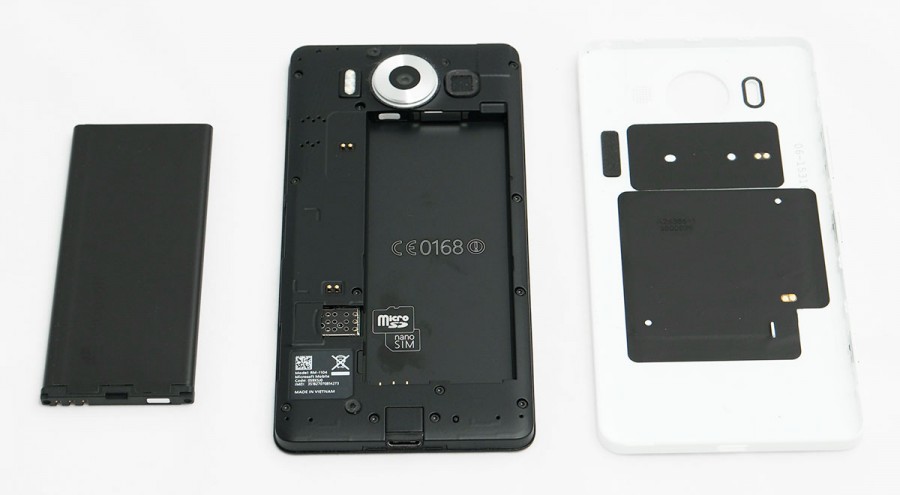 Performance
It's been a while since Windows came around in these parts, but like a horse making its way back from a fight at the OS Corral — the Operating System Corral, that is — Microsoft has returned to show that it still has a player worth fighting with.
For this edition of Windows on a mobile, we're at something like version 10, much like it is on the desktop. In fact, it's worth keeping that one in mind, because the version on the desktop, and on so many laptops today, is pretty much the same one you'll find on a mobile, and that's because Windows 10 marks a huge departure and operating system design for Microsoft.
Instead of what it has been like for years where MS developed similar looking operating systems out of two different codebases, Microsoft has instead made Windows 10 to work from the same environment, changing it up depending on the device you're using it with.
Does this mean you can load Windows 10 on just any phone? No, not really, but it does mean that a phone with Windows 10 should be able to play many of the apps made for Windows 10 and sold through the Windows 10 Store, a place where Microsoft can at least verify the universal design of said apps.
It also means that if you have one of the phone docks that are on the way out, you'll even be able to use the phone as a sort of computer, fitting the phone in line with Microsoft's whole "Continuum" concept whereby the one operating system shared between multiple devices means they can be used for multiple things.
Xbox One owners around the world were just recently delivered Windows 10 to their consoles, and while you won't exactly be drafting or editing documents in a desktop environment on that box, you technically can with the right hardware on the Lumia 950 if you wanted to.
For now, though, we'll focus on the phone side of things, partly because we haven't seen the dock yet and aren't quite sure when it will be making an appearance.
The phone is available in Australia, with the 5.2 inch device hitting store shelves either on a plan or carrying a price of $999, and for that moolah, you'll find 32GB of storage and a microSD slot to expand things.
You'll also find one of the more lovely screens in the business, with Microsoft adopting a Quad HD 2560×1440 screen at a 5.2 inch screen size, putting it not far off where Samsung's Galaxy S6 sits in terms of pixel quality, revealing a screen quality of roughly 565 pixels per inch, making it razor sharp.
Windows also helps this screen look as good as it does, with windows 10 taking what worked from Windows 8 on both the phone and the desktop and applying it across each.
That means live tiles are here for the ride, as is an emphasis on contrast, as white text sits on coloured icons, or the inverse depending on the theme you're using.
We stick to the darker themes for a specific reason, and that's because previously we've found the black background and white text helps to make the prior Nokia screens pop, and when viewed under direct sunlight you can actually see what's happening on screen, something many devices still struggle with today.
With the light theme, it's not quite as pretty an image under the bright sun, but it's still a lovely screen all the same.
Windows is also fairly pleasing to the eye, though the direct colour blocks on black or white have changed as Windows now supports images. This change means Windows on the phone has a look more in line with what Windows on a laptop or desktop offers, but it also means that wonderful reason for why you could get so much battery life on the device is also probably going to go out with it.
In fact, back when Microsoft was only showing a little bit of colour in large blocks, the emphasis on black seemed to help in our battery tests, resulting in a life that often reached well into a second day without any problems.
Outside of this change, Windows on the phone feels like it's an improved edition of Windows Phone 8, with the live tile screen that can be easily customised to match your sense of style and design, an app menu to the right side revealing all of your apps and a search bar, and the regular Windows Phone icons for back, home, and search (now Cortana) able to disappear and be brought back in with a swipe up on the bottom of the screen.
On the whole, Windows doesn't look a lot different, just a lot clearer and more modern, which is probably the push Microsoft needed for its mobile operating system.
Design-wise, you get the feeling that Microsoft didn't quite push hard enough, with a plastic casing that manages to feel positively mid-range in comparison to the hockey-puck-plastic of the previous Lumia range, back when Nokia was in control.
We like the replaceable battery, and people obsessed with that as a feature likely will too, but there's something a little too ho-hum about the plastic back that you can remove, even if it arrives with neato features like wireless charging built into this section.
At least you have something that feels premium at the bottom of the phone, with the combined blessing and curse that is USB Type C being used on this device, a blessing because it's so new and future-proof, but a curse because spare cables are super hard to find (at the time of publishing, anyway).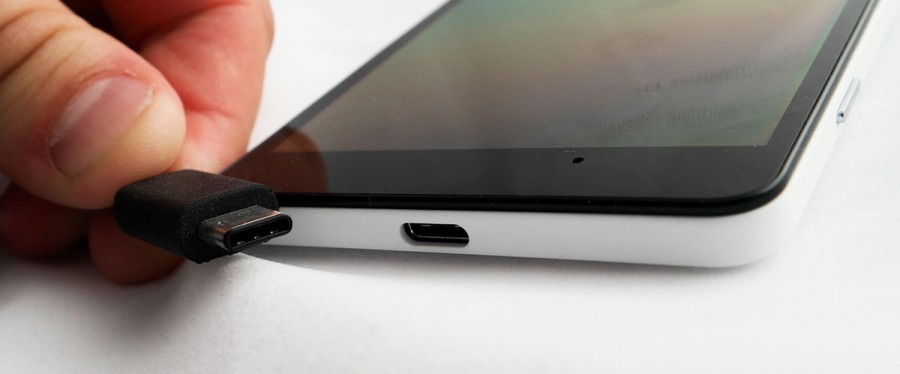 Move past the look and you'll find the performance, and this is a bit of a two way street.
On the positive side, the overall system performance is actually not too shabby, with the Snapdragon 808 six-core chip handling its own and never really letting up.
Despite being the first time we've seen a final build of Windows 10 for mobiles, it feels relatively polished, though the odd bug can rear its head from time to time, though we'll get to that momentarily.
At least 4G performance manages to show that Microsoft knows what phones need today, revealing some fairly quick speeds.
In fact, download speeds ranged from 11Mbps all the way up to 114Mbps in our tests, while uploads struggled to get up to half of where we expect it to hit. Typically, we'll see upload speeds of around 25 to 40Mbps, but on the Lumia 950, we found upload speeds maxing out at 11Mbps, and they were generally much, much lower, clocking in at around 2 to 8Mbps.
That might just be an issue with our version, or it might be endemic of the entire Lumia 950 release amount. We hope it's just our model, because outside of this glitch, the performance from the Lumia 950's modem is certainly capable enough.
At least the camera is a decent piece of hardware, though this is something we've come to expect out of the Lumia phones, even if this isn't the same amazeballs camera tech Nokia once used.
Back in the days of the 40 megapixel Lumia 1020 and the 20 megapixel Lumia 1520, it wasn't hard to see that Nokia was on a roll as to how it was pushing forward in camera technology.
Ok, sure, the rest of its hardware and software wasn't really coming together and convincing people to jump ship, but on the camera side of things, Nokia was nailing it.
Thanks to its "PureView" concept, the last of the Nokia smartphones boasted one of the more impressive uses of high megapixel sizes we had ever seen, electing to change the megapixel count based on zoom, relying on a principle not so different from that of digital zoom, even if this made more sense since you weren't blowing up the pixels but rather cropping the sensor down.
To prove how successful the idea was, even legendary camera giant Leica used in its recent Leica Q, cropping the sensor and dropping the megapixels down to simulate a use of different lenses.
In a smartphone, though, the idea produced one of the more impressive uses of smartphone camera tech in the business, though that's not quite what is being used in this handset.
Instead, you'll find a 20 megapixel auto-focus camera with flash here, relying on 6-lens piece of glass set to a focal length of 26mm and a low aperture of f/1.9, making it about as good as some of the other phones we've seen this year.
In a surprise, some of the details are stronger than other models, with the imagery feeling like — at least in the daylight — bits aren't lost to the background, with a lovely sharp bit of tech going on here.
Video support is also provided here via 4K Ultra HD, but we really fell for the camera which can produce some razor sharp images with some lovely areas of softness, almost akin to a real and proper camera, which is what we want.
A manual camera mode also helps with this, allowing you play with the camera settings in real time like you might with a real camera. That means white balance, focus point (close or far), low-light sensitivity, shutter speed, and exposure control are all offered, giving you a touch more control than you have with the auto mode, which is on at all other times.
There's also a secondary camera up front, and while we don't spend time taking selfie, the allowance for 5 megapixels is generous enough that you shouldn't feel like Microsoft is trying to short-change you.
Microsoft is also packing in a secondary feature with the camera which is very cool, and it's part of Windows Hello.
If you've taken a gander at either of the late-2015 Surface models, the Surface Pro 4 or the Surface Book, you'll already be aware that the two machines support Intel's "RealSense" technology, which relies on a Kinect-like depth tracker and 3D sensor with a camera to scan in visuals and make them three dimensional. This technology also comes with a neat feature Microsoft makes use of in Windows 10 called "Windows Hello", and it's best to think of this as a kind of futuristic password system.
In fact, you can basically forget about the password (mostly, anyway) with Hello, because this system is based around visual identification. Specifically, it uses the depth tracking data it garners from your person and uses that as a visual password, working a good 90 percent of the time, even at night.
Microsoft's Lumia 950 doesn't quite rely on the same technology, partly because a depth sensor is probably a little too large and power hungry to put into the frame of a smartphone, but something else has been included, and it's not bad either: an iris scanner.
You've probably seen it in plenty of films, from "Goldeneye" to "Mission Impossible" and even "Minority Report", and this is like that, except without the dramatic music.
The technology looks for your eyes, and can be trained to be used in different environments to do a better job, improving recognition over time and working as a different and touch-less form of password system, though still falling under the umbrella of the visual identification password it's clear Windows Hello is trying to score points with.
But while Windows Hello is a positive experience on the desktop side of things, it's hit and miss on the phone, with out ratio falling to around 50 to 60 percent. Still not bad, but in so many situations we had to resort to our PIN code, so you can't just go with glances yet.
Mind you, that's not a bad first effort, though the same can't be said on the battery side of things, with a life ranging from "meh" to woefully inadequate.
In fact, the battery life was so bad with one of our tests that we started referring to the Lumia 950 as "the 12 hour phone" simply because it seemed like that was all you'd get out of the phone, and we weren't even being all that power hungry.
Testing the Lumia 950 with wireless off throughout the course of a day, you won't find a full 24 hours, rather closer to 18, and that's if you're taking a few phone calls, sending messages, surfing the web, listening to music, using the camera, being an online socialite, and generally using the phone. From 6 am to 10pm was when the Lumia 950 ran in that test, and we lost faith around the 10 to 11 mark, calling it a day.
Not quite 18 hours, which is strange given the massive 3000mAh battery found inside under the plastic casing.
Unsurprisingly, switch on Bluetooth and the battery drops even further.
With Bluetooth on — and just a pair of Bluetooth headphones, at that — we found closer to 12 hours exactly, again not pushing it too hard. In fact, in the space of about 4 hours, we found 50 percent of the life of the phone had been killed in this test.
Unbelievably, it doesn't appear to be the wireless connection doing the damage, but rather something a little surprising: the app for messaging and Skype.
According to the battery side of the smartphone, this is consuming most of the battery life, which leads us to one question: what exactly is Skype (which is now used for internet calls and regular voice over mobile calls) and its messaging counterpart doing that destroys the battery life, especially when it's unused?
To say we're confused is an understatement, but to imagine that Microsoft let this out of the bag, let this bug out of its development bay without extra attention, we're just stumped.
Unfortunately, it isn't the only bug that makes an appearance.
Old tech heads may remember the idea that Windows bugs weren't exactly uncommon, and probably look upon an old Blue Screen of Death fondly, even if at the time the faults probably caused endless frustration and several expletives. Well, Windows 10 for Mobile may end up bringing it back.
Apps will crash, and even the camera will struggle to perform, occasionally yielding a black screen instead of the camera, as if the system just couldn't be bothered to load.
It's almost as if Marvin the Android was in control of the Lumina 950, sitting there, shaking his head, droning "you don't really want to use the phone do you?" before going back to his robotic depression.
Even the internet will cut in and out, generally when a WiFi network has been connected. You don't even need to be connected to the network in question for it to happen. Oh sure, when you go out of range from a home or work connection, it takes an extra few seconds for the phone to totally disengage and move to 4G LTE, but even when it picks up on a guest WiFi network, we found it stuttered on the 4G connection, pulling the reception down to zero before waiting a couple of seconds to reconnect.
It's almost like the Lumia 950 wants you to connect to every wireless network, even if you don't know what it is.
But let's say you can forgive these issues, and just assume that many of these will be patchable and fixed in the coming weeks. That is possible and very likely, but it's not the only concern we have for Windows 10 and the Lumia 950.
No, there is something far more troubling lurking on the horizon, and it won't take you long to work out what it is.
A question of apps
The question of apps is one that lingers over Microsoft's Windows 10 for mobile devices, because like the old editions — Windows Phone 8.1, with Windows Phone 8 and Windows Phone 7 before it — there just isn't enough support.
Despite pushing the idea that Windows on a current mobile is pretty much the same as Windows on a PC — and for the most part it is — app availability in the Windows Store still feels sorely lacking.
Simply put, you're probably going to struggle to find the apps you depend on, because while there's a Twitter app, a Facebook app, a Facebook Messenger app, and an Instagram app, there isn't say a Google Hangouts app, a Google Play Music app, an Apple Music app, an Arlo app, and there probably isn't a Windows edition of an app you regularly rely on.
Microsoft tries to cut through this problem with an app for Android that looks at what you regularly use to see if there's an existing app for you to switch to, but often it comes up short, or even just flat out ignores your regularly used apps because it lacks the library to search from.
Devices reliant on an app are also likely out of luck, unless you own a Fitbit, which seems to be one of the only accessories that will write code for Microsoft's operating system. Don't even bother bringing one of the many smartwatches here because the apps plain don't exist, and while Jawbone's Up is fairly popular around the world, the recently released Up app for Windows is only available in America.
Forget new games because they're not here, either, something we're sure you'll be genuinely shocked by, and while some of the staple apps do exist on Windows, they have problems, too.
Take Instagram, which does exist, but serves as an app that is better left forgotten about or used merely as a browser for your feed than something to add images with. Instagram has quite a while ago moved to a more editable system than just basic filtration and frames, but you don't get anything more than that basic filtration and framing on the Windows Instagram app.
It's old for the sake of being old, and you get the feeling that its lack of updates come from Instagram (and its Facebook owners) just not seeing the value in updating the app.
Twitter doesn't come off scot-free, either, because the interface is old and everything about the system just makes you wonder where Twitter is up in this joint.
On the other hand, Pandora at least feels like it has kept things going with an updated app, but it's the exception rather than the rule, because the few apps you can find that you'll use will probably have been left designed for Windows Phone 8, not the current Windows 10.
It's a shame this, and it's a problem that isn't necessarily totally on Microsoft — developers are partly to blame, of course — but isn't helped by the phone manufacturer's reluctance to bring more devs to the table.
Based on this early sample, it seems like Windows on a phone is still the black sheep in the mobile phone family, with all the attention paid to the iOS and its Android sibling, and very little to the child few really knew was there.
Conclusion
Microsoft's Lumina 950 is a curious little thing, with the device bringing some of the better parts of Windows to a mobile operating environment, and yet feeling like an unfinished and almost rushed product.
Some bugs are pretty obvious, the device doesn't feel flagship, and the battery life borders on being a disastrous mess, and when you combine them, these aspects just don't help the Lumia 950 come together as a flagship phone, let alone something great enough to take on the massive medley of majestic mobiles we've seen thus far.
Match that with an app ecosystem that still feels immature and it's hard to bank on the Lumia 950 as the competitor Microsoft really needs.
That said, it's still a pretty good start and a return of sorts for a software company that is doing what it can to learn from its mistakes and recover some much needed marketshare.
We're not sure if the current generation is going to be a great pick up for everyone, and until Microsoft fixes its battery life, it is truly hard to recommend, but if you're tired of Android and iOS and want to see what life is like on the other side of the three-sided fence, Microsoft's Lumia 950 is worth a look, we just hope some patches roll out quickly.
A return of sorts: Microsoft's Lumia 950 reviewed
Price (RRP): $999 Manufacturer: Microsoft
Clean and clear operating system; User interface is still very customisable with modular live tiles; Windows Hello is very cool when it works; Great screen; Upgradeable storage via microSD; Fantastically fast and clear camera;
Feels like a mid-range, not a flagship; Battery life needs a lot of work, especially in comparison to the older Windows Phone devices; Can be a fair bit buggy; Windows Hello can be all over shop in terms of reliability; App availability needs a lot of work; Existing apps are generally out of date in comparison to their Android or iOS counterparts; USB Type C charge port is both a blessing and a curse;