A battery to beat: Motorola's X Play reviewed

Price (RRP): $TBA; No outright pricing, with plans available on Vodafone;
Manufacturer: Motorola
Fancy screens and amazing cameras don't make up the needs of all smartphone buyers, and if battery is the biggest concern, Motorola's X Play has your name all over it.
Features
Motorola's next take on its flagship "X" series of handsets is the "Play", one of two models the company will be bringing to Australia that take the large screen often high performing standard of the Moto X devices and applies a big battery to the equation.
Inside this handset, you'll find one of Qualcomm's eight-core processors, the Snapdragon 615, made up of one quad-core 1.7GHz section and another quad-core 1GHz section. This chip is being paired with 2GB RAM and 16GB storage, with room to move provided you bring a microSD card, given expandable memory is supported.
Google's Android 5.1 "Lollipop" arrives on the phone out of the box, and no overlay is included, given Motorola likes to keep Android looking the same, applying its features on top with apps that are updated from Google Play.
Cameras are included, of course, and you'll find a 21 megapixel camera on the back supporting a two-tone LED flash and Full HD video capture, while the front camera is set to 5 megapixels.
Connections on the phone include 802.11a/b/g/n WiFi, Bluetooth 4.0 with LE (Low Energy), GPS, Near-Field Communication (NFC), and of course 4G LTE technology for getting online quickly.
This technology sits under a 5.5 inch Full HD 1920×1080 display, showing 403 pixels per inch and protected by Corning's scratch-resistant Gorilla Glass 3.
Buttons are hard to find on this device, and you'll only see two, both sitting on the right edge, revealing a ridged power button just above a smooth volume rocker.
Ports are also low in number, with merely a 3.5mm headset jack at the very stop of the handset, while a microUSB port sits at the very bottom.
A pin ejectable tray can be found at the very top of the handset, revealing a tray able to be set up with one nanoSIM and one microSD card.
The battery is rated at 3630mAh and is not removable.
Performance
In a change for Motorola, two flagships are landing in 2015, with each made for a different type of user. For instance, if you feel you need the latest technology and a phone that looks a little more high class, there's the Moto X Style. But if you want something with life — you know, one that won't die under pressure of a single day of usage — there's another model.
That model is the Moto X Play, a handset that Motorola has built with much of the tech that would have been seen as high end last year, but this year is a little under that. Still great, but just not market leading, and with a big battery to back it up.
That last part is a key feature here, because phones don't often go the distance, at least in the battery department, and the X Play yearns to be different.
Design on this one is a little more interesting than just another Motorola, and not just because the company has decided to make the back a little more textured, with an option here to even change out the back if needed, which you can remove just for looks, replacing it with a back of a different sort if need be.
You're also seeing a change in textures to the buttons, giving your dominant phone holding hand the chance to work out which button they're pressing simply by rubbing your digit over the surface.
It's not just a matter of working it out by getting a feel of the size and shape, because that's what usually does it for the mostly button-less smartphones of today.
Rather, the Moto X Play has ridges all over its home button, while the volume rocker beneath this is smooth and simple, giving your fingers an easy way to work out which button you're pressing, which is handy.
Another design element we quite like is the way Motorola has handled the nanoSIM slot, which also conveniently has a microSD slot tucked inside.
This is one of those things we were critical of Samsung with this year, as all of its flagship phones skipped out on the option for expandable memory, which is a bit of a backflip from a company that had so happily taken expandable storage under its wing since it started competing against Apple good and properly with the Galaxy smartphones.
We're not sure why Samsung skipped expandable memory this year, but when we checked out the recent Galaxy S6 Edge+ and Galaxy Note 5, we were even more critical, because it felt like the nanoSIM slots could have had the extra room built in for a microSD slot if it had wanted.
Here on the Motorola X Play, we see that Motorola has made that a possibility, with a nicely designed slim and small slot featuring both bits, the nanoSIM on one side and a microSD slot on the other. It's cute, useful, and a well designed component, and companies like Samsung need to pay attention to this one because this is a great little component.
To use the phone, obviously you need to throw in a nanoSIM here, and if you want to expand on the 16GB of storage the X Play arrives with, that microSD slot will be waiting for you.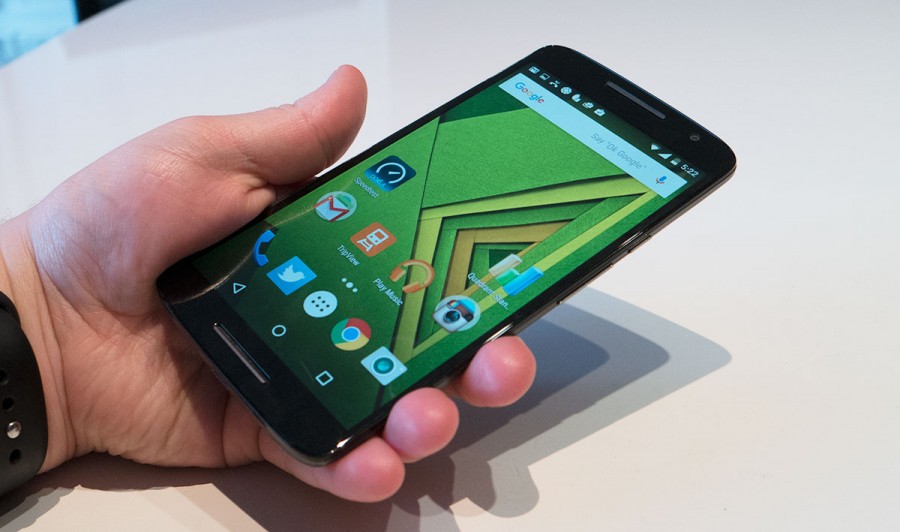 With the SIM installed, however, switch it on and you'll find a fairly bright IPS screen staring back at you delivering a Full HD resolution and some shiny Android 5.1 "Lollipop" visuals your way, with Motorola keeping it pretty close to stock, or to put it simply leaving Android the way its creators — Google — imagined it to look.
That means you get several home screens if you need them, an app menu, a drop down notification bar with shortcuts for hardware controls like WiFi and brightness, and a Google Now assistance screen to the very left.
In fact, if you're already familiar with the Google Now launcher made for Android, the experience offered here is much the same, though it feels more up to date than even that alternative launcher can provide.
This includes a change on the app menu, with your four most used apps sitting at the top of the menu, while the rest no longer flow from left to right, but rather up and down, your finger taking you quickly down the list using the letter-connected scroller on the right side if you have a burning desire to get to an app beginning with "Y" quickly.
Android itself performs well enough with the Snapdragon 615 under the hood, and you'll find most of the apps you're working with load without problems, though you may find a spot of lag here and there every so often.
Fortunately, clearing out apps is easy — the square multitasking button gets you the apps that are sitting in resident memory, and you can swipe them out left and right to get rid of them, or alternatively hit the "x" button to kill them — and this helps speed things up a bit.
Most of the time you won't have any problems, though, and Android just zips along, with Motorola's tweaks and tuning to the phone generally making the X feel decent enough.
Mobile performance is also pretty solid, with what feels like a Category 4 modem thrown into this handset, delivering speed tests of between 35 and 121Mbps on Telstra's 4GX network in Sydney's CBD, which should be well and truly fast enough for anything you have planned.
Motorola has also brought over one of its special sauce technologies to the X Play, and that's the "Active Display" technology.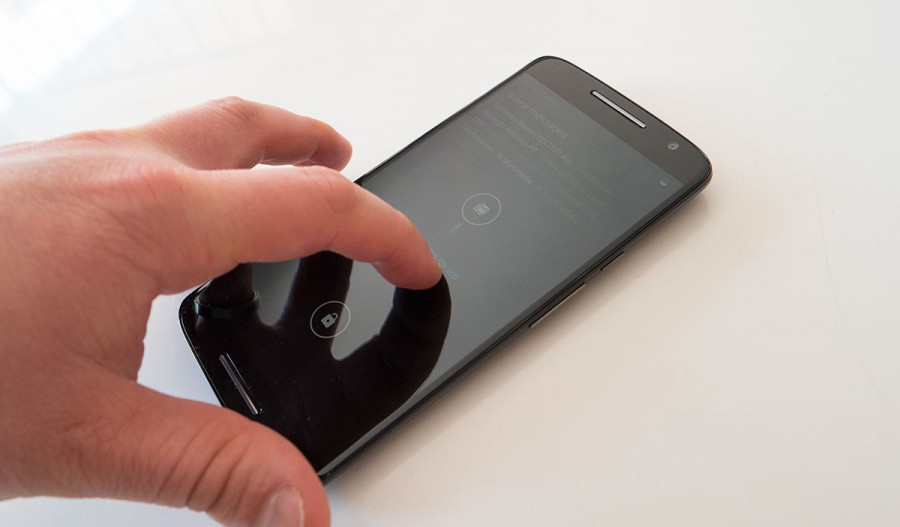 If you haven't seen this before, it's essentially a way for the phone to save the display from eating too much into the battery by running it at lower power in black and white — basically, just white text on a black screen — when notifications come in.
You might get an email or an SMS, or even a Google Hangouts notification, and this will light up, wait for your touch, and let show you a glimpse of the message to let you work out if it's worth waking up your phone for a proper check.
It's certainly handy, and if you're the sort that checks your phone all too regularly, there's a good chance that this constant relighting of the screen is denting your battery life, and that's partly where this concept is drawn from.
Does it help?
Well, in the battery department, the Moto X Play excels, producing what is easily the best performance of any major smartphone this year, providing a solid two days of battery without even trying to conserve energy.
What you're looking at isn't just Motorola knowing how to optimise Android to get the best performance, though that's part of it, for sure.
This is also Motorola packing in one of the biggest batteries we've seen out of any standard sized smartphone of the year, with a 3630mAh battery built into the body, roughly twice that of the Apple iPhone 6S, and a good 880mAh higher than the iPhone 6S Plus, with which this shares screen sizes with.
Despite running with the same sized screen, the Motorola X Play feels less like a phablet and more like a standard phone, and that's great for people after a big phone with big battery life, because that is definitely what is being offered here.
If you're someone who surfs the web, does the whole social networking thing, takes pictures, listens to music, makes and takes phone calls, and generally uses the phone, you'll see two days on the Moto X Play without fail, which has to be one of the positive features of this phone.
The thickness and weight, however, certainly have helped Motorola achieve this impressive battery life, and these aren't the sort of features or design elements worth raving about.
Granted, the 169 gram weight isn't going to kill your pocket any time soon, but there is a fairly solid amount of heft to a device that isn't a phablet, and the nearly 11mm (10.9) thickness isn't far off the 12mm thickness of the iPhone 3GS from
It's even thicker than a phone we complained about the thickness of earlier in the year, the LG G4 which stretched from 6.3 to 9.8mm depending on where you measured, and reminded us of the early iPhone thickness as well.
This doesn't make for an easy phone to carry in your pocket, though the extra size does mean it is fairly easy to carry since there is more of it to hold, and more yet still to realise is gone if you ever lose it.
For instance, if you suddenly notice there is an absence of size and weight in your pocket, you've either left the Moto X Play somewhere, or there is a hole in your pocket.
Either way, it's not terribly great news, so make sure it doesn't happen, because if it does, you'll feel it. There's just no other way to say it.
There's also a lack of water resistance Motorola's cheaper option gets, as the X Play skips out on the IPX7 water-resistance that its less expensive sibling receives.
That's a shame, because Motorola has included a small amount of water-resistance, but it's basically just painted on the silicon, so a splash or two won't kill it, but don't expect to take this phone into water, as it's just not made for that.
The camera doesn't pull its weight either, and this is one area where we get to see the megapixel myth return to the fore.
Remember that time when people used to claim large numbers made the image quality better?
Well it appears we're back there again, because while the 21 megapixel sensor is technically producing larger images than either of the 16 megapixel cameras in the new Samsung Galaxy S6/S6 Edge/Note 5 phones, and is definitely carrying more megapixels than the 12 megapixels of the Apple iPhone 6s and 6s Plus, the quality is by no means anywhere near as good as any of these handsets.
It's not even close, in fact, and Motorola's 21 megapixel shooter really doesn't feel like a winner here, producing decent shots in daylight, but some very soft and noisy images when the lights go down, while also refusing to focus quickly in eight the day or the night.
When it's totally bright and nice outside, images can be clear, but if you don't wait a second or two for the camera to focus properly, you'll end up with images that aren't sharp at all, and are still struggling to find the focus point.
The overly simple interface of the Motorola camera doesn't help here, and it's not really a fault of it, but rather the camera.
You see the camera interface is very easy to use, and you merely have to touch the screen when you want to fire off a photo, doing it on your command. Unfortunately, the auto-focus isn't always ready, and so you either wait or fire off a shot that is out of focus, which in many situations you won't realise is out of focus until later on.
Fun stuff, that. We have to hope that Motorola fixes this with a subsequent update down the track, but right now, the camera isn't the best it can be, and those 21 megapixels don't exactly fill you with confidence. Certainly not the confidence you'd expect out of that number.
Conclusion
There are certainly some good things going for the Moto X Play, and battery life is chief among them, bringing some of the longest lasting performance we've seen out of any phone this year, especially one that isn't technically considered a phablet.
Granted, to get this life you need to resort to something thicker than the standard flagship, and something a little bulky, too, as that's part of how Motorola gets the life going long. With a big battery and some finely tuned Android, the Moto X Play does offer enough life to not only let you play the day, it could handle an entire weekend, too.
It is let down by the camera, though, and that's an area that struggles in low light, as well as in the speed of acquiring focus.
If you're not bothered by a slow camera and one that might have you hug a tree for stability at night, the Moto X Play should do just fine, but this feels like a phone made solely for people who need more battery life than anything else, because that's really where the X Play reigns supreme.
A battery to beat: Motorola's X Play reviewed
Price (RRP): $TBA; No outright pricing, with plans available on Vodafone; Manufacturer: Motorola
Upgradeable storage via a handy dual-use slot; Two day battery life without problems; Very fast mobile broadband support;
Thick; Not as much water resistance as the less expensive Moto G; Pretty weak camera performance;