The budget Windows phone: Nokia's Lumia 710 reviewed

Price (RRP): $379
Manufacturer: Nokia
The second of Nokia's new Windows-powered smartphones is the Lumia 710, a small handset offering damn near identical horsepower to the premium Lumia 800, albeit in a less expensive package.
Features
While the Lumia 710 is aimed at a more budget-friendly price tag than its one-piece Lumia 800 brother, the technology inside is very similar. In fact, it's almost identical.
The Lumia 710 takes advantage of a 1.4GHz single-core processor, 512MB RAM, and Adreno 205 graphics chip – exactly what's inside the Lumia 800. They both run on the latest 7.5 version of Windows Phone, also called "Mango".
Screen size comes in at 3.7 inches with 480 x 800 resolution, identical to the Lumia 800.  Ditto Corning's scratch-resistant Gorilla Glass and Nokia's "ClearBlack" display technology.
About the only differences separating the two Lumia handsets involve storage capacity, screen type, cameras, and body construction. The Lumia 710, for example, offers regular LCD screen instead of the AMOLED found on the Lumia 800, a body made of several parts, and a replaceable battery. It provides 8GB of storage compared to the 800's 16GB, and a 5 megapixel camera with flash instead of the Lumia 800's 8 megapixel.
Unlike the 800, the 710 has a totally unremarkable design, and the Windows Phone soft buttons present on each device – back, home, and search – are physical buttons on the Lumia 710. Adding to these physical buttons are the few that we did see on the 800, including  a volume rocker and camera button on the right, and a power button up top. The micro USB and 3.5mm headphone ports are located here too.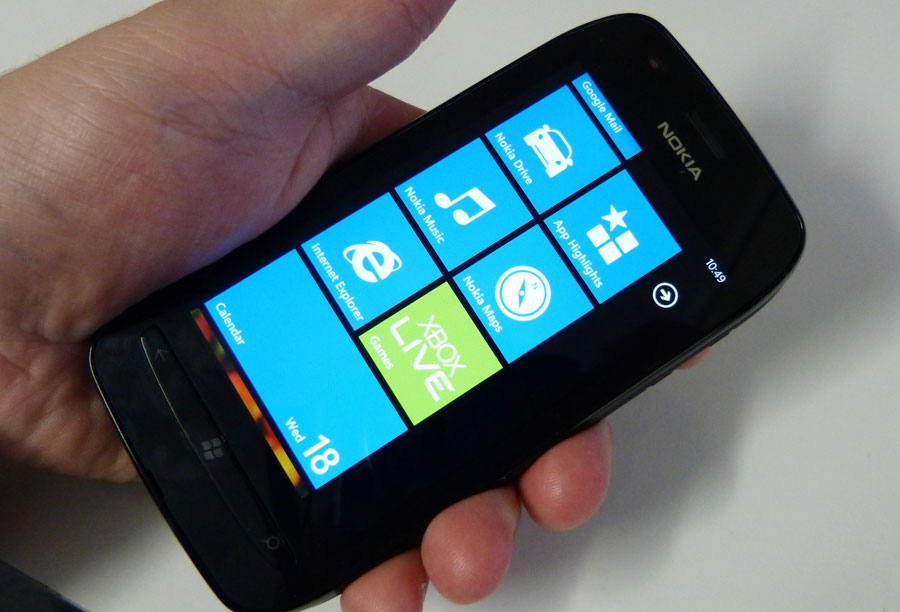 Other than that, the 710 and 800 are pretty much the same, with GPS included, WiFi 802.11 b/g/n, Bluetooth 2.1 with A2DP, micro USB port, micro SIM slot, and a maximum downlink of 14.4Mbps over a 3G connection.
Performance
We were reasonably impressed with the performance from the Lumia 800, and given the similar technology used in this handset, we expect it to be much the same.
So here's the good news: it flies.
For the most part, the Lumia 710 is as speedy as its big brother, offering slick animations, access to the Windows Phone app marketplace, and solid support for phone calls, messaging, and Internet. You can flick your finger across the screen to quickly jump across menu styles, check what your connectivity and battery are like (swipe down on the top of the screen), and hit the physical buttons to see the system respond at a lightning fast speed.
If anything, Nokia and Microsoft have shown us that you don't necessarily need a dual- or quad-core processor to make an operating system run like a dream. Even the games work beautifully, including those such Pirates and Sonic the Hedgehog, which rely on 3D graphics.
The same additions designed to make the Lumia 800 a better package are also present here, including Nokia Drive's navigation application, Nokia Maps, and the company's streaming music service "Mix Radio".
And like the Lumia 800, the battery life is pretty solid, offering between two and three days usage.
For all intents and purposes, then, the Nokia Lumia 710 is a cheaper version of the Lumia 800, with less storage and a more wallet-friendly price tag. It's not all good news, though –  710 is as remiss as the 800 in some areas, and adds a couple new flaws into the mix.
Like its colourful brother, there's no support for wireless hotspot technology, Adobe Flash, or a front-facing camera. That seems to be a common issue with Windows Phone 7 and 7.5, but there are more deficiencies too.
With no microSD, there's no way to upgrade your memory on the Lumia 710. You couldn't do this with the 800 either, but with its 16GB we could be a little more forgiving. This limitation seems to be something of a constant on the Windows Phone 7/7.5 devices, so we're not totally surprised, but on an 8GB device you'll find you only have roughly 6GB of storage for photos, music, and movies, and that's really not much at all.
Sure, it's more than you get on a lot of cheap phones, but many of these offer microSD expansion slots, so are a step ahead.
The use of a lower-grade screen is disheartening too. While the blacks are strong, fingerprints seem to be picked up on the screen really easily, resulting in greasy RGB streaks. We suspect it's because the phone lacks some form of oil- or water-resistant coating, so you'll probably be cleaning the Lumia 710 screen with the bottom of your shirt frequently.
Conclusion
The Lumia 710 is the 800 with a cheaper price tag and more pedestrian livery, and as a Windows Phone it is an excellent – though far from capacious – choice.
The budget Windows phone: Nokia's Lumia 710 reviewed
Price (RRP): $379 Manufacturer: Nokia
Excellent price; Very responsive;
Micro SIM card slot is horribly designed; No expandable memory means you're stuck with 8GB storage;