Nokia's best yet: aluminium-clad Lumia 925 reviewed

Price (RRP): $699
Manufacturer: Nokia
If there's one handset that needed to be re-looked at from last year, it's Nokia's Lumia 920, the then-flagship handset that took the best of what Nokia had to offer and wrapped it in a polycarbonate body that could take pretty much anything you threw at it.
One obvious downside of this so-so-solid design, though, is that it's a heavy little beast, weighing more than handsets with bigger screens.
Less than a year later, however, Nokia has brought that handset back to the drawing board, putting it on a diet and tightening up some of its features. Is this Nokia's best available smartphone, or is it just more of the same?
Features
It's barely seven months since Nokia first let us play with the flagship 4.5 inch Lumia 920, and while it wasn't a bad phone, it was a chunky handset, a criticism Nokia appears to have listened to.
Several months on from the release, Nokia has tried again, taking most of the same innards and spitting out a new handset more worthy of praise.
As we just said, much of the equipment here is the same as it was when Nokia first outed the Lumia 920 in the first place last year.
You'll find the dual-core Snapdragon processor clocked at 1.5GHz, 1GB RAM, Adreno 225 graphics chip, no microSD slot, and either 16 or 32GB storage depending on what telco you buy the handset from. Vodafone subscribers will see the 32GB model, while everyone else will find 16GB in their handset.
Connectivity is the same, with WiFi 802.11a/b/g/n, DLNA, GPS, Bluetooth, Near-Field Communication, and microUSB for moving data over a wired port, with 4G LTE useful for anyone keen to see mobile broadband speeds of up to roughly 100Mbps (Cat3).
All of this sits underneath the same 4.5 inch sized screen, but that's where the changes begin, with Nokia switching from the In-Plane Switching display technology to an AMOLED touchscreen, running at the same 1280×768 resolution with a Retina beating 332 pixels per inch density. Corning's Gorilla Glass 2 still protects the screen from scratches, and a high touch sensitivity means the screen can pick up pokes and prods while wearing gloves.
The camera has taken a slight increase too, keeping the 8 megapixel sensor with Carl Zeiss optics in front and dual-LED flash, but improving on the sensor size slightly to create better images we hear, especially in low light. As such, this now features the "PureView" branding, a nod to the 41 megapixel PureView camera Nokia announced last year.
On the front, there's still a 1.3 megapixel camera for those selfies and the odd video chat.
Nokia's chassis and build has also changed, doing away with the full plastic design that made the 920 weigh close to 200 grams (185g). In its place is a body made from an aluminium frame with polycarbonate backing, dropping the weight almost 50 grams to 139.
Everything else about the handset is more or less spot on to being the same, with the same soft buttons on the front for back, home, and search, and the same physical buttons on the right for volume, power, and camera shutter.
The top edge has changed slightly as Nokia has moved the 3.5mm headset jack, microUSB charge port, and microSIM tray there.
The battery is rated for 2000mAh.
Performance
With so many phones out in the marketplace, picking and sorting through the massive selection can be difficult.
Even in the flagship space, there is just so much, with the iPhone 5 taking up the iOS offering, BlackBerry's Z10, and various devices from Sony, Samsung, LG, and HTC knocking out the top spot for the best Android smartphones.
Over on Windows Phone, however, Nokia has seemingly made the best (and most) smartphones running Microsoft's Windows Phone 8 software, a neat middle ground operating system for people who like the grid-look of iOS but want something with more contrast, bigger fonts, and automatic connections for other Microsoft services, such as Office and Xbox Live.
Previously, this top spot was handed to the Nokia Lumia 920, a handset that looked and performed very well, but also came with the unfortunate side effect of sagging pants pockets, thanks to its heavy weight.
Nokia is now addressing this with the Lumia 925, a reinvention which takes much of the same hardware, improves a couple of things, and replaces that bulky design.
So what is it like?
In the flesh, Nokia has crafted a looker here, with a design that retains that Lumia look we've seen on most Nokia handsets this year, but downplayed a touch.
There aren't any eye catching red or cyan colours here, and our review unit was more of a two-tone device, with a gunmetal aluminium frame sitting around the black charcoal polycarbonate on the back and big screen on the front.
While not as loud as the Lumia 920, it's still quite lovely to look at, and makes us believe this is closer to Nokia's interpretation of the black HTC One, even though the two probably have nothing in common with each other and were designed and built at the same time.
Picking it up, the handset is even easier to hold than the heavy 920.
That loss of 50 grams might not seem like much, but when you're dealing with a smartphone that you have to carry with you, it's a huge amount, and is more like the difference between carrying a can of soft drink and a large bottle. It's not quite as exaggerated as that, but jumping between the handsets, it's entirely noticeable.
Switch the phone on, though, and it's more or less the same Lumia as what we checked out last year.
There's the bright and colourful Windows Phone 8 interface greeting us, and it looks even more striking on the AMOLED screen Nokia has gone with in this iteration.
We liked the screen on the 920, mind you, but comparing them still, the display feels stronger on this one, with more punchy whites, and just as strong blacks.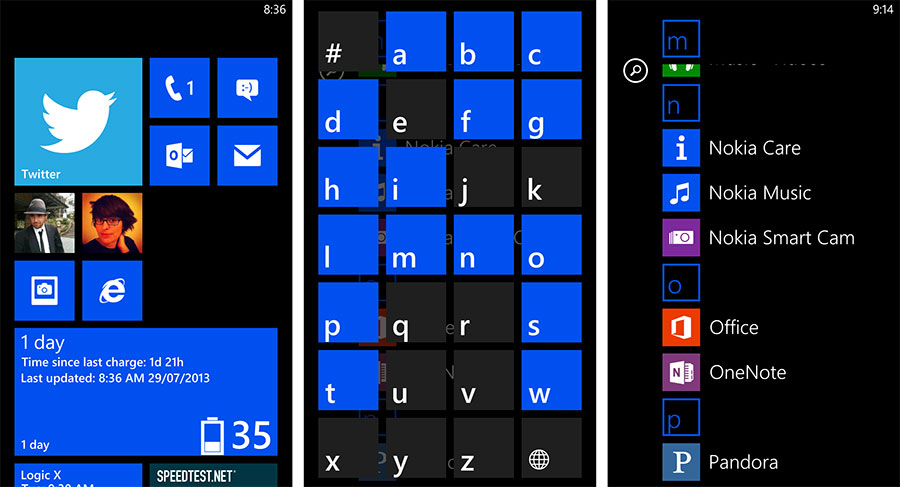 Operation of the phone runs at exactly the same pace, hardly surprising given the identical hardware underneath. Jumping between applications and services reveals very little lag, though you do get a hiccup every now and then.
Mobile broadband performance is also excellent, and we managed speeds on Telstra 4G between 18 and 55Mbps down as we travelled around the city.
Battery life is also very similar, and heavy users will find roughly one day of life if they're using the phone often, or a little between one and three days if the phone is used less.
As an example, we use our phone often on weekdays and managed a day of life, but rely on it far less on weekends and found a little over two days was possible.
The camera is the next area where things have changed, with Nokia bringing in a slightly different sensor to the Lumia 920.
The megapixel count still reads at eight, but with a better sensor, the camera aims to be just as good if not better than what the other smartphone players are offering in their new handsets.
From our tests, quality in daylight is excellent, with better metering than the 920 and more balanced colours across the results.
In low light, the image quality is quite good, with a little detail in darker areas and a fair amount of balance, once again. Up close, the detail loses its clarity, with edges going soft, so don't expect to make massive crops.
One area where the camera falls over is the speed of which you take a clear shot.
While you can fire off any shot quickly and within a second, that's not always enough to prevent motion blur, it seems. In fact, our testing revealed that holding the shutter down to focus often means waiting for between one and three seconds for the camera to pull the right focus point, and it doesn't even always nail it.
The flash also seems to fire when it's not always needed, drowning out colours when scenes should have enough light to work with.
We would have also liked to see a microSD slot in this handset, as if you run out of memory, you are – just like in the 920 – stuck and forced to delete music, games, apps, and photos.
Conclusion
From the design improvements alone, the Lumia 925 is a much better handset than the Lumia 920, which had more in common with a colourful brick than a sleek smartphone.
Even though Nokia hasn't exactly made many improvements here, this is exactly what the Lumia 920 should have been, a feeling we noted when we went hands-on with the handset last week. As such, it's easy to say the Nokia Lumia 925 is the best Nokia handset right now, but our question is how long will it be the best for?
Right now, Nokia's next smartphone has already been announced, with the world's first smartphone packing a 41 megapixel camera arriving in the form of the Lumia 1020. While Nokia were quick to say that the Lumia 925 was the flagship at the launch of the product, the question we have is how long this will be the case, especially since the 1020 is expected within the next two months locally.
Until the Lumia 1020 turns up, this is the best Windows Phone we've seen, but with a new handset that promises to be so much better just around the corner, it probably won't be the best for long.
Nokia's best yet: aluminium-clad Lumia 925 reviewed
Price (RRP): $699 Manufacturer: Nokia
Excellent design; Built very well; Lovely screen; Removes most of the weight from the plastic brick that was the 920; Decent 4G speeds;
Flagship for now, but close to being superseded upon release; Specs aren't an upgrade from previous Lumia 920; No microSD slot and a fixed amount of storage; Camera flash doesn't always fire at the best of times;