Review: Telstra Tough Max

Price (RRP): $480 outright or from $62 per month
Manufacturer: Telstra / ZTE
With the majority of Australians situated along or near the coast, it can be easy to forget that the inner part of the country is very different. Heavy bush or dry conditions mean more dust, more dirt, and with less mobile towers, harsher reception needs.
In fact, "harsh" is a good way to explain the outback, at least in relation to technology, as most devices are made for the city when you're close to power plugs, clean surfaces, and communication towers.
So a device made for the outback has to be handled differently. It needs to be stronger, a survivor, and a true battler.
And that just might be what Telstra has made in the Tough Max, a phone that is well and truly made for Australia.
Specs
Manufactured by ZTE, Telstra's latest device — the Tough Max — appears on the surface to be a bit of a surprise.
Arriving with a Qualcomm Snapdragon 410 processor clocked at 1.2GHz and 2GB RAM, it's not the grand-master flagship you may expect, but rather something geared at budget people looking for something a little more.
And that might be what they'll get, with 16GB storage equipped to this phone and a microSD slot to raise the storage amount considerably if need be. Google's Android 5.0 "Lollipop" runs on the phone out of the box, though with no extra overlays and a fairly stock experience.
Connections for the handset are also fairly stock and pretty close to budget devices, offering 802.11b/g/n WiFi, Bluetooth 4.0, GPS, and Category 4 4G LTE, meaning speeds as high as 150Mbps down and 50Mbps up. Only two wired connections are offered on the phone, arriving in the form of a microUSB port on the left edge and a 3.5mm headset jack up top.
That 4G antenna handles itself a little differently than other phones, mind you, because unlike most antennas, the phone has also been rated "Blue Tick" which means it can pick up on a longer band of reception which is especially handy in the bush, which is what the Telstra Blue Tick system was designed for in the first place.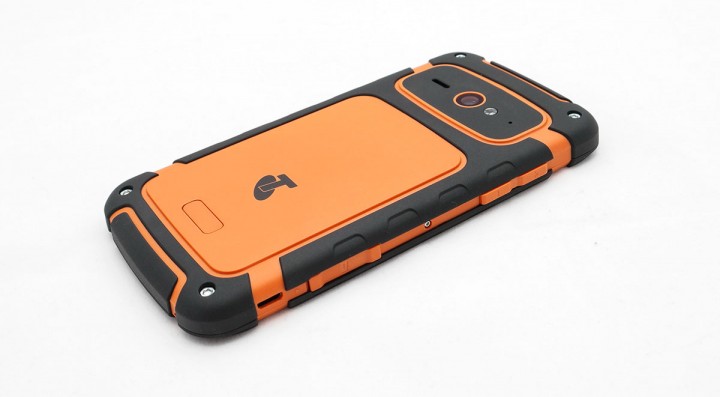 Cameras are also included, and you'll find a 13 megapixel camera on the back with a flash and HD video capture supported, while the front relies on a 5 megapixel camera.
You'll even find support for Qi wireless charging in the handset, and a place to plug in an antenna if you need it.
All of this sits under a 4.7 inch high-definition screen supporting 1280×720 and Corning's Gorilla Glass 3 for screen protection.
And then there's the casing and protection, with a larger plastic chassis than normal, door covers for the microSD and microSIM slot, and a degree of ruggedisation supporting IP67, offering a small amount of water-resistance and a fairly sizeable amount of dust-resistance.
There are a few buttons here on this device, with three printed-on soft buttons at the bottom for back, home, and multi-task, while physical buttons include a volume rocker on the left edge, a power button on the right, and a torch button up top that switches on the LED on the back of the phone.
The battery on the Telstra Tough Max is rated at 2500mAh and is built into the phone, making it not replaceable.
Design
Telstra's latest phone appears, at least on the surface, to be a little different from all the other phones out there.
While most devices try to cut back on the amount of excess plastic, scaling back to something more slim-line, fashionable, and pocket friendly, the Telstra Tough Max doesn't try to mince words and certainly doesn't hold back.
Dressed in thick charcoal and orange plastic, this a phone with a point: "I'm a survivor" it screams, with a rigid case, extruded edges, and a design that is certainly not like anything else.
You won't get confused with anyone else's phone, that's for sure, and the design of the Tough Max — also called the ZTE T84, since ZTE made the device — is more like what you get when you take a 4.7 inch phone and slap a durable ruggedised case on the outside.
That means the Tough Max isn't the prettiest phone on the market, though it does look like it can take a beating, and that's all that really matter.
Surprisingly, it's still a somewhat comfortable device to hold, with the plastic ridges giving you something to grip onto.
It's pretty clear it's not a premium device, but with this design and intent, we're not so sure it needs to be.
Screen
With most mobile devices cutting back on buttons and killing the notion of the feature-phone, you're pretty much going to be staring at a screen here, and that's not so bad.
While the Tough Max won't win any award for its 720p (1280×720) 4.7 inch screen, it's still not bad, pleasing enough to the eye, and offers a pixel quality not far off that of the iPhone 6 and 6S, with 312 pixels per inch compared to the iPhone's 326.
That might seem like a bunch of numbers, but the easy way to explain it is this: the screen size on the Tough Max is spot on with the iPhone 6S and the details pop in much the same way, but the colors and brightness don't feel quite on par.
It's a good screen, not a great screen, but at least there's no real reason to complain about this screen, and since there's a degree of Gorilla Glass protecting it not to mention a severely thick plastic casing on the body, there shouldn't be too many complaints.
Performance
At least there won't be too many complaints on the screen, but you may find a few over on the performance side of things, with the Qualcomm Snapdragon 410 quad-core processor not necessarily pulling its weight.
Let's talk usability first, though, because while Telstra and ZTE have stuck with Android, it's pretty much the bare minimum for what constitutes Android.
On the one hand, it's stock with no overlay so close to what Google wants, but on the other, it's not the same version of Android that Google brings to its Nexus devices.
Rather, this is more "vanilla", with the same basic black apps and widget menu separation we saw when Android 4.0 first started appearing, supporting up to five widgetised home screens with very little control for quickly deleting the screens.
It's a basic version of Android, that's for sure, and we'd look into changing it as soon as you can with another launcher, all of which can be easily found on the Google Play Store.
System performance for this generic Android phone isn't the greatest, and even our standard benchmark struggled to run on the phone, stalling in ways we hadn't seen prior.
It worked eventually, but it didn't leave a good taste in our mouths, delivering a performance index closer to a five year old phone than anything, well, new.
Fortunately, the noticed performance fared better than the synthetic benchmarks, because while you'll likely see a bit of lag, it won't be quite as traumatic.
You don't need a tremendous amount of patience for the Telstra Tough Max, but you will need some, because while loading apps is fast, jumping between them isn't always the same.
At least the 4G speeds are solid, and with a Category 4 modem here, a technical limit of 150Mbps down and 50Mbps is possible.
It is more likely you'll find speeds closer to 40 to 80Mbps down and 30 to 40Mbps up, which still isn't anything to sneeze at, especially since there's a Blue Tick rating here, meaning you should get a greater reception as you make your way out of the city.
Battery
While the performance is a little all over shop, the battery handles its own, and one could even lay claim that this phone is a battler, not just in its ability to survive the world, but also a day to day existence.
We didn't completely exhaust the battery, but we did find that after a day of texting, web surfing, taking pictures, emails, making phone calls, listening to music, and stopping to work (sorry, but we have to do that, too), the Telstra Tough Max provided a full 24 hours of life, offering enough for an extra half day if chose to push on.
Based on this performance, it is technically conceivable to expect two days is possible, though you'd want to use the screen and the modem inside less.
That's not bad like for a touchscreen phone, though we suspect that underperforming processor has something to do with this.
Camera
Next up is the camera, and while the megapixels on paper are decent, the performance of this shooter is like the overall performance: all over shop.
Let's get something straight here: decent images are achievable from the ZTE T84, just not most of the time.
In fact most of the time, the camera interface is either too simple or just plain ugly, but the results will always be a little blurry, with okay results in day and night, but very little detail, or very little sharp detail, at that.
So the camera here does the job, but isn't quite the reason why you end up on the Tough Max.
No, there are better reasons to consider this phone.
Made for Australia
Samsung might have coined the term "made for Australia" for phones in its Galaxy S5 advertising campaigns, but since the company has left it alone for a while, we feel it's more apt here on the Tough Max.
Quite literally, the specs and design suggest Telstra's ZTE-made phone is more made for Australia than most other phones you'll see through, and that's the Australia people see when they leave the city.
You know what we're talking about: brush, bush, dust and sun, with the odd bit of rain when it gets down to it.
A rating of IP67 tells us the Tough Max can handle itself when it gets down to brass tacks or even dusty rocks, and there's even an amount of water resistance here, too.
The casing is perhaps the one area worth noting that is different, and that's because it will survive a drop or two, though not necessarily the sharpest or steepest of drops. That's better than knowing it will break the moment it collides with the ground, though, so be thankful for something.
You can also be thankful for a screen protector and a torch, because both are included in the box. The extra screen protector is something few phones arrive with and will be welcomed, as will the button for switching on the rear LED flash and using it as a torch.
If the lights ever go out and you find yourself looking for a light, this phone serves as it (as they all do) and there's even a trusty button to switch it on. Neato.
What needs work
With a decent build, a nice enough screen, a battery capable of hitting a day and a half to two days, and acceptable cameras, what hasn't Telstra (and its manufacturer ZTE) done right?
Simply put, it's a toss up between the performance and what is obviously the use of some outdated phone hardware being masked to look modern.
We've already touched on that performance, mind you, because while the Qualcomm Snapdragon 410 can handle its own, there are obvious signs of phone lag on the Tough Max (ZTE T84) and it wouldn't even handle our standard phone benchmark.
That last thing alone isn't a great sign, though we pushed on with the review all the same and found the lag was definitely there jumping between apps, though it was fine if you were patient.
It's not the most horrible lag ever, but if you're used to flagship quality or the punchlines of an iPhone, this isn't the smartest of upgrades.
Our other quibble is one of Android, because while this runs Android and is easily compatible with pretty much every major app, it's clear that ZTE has made some compromises, one of which is the OS: good luck expecting an update for this phone.
While it runs Android 5.0 "Marshmallow" which is kind of up-to-date (or was for last year, anyway), the updates section of the phone basically suggests copying card updates to a microSD card and doing it there. No over-the-air connections or a server for you to talk to, which basically tells us the Tough Max will probably stay at version 5 of Android likely forever.
That's not necessarily a good omen, but it is possible Telstra will release something… we just doubt it.
At least it runs a recent iteration of Android, or recent enough, though even with that some of the hardware definitely wasn't made for that recent version.
Specifically, we're talking about the buttons under the screen, the ones that in that triangle, circle, and square shape are supposed to imply back, home, and app switch respectively.
That's the way Android does it now, and usually with on-screen digitally-recreated buttons, but manufacturers are allowed to stick them on with soft buttons if they so choose, and Telstra and ZTE have certainly done so in this phone.
Except it has also been done so with old hardware, because the square — which normally lets you jump between apps for multi-tasking — doesn't work on the Tough Max this way unless you hold it down. No, a basic push brings up the settings menu, and that tells us this is actually an old phone with the menu button with a new label over that button instead.
Not quite the brand new phone you might have been expecting.
This type of trickery isn't totally foreign in electronics, and we've certainly seen it a few times in phones, but it's still annoying all the same.
If you don't know what the square normally does in Android, it's not a big issue, and if you do, it's a retraining of how long you hold it down.
Still, though, it would have been easier for ZTE (makers of the phone) or Telstra (the people who ordered the phone from ZTE) to make sure the square did what it was supposed to, and not just sit there superficially in the first place.
Conclusion
It may not be the most attractive phone on the planet, but Telstra's Tough Max is a surprising phone that really does the job, and even steals a line or two from the likes of Samsung to make this device "made for Australia".
Easily one of the better things we've seen come out of ZTE, the Tough Max is a surprising little phone with enough of the stuff that 4G phone buyers are looking for while also packing in durability for the dirt out the back of the country.
We'd like to see a boost of speed if we could and there's obviously some older hardware serving use here, seen via that not-quite-right set of soft buttons, but overall, this is a decent phone for anyone needing durability in places where phones don't quite hit the mark.
If you have the patience, this is Telstra's true blue battler, only in orange and black.
Review: Telstra Tough Max
Price (RRP): $480 outright or from $62 per month Manufacturer: Telstra / ZTE
Relatively well built; Blue Tick certified, telling you it should work in the desert; Upgradeable storage; Great speeds on Telstra's 4GX network; Built-in antenna ports; Decent battery life; Button for dedicated torch (LED used for flash);
Performance isn't amazing, and slow downs can be seen; Design isn't the most elegant; Button design suggests modern Android, yet square multi-task button works as the old menu item, telling you it's old hardware in disguise;