Smooth sailing: Samsung's water-resistant Galaxy S4 Active reviewed

Price (RRP): $699
Manufacturer: Samsung
Everyone has heard a story about a piece of electronics taking a jump in the drink, only to have it emerge broken and useless, fried to death in the process. It happens with smartphones often enough for it to be a horror story, and Samsung seems intent on finding a solution, which the company has done in the form of a water-resistant model of its famed Galaxy S4.
Features
A new Galaxy S4 already? Surely not, since it was only late April that we played with Samsung's latest flagship handset.
Yet here we are again, with a new model wearing the term "Active" alongside the S4 moniker, telling us that this variant is all about going out into the real world, with an element of ruggedisation applied to the first S4.
We'll start with the specs, because much of what was in the first S4 is still present here, including the quad-core 1.9 GHz processor making an appearance alongside the same 2GB RAM and 16GB storage with a microSD slot. Android 4.2.2 "Jelly Bean" is the operating system of choice, just like the S4, with an Adreno 320 graphics chip taking care of multimedia and an infrared controller at the very top of the handset.
Connection options are similar again, with 4G LTE, Near-Field Communication, Bluetooth 4.0 with A2DP, WiFi 802.11 a/b/g/n/ac, DLNA, GPS, and the microUSB port, the latter of which sits at the bottom and is covered by a removable port.
The cameras are a touch different, with a rear 8 megapixel shooter setup in the same design on the back, while the front is a 2 megapixel shooter like the S4, both capable of shooting 1080p Full HD video from either camera module.
Samsung's choice of screen is also similar, though not the same, with a 5 inch display that relies on LCD and not the AMOLED technology seen on the regular S4. Both screens support Full HD's 1920×1080 resolution, though, as well as the 441 pixels per inch pixel density, making it better than the Apple iPhone Retina-grade screens found on the iPhone 4, 4S, and 5.
Scratch-resistant glass is also included, but upgraded from the S4, now with the Gorilla Glass 3 which boasts even more resistance to scratches. That type of protection is also visible from the dust and water protection, which has been rated for up to one metre of water for a maximum of 30 minutes.
Several buttons are also included on the S4 Active, with a volume rocker on the left side, power button on the right, and three physical buttons replacing the two-soft-one-hard of the regular Galaxy range, including support for menu, home, and a back button.
Ports are limited, though, with a 3.5mm headset jack up top and a covered microUSB below.
Underneath, the back is removable, with the microSD and microSIM slots found underneath, while the battery remains unchanged from the S4's 2600mAh piece.
Performance
Only a few months since Samsung first showed and quickly thereafter released the latest model in the Galaxy S smartphone line-up, the brand is changing it again, revisiting the high-end handset and redesigning it for people with a more active lifestyle.
Maybe that includes running, jumping in water, and playing in dusty environments, and maybe that means you need a handset capable of surviving the gamut of grandeur you hurtle yourself and your handset through.
This is precisely what the S4 Active is targeted at, with the result being a slightly redesigned version of the Galaxy S4 built to better take on the dramas of the outdoors, while still offering much of what made the original S4 excellent to begin with.
We'll start with the design, because that's where the most noticeable changes are.
Looking down at this handset, it features a similar screen, sized at 5 inches once again, but relying on just a regular LCD technology instead of the Super AMOLED we see used on the regular S4.
With the screen out of the way, it's plastic all around in this affair, hardly surprising given Samsung uses it in pretty much every handset, but the S4 Active is a touch thicker, jumping from the miniscule 7.9mm in the S4 to 9.1mm in the Active. It's also a touch wider and taller, while also being decked out at both the top and bottom with rubber sections, making the plastic body feel just that much stronger.
Interestingly, none of this work to the body has changed Samsung's desire to make the back removable, because it still is. In fact, it's not just easy to take off, but also interchangeable, with a different colour found in the box for the S4 Active. Neat, especially if you like being able to change colours.
This removable back does include some rubberisation, something not seen on the back of the regular S4, which helps to keep water from leaking into the bits and pieces inside.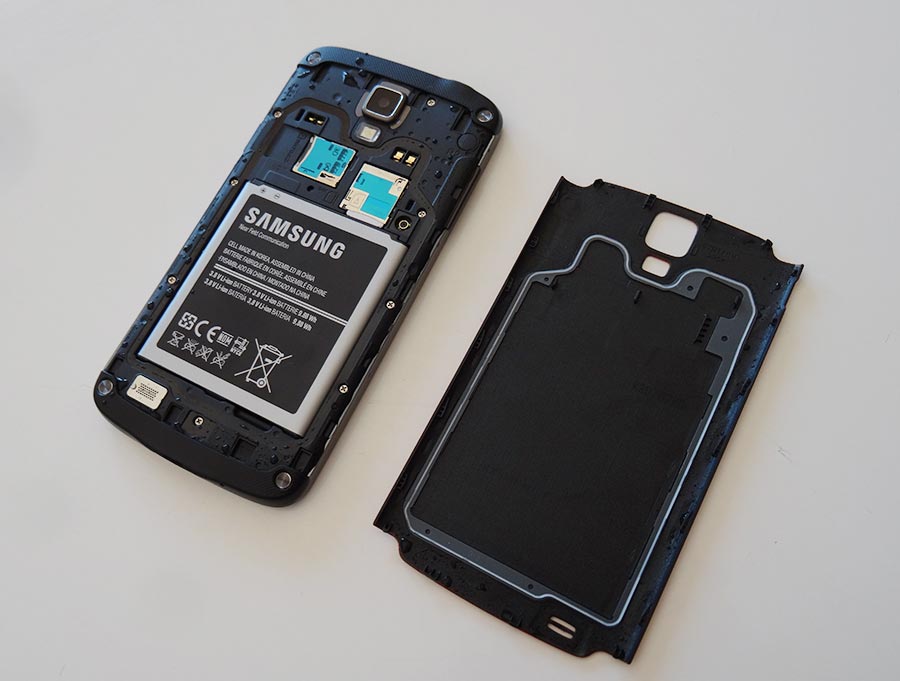 From what we know, this is one of the parts used to make sure the phone reaches IP67 certification, which is another way of saying dust and water-resistant, with that liquid-proofing capable of diving down to 1 metre for up to 30 minutes.
Switching on and controlling the S4 Active is exactly what it's like on the regular S4, so Samsung isn't skipping any familiarity here.
The power button sits on the right edge, while the volume rocker is on the left, with three Android driving buttons down below. In a first for the S4 range, all the front-facing buttons are proper physical tactile buttons, no doubt because this is designed to take more of a beating, and real buttons will be easier to feel for than flat soft ones.
Regardless of the reason, this is just as comfortable a phone to use as the regular S4, even though there's a bit more length, height, thickness, and 20 grams more weight.
Samsung's version of Android still sports the Samsung developed "TouchWiz" overlay, which sits atop Android 4.2 "Jelly Bean." Overall, TouchWiz is clean, supports multiple homescreens with widgets, lockscreens with specific widgets, and even a better defined category-based settings menu, which helps to make setting up the phone's functions clearer.
TouchWiz isn't perfect, though, and Samsung's problematic gallery is still here, breaking whenever you don't want it to (and you actually want to look at your photos), and forcing you to find an external app solution.
Another bug present in the S4 – and other Galaxy handsets, for that matter – is the locked shortcut dock, which is still just as locked as it was before, and forces you to have phone, contacts, messaging, internet, and apps online. Tough luck if you want to change it to something more familiar, because Samsung just won't let you in the Australian Galaxy S4 Active.
Sadly, they're some of the bad traits from the original S4, but fortunately, much of what made the original S4 great is in this body, too.
One of these things is the 4G, which is just as strong a performer as it ever was.
Testing the handset over a period of days found speeds ranging from 25 to 76Mbps down and as much as 30 going back up. Excellent 4G as per usual, and that's just as solid as what we experienced in the lazy S4.
Battery life is great too, with a day and a half of life before the handset needed a charge. Most people will want to take care of this daily, and sticking this phone on charge does mean pulling out the microUSB port cover, something that is normally exposed on handsets, but it's not hard and is easily replaced.
That day and a bit of life we found was while making phone calls, sending messages, surfing the web, checking email, taking photos, listening to music, and more. Not bad, to say the least, and probably partly due to the fact that the Samsung Galaxy S4 Active relies on the same 2600mAh battery used in the regular S4.
Overall operating speed is still quite snappy, with a benchmark of 12197, a couple hundred points below our Galaxy S4 speed of 12407, making it excellent and very capable.
Actual hands-on performance shows a bit of lag between operations, which will slow you down by a second or two when you're opening and switching between apps, but it's nothing that bugs us tremendously.
Infrared is also supported, so you can use the water-resistant S4 Active as a remote control for your TV, with the WatchOn app included, while S Voice's speech controlled search is still present, as is the S Translator which lets you go from your language into another and visa versa.
The camera has been dropped from a 13 megapixel shooter down to an 8 megapixel module, but it's not a dramatic loss, with clear shots still possible in daylight, and some of that excellent Galaxy camera interface also brought over.
In fact, while the dual front-facing and rear-camera mode is now absent, Samsung has left the animated photo and eraser mode in for people who want to use it.
Really, the star of this show is the resistance, and that's where the S4 Active does quite well from its redesign.
The phone feels more substantial thanks to its rubber bumpers, and it can even survive a dip in water. We filmed a small video under water, and while the touchscreen isn't terrible effective when water surrounds it – nor are the speakers, for that matter – the handset survives without any problems.
That is, simply put, awesome.
Conclusion
With the S4 Active, Samsung has proven that it's good at taking an already solid concept and pushing it in a different direction.
Water and dust resistance isn't going to be a must have feature for everyone, but those who felt it was important will definitely find something to love about the S4 Active, as will anyone who has ever taken their smartphone to get repaired after falling in water. Recommended.
Smooth sailing: Samsung's water-resistant Galaxy S4 Active reviewed
Price (RRP): $699 Manufacturer: Samsung
Highly water resistant; Great battery life; While the body is plastic, it feels even stronger than the regular S4; Supports microSD memory upgrades;
Slightly slower performance than the S4 in real-world use; Touchscreen doesn't work under water; Bugs from the original S4 – locked shortcut dock and gallery issues – are still here, sadly;