Very, very impressive: Samsung's Galaxy S4 reviewed

Price (RRP): $899; Available on plans from Telstra, Optus, Virgin, and Vodafone
Manufacturer: Samsung
Samsung has been on a winning streak lately, producing some top-notch handsets and winning acclaim around the world. The newest model in the four year strong Galaxy range has certainly been hyped up, and this handset now grabs almost as much attention as Apple's coveted iPhone. Can Samsung's S4 steal the show?
Features
For the S4 released in Australia, Samsung has decided on using the Qualcomm Snapdragon 600, with this particular quad-chip clocked at 1.9GHz. The almost two gigahertz processor will work in tandem with 2GB RAM, Adreno 320 graphics chip, and on the model we're reviewing, there's 16GB of internal storage for you to work with, as well as a microSD card slot for expanding that considerably.
Google's Android operating system is being used here, though outside of LG's Google Nexus 4, this is the first time we've seen the very latest version of Android – 4.2, Jelly Bean – used out of the box when you buy it. New features to this version include standby screen widgets and a "daydream" screensaver, among other things.
One of the more important features of any smartphone released in the past few years is the screen, and on the S4 that's a 5 inch Full HD (1920×1080) display, managing a pixel per inch count of 441, similar to the Sony Xperia Z.
The display is protected by the third-generation of Corning's scratch-resistant glass technology – Gorilla Glass – and even incorporates some new technologies to reduce power consumption on the screen, a touch technology that expands the scope of the touchscreen to include activity happening just above the screen, brightness and colour profiles that can automatically switch on, and the ability to use the touchscreen while wearing gloves and other garments.
Multimedia is an important part of any handset, and here in the Galaxy S4 you can find a 13 megapixel rear camera capable of blending consecutively shot images to remove people and elements unintentionally in the frame, take photos with background sound included, dramatic shots with merged frames, and of course Full HD video.
The front camera on this smartphone sits at 2 megapixels and can record Full HD video, too.
A first for smartphones, both camera modules can be activated simultaneously and blend images shot from each, allowing you to appear in the photo you're taking.
Connections on the Galaxy S4 cater to pretty much everything under the sun, and as such include Bluetooth 4.0 with A2DP, AptX, WiFi 802.11 a/b/g/n/ac, 4G LTE, Near-Field Communication, GPS, and even infrared, with the latter of these sitting in a small dot at the top of the handset.
With regards to ports and buttons, the Galaxy S4 follows on from its S3 brother, and as such has very few of either.
You'll see the typical three Samsung front-facing buttons here – menu, home, and back – while the volume rocker sits on the left side and the power button sits on the right. Ports are more or less the same, too, with only a 3.5mm headset jack up top and a microUSB that doubles as HDMI video with an optional MHL cable at the bottom.
Unlike most of the phones this competes with, the back of the handset isn't soldered on, and you can remove it, showing the 2600mAh battery underneath, microSD slot, and microSIM section.
Performance and what works
It's been a whole year since we first laid eyes on the Galaxy S3 (SIII), and since then, Samsung has decided to do away with the Roman numerals for the Galaxy series, hardly surprising given people would probably call it the "Galaxy Siv," a slightly different sounding name than "Galaxy S4."
In this incarnation, Samsung has kept much of the design of its older brother, tightening up the form with a look inspired by that of the bigger Galaxy Note 2.
The front hasn't changed considerably, though the screen is a little bigger and the corners are less round, looking more like a softened rectangle now than before, which feels like a Galaxy Note 2 thing. The edges no longer feature a wavy line, and everything on the S4 looks more professional. Even the back is tightened, with a very minimalist look: camera lens and flash going down the back, with the Samsung logo, and then the speaker at the bottom.
Certainly from a design point of view, Samsung appears to be learning about simplicity, and that works for us.
Samsung is still relying heavily on plastic, though. In the hands, this is – like its brother – a very comfortable handset, and even though plastic is the dominant material, the S4 still manages to feel very solid, albeit slippery.
Turning it on, we're greeted by that Full HD screen, which stretches out almost the entire front-face. At five inches, it's big, bright, and very clear, and if anyone complains about the clarity of this screen, they're either lying or having eyesight troubles in ways this display can't fix.
While the 441 pixels per inch isn't the highest on the market (beaten out by the HTC One's 468ppi), it is still insanely clear, with full-size webpages, Twitter, documents, and pretty much anything showing up on screen clear and readable.
Over in the performance section, we have to award the Galaxy S4 with as many stars as possible. For GadgetGuy, this means applying a maximum of five, but if there were more to choose from, we'd probably feel justified in providing an extra because – simply put – this is one of the best performing pieces of equipment out there.
Let's start with the usability, and thanks to Samsung going with the latest Qualcomm Snapdragon, this phone flies.
Run one app, run five apps; hell, why not go the whole hog and run ten, because this phone doesn't mind, and it will take all of it in stride. With 2GB RAM being that magic number Android seems to prefer and 2GB included, plus the fastest Snapdragon chip available to date in Australia, the Samsung Galaxy S4 performs brilliantly.
Games, apps, social networking, whatever: this phone will take anything you throw at it, and based on what we've experienced, should work that way for at least the next year, and probably more.
Network speeds are also awesome, and thanks to the wonderful high-speed 4G LTE connections on offer in Australia, you'll find the S4 is capable of downloading things very, very quickly.
At most, we managed around 50Mbps, though generally we found our speed test sat around 30Mbps while running it in Sydney's CBD on the Telstra network.
And then there's the battery life, which just managed to surprise us, offering up to two days of life in our tests, and that was without power saving switched on. LTE speeds with two days of life is generally unheard of, and we only experienced something similar when we last reviewed Samsung's Galaxy Note 2, which features a bigger battery.
Use your phone a lot – and we mean it – and you'll manage a day of life, but everyone else should see a day and a half all the way up to two days, which is fine by us.
Some of the software bits and pieces added Android are excellent too, and welcomed with open green droid-like arms.
The Swype-like on-screen keyboard feels faster than it ever did, and we hear one of our favourite pieces of software – SwiftKey – is actually sitting underneath driving everything, even though the look is from Samsung's now four-year old virtual keyboard.
Dropbox still includes 50GB storage with a Galaxy S4 purchase, and Navigon still has turn-by-turn GPS navigation software, but now Samsung is throwing more into the mix with the inclusion of Samsung Hub, which allows you to purchase books, apps, learning titles, and even movies in a system outside of Google Play.
A health app is also on here too, in case you're looking to get in a little bit of shape without purchasing any extra hardware, though Samsung will be releasing fitness bands and scales later on to compliment the solution.
One other nifty and useful application is "S Translator" which looks to be an ideal program for anyone travelling to a foreign country.
While data is a requirement, S Translator allows you to type a phrase or speak into the application and have your words translated to a different language. Not all dialects or languages are supported, and as of the time of testing, Brazilian Portuguese, English, French, German, Italian, Japanese, Korean, Simplified Chinese, and Spanish were the only options.
WatchOn is another neat application, downloading show schedules from an electronic program guide (EPG) and connecting with your calendar to remind you when to watch certain shows.
Samsung has also provided a programmable remote control for your home theatre to use with the infrared in this phone, and while it's functional, we do think that the interface provided on the HTC equivalent is better.
The camera is another area where Samsung has been working hard, upping last year's 8 megapixel Galaxy S3 camera to a more capable 13 megapixel module, which puts it on par – at least megapixel-wise – with the flagship offerings from Sony and LG.
Samsung's camera interface has been enhanced too, redesigned to look more like that of the Galaxy Camera, complete with a selection of modes to choose from, including one that will remove people from the background, one that will fix faces, and a ton of filters that will show what your photo looks like through those filters as you take the photo.
Images from the camera look sharp and bright in daylight, and while they lose some clarity when you get in close, it's a phone camera, and so won't compete on zoom when there is only digital zoom to work with.
When the lights go down, the low-light quality from images leaves something to be desired, with little detail in the blacks.
That said, stick the image on HDR and you'll find some light in the dark, while in daylight, the high-dynamic range images simply pop off the screen.
We're also intrigued by the double image mode in the S4 that lets you take photos from both the front and rear camera at the same time.
While we're not exactly sure who this is good for, it's good for creating some very strange photos, such as the one below, where the reviewers head looks on above people in a darkened park.
Touch-less features
Flagship phones generally perform, and Samsung's S4 certainly manages this, but not every feature shines.
Interestingly, it's the ones that Samsung has added to make this handset a finger-less experience that feel like they haven't been truly finished, with Smart Stay, Samsung's feature that purports to watch you when you're watching the screen and stay on, pausing videos and switching off only when you're not looking at the screen.
In theory, this is a neat idea. You could watch a flick, turn to talk to a friend, have the video instantly pause, and then return to it having missed nothing.
Or you could be reading the screen and have it stay on without you touching it.
Cool, right?
In our experience, it only worked some of the time, and generally when the room you were in was very well lit. At one point, while reading cello sheet music off the screen and trying to play it while watching the screen, it would, sadly, switch itself off.
Samsung's "Smart Scroll" – a technology that is designed to scroll on-screen apps for you by just looking at them – suffered the same sort of problems, and comes with the added bonus of not working in all apps, which we suspect is a problem with many of the Samsung bonus features.
In testing these features, we tried in direct light, in not so direct light, and in darkened rooms, and found that Smart Scroll would maybe work twenty percent of the time.
The problem with features like this, though, is that for all the time you sit there trying to get them to work, you could always just use the opposable thumb on your hand and flick the screen instead.
That action takes no time at all, and isn't reliant on the camera picking up your eyes with light in the background, or watching the position of your pupils. Rather, flicking the screen with your thumb – or even a finger on the other hand – works quickly, easily, and without fail.
Another feature with similar flaws is "Air Gesture," which promises to offer Kinect-like support for waving your hands over the S4 and getting it to do things like scrolling the page up and scrolling the page down.
It's a neat idea, if not a bit pointless, because who really holds their phone at a distance and waves?
Once again, though, the flaw in Samsung's idea comes down to app compatibility, with the feature unable to work with many of the apps available on Android.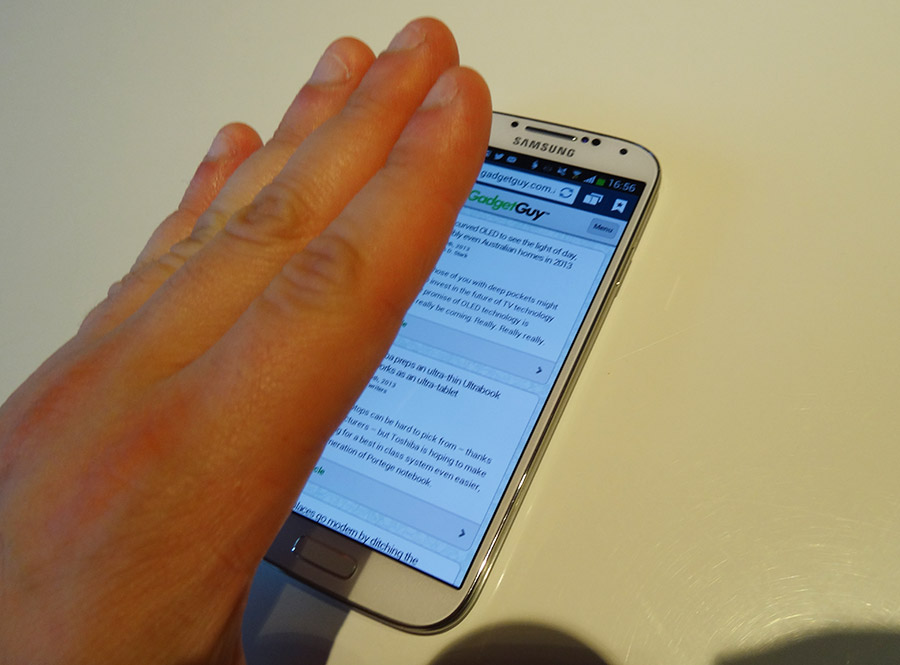 Even some of the ones Samsung includes weren't liked, and we found that the stock standard "internet" browser had no problems, but Google's other browser "Chrome" did and wouldn't even notice our gestures.
Twitter, likewise, didn't notice us waving at our handset, and neither did the phone's homescreen, contacts, Google's Play Store, or the music programs we had on the device.
The one contact-less feature that we had no problem getting to work takes advantage of a feature of the screen, and this is called "AirView."
This feature is a little different because it relies on a 3D sensor technology that looks for finger placement above the screen. When found, it allows you to highlight and view preview information before you touch to open.
So if we wanted to see a preview of emails, we can hold our finger over the list of files and for each one, a small preview box will appear.
Webpages can be enlarged in this way too, with an accessibility mode activating through this feature, as well as it working with speed dial and video progress.
What needs work
Outside of the problems with Samsung's special touch-less features, there are only a few things to speak of that need fixing.
One of these is the bottom shortcut dock, which has been untouchable since the Galaxy S3 had a firmware fix take care of an Android security glitch.
What do we mean by "untouchable?" Well, let's say you don't want all of the stock standard icons at the bottom – phone, contacts, messaging, internet, and apps – and add Twitter or Facebook.
That's not unreasonable, but Samsung won't let you touch this area. It is the way it is, which is odd, given Samsung is the only company that won't let you change this area.
We've already mentioned we like the feel of the S4, but we still wish Samsung would learn from what other manufacturers are doing with regards to design and build materials. With LG going with glass, HTC opting for aluminium, and Apple looking at a combination of both of these, it would be nice to see something more significant than plastic for a flagship Samsung handset.
With fairness to Samsung, the S4's inspiration from the Galaxy Note 2 design makes for a more comfortable phone than what we saw in the S3, but compared to much of the competition, we're left wanting.
Likewise Android Jelly Bean's lockscreen widgets aren't really acknowledged. Even though they're here, they don't feel explained, or even taken advantage of, and most people will likely just keep swiping up to unlock instead of across and checking out standby widgets.
The camera is also good – a fact we've mentioned – but some of the camera modes just aren't as intelligently designed as they probably should be.
Modes like "eraser" – for removing unwanted cars and people in the background of shots – and "best face" – where five shots are taken and the image is blended with only the face you want replaced – don't actually function as well as they do on what the competition offers.
On the HTC One (where we first tried this functionality), you shot the image as standard in the Zoe mode and then chose what sort of adjustment you wanted, with the options including both of these functions.
On the Samsung Galaxy S4, however, you have to pick whether you want to use it from the beginning and when you're taking the photo. When you do, you're not even guaranteed to make these options work, and we tried many a time to get eraser working, only to have it do nothing for us most of the time.
The camera quality is generally good, and we like that Samsung has tried to make the interface cleaner by shifting it to the look of the Galaxy Camera, but these extra modes just feel a little under-developed, especially when so much of the handset works so well.
Anti-octa
When GadgetGuy's Valens Quinn attended the Galaxy S4 launch earlier in the year, Samsung made a promise that there would be an eight core version of this phone, something we were eager to see, as well as many of our readers.
Unfortunately, a few weeks out from the release of the S4 in our country (Australia), Samsung came out and said that the 4G model we would be receiving would not feature the eight core Samsung Exynos processor that had been talked up.
Samsung hasn't yet come back to us with an official reason, but has said that the 3G version of the handset will feature the eight-core chip, just not the 4G one, leading us to believe that the reason eight cores works on 3G is because of battery life.
With that in mind, and with a completely different set of specs and hardware, there is no way we can even work out how fast the eight-core 3G Galaxy S3 will be.
Australians will, as of the time of writing, only be receiving the Snapdragon 600 quad-core variety, which based on our testing experience, is one of the fastest phones on the market, and should be completely suitable for anyone, but if you have to have the Exynos, realise that this review probably won't cut it, and the experience will be different.
Conclusion
Even without the eight cores, the Samsung Galaxy S4 is a force to be reckoned with, and anyone looking for a smartphone to take them through this year and into the next will be delighted to see just what it can do.
Very, very impressive: Samsung's Galaxy S4 reviewed
Price (RRP): $899; Available on plans from Telstra, Optus, Virgin, and Vodafone Manufacturer: Samsung
Very fast performer; Two days battery life possible from a 4G phone is excellent; Fast virtual keyboard; Works as a remote control;
Unique camera modes aren't easy to use; Finger-less touch modes need a lot of work; Still a very plastic phone; Can't change the bottom icon dock;