Samsung's Galaxy S6 Edge reviewed

Price (RRP): $1199 (starting price); $1199 for 32GB, $1299 for 64GB and $1449 for 128GB;
Manufacturer: Samsung
Flat phones are so passé, it seems, with the Galaxy S6 Edge showing us a future of curved smartphone goodness. Is this a taste of the future, or merely a gimmick demanding top dollar?
Features
The second of Samsung's two March 2015 releases this year, the Galaxy S6 Edge is the sibling to the Galaxy S6, with almost identical hardware between them.
While we could probably copy and paste our features section from the original Galaxy S6 review, we've instead rewritten it to highlight some of the differences between these handsets, so pay attention, because here's what's inside Samsung's new edgy smartphone.
Processing is handled by a Samsung-made chip, the Exynos 7420, a piece of hardware made from a quad-core 1.5GHz processor and a 2.1GHz quad-core processor, together making an eight-core chip for use in a smartphone. This works alongside the Mali-T760MP8 graphics chip, as well as 3GB RAM, above the 2GB sweet spot that Android generally prefers.
Storage on this phone is set to one of three options, with either 32, 64, or 128GB the choice you have to make at the beginning, with no upgradeable storage slot found on the Samsung Galaxy S6 Edge.
Regardless of what you choose, you'll find Google's Android 5.0 "Lollipop" on this handset out of the box, with Samsung's TouchWiz interface sitting on top of this.
Cameras are included on this handsets, a staple feature today, and for this phone, you'll find a 16 megapixel rear camera with optical image stabilisation and an LED flash, while the front-facing camera is set to 5 megapixels. Both cameras are capable of recording video too, with Full HD supported by both, and 4K Ultra HD recordable on the rear camera.
Next to the rear camera, you'll also find the heart-rate sensor, left over from the Galaxy S5, even if its position has changed.
Connections are standard for flagship fare, starting with the Category 6 4G LTE connection, providing speeds as high as 300Mbps down and 50Mbps up. Wireless networking is part of this package, too, with 802.11a/b/g/n and 802.11ac, Bluetooth 4.1 with A2DP and Low Energy (LE), GPS, Near-Field Communication (NFC), and infrared to use the smartphone as a TV remote if need be.
Wired ports are few and far between, and you'll find a microUSB port on the bottom, as well as a 3.5mm headset jack. A nanoSIM slot can be found at the top of the handset, ejectable by a pin ejection mechanism.
All of this technically sits under or around a 5.1 inch Super AMOLED display running the resolution of 2560×1440, providing a pixel clarity of 577 pixels per inch, identical to the Galaxy S6, and higher than any other 5 inch smartphone currently on the market.
One difference can be acknowledged here between the S6 and the S6 Edge, and that's the curved screen, with the 5.1 inch display curved at the sides ever so slightly, allowing the ends of the display to conform to the body rather than end at the edge.
Regardless of if the screen is curved or flat, it is protected by Corning's scratch-resistant Gorilla Glass 4, and this appears on the front and the back, with a metal frame used as the other main material in the construction.
Buttons are standard for Samsung, with a power button on the right edge, individual buttons for volume up and volume down on the left edge, and the typical Samsung assortment of an ovular home button at the bottom of the screen, with a multi-task soft button flanking this on the left, and a back soft button flanking it on the right.
Beneath the home button, you'll find a fingerprint sensor which can be mapped to your digits to help you securely login, as well as pay for goods and services.
The battery on the Galaxy S6 Edge is rated at 2600mAh and is not removable.
Performance
A new year, a new phone, but this year, for 2015, Samsung has two, and they're very similar.
If you've already seen our review on the Galaxy S6, prepare yourself for more of the same, because Samsung's Galaxy S6 Edge isn't a similar model with a slightly different processor or an ultra-fancy camera.
No, this is a more or less identical to the S6 with the difference visible in the screen which now curves around the handset, encroaching on the metal frame and making it slimmer, thinner, and more like a line around the sides that reminds us of the line Samsung once had on its laptops.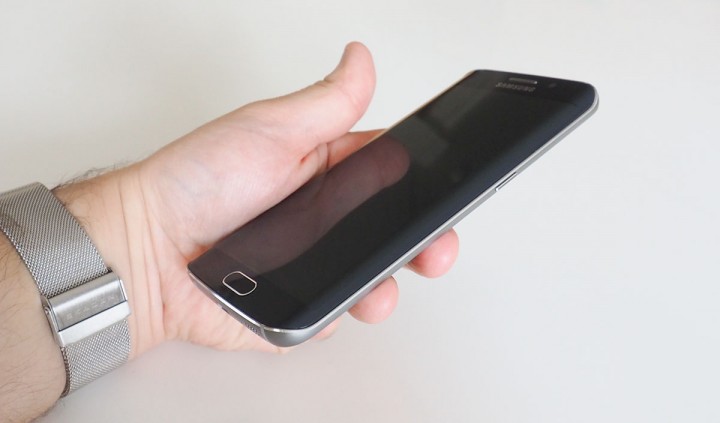 That design is the primary reason why Samsung felt the need to make a different device, with one that will attract a different audience, specifically those looking for something uniquely modern.
And that's precisely what they'll get, because while you could compare the Galaxy S6 to other phones, such as the Apple iPhone 6, the LG Optimus G, and even Samsung's own Galaxy S4, the S6 Edge doesn't really look like any of them.
Oh sure, the bottom is very similar still to the iPhone 6, and that's apparent on the standard S6, but the rest of the phone is slick, with that curved screen appearing near bezel-less because it curves ever so slightly on the edges.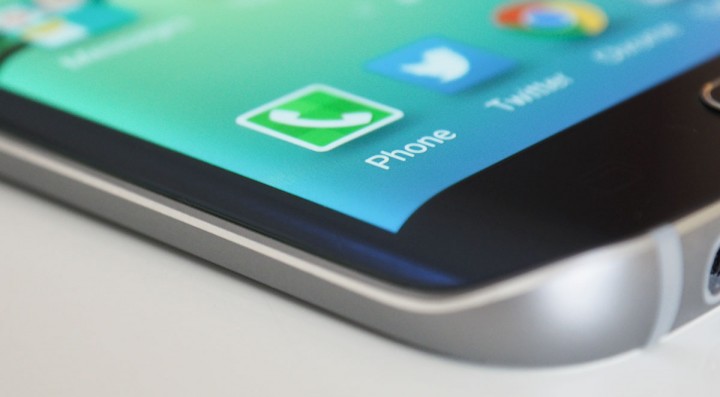 It's not a full curve, either, not like the curve on the Galaxy Note Edge, which curved to the spine of the handset, like it was a screen on the edge of a book. This is basically the S6 screen with its 1440p resolution curved on the edges, with the bezels curving with it.
So it's not edgeless, but it can appear that way thanks to the curves, and it's a neat effect, feeling like you're holding your operating system, your colours, your little bitty piece of the future unencumbered between your fingers.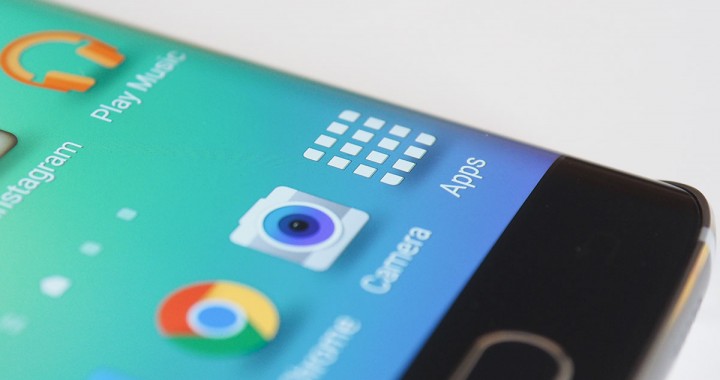 And just like we said on the S6 regular, that screen is amazing.
LG might have shown us our first glimpse of Quad HD on a 5.5 inch smartphone, but Samsung's smaller 5.1 inch smartphone screen packs in even more pixels, even if they're a little curved on this phone.
More than just super sharp, the screen is also super bright, with the screen kicking in a level of brightness you don't normally get to see until you're out in bright sunlight, with the screen accounting for the sunlight with that boost.
In Australia, where it tends to be quite sunny, this is a tremendous help, and while it's a bit of a drain on the battery, it actually allows you to see what you're doing when the sun won't let up.

Samsung's Galaxy S6 Edge offers up 577 pixels per inch, while the Apple iPhone 6 provides 326. What does this mean for the rendering of text? Take a look with our interactive pixel test above, with pictures of each screen under the microscope!
Using the phone is spot on with the Galaxy S6, too, and as you can expect, Samsung is relying on identical software and identical hardware to make this happen.
As such, it's the same Samsung-made Exynos eight-core processor made from one quad-core 1.5GHz chip and one quad-core 2.1GHz chip, with Google's Android 5.0 "Lollipop" installed from day one out of the box.
This tech helps to make the phone quick to use, with animations that load without fail, are fast, and a general feeling that for the first time in ages, Samsung's TouchWiz interface is something you might actually want to use, instead of replacing it immediately with a different launcher when you take it out of the box.
It's colourful, flat like Google's Material Design, and simple, which is what we like, as Samsung edges closer to what Google seems to want its Android to look like, at least according to its stock version that appears on other phones.
And fortunately, just like the S6, it's missing some of the bloatware Samsung normally loads.
In our Australian review model, we only had Kindle, Here Maps, Samsung's Milk music service, PayPal, the SmartSwitch software to help you switch phones if you're upgrading from iOS or another Android phone to this, and a few Microsoft apps.
Some of these can even be uninstalled, which is useful to know if you plan on getting rid of them.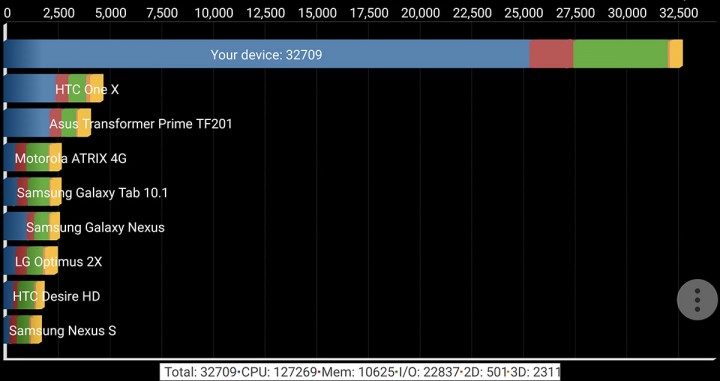 That's a little more than our international S6 had, but much less than we're used to seeing, and even Samsung's Group Play, S-Voice assistant, and S Translator translation app are missing, practically confirming that these extra features few used are gone for good, and not taking up space on your phone.
We're also fans of some of the features included on this model, such as high definition audio support being present, the fingerprint scanner which is much better to use than previous versions, and the double press of the home button to activate the camera, because oh man, what a lovely camera.
Every year, the flagship phones find a way to outdo themselves in terms of upgrading camera quality, and compact cameras are now on high alert for being replaced by anyone and everyone carrying a decent smartphone.
Last year, our favourite smartphone camera was Sony's Xperia Z3, which didn't only provide stellar quality, but also had a camera button to let us go into camera mode quickly and easily from any screen, even off.
This year, Samsung has learned a few things, and has made a double tap of the home button do the exact same thing, which is an excellent and easy way to launch the camera, which is also excellent for many reasons.
For starters, the camera has some impressive sensor technology applied to it, and the engineering team at Samsung has really outdone themselves here.
Overall, it's a relatively sharp shooter, with great exposure in daylight and solid results when the lights go low and you don't want to use the flash, either.
You can, mind you, and one is included, but we prefer it flash-less, native light and all, and Samsung's Galaxy S6 and S6 Edge performs very well under these circumstances, and certainly better than most of the phones we've tested.
Likewise, macro photographers will enjoy a phone that actually allows you to get up close to things, with a shorter focus distance and the ability to pick up on small details. This is one camera we'd be happy to switch to.
Mobile performance is also quite good, hardly surprising since, again, this is the same technology that made the Galaxy S6 tick, meaning you can connect to 4G networks using Category 6 network tech, while use at home supports pretty much every networking spectrum used by consumers, ranging from the original 802.11b to the 802.11n we're all mostly using, and even the 802.11ac that is the latest and greatest.
4G networks will get more performance, and depending on where you are in Australia and what telco you're using, you could see speeds as high as the Cat6 limit of 300Mbps down. In Sydney on Telstra's CBD, we didn't see quite that, topping out at 67Mbps in our tests, which was perfectly fine for us.
And there are other things, too, such as the smart manager, offering you an easy way to switch off apps, manage battery, and secure your phone, while Samsung's S-Health will seek to bring your health monitoring to one screen.
All of this practically makes it the same as the Galaxy S6, which it is, if it weren't for that screen.
So, what is it about that screen that works so well?
It's slick, special, sharp, and stunning, but it's also something else…
Simply put, it's a gimmick.
It's a very cool gimmick, don't get us wrong, but a gimmick none the less, and one that does less than the edge did on the Galaxy Note Edge, the first edge-based phone Australia received and the second curved screen phone Samsung has made, the first being the Galaxy Round that was never released locally.
That makes the Galaxy S6 Edge the third curved phone the company has worked on, and despite how cool the gimmick is of the screen curving with the phone, it just doesn't do a whole lot, or not enough to justify the price tag jumping as far as it does.
For instance, you can now swipe in your five favourite friends and call them from a simple touch to their face, even assigning them a colour (out of a preset block of colours) and when they call and your phone is lying down, it will glow with that colour. Hopefully, you'll even remember what colour they're assigned to.
You can also give yourself a clock to look at when you're in bed, with the time and date in a more ambient glowing setup staring at you from the edge of the screen, on whatever edge you setup.
That last bit is something that makes the S6 Edge special: rather than force you to use the curved screen on the right side, like the Galaxy Note Edge, both sides of the S6 Edge are curved, and so you can have this sit on the left — for lefties — or on the right — for everyone else.
And that means the clock can pick a position, too, which is handy if you leave your phone on the desk one way over another, which some of us certainly do.
You can even show news feeds and weather on the edge, and even some social networking goodness if you choose, almost as if the edge of the screen were a news ticker at the bottom of a news station.
Unfortunately, they won't appear just by themselves when the phone is on standby, and it's kind of a pain to have to get them to switch on, forcing you to rub your finger left and right on the edge to get the Galaxy S6 Edge to wake up and deliver you the information you're looking for, when you could simply just bring the phone up from standby and see it on a nice big screen instead of a boring edge.
If this information was just in the background, ambient like the clock and not consuming a whole heap of energy, it would be fantastic, but forcing you to touch the phone, rubbing it to get the thing to function in this way, it just feels like a less impressive use for something we've seen on the Galaxy Note Edge.
That thought constantly enters the front of mind with the Galaxy S6 Edge, because again, the screen is really cool because it's really curved, but it just doesn't do as much as you want, and sometimes it even feels like the screen is a little too sensitive, possibly because you're essentially gripping the edges with your finger, and as we've pointed out, the edges are part of the screen.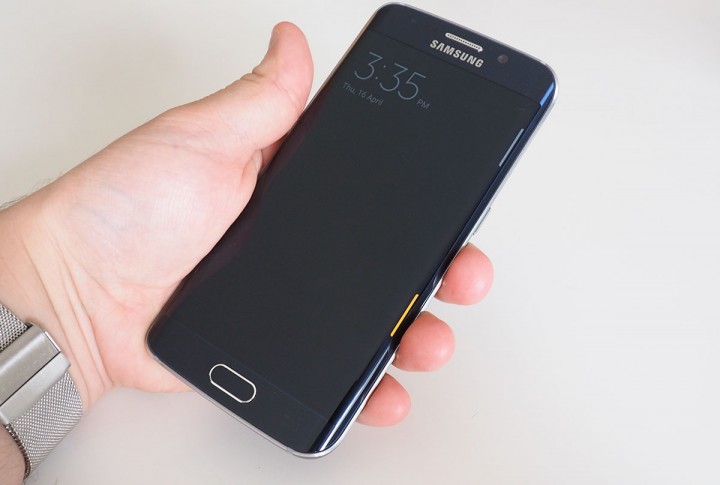 About the best thing the edge screen does happens when the phone is on standby and you pick it up from the desk, with your favourite contacts popping up on the edge in tabs that you can swipe out and see the last message or phone call of, with a button to quickly call them.
This feature is super handy, because if you just missed a few calls or texts from people you value immensely — enough to be considered your top contacts — you can check them all from the one screen without having to wake up the phone and wasting more battery power.
Samsung's implementation of this is excellent, and we love seeing the flow of graphic as it comes in, almost feeling like liquid, as if your finger draws a bubble of information out from the edge, kind of like an interactive lava lamp.
But that's the most enjoyable aspect we've found about the edge screen, and the S6 Edge has the same share of problems from the S6 regular because — survey says! — they're pretty much the exact same phone.
That is, they share the same Exynos octa-core processor, the same storage options, the same memory, the same operating system, the same excellent camera, the same buttons, the same ports, the same high-definition audio support, the same Category 6 4G support, the same reliance on glass and metal, the same… well, you get the picture.
They're not quite the same in the battery department, though, because the design has allowed Samsung to be a little different in this regard.
Granted, Samsung has at least boosted the battery in the Edge by a whole 50mAh, but in the grand scheme of things, it's not enough to be useful, and you'll still only achieve around a day of talking, messaging, emailing, web surfing, listening to music, taking photos, and general use of the phone.
That's not fantastic, but is about standard for every major phone, so just like we observed in the Galaxy S6 review, we're sure this won't be talked up as a huge issue for the phone, since most other phones struggle to get a full day, and this does arrive with a fast charger if you desperately need to get some juice into your phone and there's a wall wart nearby.
There's also no expandable memory, something we're saddened to see missing because it's a feature Samsung has championed over its major rival for so long. Yet here, you'll have to pick the storage amount you want from the very beginning, offering a choice of 32, 64, or 128GB, and with no way of expanding this after the fact.
As you can imagine, these bring with different prices, just like on other phones with various storage sizes, and these can get mighty expensive, with the basic 32GB model fetching $1199, the 64GB grabbing $1299, and the 128GB model commanding $1449.
Yes, you read that correctly: a slightly curved edition of the Galaxy S6 with 128GB storage commands almost $1500, a price that is astounding in the grand scheme of things, and can buy you a laptop.
Technically — and in fairness to Samsung — these pricing models aren't far off what Apple charges for its own phones, with the Galaxy S6 Edge comparable in pricing to the iPhone 6 Plus, which itself sells for identical prices.
That being said, it's still particularly expensive, and you're being asked to shell out a good $150 to $200 for a screen that's curved.
Conclusion
Not everyone wants the same phone, and while we can customise the wallpaper, change the ringtone, add a case, throw some stickers on, and do everything possible to the outside to make it a little bit more you, sometimes, that's just not enough.
Samsung's Galaxy S6 Edge seems skewed to people who find themselves in that category, where they want the same phone as everyone else, and yet they also don't, with something crafted with the same care and ingenuity, but with a little more spectacle.
With a screen that is curved slightly on each side, the S6 Edge is definitely that phone, adding an extra $200 for a product that does that and even throws in a little more functionality, minor as it is.
For some, that minor functionality will be major, and having a phone that glows light red when their significant other calls while blue for their boss will be a big deal, because it's a kind of cool idea that no one else is doing.
Others, however, might just want the curved screen because it's kind of cool, even if it doesn't really do much.
And really, there's something unmistakably sexy about the design, which appears thinner than what it is, and yet looks like it's a piece of the future in your hand, your desk, where ever you are.
Basically, the choice between the two comes down to the screen, and if you can live without the curved screen and still want an S6, you can get pretty much identical hardware and software — without the bits the curved screen brings, few that they are — and save some money in the process, with the Galaxy S6 that option.
But if you want something curved, there's that too, and it's a good product, a great product even, just one that's a little more expensive than it probably should be.
Just don't break it, because the way this thing is made, it probably won't be cheap to fix, and you'd probably be better buying a new phone.
UPDATE (April 17): We're checking on something at the moment, because the Australian version of the S6 Edge (and likely the S6) does not have auto-rotation on the gallery, while that international variant of the S6 does. A question has been put into Samsung to find out why this is still the case and if there will be a patch to fix this, because it's one of those annoying issues Aussies shouldn't have to see, given other people around the world don't have to.
Samsung's Galaxy S6 Edge reviewed
Price (RRP): $1199 (starting price); $1199 for 32GB, $1299 for 64GB and $1449 for 128GB; Manufacturer: Samsung
A design that looks totally different, because no one has curved screens like this; Curved screen is very cool; Built with premium materials; Great performance; Like the S6, an absolutely fantastic and bright screen; One of the best cameras in the business; Practically bloat-free version of Android; Includes a fast charger to quickly bring battery back to life;
Battery could be better and isn't removable; No expandable memory; Water-resistance not part of the package; Curved screen doesn't really feel as useful as it did on the Note Edge; Expensive… very expensive;