Bigger, again: Samsung's Galaxy S6 Edge+ reviewed

Price (RRP): $1199 (starting price); 32GB for $1199; 64GB for $1299;
Manufacturer: Samsung
Samsung's next big thing is bigger, as the S6 Edge arrives with a plus-sized sibling, but is it more than just a big brother?
Features
Has it been that long since we checked out a Samsung flagship?
Back in April, we checked out two, as the smartphone manufacturer didn't just reveal a follow-up to the Galaxy S5, but also a follow-up with a curved screen, a model it called the "Galaxy Edge" that stretched the screen ever so slightly on each side for a more stylised and fashionable look.
We're not sure how well it's done, but Samsung obviously thinks highly of the Edge because now the company has gone and made a bigger one, available in the Galaxy S6 Edge+ (Edge Plus).
In many ways, this model is a spec for spec clone of its brother, albeit in a larger body, so let's look at that.
For starters, you'll find the same Samsung-made eight-core processor consisting of two quad-core sections clocked at 2.1GHz and 1.5GHz separately, 32 or 64GB of storage, and a slight change to the memory, boosted from 3GB RAM to a more impressive 4GB RAM. No microSD slot can be found in this model, meaning your storage is set to either 32 or 64GB with no way of upgrading it.
Google's Android 5.1 "Lollipop" is found on the Galaxy S6 Edge+ out of the box, equipped with Samsung's TouchWiz overlay.
Connections for the phone are about par for the course, except for one thing, which we'll get to shortly. As such, you'll find WiFi spread out over 802.11a/b/g/n and even 802.11ac, Near-Field Communication (NFC), Bluetooth 4 (which has been updated to 4.2 in this phone), and that something new: Category 9 LTE connectivity.
For those not in the know, Category 9 is a higher spec version of 4G, and the Galaxy S6 Edge+ and its introduced-at-the-same-time Galaxy Note 5 brother are the only phones at the time of publication to support this, with Cat9 LTE capable of hitting up to 450Mbps, which technically translates to a maximum download speed of around 55 megabytes per second.
Not every telco will support this off the bat, but over time, we should see more of them waking up to it. Telstra has claimed support for Cat9 4G first, and it shouldn't be long until Optus and Vodafone chime in.
Cameras are the same as the previous Galaxy S6 Edge, however, implementing a 16 megapixel rear camera with an F1.9 lens and flash, while the front-facing camera is set to 5 megapixels with its own F1.9 lens.
Extra sensors are included, too, such as a barometer, a heart-rate monitor on the back next to the camera, and a fingerprint sensor built into the home button on the front.
And then there's the screen, and for that you'll find a slight increase on the regular S6 Edge, with the Edge+ jumping from 5.1 inches up to 5.7 inches, complete with the curved edges on each side.
The resolution stays the same, with Quad HD's 2560×1440 used here on a Super AMOLED display, detailing a good 518 pixels per inch (ppi).
Ports on the phone are identical, though, with the only ports found at the bottom via a 3.5mm headset jack and a microUSB port. The nanoSIM slot can be found at the very top of the handset, ejectable by pin.
Buttons are the same, too, with individual volume buttons on the left edge, a power button on the right, and home and soft buttons found underneath the display, set to multitasking, home with the fingerprint scanner underneath, and then a back button.
The battery in the Galaxy S6 Edge+ is set to 3000mAh and is not removable, though the phone does support a new fast charging wireless charging system if you bring an optional fast wireless charging accessory to the table.
Performance
What a difference a plus makes.
Back when Apple unveiled the iPhone 6, no one was surprised to see that Samsung's biggest competitor had finally caved and joined the category defined by the Korean smartphone giant with its very own phablet.
In that product, Apple had come up with the "Plus", a variant of the iPhone 6 that was a little bigger and a little better, but mostly the same, with identical guts, a better screen, a bigger battery, and a different camera.
It was made for a different type of user, and one that wanted a tablet-sized phone made by Apple, now that the company had no problem acknowledging the success of this category.
Samsung, however, had been working with phablets longer than anyone else. After all, it was Samsung that took a chance on the concept and created it all by its lonesome, pushing out the Galaxy Note back in 2011 (which we reviewed in 2012), and improving on the concept every since.
Four years on, here we are with something that isn't quite a Note, and is rather a big development on a design Samsung has been receiving a lot of praise for, with its curved "Edge" display.
If you don't quite know what we're talking about, look back to April earlier this year when Samsung released the S6 Edge, a variant on its Galaxy S6 smartphone that didn't just offer another touchscreen design with a flat panel of glass, but instead tried something a little different by curving the edges on each side of the phone.
These edges didn't do a whole lot, we need to acknowledge that, serving only as a bedside clock at night, while letting you swipe from either side to pull in your favourite contacts and call them without thinking, but it was the look that attracted people.
After all, here was a phone that didn't have thick edges, with a piece of glass that curved over the front and brought the main line on the edge to something thin. Granted, that was mostly a trick of the eye, and the S6 Edge was about as thick as other phones it competed against, measuring in at 7mm, just 0.1mm thicker than the iPhone 6, even if it didn't look it.
It wasn't a perfect phone, though, and Samsung even managed to get rid of some of the things people loved about previous generations, improving the performance and build but ditching staples like a removable battery and upgradeable storage.
Still, though, there was something about that phone that just made you go "ooo", because a curved screen is very special, even if it doesn't do a whole lot.
For some, though, the size was the drawback, and that's because unlike how Apple released both a big and regular version of the iPhone 6, Samsung only did a curved and flat version of the Galaxy S6.
Not anymore, though, because that has changed.
Samsung's Galaxy S6 Edge+ is exactly what it says it is, as Samsung brings in that "+" (Plus) moniker to describe that it basically is: a larger plus-size version of the Galaxy S6 Edge.
In the hands, we have to say that Samsung has more or less blown up the phone we liked back in April, increasing the design to accommodate an extra 0.6 inches, as the display jumps from 5.1 inches to 5.7 inches, and why not?
The very point of a phablet is to have a big screen, and that's exactly what is offered here.
Some design changes have occurred here, slight as they are, because while the back stays the same flat surface and the front is curved off in the exact same way as on the regular edition, the S6 Edge+ has less pronounced curves on the corners resulting in a squarer device, while the metal edges now sport a line showing what almost looks like a fold on the metal frame.
None of this impacts how you hold the handset, and if you're used to a big phone but wished the edges would just go away, that's precisely what you'll get, with a feeling that comes off less like you're holding a meaty chunker of a phone, and more like the svelte futuristic bit of tech Samsung's marketing budget will likely churn out in the next few months.
Switch the phone on and you'll see one of the best parts of the handset: its screen.
This is one area where Samsung pretty much rules the roost, with some of the sharpest and brightest minds working on some of the equally sharpest and brightest displays.
The screen on the Galaxy S6 Edge+ is already pretty spiffy enough with its curved edges, but factor in a display that looks brilliant in daylight and you'll find it very hard to complain.
Just like on the S6 and S6 Edge before it, the screen on this phone is a Quad HD 2560×1440 display, boasting enough pixels to make any eye happy, proving itself with a solid 515 pixels per inch, over one hundred higher than the 5.5 inch iPhone 6 Plus.
It does need to be pointed out that over 300, most people can't tell the difference, but the more pixels you throw in, the sharper it gets, and if you bring a screen of this size up to your eyes (and by that, we mean super close), you'll find it hard to pixel peep, which is part of the reason we have such a high-grade of display in smartphones these days: it's all about making the imagery and text on the phone clearer, resulting in happier eyes all-round.
And that's exactly what you get on the 5.7 inch display of the Galaxy S6 Edge+: happy eyes, because the screen here is bright, sharp, colourful, clear, and very easy to look at. Good luck going back to a different phone after you've seen what Samsung has made here.
Using the phone, you'll find Android 5.1 "Lollipop" waiting for you when you take the S6 Edge+ out of the box, and really, the experience we're looking at is pretty much bang on with what we saw on the S6 Edge.
Samsung has been refining its Android overlay "TouchWiz" for some time, and in the latest iteration, we're seeing more improvement, though we suspect some of this comes from the decision to bring Android 5 up to 5.1 for this phone. That's what you get out of the box, and you'll also find Android's typical several home-screen approach to mobile operating systems here, with a separated app menu, customisable shortcut dock, editable power control in the dropdown bar, and all the regular fix-ins Android is known for.
The Edge screen also brings a couple of extra features to the table, one of them a little different in this plus-sized variant.
For instance, you have a tab that can sit on either side of the screen, and when you pull this in, you'll find room for up to five of our closest contacts, allowing to place them in a specific order, and with coloured frames.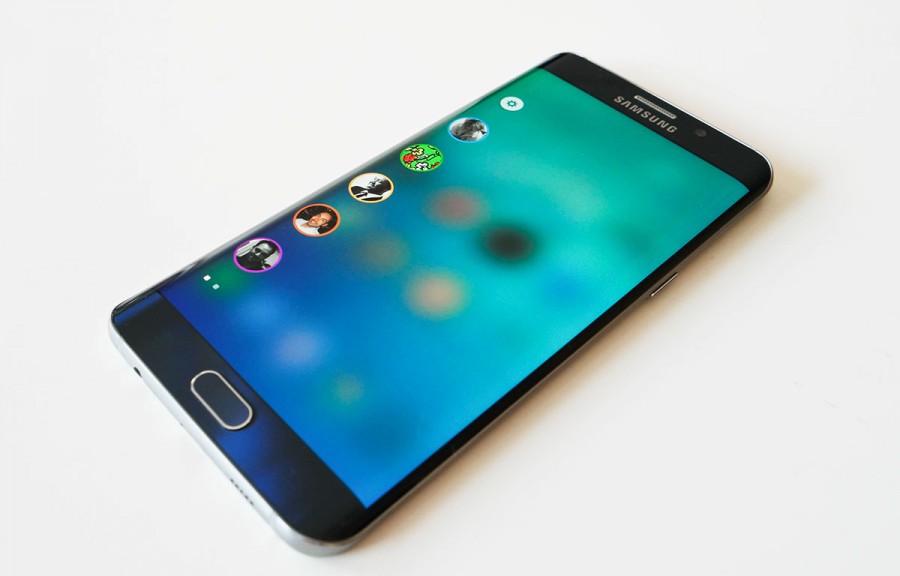 We've mentioned this before in the original Galaxy S6 Edge review, and this is mostly the same in the plus, with this acting as a quick way to see people you want to call and message, as well as any time they've called or left messages for you.
In the Edge+, this even feels a little clearer, with more of the screen taken up their name and picture, with call icons sitting central compared to just to the right of their icon. This feels stronger and more cohesive, so it's an improvement to this feature.
Also an improvement, though one that won't be used by all, is the inclusion of apps that work the same way, and you can thick of this as a little like an extended dock that sits on either the right or left side of the edge screen.
In some ways this feels like a replacement to the Note Edge screen, now that Samsung is no longer doing a Note Edge (not in 2015, anyway), but it ends up being like an extra dock: you have your favourite app shortcuts at the bottom of the device, so here are five more spots accessible at any time, too.
Past this, you should find some pretty solid system performance, with a benchmark that manages to push beyond what we saw on the S6 Edge, but only marginally.
Most of the time, the phone handles itself well, with apps opening quickly, seamless multitasking, and a general feeling that the phone is functioning at a good 99 percent, though you may find the odd hiccup here and there, usually when you bring the S6 Edge+ back from sleep, as this doesn't always work in that split second after pressing that all too familiar home button.
We noticed the S6 Edge+ behaving this way a few times — once in the morning when we got up, with the home button not waking the phone, with another time several hours later — and while it doesn't appear all the time, it is something to keep in the back of your head as it does appear to be semi-normal, just not frequent. We certainly couldn't recreate it by force, and this would just happen, so to speak.
But that was, for the most part, the limit of where the bugs were, with the performance being pretty decent across the board.
Except, of course, in regards to the battery life, which struggles in a way similar to the Galaxy S6 Edge.
Maybe that's because the phone is pretty much a larger carbon copy of the regular S6 Edge, and that phone managed a maximum of a day of life, pulling a few hours out if you decided to switch Bluetooth on and operate wirelessly for extra elements of your phone beyond that of mobile internet and forcing you to run to a charge point later in the day if you wanted to make it through to your home.
In the Plus, Samsung has found a way to squeeze 400mAh more juice in, equating to a 3000mAh battery found inside this phone, likely due to the bigger screen size allowing more to be thrown behind it.
Through testing, we found much the same life on offer, with a maximum of a day available on the S6 Edge+ provided Bluetooth wasn't being actively used. That said, it was a more comfortable day, and if you had to, you could probably stretch those last few hours using Samsung's ultra-low power saving mode, if need be, provided Bluetooth wasn't on.
In fact, the moment you switched on Bluetooth and used something like a smart band and a pair of wireless headphones — which is definitely a possibility given how common these things are these days — we saw the battery life fall, dropping to 35% in four hours.
Over the course of a day, we found with Bluetooth on that you could not, in fact, reach a full 24 hours of life, but rather something closer to a work day. As a point, our test had us run from 7.30am to around 11.30 at night, ending with 14 percent at that time. That's over 12 hours of use, and in a regular working environment, means you'll be charging it when you get home, which many of us do anyway.
Now you might baulk at the idea of not quite a day of life being useful, but this is normal for flagships these days, and as a note, this life is actually better than what we manage on Bluetooth with the regular sized Galaxy S6 Edge, telling us the extra 400mAh is making a difference in some way.
Overall, it's not the best battery life we've seen, but for a phone produced by Samsung this year (2015), it is easily acceptable and one of the company's strongest efforts. Obviously, the bigger the battery the more the impact when you're talking about a Samsung Galaxy-class phone.
Where Samsung has excelled, however, is the inclusion of new technology, because there's a decent spot of that here.
We are, of course, talking about the Category 9 modem thrown in here, the first of its kind in Australia and capable of downloading at a whopping 450Mbps, which is not only faster than every mobile connection in the country, but will deliver almost 20 times faster than what the government says every home will have access to using the current fibre-to-the-node National Broadband Network.
Category 9 compliance also includes support for Category 6's 300Mbps maximum, and in our tests, that's the closest our speeds would get in Sydney where the Edge S6+ was tested on Telstra's 4GX network.
In fact, our speeds maxed out at 150.88Mbps, well below the 300 guide of Cat 6, but still in the same technology area, as Category 4 maxes out at 150Mbps.
According to a blog post by Telstra, 450Mbps is technically achievable, though we're waiting on a confirmation from a company representative to find out if anyone will see it. For now, just be happy knowing that the mobile broadband speeds are lightning fast, and just like us, there's a good chance you're going to consume all your data trying to find out how "fast" fast is.
So don't. Seriously, we have to waste data for these speed tests, but you don't. Your wallet will love you for it.
There are other solid features, too, such as the support for high-resolution audio, which is a little let down due to a lack of a microSD card, meaning you're stuck with either 32 or 64GB of storage, which won't be enough for many FLAC albums all things considered.
The fingerprint sensor is also decent, and Samsung appears to have tightened up some of the interface woes with setting it up from last time, so that's nice to see, too.
And that edge screen? You can still see news, notifications, and weather if you rub the edge and bring it up when it's lying down, but it doesn't do much beyond the apps and contacts slider from the side.
At least the camera is just as solid as it was on the S6 Edge, and there's even been an improvement made that the current S6 Edge lacks: RAW support.
Found inside the settings of the S6 Edge+ is an option to switch on RAW when you're shooting in the "pro" mode, providing up to ISO800 and shutter speed control for people who want it, which could be a few.
When using this mode, be sure to note that RAW files will consume a lot of space, and a lack of a microSD slot will definitely hold back this phone from being all it can be since you'll run out of storage very quickly, but at least it's here, while the S6 Edge waits for it with an eventual Android update.
Beyond that, the camera performance is spot on, and just like that S6 Edge from earlier in the year, the Edge+ sports one of the best phone cameras around.
It's just so good, bright, clear, sharp, quick, lovely, and easy on the eyes, and if you're a picky mobile photographer, there is just so much to admire about the progress Samsung has made with the camera in the S6 Edge+.
You'll find some decent focus control up close and from far back, good colours, clear results, a fair amount of light being let in thanks to that F1.9 lens, and fast shots, with the only thing missing being a zoom ring, left out of a device like this due to keeping it thin.
Seriously, if you want optical zoom in a smartphone, Samsung makes phones for that, and the S6 Edge+ isn't one of them.
Overall, the 16 megapixel shooter on the back does a tremendous job, and aside for knowing how big the images are and how much backup you'll be wanting to do, you will be happy.
And Samsung has even changed a bit of the software, keeping that double click of the home button to bring you into the camera (yay!) but also borrowing some inspiration from Apple with an on-screen exposure controller when you touch something to focus on it.
You'll also likely be cool with knowing that the 5 megapixel camera up front handles itself well, offering fairly sharp images that can be controlled with a beauty setting to soften faces able to be turned up or down.
Again, Samsung's not-so-used biometric heart-rate tracking sensor on the back of the phone can be used for good reason here, firing off a self-portrait when you lift your finger from the sensor, using your pulse for a photographic purpose.
Conclusion
If the "+" on the box doesn't give it away, then this description will: the Galaxy S6 Edge+ is quite literally an oversized version of the regular-sized Galaxy S6 Edge people have been picking up since April.
That's not a bad thing either, mind you, as we can only imagine some fell in love with Samsung's wonderfully unique screen design and only wanted it bigger, even if it does bring very little to the overall functionality of the phone altogether.
If you count yourself in that category and love the edge display but prefer a phablet, the S6 Edge+ is definitely worth taking a look at, but it's also worth a look-in for people unsure of the phablet size altogether, and that's because there's a question of value.
Ah yes. Value is one of those troublesome areas with smartphones these days, especially in the category of top tier flagship models, as these devices start to encroach on laptop territory, with similar prices for tech you keep in your pocket.
We're not sure we agree with the $1500 pricing some of these new phones ask for, and at that pricing, we'd probably say "buy a mid-range phone and a decent laptop", but everyone is different.
The Galaxy S6 Edge+ brings a different set of value questions into play, because while it's still expensive — $1299 for a 64GB phone! — its pricing is spot on with the Galaxy S6 Edge, that smaller "regular-sized" version we checked out earlier in the year.
That's not likely to arouse suspicion, especially since as we've noted several times in this review, the S6 Edge+ is basically an oversized S6 Edge, except for a key point worth raising, and that's this: the hardware in the S6 Edge+ is technically better.
For the most part, it is technically identical hardware, with the same processor, storage supply, WiFi, Bluetooth, Android, etc, making that price more and more logical. Because something that is the same should be the same price, right?
Except for that the new bigger S6 Edge+ delivers more RAM which in turn increases the performance, and that you get a faster modem which ends up providing much faster mobile broadband speeds if you can get them. There's even that bigger screen, which while it isn't everyone's cup of tea and technically delivers the same resolution does manage to pack in more battery life.
And thus you have the confusion of Samsung's S6 Edge+ price dilemma: by paying the same amount for the Plus, you get a little more than the one without the plus.
That is provided you can handle the bigger screen and the omission of an infrared port, which we think most people will be able to deal with.
Ultimately, if the S6 Edge is something you're considering, we'd look past it to the bigger phone, because it improves the regular-sized version in some pretty solid ways. Sure, it's not perfect, and is close to being just an enlarged edition of the device that is changing the way Samsung designs phones, but it manages to work a little better thanks to some extended tweaking.
Simply put, if you have to have an edgy screen, the Galaxy S6 Edge+ is the one you choose. That's all there is to it.
Bigger, again: Samsung's Galaxy S6 Edge+ reviewed
Price (RRP): $1199 (starting price); 32GB for $1199; 64GB for $1299; Manufacturer: Samsung
Samsung's curved screen is still a pretty special design to see in public; Built with premium materials; One of the best and brightest screens on the planet; Very speedy performance; Surprisingly comfortable to hold; An absolutely stellar camera; Fingerprint sensor is one of the better implementations found on an Android phone; Supports high-speed wireless charging; One of the first Category 9 compliant devices on the market in Australia; Technically better value than the standard S6 Edge;
Literally just a big Galaxy S6 Edge; Occasional performance hiccup; No infrared port; Doesn't come in storage sizes higher than 64GB; No microSD slot;