Strong and sexy: Samsung's Series 9 laptop reviewed

Price (RRP): $1599
Manufacturer: Samsung
Samsung's answer to the MacBook Air may not technically be an Ultrabook, but that doesn't stop it from being any less gorgeous or impressive. Can it topple its best in show Apple rival?
Features
The second model of Samsung's Series 9 notebook – now featuring the branding "New Series 9" – has been updated to support the very latest of Intel chips, and is now faster than ever.
We were first shown the Series 9 last year right before Intel's Ultrabooks were making their way out into the world, and Samsung was talking up the Series 9 as the first laptop to sport a duralumin build, making it insanely strong and, well, durable. It's also very thin and light, with a thickness of 12.9mm and a weight of 1.16 kilograms.
Under the hood, you'd expect some high quality gear to power this thin machine, and with Intel's 3rd generation Core processor technology released, you can see the chips used here, with a 1.7GHz Core i5 quad-core chip on-board. You'll also find 4GB RAM installed here, 128GB of solid-state storage, and Windows 7 64-bit ready for you to use.
There's also a high quality screen here, with the 13.3 inch display Samsung has thrown into this machine supporting a resolution of 1600×900.
A staple of things that you'd expect in a premium machine are included, with USB 3.0, USB 2.0, microHDMI out, mini-Display Port, a 1.3 megapixel camera, and backlit keys.
Connectivity also comes in the form of Bluetooth 4.0, WiFi 802.11 a/b/g/n, SD card slot, and a small proprietary port connector that has an uncanny resemblance to microUSB (it's not) and plugs into a bundled Gigabit Ethernet adapter.
Performance
From the moment you open the box and find another box waiting inside for you, it's clear that Samsung wants to send you a message that you have just purchased a premium laptop.
The box within a box tactic gives the impression that this is a luxury piece of kit, with the outside package advertising the laptop, and the inside box opening up like the original iPhone or Galaxy smartphone packaging: you hold the lid and the box falls out underneath, slowly, as if to make you wait to see the product you bought.
When it eventually does show itself, you'll see that it was entirely worth it. Samsung has built one of the sexiest laptops we've ever laid eyes on, coming up with a design that even Apple would be envious of.
While other manufacturers of thin and light laptops are trying to come up with a more clone-like set of aesthetic values, Samsung has come up with something different, really thinning out the shape and making the laptop as slim and flat with a 6mm eye drawing line (when closed) that actually comes out to be 12.9mm thick when the line ends at the back.
It's actually an illusion, as the eye is drawn with shiny metal along the side to make you think it's insanely thin, even if the chassis is as thick as the rest of the case, as everything is beveled to the bottom.
The material used in the construction is different from every other computer out there, with Samsung sticking to the duralumin material it used in the first Series 9 laptop. This material is a metal made from aluminium, manganese, magnesium, and copper, and is used to build aeroplanes with, so if you've flown, chances are that you've sat in something the Series 9 is made from.
The screen is one area where every manufacturer could learn a thing or two, with a wonderfully bright and clear display showing 900p, or 1600×900 resolution, as close to 1080p as you can get on a 13 inch screen without hurting your eyes. Angles are also excellent, with damn near close to 178 degree points of view for showing perfect colouring.
There's no washed out images or inverted colours; it's one of the nicest panels we've ever seen.
It's also insanely bright. We kept the screen brightness smack dab in the middle, and it was perfect for our eyes, but there is so much brightness to offer. Switching it up all the way was like looking into a light-bulb. We're sure it can't light up your room, but it will definitely make a good attempt at it.
And we love the matte screen, a feature we haven't seen on many laptops in the past few year. The lack of a glossy screen makes using the computer pleasant in any brightly lit room, and feels easier on the eyes all around.
We had no major problems with performance, and the third gen Intel Core chip handled most of the things we threw at it, including browsing with several tabs, writing this review in Scrivener, and other day-to-day activities.
Switching the computer on, you'll find some of the fastest speeds around, with an instant on from sleep (closing the lid) coming in at most three seconds, with no lag when it loads, and roughly 15 seconds from off to Windows 7 being usable. There's a catch to this, mind you, as while Windows 7 loads from powered down in a quarter of a minute, the drivers for the multitouch gestures on the trackpad won't load until around the 55 second mark.
When they do start working, though, you'll find that Samsung has managed to come through with the mouse, as well as the keyboard, with the latter of these providing a solid enough typing experience that is close to the strong keyboard we see on Apple's notebooks, even if the keyboard isn't quite as soft. We didn't lose any keystrokes when typing this review, although we did note that the click sound is slightly louder and high pitched than other laptops we've used.
The inclusion of backlit keys was a nice one, although they're a little different from what we've seen in the past, with the backlighting coming through the numbers and letters, not from the outside of the keys. It's not quite the same style of backlighting we're used to, with the outlines of the keys less visible in the dark than on competing notebooks.
You probably won't have any problems finding the right keys to press, mind you, especially with the insanely bright screen found in the Series 9, but it's worth noting that the backlit keys are nowhere near as bright as on other laptops.
Over on the mouse side of things, the 4.5 inch trackpad is smooth, quick to respond, and even has support for quite a few multitouch gestures Windows can take advantage of. You can pinch to zoom, scroll page up and page down with three fingers, and switch apps by sticking four fingers down on the trackpad and dragging down.
Overall, Samsung's implementation of multitouch is one of the best we've seen on a computer outside of Apple to date once the drivers have loaded.
While the mouse is one giant button, it can be a little difficult to click into place depending on where you push down. We'd say to push the button down close to the bottom of trackpad, as that seems to be the best tactile area, but you can always touch lightly on the trackpad for a proper single left-click, while the bottom right part of the button does act as a right click. Meanwhile two fingers dragging up and down the trackpad work as a middle scroll wheel.
Overall, we found roughly six to seven hours of constant use battery life with WiFi switched on, which is impressive enough for a machine of this size. Turn up the performance with several applications running simultaneously, as well as a dash of 3D software, and you may bring the battery life down to the 4 or 5 hour mark, though given that it's not a powerhouse made for photos, video editing, or gaming, we'd be pretty hard pressed to find someone buying this laptop with those uses in mind.
We didn't notice much heat coming from the laptop, with the machine getting warm when heavy processing was happening, but it wasn't anywhere near what we'd consider hot. There wasn't any noise, either, with no fans kicking in to bring the noise up. In fact, we liked just how un-noise and silent the Series 9 is.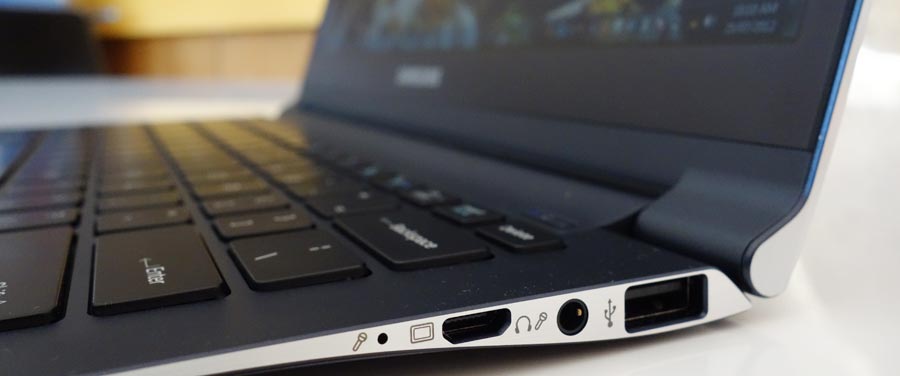 If it's not obvious from how much we've written on the new Series 9, we're loving this machine. It is an excellent product, and there were only a few things we took issue with.
One of these is the connectivity options, with the memory card slot not entirely flush with the case, and strangely, only one of the two USB port supporting the new USB 3.0 technology. We're not sure why one is USB 2.0 and the other is USB 3.0, but we'd have preferred if both were the new high-speed ports.
Even with the USB 3.0 port, the data transfer performance isn't as fast as other computers, with 500MB of data transferred in roughly 10 seconds, half the speed we had with the 1GB in 10 seconds on the latest Apple MacBook Pro.
Another slightly confusing thing about the new Series 9 is the power cable.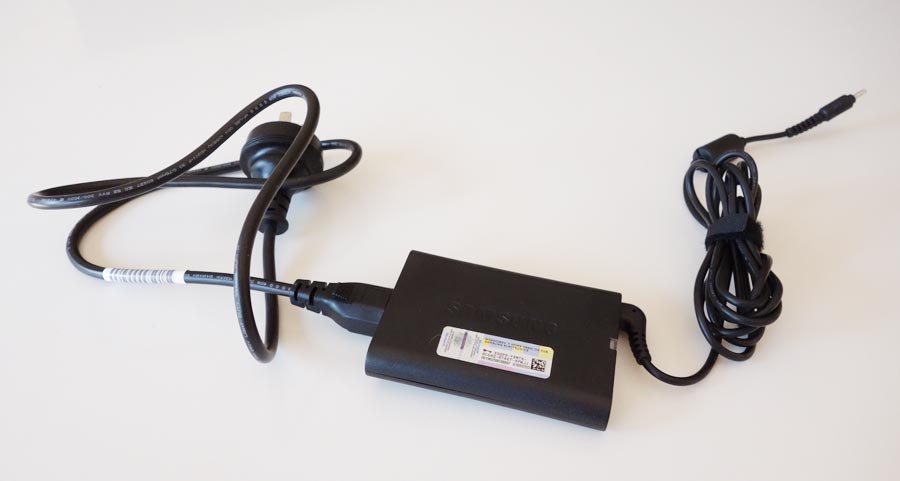 It's obvious from the design of the laptop – even with the premium styling on the box – that Samsung has paid an immense amount of attention into how the Series 9 looks and feels, doing its best to out-Apple Apple, so to speak.
But there's one area where Samsung has missed the mark: the power cable.
For years, Apple's power cables have been small and easy to carry, with an element of cable organisation thrown in for good measure. Last year, Asus showed us that it noticed just what sort of design choices were good to have in its own thin and light notebook, by making the power-pack of the ZenBook slimmer and easier to carry.
Yet Samsung's Series 9 battery pack hasn't changed much to make it easier to carry. Sure, it's smaller than many of the charge packs we see for laptops, but compared to the simple packs used by Apple and Asus, it still has a very old school PC look to it, with a clunky three prong cable connecting to a small brick that lacks any cable management outside of a velcro strip.
Conclusion
At the moment, every sub-notebook manufacturer is playing catch-up to Apple, and trying to find the perfect take on Apple's MacBook Air.
Samsung's latest attempt makes a very close play for the title, and manages to prove in the process that it is probably the best candidate outside of Apple to create a breathtakingly thin and light laptop. It's especially telling that while both this and the MacBook Air don't conform to Intel's Ultrabook specification – and therefore aren't technically "Ultrabook" notebooks – both manage to be excellent ultra-light laptops filled with awesome.
Overall, if you're in the market for a thin new Windows laptop, it's hard to do better than the Series 9, and it's a machine we'd easily recommend.
Strong and sexy: Samsung's Series 9 laptop reviewed
Price (RRP): $1599 Manufacturer: Samsung
Beautifully designed; Matte screen has some of the best colour and viewing angles ever; Excellent build quality;
Mouse click feels shallow; Backlit keys aren't particularly bright; Power cable lacks the solid design found in the laptop; Only one USB 3 port;