Multi-room marvellousness: Sonos Play:5 (2015) reviewed

Price (RRP): $749
Manufacturer: Sonos
Speakers have to have a solid amount of punch to grab our attention, and usually yours, but the second generation of the Sonos Play:5 goes further, offering customisable excellent sound amidst multi-room awesomeness.
Features and performance
It might be normal for companies to upgrade their products on a yearly basis, but not every manufacturer feels the same need, and Sonos is one such group.
With its ranging being made up of less then ten products, one of the models that was initially introduced in 2009 is only now getting a second generation, and it's here in the Play:5 gen two, or just called simply the "Sonos Play:5".
While the name hasn't changed, the design has, with the plastic body getting a revisit to be slicker, brighter, and with more holes in the grill, looking cleaner across the board.
Even the logo gets a slightly different set of holes, and so no space is wasted, you find even tinier holes here to let more sound out. Woot.
The controls have also changed a bit, with the push buttons initially appearing on the unit replaced with touch buttons that ask you to lightly touch or swipe them to get a response, with the speaker sounding a chime every time you do so.
We couldn't find a way to turn this off, though given that you can switch the white LED found on top of the unit off, suspect Sonos could introduce a patch that changes this, too.
On the back, most of the ports we saw back in 2009 are still there, with wired Ethernet provided, one 3.5mm line-in port, and the single jug plug to power the speaker, meaning it's pretty easy to plug in and setup, and you don't need much space, merely a ledge, shelf, or table to hold the large speaker.
Inside the new Play:5, you'll find some upgraded technology comprising six Class-D digital amps working with three tweets and three mid-woofers.
Network support exists for more than just the wired Ethernet on the back, with 802.11b/g WiFi supported here, though if you have a Sonos setup already reliant on the Bridge and Boost network appliances for the Sonos mesh network, you can use that, too.
And then you just really need to get into the unit, and setting it up is a cinch.
Simply plug it in, load up the app, and if you already have a Sonos system, you're adding a speaker, with the connection being made in no time.
If this is your first Sonos speaker, however, you'll be creating one, and again, the app's simplicity and ease of use means this happens without too much effort. In fact, out of all of the multi-room products out there, the installation of the Sonos appears to have the least fuss, with a smooth and easy setup happening on iOS or Android, and there's even an app for both Mac OS and Windows, if need be.
With the speaker good to go, we need to get stuck into the sound, because that's the real reason you're checking out a review of the Play:5: how does it sound?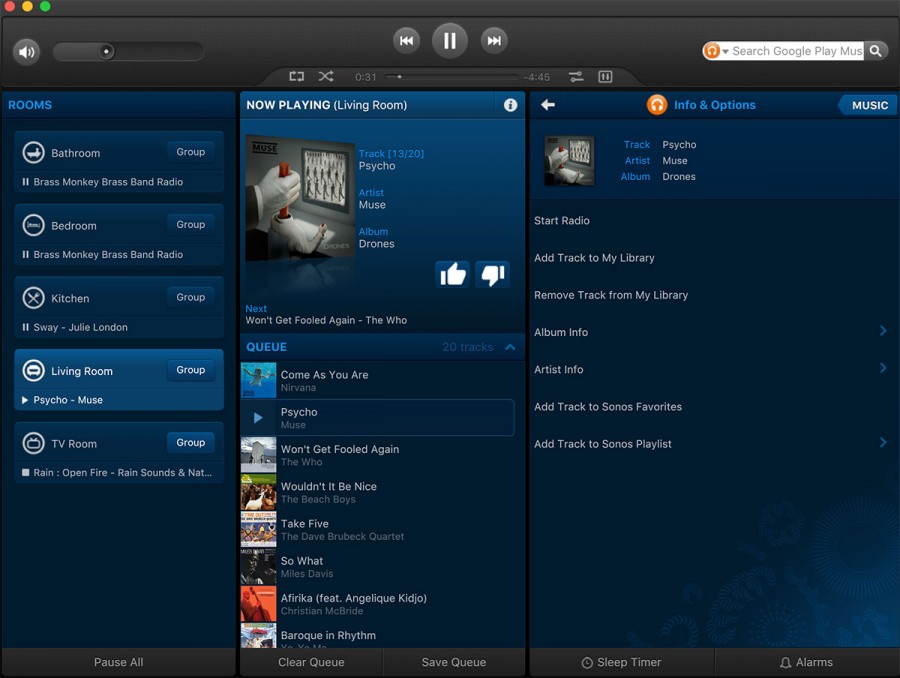 As usual, we're testing with GadgetGuy's sound test (the 2016 edition for this review), which you can listen to for yourself and play with on your product at home, and that has us start with the electronic sound of the Propellerheads, where the low sounds are a little warm and fairly loud, though the real strength is in the mids and highs.
After this, we get into some Imogen Heap, where the individual beeping tone of "Headlock" proves distinctive and clear across the mids and highs as they ring, until the chorus comes together and boosts both of these sections. Bass is a little less than we'd like at this point and feels like it needs to be tuned, though we'll keep going and see what happens.
In both the modern pop of Demo Lovato's "Cool For The Summer" and The Weeknd's "Can't Feel My Face", the bass is still feeling a little light, so at this time, we've opted to push it up a couple of notches.
It's a minor change, granted, but this slight difference has provided a deeper and more balanced bass, which we feel on Daft Punk's "Get Lucky" and Mark Ronson's "Uptown Funk", both of which demonstrate that this shift was the right thing to do to get the balance good and proper.
The solid sound continues in the R&B and soul with a warm "Billie Jean" (Michael Jackson), offering detailed vocals complete with more pickup of Jackson's finger-snaps, while the bass line and instruments offered up an almost vinyl-like sound.
The pop of Sara Bareilles and her recent track "Brave" revealed a solid attack with sharp vocals and instruments, and with the slight increase on bass we brought out of the EQ, found the balance of the track was good where ever we stood.
Rock kicked in next, and there's a lovely sound and distinctive separation from the multi-layered strings, piano, and boy-like vocals of Ben Folds in "Phone In A Pool", while Radiohead's "Exit Music" and Nirvana's "Come As You Are" revealed a certain clarity for the wispy vocals of each singer and the buzzing of the guitar.
Even here, the feeling that you get from these speakers is that they can handle any sort of music, especially that of the "loud" variety, and that continues with Muse, with deep and rich separation in "Psycho", with a fresh attack in the mids and highs of the guitar and drums, while the bass line through the Play:5 helped to make our walls tremble.
Here at half way, we have more than enough volume for the room, and even testing it briefly at large volumes, we found we weren't even pushing the speaker past where its limits.
If you love loud rock, this is a fantastic speaker without doubt, and The Who's "Won't Get Fooled Again" confirms it with a clear organ and solid band sounds coming together with a really versatile soundscape, almost to the point where the back end organs feel like they're coming from around you.
To jazz, and the light drums of Dave Brubeck's "Take Five" are distinct, with the high hat and cymbals separate from each other, and a perfectly clear spacing from sax and piano.
The infinitely quiet bass on "So What" is now audible, distinct from the horns and drums, which take point, though it's quite clear when you turn this one up that this is a track — and an album — which almost feels like the Play:5 was designed to play, even though it does need some more leeway on volume than say the rock we were testing before.
Meanwhile, the rich bass of Christian McBride is almost like listening to the instrument being played and plucked in the same room with you, offering up the snap of McBride's finger across the fingerboard, and the vibration so real against Angelique Kiddo's soulful lyrics in "Afirika".
Finally, there's classical, and both Claude Bolling's "Baroque In Rhythm" and Nigel Kennedy's "To Shiver, Frozen" shine, offering rich strings and a sharp sound, imploring you to turn up the volume to immerse yourself in the dynamic symphony appearing all around you.
Overall, our impressions of the Play:5 is that it has more than enough sound to fill a mid-sized room, but that if you want the bass to match the treble output from the speaker, you may need to fiddle with the equaliser in the room settings like we did.
That's not a hard ask and literally takes two seconds, but we still felt it needed to be done.
Mind you, we haven't been this impressed with a speaker under a grand for ages, and it's one that can also be paired with an extra speaker and set in a portrait stance, the switch inside the unit changing the way the drivers fire and creating a more loudspeaker oriented space, provided you have two that are paired as stereo speakers.
The other side of this review stems from the extendability of the Sonos Play:5, and that exists in two features: line-in and the multi-room support.
Unlike any other Sonos speaker, the Play:5 lets you plug in an external source, relying on a 3.5mm line-in to take an audio feed that you can switch to.
This means you can bring in another audio source, such as a CD player or even a record player, choosing to send this source through the Play:5 itself, or even the rest of the Sonos-equipped household, which we'll talk about next.
Interestingly, this is one of those features we're a big fan of, simply because the Sonos Connect does the same sort of thing, but it's an old product and does it for a $549. If you're fine with turning up the volume a little, you'll find the Play:5 lets you plug in a 3.5mm-connected audio source and gives you a speaker in the package for about $200 more.
That $200 easily pays for the speaker, and provides more current technology, even if the products are different.
We used it for a record player and found it worked a dream, with the line level able to be pushed up in the Sonos settings, and thanks to the multi-room technology, we could send the warm crackling sound of old jazz records to every speaker in the home, not just from an MP3 found on the network drive or via Google's Play Music service.
And that brings us to the multi-room support, which is a Sonos staple and pretty much the reason Sonos started as a company.
Now that multi-room audio has taken off to such a level that Samsung is doing it and LG is doing it and Sony and Panasonic and Lenko and Laser and every man and his dog is now doing it, it's still worth noting that Sonos dominates this sector, and it's partially because the Sonos system exists around a basic set of products that work with each other without fail.
We cite that because so many other products have issues talking to previous generations, and yet a Sonos Play:1 will talk to a Play:3, and a Playbar, which was evident through our testing which included several Play:1 speakers, a Play:3, a Playbar, as well as a Bridge and Boost for network extensions.
While we were running Sonos beta software to make the connections occur, all of the speakers worked in tandem and had few problems synchronising, as this only happened a couple of times, and usually with vinyl across the players, or where our bandwidth would drop a bit at home, causing Pandora or Google Play to slow down and cut out audio, which we bring back to network issues on the home ADSL2+ connection.
Otherwise, the Play:5 was a dream, and fit in with the existing Sonos speakers, allowing audio to sound off at the same time across the speakers in the home.
About the only problem we felt was happening was minor, because at times, it felt like the Play:5 was intentionally limiting the amount of sound it played against the other speakers because it could go louder.
When played at the same time as a Play:1 in a nearby room, the Play:5 didn't feel like it was hitting the same sound output levels, though we could change this just as easily by turning the volume up.
It wasn't an issue that we really struggled with, though, thanks to that easy ability to turn the volume up, and we suspect this will be something that will be ironed out in time, thanks to software changes.
TruePlay
Another addition to the Sonos line-up, and not just available in the second-generation Play:5 is the arrival of TruePlay, a software addition which afford Sonos the opportunity to make your existing devices Sonos products sound better.
There's a reason we're covering this in the Play:5 review, however, and it's because depending on how your home is built and your room is configured, it may not do as much as you think.
But first off, what is TruePlay?
In a nut shell, TruePlay is the Sonos attempt at calibrating your speaker on a room-by-room basis, relying on microphones in an Apple iDevice to measure sound fall-off and bounce against what your speaker is pushing out.
Available only for Sonos speakers set-up to work as music speakers (making it unavailable to the Playbar, Sub, and any speakers set up as a satellites for the Playbar), TruePlay will have you run its audio test on the iOS app, asking you to wave your iPhone, iPad, or iPod Touch about the place to record a reading of sound as it travels throughout your room in a particular pulsating combination of highs and lows.
Essentially, you're measuring your room the way a speaker with an in-built microphone would, only you're filling in the gaps for a feature Sonos didn't really expect to add in, and this will create a profile for each Sonos speaker to work with.
You do this on a room-by-room basis, and it should take about a minute per room, so if you have a few Sonos speakers in your home, you might want to put aside ten minutes.
If you only use Android devices, we're told this feature is coming soon, but it comes down to microphone quality being different on Android units compared to Apple's as a whole, so if you want this now and only use Android, borrow a friend's iPhone or iPod Touch.
Once the profile is done, however, you'll find a new setting in the room settings called "TruePlay", which consists of a checkbox to let you turn the room tuning on and off.
In reality, we didn't see much of a difference in most of the rooms we were in, and our living room and bedroom didn't really make much of a difference with TruePlay, boosting the brightness a little, but that's about it.
Our bathroom, however, where a Play:1 lives changed dramatically, likely because of the reflective surfaces where audio can and will bounce. With TruePlay switched on in that room, we found a more vibrant and slightly less muddy sound.
As a point, the Sonos Play:1 in the bathroom was hardly "muddy" per se, but TruePlay kicking in there felt more real, which can only be a good thing.
So will it do anything for you?
That remains to be seen, and as said before, this will totally depend on the rooms where your Sonos speakers live, but the inclusion of the calibration technology, or even the addition of it to other speakers in the range is a positive one, and given there's a microphone found inside the Sonos Play:5 generation two — the speaker being reviewed in this article — tells us that Sonos is far from done with this idea of self-calibration.
Conclusion
The $749 price might throw you off, but if you're looking for a way into the Sonos system, new Play:5 is one of the best ways to start, offering a solid thwack of audio and line-in support, too.
There's just so much sound on offer in the Play:5, and it's sure to put a smile on the face of anyone who loves sound, whether it's in this room or the next few that get populated with Sonos speakers. Highly recommended.
Multi-room marvellousness: Sonos Play:5 (2015) reviewed
Price (RRP): $749 Manufacturer: Sonos
Beautifully built; Balanced sound that is wonderfully loud; Supports line-in, meaning you can bring in an input like vinyl or CD and stream it around the house; Easy to setup; Touch panel up top feels futuristic; Wired or wireless depending on what you prefer; Can work as one speaker or with two in stereo;
Bass could be a little stronger out of the box; No way of turning off the volume up sounds;