Hybrid hero: Sony's VAIO Duo 11 reviewed

Price (RRP): $1499 starting price
Manufacturer: Sony
Computers come in all sorts of shapes and sizes, and this year, we've certainly seen some interesting blends of the computer and tablet, pushing the hybrid to new levels of neat design. Sony's Duo 11 makes the tablet and notebook into one device too, but it might well be one of the nicest hybrid designs yet.
Features
With Windows 8's reliance on touch, every manufacturer is trying something a little different, taking some creative control and putting a special spin on what it thinks a touchscreen laptop should be like.
In Sony's VAIO Duo 11, the tablet and laptop have been merged, and in a way we haven't really seen before on a laptop before.
Here, the 11.6 inch Full HD (1920×1080) touchscreen sits facing up like it does on any tablet, but when you pull up on the back of the screen, a hinge activates at the back and pushes the screen up, with a stand holding it place at an angle against the keyboard underneath. It's a hybrid laptop that you can use as either a tablet or a laptop in pretty much any place, and we're keen to see it in action.
So what makes it tick?
In this machine, Sony has thrown in an Intel Core i5 processor clocked at 1.7GHz, 4GB RAM, Intel HD 4000 graphics, and a 128GB solid-state drive for your files. Windows 8 is the operating system of choice, and it's running in 64-bit mode here.
Sony has left plenty of ports for you to use and add things, including two USB 3.0 ports, one HDMI, a single VGA, a combination memory card slot capable of reading both Sony's own MemoryStick Duo format and the more popular SD/SDHC/SDXC cards, 3.5mm headset jack, and a Gigabit Ethernet port.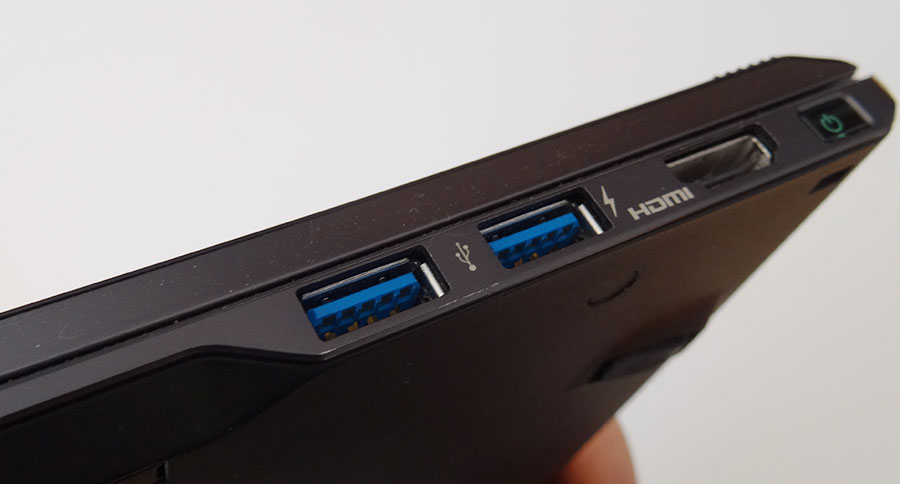 With that last one, you can of course use wired networking, but there's some wireless goodness in there too, with 802.11 a/b/g/n WiFi, Bluetooth 4.0, and support for Near-Field Communication (NFC).
The keyboard also comes with a tiny optical trackpad embedded in the centre, with three clickable buttons underneath the spacebar on the keyboard.
A two megapixel webcam capable of Full HD video sits above the screen.
A double-sided stylus has been included in the package too, adding to the input devices, so you can draw things using a fine-tipped pen at the front or use the flat-backed end of the stylus as an on-screen mouse.
Performance
Can Sony shake up the tablet space with its hybrid? That's the question being asked with the Duo 11, Sony's first attempt at a device that blends the touch-friendly usability of a tablet with the innards and keyboard action of a proper laptop computer.
Pick up the Duo and you'll realise that you're holding a completely different style of laptop, even a different style of tablet, than you've likely ever tried.
Longer than the average 9 to 10 inch tablets and certainly heavier, it carries a design that brings it closer to the laptop than a tablet. The edges aren't softened or simple, and as you grip every side, your fingers will feel a port or button of some kind.
There sure are a lot of ports here, so much that it's closer to a high grade laptop than "just another tablet," and it even manages to come with a build quality closer to that of the well-crafted notebook computer.
As such, the build quality of this machine is excellent, with Sony betting on magnesium-alloy for the main construction material. The gun-metal coloured alloy looks excellent and very professional, even if the connectivity options along the side kill the minimalist look the front is going for, and a resistive matt black finish on the bottom helps to make it difficult to let go of.
A power button on the right side of the Duo will switch this on, and you can go ahead and use this hybrid machine without any physical buttons, although the volume and orientation lock buttons on the bottom will definitely be helpful.
Of course, there is also a keyboard underneath the display, which can offer some faster and better typing than relying on the touchscreen alone.
To find it, you merely pull up on the back of the screen, which will raise the screen into a standing position, held in place by a special hinge and stand that keeps the display angled against the keyboard.
Now you have a keyboard at your disposal with a mini trackpad inside.
We'll give credit where it's due: Sony's choice in screen here is excellent. There's a touch of colour washout when you shift the screen on its side, but not enough to concern, and the viewing angles seemed pretty solid from top, down, left, and right.
Most people will be looking at the screen face on, but from where ever you are, this display boasts a ton of clarity. The blacks look truly black, and text on the screen – which manages to pack 1920×1080 into such a small space – is superb and highly readable, providing one of the better reading experiences out there in a machine of this size.
System performance seems better than the Intel Atom systems we've been reviewing of late, which is hardly surprising, given that there is a Core i5 inside here, although you're not likely to use this for gaming, given the Intel graphics on board.
One thing the Duo definitely has going for it is how easy to use it is in small places, and with an 11.6 inch base to match the screen, and a size that allows it to sit in the lap comfortable and sturdily.
In fact, that stable level base and specifically angled screen makes it perfect for typing in smaller spaces like on a bus or train.
Sony's inclusion of a double-sided stylus is a nice one too, and if you like to draw things on your tablet, this will help immensely. We're delighted to see that someone has actually worked out that a tablet stylus can be used with a thinner tip than what we see on the broad tips used with the iPad, and Sony's aluminium-encased digital pen feels more like a real pen than others out there.
As much as we love parts of the 11 inch VAIO Duo, we're not as big fans of others, such as the keyboard and mouse.
The first of these, the keyboard, has smaller keys than we see on other machines, with a wider margin separating the buttons you normally use to type.
Smaller keys mean you can be fumbling around for the right one, occasionally missing them and hitting the wrong letter. Some of these are much more compact than we're used to, such as the "G," "B," and "H" keys which all have a small piece carved out to make room for the optical trackpad (more on that in a moment), as well as the right shift key which is tiny and sits next to the "up" key, forcing you to accidentally go up one line when you're trying to capitalise a letter.
That last one – the up arrow issue – came up far too many times than we'd like to admit to, and with a lefty typing this review on the Duo, the reliance on the right shift key's placement became a constant pain in the proverbial.
We've seen mice included on many a touch-enabled Ultrabook in the past year, but Sony's has to be among the hardest use.
To deal with the fact that there isn't a lot of space here, the company has gone with an optical trackpad that is the same size as Intellipoint nibs we used to see on ThinkPad machines (and some still have it). As a trackpad, you rub your finger over this tiny device and move your mouse around in small increments, which might be useful for some.
That said, since the machine has an excellent touchscreen, it's a little pointless having this small mouse. We're sure someone will find it useful, but for us, it's just taking up space on the keyboard.
The Duo's screen is also a touch too glossy for us, and unless you jack the brightness all the way up, the reflections can become very noticeable.
One other problem with the hybrid design stems from some of the placement of some of the hardware buttons, which often aren't in places you'd expect. We're talking about the volume buttons being underneath the computer on the left side, which are near impossible to reach if the computer is flat on a desk or other surface.
You can always use the function keys on the keyboard, but the placement of the volume buttons means it's not always easy to press them even when the tablet is in a collapsed position.
It's strange, too, because the ports are all in places you expect them to be: the sides of the computer. But with the volume – and the useless "assist" button which activates a Sony help system – you're stuck with a location that is virtually impossible to access quickly.
This design also affects how open the computer is, and if you're ever working near an open window where it's raining, be aware that when the Duo is in an "open" position – with the keyboard showing and the screen at an angle – your computer may be open to water or moisture, thanks to the ribbon cables connecting the screen to the rest of the machine.
Battery life also needs an improvement. We're not exactly enamoured with a maximum of four hours, and we managed just shy of that. Standby life, on the other hand, fetches well over a week, but using the Duo isn't even a quarter of a day.
And while we love the inclusion of a digital stylus, especially one as nicely made as the aluminium one Sony has provided, we're a little surprised that the back of this pen doesn't work like a rubber on a pencil, instead sending the "erase" function to one of the buttons, which also doesn't work if you decide to use the back of the pencil and the button at the same time. Go figure.
Conclusion
This was, truth be told, one of our favourite hybrid designs, and was the first time we felt we didn't have to store our keyboard section somewhere, an issue that affects the tablet-laptops with detachable keyboard battery sections.
If you can get around the mediocre battery life and the keyboard key-size, we'd certainly check this out, as it has one of the better hybrid designs available today.
Hybrid hero: Sony's VAIO Duo 11 reviewed
Price (RRP): $1499 starting price Manufacturer: Sony
Cool concept; Works excellently on public transport and in small spaces due to its design; Fantastic screen; Included stylus is a neat idea; Standby life is great;
Positioning of buttons on the bottom isn't good; Keyboard is small and feels cramped; Optical touchpad seems like a waste of time; Mediocre battery life;