Sony's massive Xperia Z Ultra 6.4 inch phablet reviewed

Price (RRP): $829
Manufacturer: Sony
The tablet-sized phones commonly called "phablets" sure can be big, but Sony may have pushed the envelope too far with the Xperia Z Ultra, a top of the line handset boasting big features in one of the biggest handsets we've ever seen.
Features
Big phones are popular as ever lately, and Sony appears interested to get in on a slice of the action.
The Xperia Z Ultra is the first phablet from Sony, and takes on much of the technology and design used in the recent Z1 handset, but applies it to a bigger screen, jumping from a 5 inch display to one that truly sits at the big table, measuring 6.4 inches diagonally.
The resolution in this display hasn't changed, with Sony still relying on a Full HD 1920×1080 screen, which on the 6.4 inch display shows 344 pixels per inch, a few higher than what Apple uses in its Retina class displays of the iPhone 5S and 5C.
Multitouch is, of course, supported, though Sony has gone one step better and made it possible for sharp pointed accessories to also be used here, with common pens and pencils being substituted for a stylus on this handset.
The screen is also protected by mineral strengthened glass which is resistant to scratches.
Under the big screen is all of the useful technology we rely on from a smartphone handset, and here in the Xperia Z Ultra, there's that in spades.
In fact, it's all very similar fare to what we saw in the Xperia Z1 last year, including a quad-core Snapdragon 800 processor clocked at 2.2GHz, Adreno 330 graphics chip, 2GB RAM, and 16GB storage with expansion possible via the microSD slot.
Android is the operating system of choice here, with Sony equipping the Xperia Z Ultra with 4.2 "Jelly Bean" out of the box, though an upgrade to 4.4 "KitKat" should be coming along soon. Sony's PlayStation inspired Android overlay runs on the handset.
Connection options are spot on identical to the Z1, with 802.11 a/b/g/n WiFi, as well as support for the newer 802.11ac WiFi technology, Bluetooth 4.0, Near-Field Communication (NFC), wired microUSB, and some of that Category 4 4G LTE technology (with support for Cat3, too).
Two cameras are in this smartphone, and include an 8 megapixel camera on the back, as well as a 2 megapixel camera up front for video conferencing. Both can capture video at 1080p, though neither have flashes.
And like the Sony Xperia Z1, there's also a neat trick of water and dust resistance, meaning it can be taken in the water with you, or survive a dip in the pool or a heavy burst of rain.
The Z Ultra is rated for IP58, which means it's protected against dust, and immersion of water beyond one metre, though not for an infinite depth, and generally down to a maximum of three metres.
Ports are mostly covered on the Xperia Z Ultra, and consist of a microUSB port covered by a flap on the left edge, a microSIM slot with a plastic tray and a microSD slot on the right edge covered by a longer flap, while the 3.5mm headset jack is at the top on the right edge.
Buttons are also few and far between, as Sony is relying on Android's on-screen soft buttons for this handset.
As such, you'll find all the physical buttons on the right edge, with a volume rocker just above the circular power button, with all remaining buttons existing on the touch screen, acting for whatever Google deems appropriate at the time, though usually for back, home, and multi-tasking.
The battery in the phone is rated for 3050mAh and is not removable.
Performance
In the Z Ultra, Sony is continuing its modern design used in previous handsets, taking the idea of a rectangular phone and literally running with it.
Just like in the Z and Z1, the phone is a rectangle, covered in glass on the front and back, with a trim of metal sitting atop some plastic.
It's simple, elegant, and works quite well, also managing to be one of the thinner devices you're likely to see, measuring in at 6.5mm, which is thinner than many of the flagships out there from other companies.
As per usual, the screen takes up most of the device, and with a 6.4 inch screen, that's a big portion of the phone.
Thankfully, the button placement on the right edge makes the phone easy to grip, even with that massive screen size, so you shouldn't have any problems there.
In the hands, it's more comfortable than you'd expect, which given the size is pretty impressive, though Sony has helped this along by softening the edges.
The phone can be a tad slippery with all the glass on the front and back, so just make sure to grip it accordingly.
Switch the phone on and you'll be greeted to a lovely Full HD screen that is razor sharp to look at, with excellent colours and angles.
Sunlight isn't this phone's best friend, mind you, and the overly glossy screen does produce some visibility issues thanks to less brightness than we're used to when taken out in direct sunlight, so just be weary.
Using the Ultra, you'll be treated to Sony's friendly user interface which sits atop Android, delivering a slick and clean overlay reminiscent of the the style Sony uses on its other products.
Still, with Android here, you'll find a drop down menu with power controls, app shortcuts, menus, and several homescreens with oodles of space to throw widgets and shortcut icons on.
App menus can be set in your own order, or the basic ones like alphabetical or most used, and the multitasking still reveals floating application windows too, for when you urgently need a web browser or calculator when you're doing something else.
Performance is more or less excellent here when you're opening applications, and just like in the Z1, we didn't have many problems running anything.
The combination of 2GB RAM and the quad-core Snapdragon 800 processor help to make this handset fly, and you can easily turn off applications by flicking them out of your multitasking menu.
We're still fans of Sony's on-screen keyboard, which is very quick to respond as you type, and supports one of the better implementations of the gesture keyboard solutions out there, especially in comparison to some of the other Android phones we've reviewed.
Mobile performance is equally impressive, too, netting between 20 and 80Mbps, and that was on a Category 3 network. Sony's Xperia Z Ultra supports Category 4 4G LTE, which in this country only Vodafone supports (as of the time of publishing), which means download speeds as high as 150Mbps are theoretically possible.
Battery life is definitely not the best, however, and while Sony has managed to slim the phone down in ways smaller handsets haven't yet achieved, the 3050mAh battery doesn't have enough life in it to pull in much more than a day.
That result was found jumping between apps, making phone calls, surfing the web, emails, listening to music, and doing all of the regular things you might use a smartphone for.
Cut down on these activities and you might find the Xperia Z Ultra can handle more than just 24 hours, but that almost might limit why you'd buy such a big device in the first place.
Let's touch upon that, though, because really, this is a massive phone. Too massive, in some ways.
We've reviewed 7 inch tablets that worked as phones before, and we felt awkward carrying them knowing full well they were technically tablets with the phone capability switched on.
Here in the 6.4 inch Xperia Z Ultra, that feeling hasn't moved very far because this size is just so noticeable. It's hard to get in your pocket, and it doesn't fit well in your hands unless they're massive.
In fact, while Sony has nailed the button placement on a big phone better than LG did in the Flex, the insane size of the handset dents it negatively, making it hard to hold and carry, and awkward to keep in the pockets of your pants, unless you happen to have a particularly large or baggy pair.
It's worth noting here that while the screen is 6.4 inches diagonally, the phone is 7.6 inches diagonally, as Sony has left almost 2 centimetres worth of borders on the top and bottom, increasing the size of an already big handset relatively dramatically.
This huge size is impossible to ignore, and while it will be easier to find in a bag, you generally feel more conscious as you hold it to your ear, not to mention keeping a grasp of the massive handset as you're walking that also happens to be quite slippery.
We're not saying that the Z Ultra is too big — that's something only you will be able to work out for yourself — but the Sony Xperia Z Ultra feels more like a tablet than a phone, and this ridiculously large size combined with the extra space Sony has left on the handset doesn't help to make holding the handset feel natural over a long period of time.
The camera is a bit of a let down as well, especially when you compare it to some of the offerings Sony has given us in the past.
Unlike the camera on the Xperia Z1, you don't see a 20 megapixel here, but rather an 8 megapixel module, with some of the weakest low light capabilities seen in ages.
Expect noise and a bit of pixelation in your photos, some even appearing in daylight when you'd least expect it. It's not the greatest result, and certainly not what we expect from Sony.
The 8 megapixel camera isn't helped at all by the lack of a flash, a strange omission on such a big phone, and one we expect should be here.
Combine this missing element with the weak low light camera and you have a phablet that really fails at taking pictures in any place but the most brightly lit, limiting where you can use it considerably.
Almost as if to emphasise that this isn't a phone you'll be taking pictures with, Sony has removed the dedicated camera button, something we saw on the Xperia Z1 earlier on which helps to let you avoid touching the screen when you want to fire off a shot.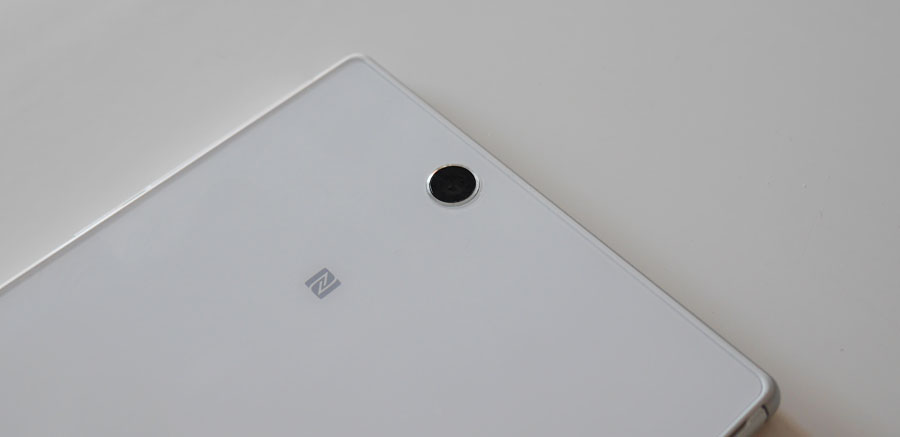 Conclusion
Sony's alternative to owning a tablet is certainly one intriguing device, though it's one that comes with a fair share of niggles that may be enough to turn you off the experience.
People who love big phones will no doubt see this as being a brilliant idea, partly due to it being the biggest phone out there.
That said, regardless of how you feel about having a big phone, you will likely feel self-conscious using this phablet in public, and that's because when you hold it up to your ear, it's easy to point out that yes, you're holding a tablet to the side of your face.
You know differently, though. It's a phone. It just happens to be sized like a tablet.
If that doesn't bother you, no worries, because you'll be fine, but if it does, you need to be aware that the feeling doesn't go away, and when you pull out a phone this big on the bus or in public, it will get people to look in your general direction.
But if you can handle the size, and the looks, as well as know you'll still need to carry a proper compact camera to replace the mediocre one found here, the Sony Xperia Z Ultra doesn't just break the boundary between smartphones and tablets, it literally tears it asunder, and questions whether you'll ever need a tablet again.
Sony's massive Xperia Z Ultra 6.4 inch phablet reviewed
Price (RRP): $829 Manufacturer: Sony
Simple design; Great Android overlay, as per usual for Sony; Supports microSD; Screen supports a pencil as a stylus; Resistant to dust and water;
Ridiculous size; Screen has a good centimetre or two of space at both the top and bottom, making the phone appear even bigger; Camera responds poorly in low light; No camera flash; Not the best battery life; No dedicated camera shutter button like on other Xperia models; Very slippery; Display isn't the best in sunlight by a long shot;