Sibling rivalry: Sony's Xperia Z5 reviewed

Price (RRP): $999; Available on plans from Telstra, Optus and Vodafone;
Manufacturer: Sony
Australia has missed out on a flagship from Sony in the year 2015, but now we're about to get three. First off the rank is the Xperia Z5, and it's a phone for people who like a 5.2 inch display, but want something clean, simple, and upgradeable.
Features
Sony's latest thwack at a smartphone in Australia is the Xperia Z5, with this handset taking an evolution of last year's Z3 and improving design, specs, and a little more.
In this handset, Sony has equipped an eight-core processor from Qualcomm, the Snapdragon 810 which will work alongside the Adreno 430 graphics processor, 3GB RAM, and 32GB storage, with a microSD card slot to expand this if need be.
Google's Android 5.1 "Lollipop" can also be found on this unit, here out of the box, here with Sony's interpretation of how Android should look and feel.
Connection options are pretty normal for a flagship, offering 802.11a/b/g/n and 802.11ac WiFi, Bluetooth 4.1 with A2DP and apt-X, GPS with A-GPS and GLONASS, and 4G LTE, all of these for the wireless connections, while wired is handled through the microUSB charge and data transfer port at the bottom of the unit. A 3.5mm headset jack can also be found on the phone.
Cameras can also be found here, with a 23 megapixel rear camera with autofocus and an LED flash, capable of capturing video in 4K Ultra HD, while the front camera caters for Full HD video and 5 megapixel stills.
All of this sits in a glass and aluminium body beneath a 5.2 inch Full HD display, revealing 424 pixels per inch across the 1920×1080 resolution. Sony's Triluminos technology lights the display up, providing colour and contrast similar to the company's TV efforts.
Water resistance can also be found here, with IP65/68 protection, suggesting that the Xperia Z5 should survive a close encounter with liquids, though given the ratings, it might be best to not send it down below one metre for over 30 minutes.
Buttons on the handset all exist on the right side, with a power button hiding a fingerprint sensor, just above a volume button and then a camera button.
The remainder of the buttons are on-screen, with Android's back, home, and multitask buttons appearing under the display as digital representations.
Ports are also limited, fairly normal for Android phones, with a 3.5mm headset jack up top while the microUSB port sits at the bottom. A tray can be found behind a port on the left side holding both the nanoSIM and the microSD.
The battery in the Sony Xperia Z5 is rated at 2900mAh and is not removable.
Performance
Sony has been a little absent for the 2015 year, and while every other major smartphone maker has had at least one big phone out (and some have offered even more), the maker of the Xperia range has been fairly quiet, at least in Australia.
Overseas, it has announced improvements that never quite made it here, with a Z3v upgrading last year's phone of the year, the Z3, as well as a Z4 that didn't really go anywhere, beyond an excellent tablet that we've recently taken a look at.
But finally, Australia isn't left out in the cold, with the Z5 arriving, offering up a 5.2 inch Full HD display to replace last year's screen of the same dimensions. This year, the design is a little smaller and Sony has even managed to pack in some useful bits and bobs, like a fingerprint sensor, a redesigned camera, while keeping in last year's ruggedisation.
Is the Z5 the phone that can steal the crown from Apple's iPhone and Samsung's Galaxy range?
We've always been a fan of Sony's flattened rectangular brick design, called "Omnibalance" by the company, and the Z5 feels like a tightening up of that concept.
The edges are a little softer, and the phone feels a little shorter, too, almost as if even Sony got a little tired by its oversized bezels and thought reducing them made sense this time around.
A smart move, as that's an area we've always been critical of, as have other reviewers and even a few customers.
The build is also decent, with glass on each side and aluminium framing, adding up to a mobile that doesn't really feel like any other out there, so you don't have to worry abut looking like another person with an iPhone or even a Samsung device.
To put it simply, the Sony Xperia Z5 offers a clean look and a minimalist feel, and if it feels like you're holding two pieces of glass held in place with a small metal frame, it's because you basically are.
But get past that and switch the phone on, because that's where you see it's not just two sheets of glass wedged in between some metal.
When it comes to the display, Sony is pretty much adopting the philosophy of "if it ain't broke, don't fix it" and applying the screen from last year.
That means the Z5 doesn't quite nail the top-notch high resolution experience of its friends over in the Samsung smartphone space, but you still get an excellent display all the same.
Sony itself doesn't use AMOLED screens in its smartphones, sticking with its Triluminos technology instead, known as "quantum dot" to other companies beginning to employ it, and while the colours aren't super saturated like on Samsung's AMOLED screens, they're still lovely all the same.
The pixel ratio is also very high, offering roughly 424 pixels per inch, spot on to what Sony offered in the Z3 last year, though the screen feels like it has to content with less of a bezel this time around.
This level of detail comes together with the Triluminos technology nicely to reveal a beautiful display that is hard to take your eyes off, even if the brightness and clarity can't compete with the level of display type Samsung has used in its 2015 flagships.
There's more to a phone than a screen, though, even if the entire thing is built under a large touchscreen, and new features are part of this.
Quite simply, we want to talk about one of these new features: the fingerprint sensor.
We've seen this technology come and go over the year, but since Apple reinvented how the fingerprint sensor should work in the iPhone 5S, and apps have begun to come on board to make this the new way of securing your phone, it has been the new "must have" feature in a premium phone.
In the Z5, Sony is showing off its first experiments with a fingerprint sensor, and wow is it impressive.
Like other companies, Sony has incorporated the sensor in a button, taking the power button on the right edge and installing it inside, but because Sony's power button is on the edge where you grip, the fingerprint sensor doesn't require any extra handholds to get the sensor to pick up on your finger.
It's not like where the fingerprint sensor is on other popular devices, which is the home button on both the Apple iPhone 6S or Samsung Galaxy Note 5 under the screen. No, for those devices, you have to have an awkward one-handed hold where your phone feels like it might fall out from under your hand, which is odd, uncomfortable, and can be a little confusing.
But the with Sony's placement of a fingerprint sensor in its typically edge-mounted power button, the security spot is a revelation, like something you wonder why has taken as long as it has to be made into a reality. It's just a logical place for the security strip to be, and you'd never realise it if you didn't own or play with the phone.
This excellent placement is made better by the fact that the sensor is so good.
It's not just a matter of it scanning your fingertips or the broad surface of your digits.
Rather, Sony has allowed this scanner to pick up on more parts of your finger, like the joins of the finger you grip with, meaning you can actually pick up the Z5 and open it with your finger simply by gripping the phone, with a little haptic vibrating giving you a buzz to tell you that "yep, you're in" finishing it off.
About the only time the sensor doesn't work is when your fingers are wet, which on a waterproof phone — which the Xperia Z5 is — might be a bit of a problem, except that's a bit of a hard problem to get around right now.
Fortunately, you have a backup PIN that you can enter, so it's not that bad an issue.
Water resistance is also worth talking about because it's still a pivotal feature on the handset. While Samsung has killed the feature going from last year's S5 to this year's S6, Sony has kept the slight ruggedisation around, and it still works a treat.
Even better is the water-tight microUSB port at the base of the handset, meaning you have no doors to close up or seal when you want to take the phone into water, or if someone accidentally spills their beer.
Granted, the water ratings Sony certifies its phones with aren't matched to anything outside of freshwater, but if you run the phone under a tap after taking it to the beach or into a pool, it should be better than leaving it to try with chemicals or minerals on the various elements.
And hey, you can even take pictures of your food as you cook without fear that the flour or oil will ruin your phone, because you can just run it under a tap and clean it off quickly. Awesome.
Sony's attention to audio is also clear, and given the company's roots in engineering audio devices like the Walkman, it's clear that it wants great audio in mobile handsets.
That's not to say that audio has been bad in mobiles before this point. Rather, it's been good, but there are always ways to improve, and with the amount of choice and control offered in the Xperia Z5, you get the feeling that's what Sony is trying to accomplish.
As such, you get more than just an equaliser here, with Sony's DSEE HX technology to make MP3s sounds like they're high resolution, a normaliser to bring down the volume differences, and then a host of sound effects, with headphone surround options designed to simulate acoustic environments much like how Parrot's Zik 2.0 headphones work except handled on the phone.
An automatic optimisation mode exists too, and this tries to work out the best way to play audio for your headphones, while Sony also sells special noise cancellation headphones for the Xperia Z5 (not just this model, but the entire range) that will switch on powered noise cancellation without needing to bring an active noise cancelling brick to the headphones.
Oh, and if you thought this was just and MP3 player, think again, with support for high-resolution 24-bit audio included in the device. So much for needing a dedicated media player.
And then there's the camera, and for this model, we're told the camera has been totally rebuilt and redesigned, with Sony's camera division getting in on the fun, too.
The great news about that is that we're not seeing a mobile company take someone else's camera off the shelf and plonk it into the phone, but rather see something homebuilt.
Quite a few mobiles out there actually use Sony's sensors, so we'd be surprised if Sony did tap someone else for the camera, but again, it's nice to see a sensor made by the company specifically for the Z5 series of smartphones.
In action, the Sony Xperia Z5 camera handles its own, especially in daylight where visuals are crisp and quite sharp.
At night, it's a little different, with details going soft in the background, losing quality while still keeping colours dynamic and poppy.
For some reason, the camera defaults to 8 megapixel out of the box, so if you use it, make sure you set it up to capture in the full 23 megapixel native resolution from the get-go, so you don't miss out on quality.
Overall, it's a fine camera, and there's also some 4K capture support thrown in, just like on the previous Z3, providing a bit more than Full HD to the few of you with a 4K UHD TV.
Unfortunately, the camera is very slow to load, which is a bit of a shame since there's a proper physical button to get the camera up and running. That's been a key feature on Sony flagship phones for some time now, and while it's still here, the performance of the phone lets this element down.
That performance should be better, and the benchmarks aren't bad, but the issues reveal themselves a few days into using the Z5.
In fact, one thing that is obvious is the heat Qualcomm's Snapdragon 810 throws out, returning memories of the HTC One from earlier in the year.
There's apparently a revision variant that fixes this, but we don't think Sony has opted for that, as the processor gets mighty toasty once you start using the device.
Hold the Z5 just under the camera and you'll feel it, with the heat evident across your fingertips.
At least the glass back on the Z5 does a better job at dispersion than what HTC had going with the solid aluminium casing on its One M9, so you won't be complaining for too long, and there are certainly very, very few hiccups on this phone.
Despite this, performance was usually ok — it's a fairly speedy eight-core Snapdragon processor found inside, after all — though you will find some slowdowns here and there, but we'll get to that later.
For the most part, people should be happy with what's on offer, with a really capable chip inside the phone, and the same one that Sony has used for its recent Xperia Z4 Tablet.
That means pretty much anything you install for the next two years should have no problem running, even if you see the odd spot of lag as each app loads or switches, which you seem to on this phone.
Android is also a little scaled back compared to where Sony used to leave it, as Sony's PlayStation-inspired Android overlay becomes a lighter and more like Google's own implementation.
While we've liked Sony's overlay in the past, the drop closer to stock Android is a good thing, providing still the multiple homescreens with widgets and a few settings options, as well as an app menu that now doesn't require a swipe to a side menu to let you uninstall what you have.
Now, you just hold them down, wait for them to wiggle, and press the "x". Likewise, adding them to the home screen is now written in plain English — "Add to home screen" — and you can even remove just the shortcut or the app itself from the shortcut on your homescreen. Neat.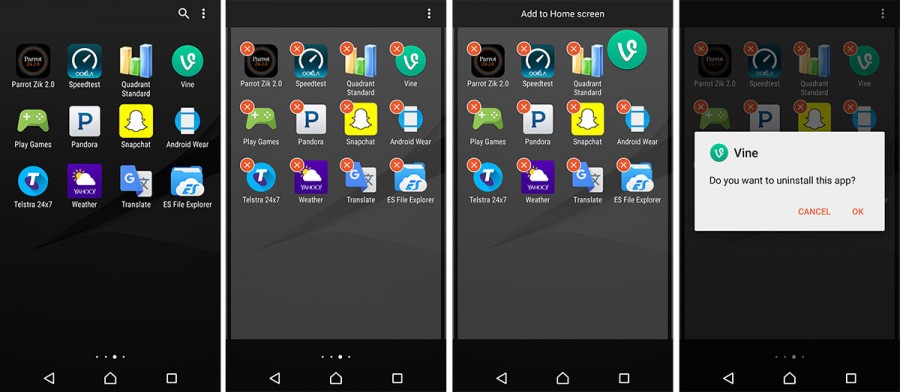 You'll definitely see stock Android in the notification bar, with the dropdown barely customised from what Google normally provides, except of course to give you bits you can add to the shortcut control bar, which this does offer.
Other than that, the Z5 feels like it's running basic Android, and instead of speaking a different language or expecting it to imitate another phone brand out there, it generally feels good. Like Android.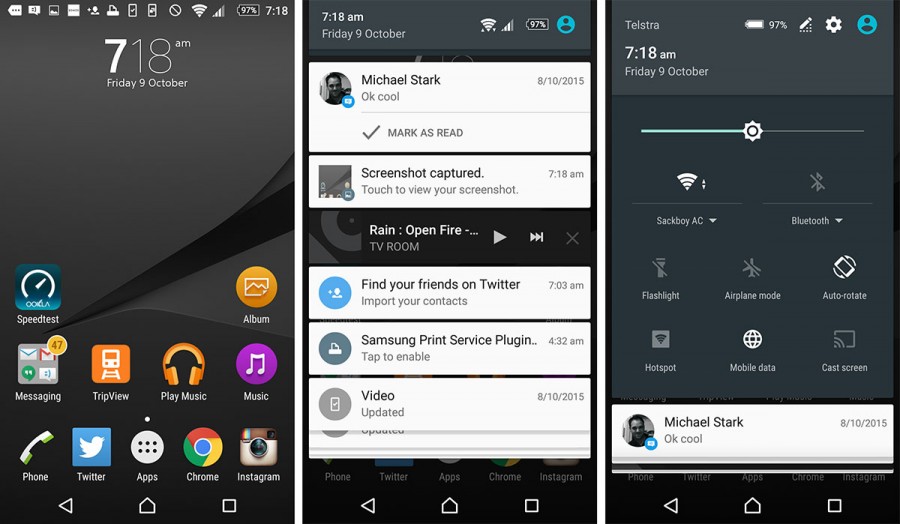 Except, of course, for the bugs.
That's the thing about the Z5: with the sort of bugs it has, it leaves you feeling that Sony rushed the phone out.
Take that slowdown of the camera we mentioned earlier, because now is the right time to talk about how slow the camera is to launch.
On the Z5, you'll find — just like in past Sony smartphones — there are two ways to launch the camera, with either a shortcut on the phone or a button along the side. Camera buttons are one of those things we wish more mobiles had, and short of Microsoft/Nokia, Sony is the only one, with Samsung getting close providing a simple double-tap-home button shortcut in its flagships from 2015, including the Note 5 and S6 Edge.
Here on the Z5, you can either use that software shortcut or the hardware button. We usually figure that we don't need a shortcut of a camera button on the main screen because there's a dedicated camera button on the side, but if you run the camera between each, you'll actually find the shortcut is marginally faster than the hardware button.
How much faster?
At a maximum, we found the shortcut could take between two and five seconds, while the hardware button generally would take as long as seven seconds to start up.
Seven seconds. For a camera. Seven seconds for a camera in a flagship phone.
That is insane, and it lets down an otherwise mostly solid camera, because by the time you want to take the photo, the moment may have gone.
And that's not all.
Bugs are here in other ways, such as with Sony still not correcting an Exchange bug that stops people using the regular Office365 servers and forces them to switch to m.outlook.com, while a Bluetooth bug was even more bizarre, forcing us to control the volume of two separate headsets only on the headsets themselves and not making a dent when we turned the volume up or down on the phone.
Google Play Music had the occasional crash, too, and every so often, the virtual soft buttons at the bottom of the screen wouldn't function, making the phone really difficult to use until it worked itself out.
You have to hope that these are all basic, and that Sony has a fix inbound, because these bugs shouldn't be here, not on a final product, and a flagship phone with a flagship camera should be performing better.
We have heard that our review phone may not have the final software on it, and therefore these bugs may not be present in your device, but they have certainly made an impact on our review, which is a real shame given how good the previous Sony phone was.
Battery life could also do with a bit of an increase, which is interesting given the advertising claims Sony is making with the Z5.
Sony told GadgetGuy that up to two days could be supported with the Z5 smartphone, and we suspect the marketing you'll see on buses will say much the same. That's not far off last year's claim that the Z3 could do the same, which with last year's device wasn't far off the mark, making around a day and a half in our tests, with Stamina producing a little more life.
This year, however, it's a bit of a different story, and while updates to Android have no doubt helped the battery life across all devices, it's not all peachy for Sony's Z5.
For instance, the battery size has dropped in the Z5 compared to the Z3, with 200mAh making up the difference, as the Z5 sports a 2900mAh battery and the Z3 filled out the edges a little more with a 3100mAh battery.
Those two-hundred milliamps might have made all the difference as regardless of the test we ran — Bluetooth off and wired headphones or Bluetooth on with smartwatch and wireless headphones — we could only net a day of life without needing to switch Stamina mode on.
That's a day of making and taking calls, sending messages, reading and writing email, listening to music, social networking, surfing the web, taking photos, and generally using the phone, and it's not even a full 24 hours. Rather, this is a work day, providing battery life from 6 am to around 10pm: up in the morning, off to work, coming home and eating dinner, and then putting the phone on charge.
We're not saying this is a bad performance, either; this is quite ordinary, however, and is in line with what the other smartphone makers are roughly offering, with "a day" being the new norm for smartphone makers trying to pack as much into a phone as humanly possible.
Switch on the Stamina mode and you might find you get a little more, as the power-saving mode switches on and pulls back on processing and calls to internet-connected services. In fact, in this mode, you have the ability to decide which apps frequently connect, so two days are possible in this mode, though again, unlikely.
Our test with Stamina mode on the Z5 revealed we might be able to get a day and a half, but it would be with the caveat of owning a Z5 that under-performs.
You can probably imagine that a power saving mode would lead to this, after all you need to cut processing down to get the battery life up, but the Stamina mode's lack of performance appears to come with more bugs, as keyboards would randomly flicker in and out when we were using them on Stamina mode, entries through the keyboard weren't accepted, and a Bluetooth smartwatch had quite a delayed communication with the phone, something we suspect is less a bug and more just Stamina choosing how often the phone communicated with an extra device.
Unfortunately, we didn't get the two advertised days, and short of a firmware update or patch or two from Sony, we're calling the Z5 a little short from its advertising claims, especially in comparison to its brother.
Last year's Z3 was a godsend in contrast, and while the Z5 cleans up the design some, it also lives in the shadow of its sibling.
Conclusion
Because of the bugs and battery life, it's hard to fall in love with the Z5 the same way we did with last year's Z3. Perhaps when they're ironed out, we'll find a phone that has the goods to really take on the competition, but until then, it feels a little rushed.
Sony has told GadgetGuy that what we experienced with the problems in the phone may be attributed to pre-production issues, so we'll revisit this review when a fixed version returns to our desk (there are quite a few phones for us to get through at the moment, however, so we're reviewing what we have).
Until then, however, it's a good phone, but unless patches occur soon, it'll only be a good phone and not the great phone its brother managed to be.
Sibling rivalry: Sony's Xperia Z5 reviewed
Price (RRP): $999; Available on plans from Telstra, Optus and Vodafone; Manufacturer: Sony
Beautifully designed and built; One of the most water resistant phones out there; Excellent camera (when it loads); Still supports upgradeable memory; Can be used to control a PlayStation 4; Supports a fingerprint sensor for enhanced security; Location of fingerprint sensor makes more sense than on any other phone out there;
Phone can get a little warm; Battery won't hit two days (as advertised) even with Stamina mode; Camera takes longer to load up than it should; Fingerprint sensor won't touch wet fingers; Bugs;