Telstra's QWERTY Touch combines keyboard and touchscreen for $150

Price (RRP): $149
Manufacturer: Telstra / ZTE
Combining a touchscreen with a QWERTY keypad for a mere $149, is Telstra's QWERTY Touch the ideal smartphone for beginners?
Features
The candy-bar design of the Android-based QWERTY Touch is similar to the HTC ChaCha, with a 2.6 inch touchscreen occupying the top half of the phone and a physical button QWERTY keypad dominating the bottom. In between these two sections is a row of buttons, including a green Call button, Home, Menu, directional pad with big Enter button, Search, Back, and End Call.
The only other buttons on the handset are a power button, located at the top edge, and volume on the left side.
Specifications for the ZTE-manufactured Telstra QWERTY Touch are basic, with all operations powered by a 600MHz processor. This compares to the 1GHz and higher processor speeds found on mid-range to top-tier handsets, and while adequate for most functions, won't provide the same performance seen in premium-price handsets.
Google's latest version of Android– 2.3, "Gingerbread" –  is here, as are its usual accompaniments: wireless hotspot technology, Google's own turn-by-turn navigation, and support for websites with Flash.
Connectivity is pretty standard, with GPS, Bluetooth, WiFi, and support for 3G data at a max of 7.2Mbps. A microUSB port sits on the right side, allowing you to both charge the handset as well as move files – such as music or photos – to the handset from a computer.
The battery is smaller than we're used to, with an 1100mAh supply on offer.
Performance
The chassis of the Telstra QWERTY Touch is made entirely from plastic, and feels surprisingly solid in the hand. It's well suited for smaller hands, and feel quite at home nestled in the palm. We found one- handed and two handed typing was comfortable.
Despite the smaller screen size, the Android experience is still much the same as it is on a large screen, complete with widgets, five homescreens, and access to Android Market.
To the business of the keypad, and it's certainly a decent offering for this price range. In terms of quality, it reminds us of those found on the far more expensive BlackBerry Bold devices. So it's good, alright.
The keys are responsive and very easy to use, although we wish the symbols – and "Fn" key to activate them – were colour coded for ease of use. Two of the keys on the bottom of the handset actually function as shortcuts for two services: using the camera, and switching the phone on and off silent. You may have to press these shortcut buttons down for a second or two to activate them, however.
Like other Android handsets, the Telstra QWERTY Touch provides the regular set of buttons for Home, Menu, Search, and Back, although instead of soft touch buttons, they're physical buttons just above the keyboard.
The directional pad is mostly useless for navigating Android OS, but if you need to find your way around a message to edit text and the like, it may prove faster than using your finger on the touchscreen.
We also liked the old-school green and red buttons for indicating dialing and hanging up, and they work well enough here.  While they would benefit from being larger, they are nevertheless excellent visual aides for the beginner smartphone user, and we like that.
We're less impressed by the low resolution 320 x 240 screen, which makes text appear tiny, pixelated and hard to read. You can pinch to zoom and enlarge the text on websites, but the resolution keeps text looking relatively poor. Some websites specifically designed for mobile websites may not let you zoom, so it's possible that you'll be stuck reading small fonts most of the time.
Touchscreen responsiveness is also hit and miss with this handset, with some actions – a swipe down for the Android task bar – working perfectly, while others – swiping down a webpage with your fingers or pinch to zoom – working only after you've made the gestures. While this could be annoying to some, it's not hard to get used to, as the physical keyboard makes you less dependent on using the touchscreen as often as you would on a full-touchscreen smartphone.
Camera features are basic too, with just two megapixel capture and no flash. Image settings are limited, with options including just a few colour effects, sharpness and contrast levels, and ISO control up to 400.  This is not a camera that will deliver results in low light conditions.
There's also no front camera, suggesting that the budget buyer won't be using this handset for video calls over Skype or the like.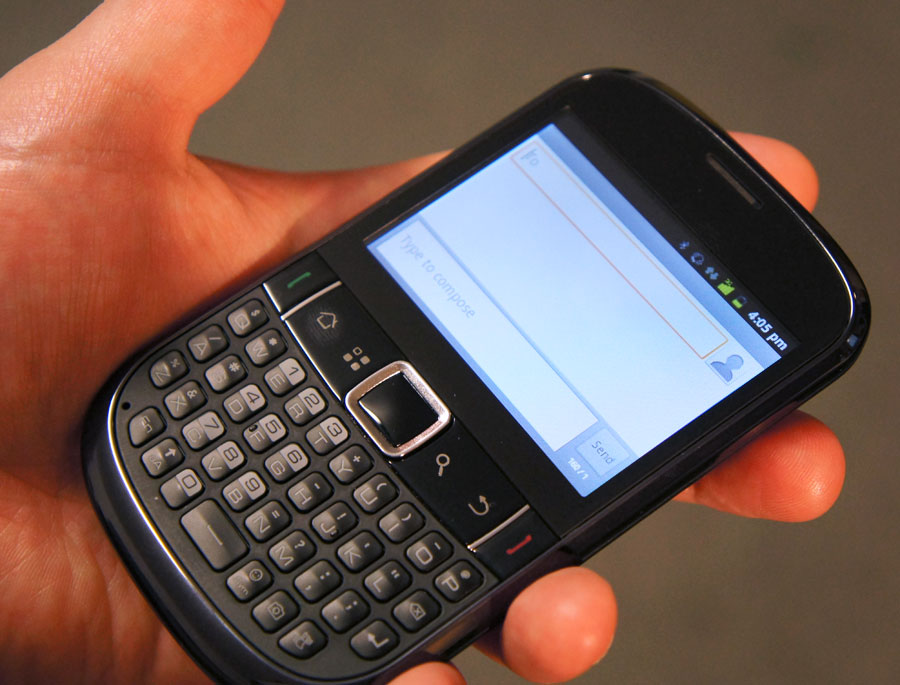 Conclusion
Entry-level smartphones cost around $100, so the keyboard on the Telstra QWERTY Touch effectively adds $50. The premium buys a facility that caters nicely for those who prefer a physical interface, and provides a neat bridging feature for those yet to make the transition to touch.
While the handset would benefit greatly from an upgraded display, all up the Telstra QWERTY achieves a comfortable starting point for smartphone newbies, at a price that shouldn't make them regret the move.
Telstra's QWERTY Touch combines keyboard and touchscreen for $150
Price (RRP): $149 Manufacturer: Telstra / ZTE
Latest version of Android; Combination of touchscreen with lots of physical buttons makes it ideal for new smartphone users;
Poor screen resolution makes text hard to read; No front facing camera, no flash for rear camera; Shortcut buttons require a firm press for a good second or two to activate; Small capacity battery;