Quad Lock has long been hailed by cyclists as one of the best ways to mount a phone to your handlebars. But, people outside bike nerd circles might not be aware that Quad Lock is also one of the most useful and secure ways to mount your phone to just about anything, like your car dashboard.
Because the Quad Lock case works best as part of the whole system, I decided to review it all together in one so you can get a better sense of how it all works and if it's worth the somewhat elevated prices.
First impressions: Quad Lock system
The first thing I noticed the first time I put on a Quad Lock case is that it's heavy. This is a solid case.
The second thing is that clicking it on and off a bike can be a little cumbersome.
But once I adjusted to both the weight and how secure the 'lock' is, it's hard to imagine going back to my old system of getting directions while riding. The old system was listening to Google Maps audio directions and then swearing loudly when it turned out I was now 200m down a hill from my destination because the instruction was poorly timed.
I'll go into more detail in each of the sections, but it's clear that this is mostly a thoughtful collection of solutions to common problems in a solid, no-nonsense, solid black with small colourful accents, kind of way.
Quad Lock cases
This is, quite clearly, a case designed to protect your phone during a fall. I must admit that I have done many accidental drop tests with this case, many with my iPhone 14 Pro Max which doesn't have a screen protector. The phone is completely fine, and the case only got a few minor scuffs, despite being dropped from various heights onto a wide range of surfaces including, but not limited to: concrete, gravel, tiles, wood, grass, my foot and down carpeted stairs.
Quad Lock Case for iPhone 14 Pro Max
Compatible with all Quad Lock Mounts. Cycle, Motorcycle, Car, Run, Golf, Home and Office
Slim, everyday protective case for iPhone 14 Pro Max
Impact resistant TPU material with sleek, black matte finish
Complete edge-to-edge protection for your iPhone
Full access to all ports, buttons & switches
The best drop test I did on it, though, was a couple of years ago when I crashed my bike, and both the bike and I slid down the road a good couple of metres. My bike, face and arms got scratched up, my jacket was partially shredded, and my brake handles looked something awful. But, while there was a big scuff on the corner of my Quad Lock case, the phone stayed locked to the mount, and the phone itself only got an extremely minor scratch on the screen a couple of mm wide. Given the impact and the slide, I would have expected much worse.
However, with great protection comes great heft, and the Quad Lock cases for the iPhone Pro Max models (of which I've had three at this point), are heavy and add a bit of bulk. Because of this, I generally just use it on bike days and when I'm too lazy to remove the case after bike days, then I use a prettier EFM case when I'm wanting to look nice.
The cases themselves are fairly non-descript, all black, save for the optional accessory of a colourful Mag ring on Mag-compatible cases (Mag is Quad Lock's version of MagSafe and is compatible with MagSafe accessories). Making them all black cuts down on waste and reduces the number of SKUs the company has to handle, so it makes sense, but it does limit your options if you want something a bit more interesting.
Quad Lock mounts
It's really the mounts that make the Quad Lock system work. Without them, it's just a weirdly bulky case with a star-shaped cut-out on the back. There is a wide range of mounts for cars, motorcycles, desks and bikes. I've only really used the Handlebar/Stem mount, because that's the one that fits best on my bikes, but they all work roughly the same way.
I always find it a little nerve-wracking to install, given there are so few contact points for the ties, but after a couple of years of use, several accidents, and everything from city riding to mountain biking (complete with copious amounts of mud), I haven't ever had a problem. My mum also has one attached to her tricycle with no complaints.
It's easy to lock the case onto the mount by putting the phone on the mount at an angle and then twisting it until it locks. Getting it off is just pulling down the cuff and then twisting the phone back off again.
Colour-wise, the black and blue signature colour combo won't be for everyone, but you can also separately buy different collar colours to customise to suit your vehicle.
Charging accessories
In addition to mounting your phone to stuff, if you get one of the Mag-compatible cases, there are also some charging accessories. I've got the Mag Dual Desktop Charger ($169.95), which has a Quad Lock mounting thingy at the top, and then just a normal MagSafe-compatible charger at the bottom. It's a bit frustrating that it doesn't have an Apple Watch charger built in, so you still need a separate charger for that. While it does take some practice while you're half asleep, using the Quad Lock interface on the dead has meant that I drop my phone or fail to charge it less because I never miss the contact points. But on nights when I can't open my eyes far enough to use the top charger, that's what the bottom MagSafe-compatible charging pad is for. Or possibly the bottom charger is more designed for AirPods. Either way, it works for both purposes. You could also charge two phones.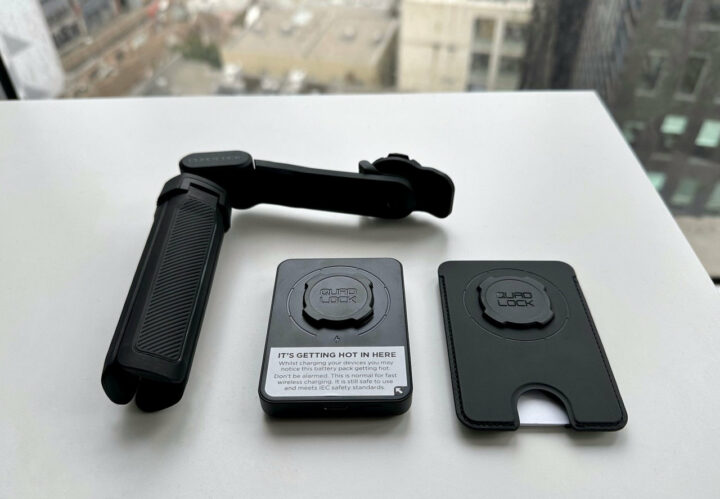 There's also a battery pack ($79.95), which I love for travel. Like the desk charger, it doesn't "lock" onto the phone, but uses the Mag magnet and fits into the indentation of the case to stay on and charge wirelessly. What I like about it is that you can also plug another device into the pack to charge, say, your phone and your headphones, or two phones. It also has passthrough charging, so you can plug in the battery and charge both the battery and your phone at the same time. It's a little thing, but it makes a huge difference.
Other accessories
The four non-power, non-mount accessories I have tested for my Quad Lock case are the tripod & selfie stick, Mag Wallet, Phone Ring Stand and Poncho.
The Poncho ($29.95) is a must for mountain bike riders and those of us who cycle during storms. I don't want to call it a phone condom, but I also can't think of any other way to describe it. It's a clear plastic outer case that covers the screen, all the ports, buttons and cameras to give a bit of extra protection from water, mud and other things that might damage your expensive phone.
The tripod and selfie stick (from $87.95) are cool, and it functions great as a tripod. I really like how securely it attaches, because I have had a few phones fall out of selfie sticks in the past. But you do need to use your phone's timer mode when taking photos, because there's no button or connection to the phone, which some other selfie sticks do have.
In terms of the wallet ($64.95); I wish it used the locking system, rather than just sitting in the recess of the phone and relying on the Mag magnet for connection. The reason why I was interested in the Mag Accessory Wallet over the Apple MagSafe wallets is because I've had those wallets fall off a few times when I've put the phone in my pocket. The Quad Lock Mag Wallet is a little more secure than that, but being able to lock it would be far more secure. Seems like a bit of a missed opportunity.
I do really, really love the Ring Stand ($21.95), though. It's fantastic. Perfect for people who want the convenience of a ring or Pop Socket, without the permanence. At first, taking it on and off before using wireless charging each night was a little frustrating. After a while, though, it became habitual, and I stopped noticing. I still use the MagSafe PopSocket on my fashiony phone case, but the Ring Stand is my go-to the rest of the time, and I now can't imagine using the Quad Lock case without it.
Would I buy it?
Absolutely. In fact, I have multiple times before and will again. I get sent dozens of phone cases each year, but I've still been buying Quad Lock cases and any required mounts (as my bike collection grows) each year since 2021. It was only for this story that I got sent some Quad Lock gear, and I can guarantee that even if I don't get sent a case when I next change phone, I will still be ordering one online for the same day I get my next phone.
Whenever new cyclists ask me what I recommend as the must-have bike accessories, Quad Lock is fourth on the list after my preferred styles of helmet, lights and lock.
One of the things that I really like is that even if you change phones from, say, an iPhone to a Samsung, you just need to change the case and all your other accessories keep working.
It's just a good system and I wholeheartedly recommend it.
GadgetGuy occasionally uses affiliate links and may receive a small commission from purchased products.
Quad Lock System: A must-have for cyclists, and anyone else who needs to securely mount their phone.
Positives
Highly protective
Mounts securely
Essentially gives any kind of phone with wireless charging MagSafe-like capabilities
Negatives
Case is a bit heavy
Charge stand doesn't have a spot for Apple Watch
Can't use MagSafe stuff when the Ring Stand is in place