How do you know what the best TV for most well-heeled Aussie's needs is? You ask someone that has spent quality time with the top-of-the-range 4K, 2019 Samsung Q90 QLED TV.
In the reviewer's game, you get invited to swanky hotels, plied with room service and grog and watch a 4K movie or three on a flagship 4K Samsung Q90 QLED TV. That is the fun bit. Going home and watching content on a lesser TV is the hard bit.
I could say that Samsung Q90 QLED is the best TV I have seen. I could say that if you have a spare $6,499/9,399/11,799 for a 65/75/82-inch version, then you can't go wrong. And I would be right!
But I want to be objective, avoid hyperbole and empirical (observed but not scientifically proven) claims.
Review: Samsung Q90 QLED TV
Australian Website here
GadgetGuy price and 2019 range overview here

How does a flagship 4K, Q90 QLED TV look – technically?
We test grey-scale to determine black levels. It was able to reproduce 97.5% black, and that is very good.
Otherwise, the grey scale was perfect going up in 2% increments to 100% white. I have not seen another LED/LCD do that.
Next colour bars.
Most TVs succeed in reproducing primary red, green and blue (the use RGB LEDs after all) but fall over with secondary colour mixes and white. This test also reveals the effectiveness of the backlight and allows you to see if its edge-lit or back-lit.
Colour bars were perfect with no overlap and even brightness. Yes, I expect this of a Samsung Q90 but these were pin-sharp and had even brightness.
I did not have a colourimeter with me but to my eyes, primary RGB was perfect (as it should be) and secondary colours like pink, yellow, light blue and white were very good too.
There was no banding at all courtesy of 480 individual lighting zones. At one stage we did detect a very slight light bleed on a large, fast moving white square that zooms around the screen (tests tearing and light zones). Lesser TVs have perceptible light trails!
Even at 75° off-angle viewing the colours were perfect – I have not seen that on an LED/LCD before.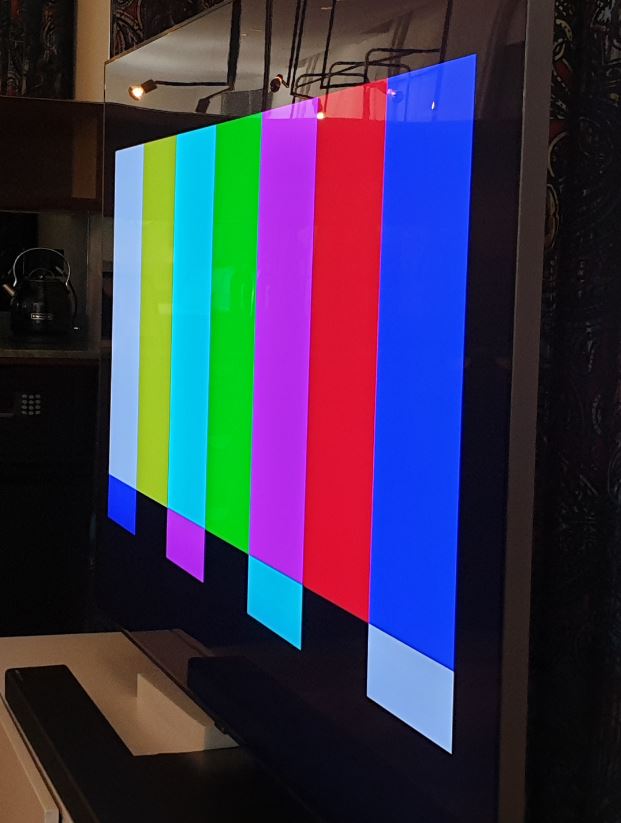 Samsung claims to have addressed the reflectivity issues of its 2018 Q9 series.
Yes and no. It is better (see the 2018 Q9 photo), but you still need to be very careful with placement of overhead lights, rear lights and external light sources like windows.
How does it look – with a movie?
I have seen most of the 4K movies, and so I watched SpiderMan – Into the Spider-Verse. It is a Marvel cartoon, 4K (upscaled from 2160), HDR10, HEVC/H.265 encoded, with 24-bit/48kHz Dolby Atmos 7.1.4 sound. The photo below probably does not do the reality justice, but the detail in the bag texture and bag tag, the HDR10 detail in the shadow crossing the bag and under his chin were very good.
I am still concerned that Samsung does not support Dolby Vision, but for 99% of the time, its HDR10+ and HLG (Hybrid Log-Gamma) makes this excellent for Hollywood movies.
Let's look at a few of the Samsung marketing terms and what they mean.
All TV makers have marketing jargon. For example, Sony is famous for it with Tri-Luminous (RGB LED), X-1 Extreme or Ultimate (processor), X1-wide angle (like Samsung's wide angle), X-tended Dynamic Range PRO (HDR) and X-Reality/Motion Pro … despite that, it produces some great TVs. So too does Panasonic with similar, if not slightly more conservative marketing terms. At this level, the basic difference between these top-level brands/models is back-lit QLED/LCD or back-lit LED/LCD.
In theory, QLED has an edge in colour saturation and black but until I see all their 2019 ranges all I can say is that Samsung Q90 QLED stands out as having it all.
Direct Full Array Elite III
This means the screen is lit from behind (back-lit instead of from one edge on most LED/LCD TVs) using White LEDs grouped into zones. The Q90R QLED has 480 zones. By comparison, the Q80/Q70 has 96/48.
The number of zones doesn't maketh the TV – some TVs claim 1000 or more zones. What is more important is the control of the zones, and that means a processor powerful enough to make it pop. The analogy is buying a Ford Mustang – it looks a million dollars, but it must have the thumping V8, not an eco-4-cylinder, under its bonnet to excite.
Quantum Processor 4K
I can't find out much about this except it is quad-core, ARM processor, has a separate neural processing core (AI), a separate image processor (GPU), tone mapping (storage) and power to control 480 dimming zones. If it is anything like the power and sophistication of the Samsung Exynos 9820 SoC in the Galaxy S10/+, then you begin to understand what this processor does although on a much larger and faster scale.
For example, Samsung analyses millions of images (Samsung calls it Machine Learning Super Resolution or MLSR) and have added, for want of a better word, metadata tables to allow the processor to select the best image for the content type and to upscale almost anything to 4K. It has put a lot of R&D in here because the Quantum Processor 8K version has to do so much more work.
As a 'purist' I was sceptical of upscaling which simply means adding similar pixels around each pixel in a lower definition image. You cannot add something that is not there!
Samsung's AI does a great job even with 720p content. Its AI creates better edge definition, reduces noise and produces a detailed, sharp image – at least to my eyes.
Ultra-Bright II
These 480 zones mean the screen has a maximum brightness of 1500 nits – well over the 1000 nits it needs for HDR10+ (Samsung's version of High Dynamic Range). An ambient light sensor adjusts the light to the room. I opened the curtains, and it ramped up to match the bright sunny day outside. It also acts as a sensor to activate the Ambient mode that was previously a feature of the Samsung Frame.
Wide viewing angle – perhaps the compelling 2019 feature
Most LED TVs suffer from loss of colour in off-angle viewing. Sit more than 45° off-angle, and you see faded colours.
In our tests, we managed up to 75° off-angle with no perceptible difference in colour.
QLED Quantum Dot
So much has been written about QLED that I won't bore you. Suffice to say that it produces better, more focused colours than standard LED/LCD TVs. There are other brands now advertising QLED but remember that Samsung has had several years 'to get it right'. In our tests the panel colours were as close to perfect – 100% DCI-P3 colour gamut – as it gets.
Deep Blacks
No one can beat an OLED for deep, inky blacks. Why? In OLED all pixels are either on or off – showing colour or dead black. Having said that OLED is not as good in bright Aussie lounge rooms (lower brightness levels) and this QLED reaches 97.5% of the OLED black level. Most will never know the difference.
Bixby
Samsung has Bixby voice recognition and control. In 2019 it is the key to getting the TV to do something via Google Assistant or Amazon Alexa. You can use voice control to set reminders, recordings, bring up the EPG, and offer relevant content. It can answer simple general knowledge questions like the weather. It did not work within Netflix – not sure why.
More importantly, it works with Google Assistant or Alexa (and we presume Siri when Airplay 2 and iTunes comes later this year). While these third-party voice assistants lack the machine functionality of Bixby, they do more elsewhere.
It also is the access to the SmartThings home automation hub.
One remote
It's a lovely, svelte, silver remote that takes the most common commands and reduces them to a few buttons. It's a wonderful companion for the Samsung UI that also now includes SmartThings access.
It also comes with a decidedly complex, old style remote with buttons for everything.
Screen casting
It will cast (screen share) from an Android phone (iOS not tested), later Galaxy Phones (in DeX mode) and a Windows 10 device (called Remote PC) and can even access Office 365 in the cloud. It will also run a VMWare client. I understand Mac connectivity is coming. But for the most part, it can be a hulking big 4K screen if you connect via HDMI.
Viewing and mounting
4K is 3840 x 2160 – that is a lot of pixels. You can sit closer (say 2-3 metres) as the image is denser than 1080p (1K). I tested the 77-inch and placed a chair at 2m, 3m, 4, and 5m.
Purely from a neck comfort level around 4-5 metres distance is best. It can wall mount, but the centre of the screen needs to be at eye height for best comfort – if you sit on a typical couch that is about 120cm off the ground. If you place it on a TV cabinet, then you can go a little lower. Remember the Samsung Q90 has a very wide horizontal viewing angle but not so much a vertical one.
I am impressed with the One Clear Cable and the One Connect Box. The translucent cable runs power and data up to 15 metres (5m comes with it). This means the control box is separate and accessible and can go on a suitable bookshelf or TV cabinet that lets IR through.
One small issue – while HDMI 2.0 will transfer data at up to 18Gbps (compressed 4K@60fps, 10-bit colour) it lacks the flexibility of HDMI 2.1 at 48Gbps (4K@120fps or 8K@30fps) and Samsung does not mention if it supports eARC – I suspect not. It would be nice to have some future proofing given the 8K Q900 should have both.
Gaming mode
I did not test this. So, let's just list the enhancements
Auto Game detection and adjustment for that device and genre
Shuts down other background functions to allow for lower input lag – now 13.5ms
Increased definition in black areas without blowing out light areas
FreeSync and variable refresh rate – the screen matches the GPU frequency
4K@120fps
Ambient mode
I did not test this, but in essence, it can act as a very large picture frame when not in use.
Sound
I tested with and without the $1099 Samsung HW-Q70R, slimline sound bar. I did not hold high hopes for this 3.1.2, 330W, soundbar that does Dolby Atmos via its acoustic beam technology – it would be better than the TV for sure.
Why? Well, I have last year's $1999 HW-950N 7.1.4 Dolby Atmos  (replaced by the new HW-Q90R) that does not rely on 'acoustic beam' (virtual processing or psychoacoustic trickery ) – it has real front, centre, rear and up-firing speakers. I even said "No soundbar worth its audiophile heritage will simulate sound."
No, I won't withdraw that statement, but I will say that the Q70 is not bad and yes, it's better than the TV speakers.
It has seven speakers for 3.1.2 (I could only find six – Front left/centre/right, front up-firing left/right, and 8-inch sub) and decodes/downmixes up to 5.1.2 Dolby Atmos or Dolby Digital Surround. You can add a pair of Samsung's wireless rear speakers to make it 5.1.2.
Samsung claims 35Hz-20kHz frequency response – true
But it doesn't provide figures for maximum volume and Total Harmonic Distortion. Fortunately, I can measure that!
The maximum volume was 80dB. While that is adequate for a 25m2 lounge, I would have expected a little more like 90-100dB from a 170W soundbar and a 160W subwoofer. Still, I was listening at level 30 – the same setting as the 512W HW-950 I have, and there was heaps of volume left. The sound was clean with a focus on clear voice (centre channel), and distortion at maximum volume was almost imperceptible although I noticed some spiking (harshness) around 10kHz.
Bass kicked in at 35Hz as claimed – very good – and was strong before mids kicked in and gradually lessened falling off at about 16kHz. Its collaboration with Harman Kardon and it's acoustic research has paid off – this is an almost perfect warm and sweet nirvana.
Now, what about that psychoacoustic trickery?
The Dolby Atmos 5.1.2 content provided front 3.1.2 with a perceptible sound stage above the TV (up-firing). What it lacked was the side and rear sound stage 5.1.2 or 7.1.4 separation that I am used to.
So, it sounds great, but no way would you skimp so buy the 7.1.4 HW-Q90R if you are spending this much on a TV.
The Q-series sound bars include adaptive sound (like the TV), DTX:S sound upscaling, Dual-band Wi-Fi, Bluetooth, 4K/3D/HDR10+ pass-through, HDMI In and Out, and Optical in.
The TV has 60W in a 4.2 channel arrangement.
I suspect it decodes Dolby Digital 4.1 and downmixes to 3.1. I don't want to rain on Samsung's excellent TV, but the sound was ordinary barely achieving 77dB and offering acceptable left/centre/right separation but lacking in any spatial depth. It had recessed bass, boosted mids and recessed treble. This is a mid-signature and characteristic of a focus on voice, not movies.
However, this could have been due to Samsung's adaptive sound algorithms. I repeat if you spend this kind of money but a sound bar to match the content you are going to play and the volume you need. I suspect the HW-QR90R at $1999 is the one to covet.
GadgetGuy's take – Samsung Q90 QLED TV
Clearly you are not going to walk into a TV store with the comprehensive feature/specification shopping list that we use. There is no point because if you have the money for a Q90 QLED you are going to take one look at the picture quality and perhaps be impressed with its off-angle viewing – sold.
However, just let me say that the list of features (paradigms) we compare against are met or exceeded by the Samsung Q90 QLED. Perhaps that is why Samsung has been Australia's number one brand for 13 years.
Would I buy it?
Yes and no.
Yes, if you have the cash and you like finer things.
It is so far ahead of the Q80R and Q70R in backlighting that I could not muster enough cognitive dissonance needed to convince myself that spending less makes little difference.
No, when seeing all three side by side they all have excellent picture quality and all the Samsung Smarts. So maybe the Q80R is the sweet spot.
What size 55, 65, 75, or 82-inches?
I currently own recent high-end 55 and 65-inch 4K LCD and OLED TVs. I might be convinced to go 75-inch, but it then becomes a matter of having the cavernous room space for that. In any case, these are a huge jump from the 28-inch CRT and 38/42-inch Plasma that I was happy with ten years ago!
Am I a TV snob?
Regrettably so. Seeing the best like the 4K Samsung Q90 QLED spoils me for most other LED/LCD TV. I can't get over things like edge-lit bloom, banding, uneven brightness, light bleed, splotchy or poor secondary colours etc. They stand out like the proverbial dog's b***s.
Yet my son is happy with a <$1000, 65-inch 4K special, my daughter with an 8-year-old 42-inch Samsung series 4, my mum with a 38-inch dumb TV. Two things. Stay blissfully ignorant of TV tech and buy what you can afford.
I always want to apologise at this stage to LG, Sony, Panasonic because their TVs, regardless of model are damned good too.
Samsung quality, build and longevity
Its flagship 4K QLED lives up to its name
Love the addition of wider off-angle viewing
One Clear cable connect is the best mounting process I have seen
Lacks Dolby Vision (but not a deal breaker)