The new realme 6 provides higher-performance gaming from its Helio G90T SoC and a smooth, responsive 6.5" 90Hz, 2400×1080 screen than any other smartphone in its class.
Well, we have finished the realme 6 review, and the spoiler alert is that it is a first-rate smartphone offering more value than you expect for a $469 device. Of course, that keen price is due to its online sales model where margins are tight, and it cuts out the middle-man. Otherwise, you could well pay a hundred or more and it would still be class-leading!
What the online model also means is that you can't go to a shop and see the realme 6. So you have to rely on 100% independent reviews like this to decide what is best. And we can tell you it shines in the highly competitive sub-$500 mass-market (GadgetGuy article on sub-$500 2020 phones here).
realme's first 2020 model is the C3 (review here scoring 4.5/5) that at $269 is the most fully-featured mass-market sub-$300 phone you can buy. It has aced it again with the realme 6 in the sub-$500 segment.
realme 6 Model RMX2001, dual sim, 8/128GB
(Note this review is based on a pre-release sample, and while it is physically the same we understand a few features will be added via a realme UI update soon).
Australian website here
Comet White and Comet Blue
Warranty: 2-years
Price: $469
realme was aiming at a lower price point around $399, but the poor US/AU$ exchange rate has meant price pressures on it and the C3. We think it has done a fantastic job to bring it in at this price.
Online only from realme e-store Australia, JB Hi-Fi online, Bing Lee, Make It Mine, 5GWorld, Essential Appliance Rentals, Amazon realme store, eBay realme store, and Catch.com.au.
Do not buy it online from any other store that promises 'Australian stock' unless it explicitly has the much-needed LTE band 28, comes with an Australian charger and has the Australian C-tick symbol on its regulatory page.
A note on unethical rumour mongering
Another media outlet (with advertising income from competitive smartphone brands) has been blatantly spreading rumours about realme not being C-tick approved nor having SARs testing.
The truth is that at realme's pre-launch last year it was made clear by MD Andy Yang that the review units were engineering samples only – all units sold in Australia would carry C-Tick and SARS ratings. It is not unusual for the media to review engineering samples prior to release.
Said media has been also spreading untruths about realme sibling OPPO.
We find both companies to practice the highest ethical standards or we would not review their products.
How we rate smartphones
As is usual, we use FAIL, PASS or EXCEED against the relevant paradigm based on what to expect for a phone of this price.
realme 6 – first impression – EXCEED
It is a typical glass slab – a relatively small chin, top and side bezels and flat IPS glass panel. The back (ours is Comet White) is an attractive pearlised finish. Its vacuum-deposited paint on polycarbonate with an alloy frame and it has a premium look and feel.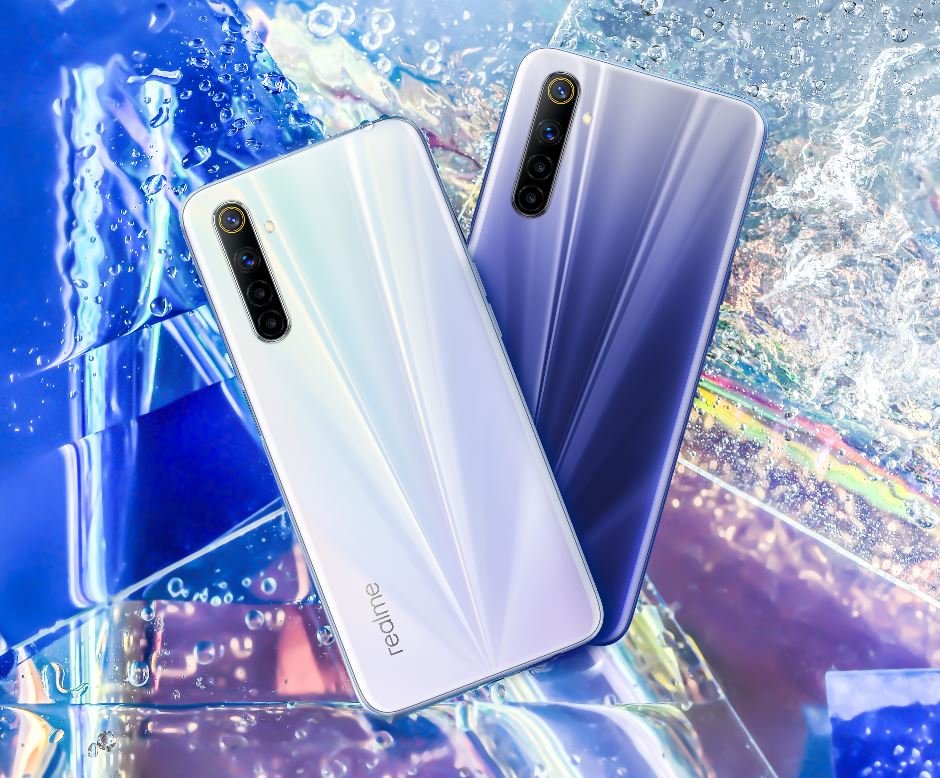 Importantly it has premium features that are literally unheard of at this price. A bright 90Hz screen, 64MP primary camera (quad-camera), a side-mounted Goodix combo power/fingerprint reader, Alloy frame, USB-C 30W VOOC fast charge and an all-important 3.5mm combo audio port.
The camera pod does stick out a little and makes it wobble on a flat surface – use the supplied clear bumper case.
Screen – EXCEED
6.5" 2400 x 1080, 405ppi, 20:9, 90.5% STBR, IPS LCD under Gorilla Glass 3 with fitted plastic screen protector
90Hz for smoother gaming response and lower touch lag (120Hz sample rate)
The 90Hz screen means 90 refreshes per second for smoother scrolling and games performance.
Our testing equipment is in COVID lockup, but we can tell you that it has 400/480 nits (typical/maximum) and 1300/1500:1 contrast (good black levels). Colour space is 81.5% NTSC which is 113%+ sRGB and 86% Adobe RGB – very good. You can get even better with the colour temperature slider.
It looks great but tends to lose a fair bit of brightness for off-angle viewing. It is quite daylight readable (on auto-brightness).
Now, 90Hz will use a little more battery power than 60Hz. We left it on the auto setting for it to decide.
Processor – EXCEED
Mediatek MT6785 Helio G90T (12nm)
Octa-core (2×2.05 GHz Cortex-A76 & 6×2.0 GHz Cortex-A55)
We are seeing a lot more MediaTek processors in Chinese made phones, and frankly, they are a match for Qualcomm. It is most often compared to a Qualcomm SD730 – the MT has about a 6% better overall performance. It has AI capabilities to 1 TMAC which is used for the AI camera and face unlock.
At this time it is used by Xiaomi Redmi Note 8 Pro. Note the 'G90T" version supports 90Hz screens and 64MP cameras.
GeekBench 5 for single/multicore was 548/1726 putting it between the Samsung Galaxy S8 and S9 – for a $469 phone! Compute is 2064 (similar to a Qualcomm SD845). This is quite a potent SoC for the price.
CPU Throttle – EXCEED
This started at 143,313GIPS and averaged 132,994GIPS over a 15-minute 100% load test. It offered stable performance, only reaching 50° CPU temperature.
GPU – EXCEED
The G90T (G stands for gaming) uses MediaTek's HyerEngine game technology to focus on what gamers need – a fast and responsive CPU/GPU combo.
Mali-G76 MC4 – this four-GPU-core can play Fortnite and PUBG smoothly and is 26% faster in the Manhattan benchmark than direct competitors.
It supports HEVC/H.264 encoding and decodes that plus VP-9 (Google/YouTube)
Ram/Storage- EXCEED
It has 8GB LPRDDR4X-2144MHz dual-channel ram (4266Mhz equivalent), 128GB UFS2.1 (103GB free) and up to 256GB in a dedicated microSD slot.
Battery – EXCEED
4300mAh battery with VOOC 3.0 (30W) charging for 0-100% in under an hour.
The VOOC charger is a three-in-one. It outputs 5V/2A with any USB-A to USB-C cable. But use the special yellow insert cable (do not lose it) it outputs 2x5V/3A for a total of 30W charging. VOOC simply means there are two batteries inside totalling 4300mAh.
Tests:
Standby: 214mA drain for approx. – 20-23 days
MP3 playback to cabled buds – 20 hours
MP4 video loop at 50% and aeroplane mode – 13 hours
T-Rex: 2129 frames and about 5 hours at 100% load.
Over the past week, it has about 30% left after a full 18 hour day. Using more aggressive battery saving, it should easily last two days.
LTE – EXCEED
Dual sim – both active but only use one at a time, dual VoLTE, VoWi-Fi (depends on carrier)
LTE Bands: 1, 2, 3, 4, 5, 7, 8, 20, 28, 38, 40, 41
In a three-bar reception area, it achieved -104dBm versus the Samsung Note10 at -97 (lower is better). But it found a neighbouring tower at -113 (Note10+ does not).
It should give good metro and significant regional coverage. And it has band 28!
Comms – EXCEED
Wi-Fi 5 AC dual-band 1×1 SISO. This is a single stream antenna giving -29dBm, 433Mbps (Samsung Note10+ -26dBm, 1.2Gbps).
BT 5.0 and SBC and AAC codec
GPS – single band and fine for turn by turn navigation
NFC – Yes (not on the international models)
FM radio – Yes uses earbud for an antenna but none supplied
Accelerometer (pedometer and motion detect), gyroscope, e-Compass, ambient light, proximity, game rotation vector – all sensors
Sound – PASS (mono) BT – EXCEED
As it's a mono system (earpiece and single down-firing speaker), we don't test for frequency response and sound signature as they are universally awful providing sound from 100Hz to about 5kHz for clear voice. There is a basic EQ (Real Power Sound) for cabled earbuds.
Ringer volume: 80dB
Music volume: 85dB
Handsfree voice volume: 72dB
The BT 5.0 drove our reference Sony WH-1000xM3 in SBC, AAC and LDAC (OPUS) modes and provided good clear sound and plenty of volume.
Build – EXCEED
162.1 x 74.8 x 8.9-9.6mm x 191g.
Painted pearlised polycarbonate back, alloy frame and Gorilla Glass 3 front
Splash resistant
It feels unusually premium for this class with a solid frame and the classic pearlised finish.
The power/fingerprint sensor is exceptionally fast and reliable. Face Unlock worked most of the time but can take a few seconds, especially in low light.
Android – EXCEED
Google Android 10 overlaid with Realme UI V1.0. It is a departure from the OPPO Colour OS that shipped with 2019 phones and a sign of realme now following its path. It is clean, and I don't mind it at all. There is almost no learning curve over Android.
We cannot get an answer on OS Upgrades, e.g. to Android 11, but it is safe to assume not. However, it had March 2020 security patches, and we understand realme will be quite prompt in rolling these out. It will upgrade its UI shortly to add more features.
It has the full suite of Google Apps and Google Assistant support.
realme 6 Camera
Rear Camera:
64MP, f/1.8, 26mm 78.6° (wide), 1/1.72″, 0.8µm, PDAF, 6P lens
It uses a Samsung S5KGW1SP03 sensor that can shoot 64MP or bin to 16MP, making it effectively a 1.6um large pixel sensor perfect for low light. Binning combines a bracket of the same shot selecting the best pixels. It applies sharpening, but it can produce slightly different colours.
8MP, f/2.3, 13mm 119° (ultrawide), 1/4.0″, 1.12µm, FF, 5P lens
Between this and the main lens, you can get 10x digital zoom
2MP, f/2.4, 22mm 88.8° (macro), 1/5.0″, 1.75µm, FF, 3P lens
Typical macro lens for focus down from 4-10cm
2MP, f/2.4, 22mm 88.8° (mono depth), 1/5.0″, 1.75µm, FF, 3P lens
Called a portrait lens its main job is to add bokeh information but it does add contrast to the final image
Rear Camera features
JPEG
4k@30fps Gyro/EIS
Single LED flash
Auto HDR and Flash
Glass (not plastic) lenses
Beauty, filter, HDR, panoramic view, Portrait, Time-lapse, Slo-mo, NightScape, Expert
Selfie
16 MP, f/2.0, 26mm,79.3° (wide), 1/3.1″, 1.0µm, FF, 5P Plastic lens behind side O-hole
Can also bin to 4MP giving 2.0um low light performance
Samsung SK53P9
1080p@30fps
Auto HDR
Face Detection and Unlock (aided by the G90T AI
EIS
Beauty filter
No LED or screen fill flash
Outdoors (apologies but it was an overcast week!)
Indoors – office light
Low light
realme 6 Camera summary
I was able to compare the OPPO A91 (48MP quad) and this 64MP Quad. As they bin to 12/16MP, there is very little in the finished shot. In fact, the other three sensors are identical to the OPPO A91, reflecting the fact that realme work with OPPO to build the devices.
The only slight difference was in shooting as a 48MP or a 64MP and then blowing it up – the 64MP, as expected, has slightly more details.
The lure of a 64MP is great, but the OPPO matches it 99.99% of the way for camera performance.
GadgetGuy's take – realme 6 offers superior value and gaming performance for $469
Knowing the sub-$500 market well there is nothing to compare although its sibling OPPO has a compelling A91 with an AMOLED screen but its not a gamers device.
Yes, it blows me away – not just because of the price but for its solid build, terrific camera and all the features you don't expect. Add good warranty and support, and it seals the deal.
This is a phone I would be proud to own and use daily. Don't be a brand snob – if you have $469 to spend this is the one.
PS – have a look at the realme Buds Air – very impressive.
The custom BT 5.0 R1 chip gives a stable connection between the earbuds and the phone, more extended battery life, and accessible smart controls.
Once paired, open the case, and the realme Buds Air recognises and connects to the device instantly. We have used these $149 buds and they stack up extremely well against a thing called AirPod!
Features include
Built-in voice assistant
Gaming Mode (latency is reduced by 51 per cent for video/audio sync)
3 hours plus 14 hours from the USB-C Qi wireless charge case
Voice call noise cancelling
Positives
Huge feature set for a $469 phone
Excellent camera
Excellent battery life and VOOC fast charge
90Hz screen and gaming GPU