realme out of OPPO via BBK is a new youth-focused brand available only via an online model. Fact: its four initial models offer pretty incredible value for all ages.
realme (yes it is all lower case) Australia (website) is bringing its C2 ($199), 5 ($299), 5 Pro ($399) and XT ($499) to Australia. All phones are made and supported by OPPO, so it has an excellent pedigree and use Android 9 and its Colour OS user experience.
You can read more about realme and its pedigree at GadgetGuy's article here.
realme Australia Managing Director, Andy Yang, said:
"As a young and fearless brand, realme is excited to introduce Australia to the first 64MP camera smartphone in this market, with realme XT. We deliver premium functionality, superior camera technology, power and style at an affordable price.
"We are trying to redefine smartphone price points from $199 to $499, and offer new experiences to all realme fans in Australia. As a young brand, we are eager to grow together with our fans, inspiring and being inspired."
realme Australian range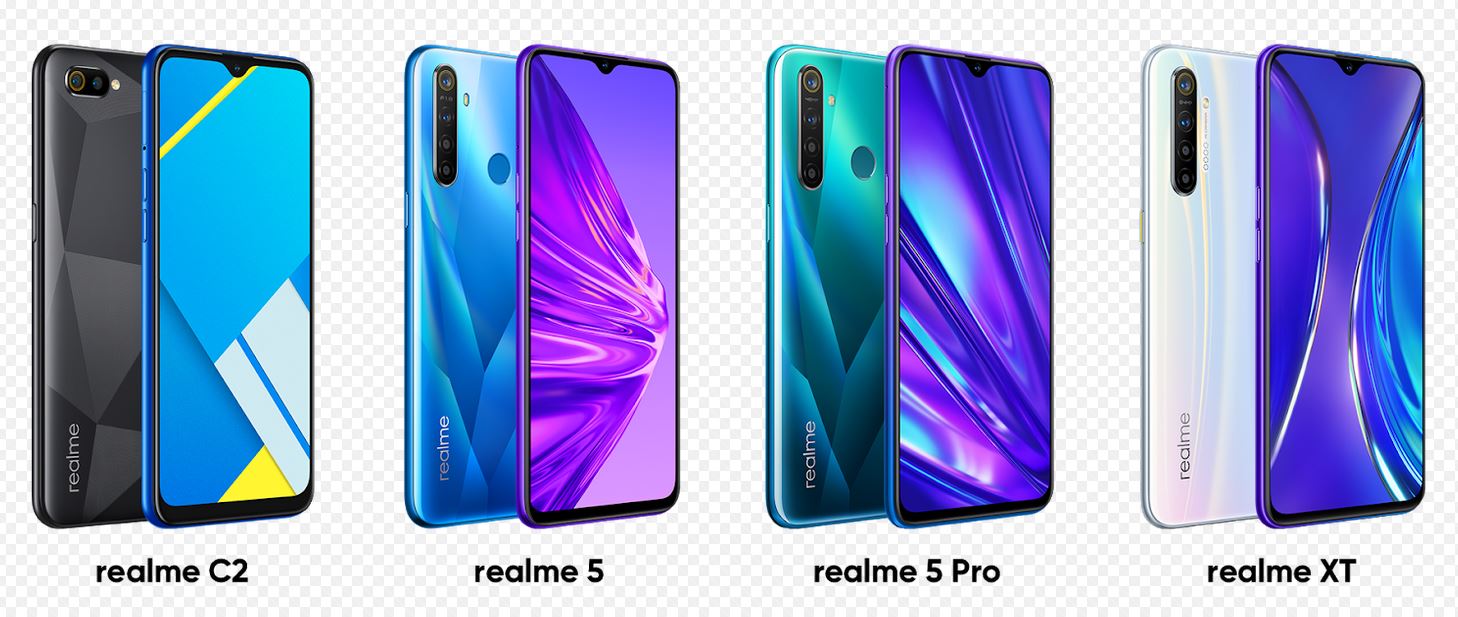 The $499 realme XT is the standout with a 6.4-inch AMOLED screen, 8/128/microSD, 16MP selfie, and quad rear camera – 64MP (9216 × 6912), 8MP wide, 2MP (macro) and 2MP depth. It uses the latest Qualcomm SD712 AI-enhanced SoC and a 4000mAh VOOC 3.0 fast charge battery.
Qualcomm's 10nm SD712 is often compared to its 2018 SD845 series flagship processor. The main differences are that the 712 has two memory channels (4), 800/150Mbps VoLTE (1200/150Mbps) and is about 15% slower. Being a later designed SoC it has a 3rd generation AI via multi-core Qualcomm AI Engine consisting of the eight-core Qualcomm Kryo 360 CPU, Adreno 616 GPU, and the Hexagon 685 DSP.
The $399 realme 5 Pro shares the same processor, ram/storage and battery specs as the XT but has a 48MP quad camera and a 6.3-inch FHD+ IPS screen.
The $299 realme 5 has aa Qualcomm SD665, 4/128/microSD, 6.5-inch display, 13MP selfie and a quad rear camera 12+8+2+2MP.
And finally, the value king – a $199 phone with Helio P22 processor, 3/64/microSD, 6.1-inch screen, 5MP selfie and a dual 13+2MP rear camera.
GadgetGuy will publish full review specifications soon, so you will see if they have BT 5.0, Wi-Fi AC, NFC and how the cameras work etc.
Business model – e-Commerce
realme is only sold online (not in-store) via traditional retailers including JB Hi-Fi, The Good Guys, Bing Lee and more.
The phones will also be available on e-commerce sites including eBay, Amazon, and realme's website.
realme will also enter the consumer finance market in Australia, working closely with leading provider Make It Mine that has rental (12 month contact, weekly or fortnightly payments), no interest (minimum 25% deposit 3 to 6 months contact) and layby (pay it off over 3-12 months and receive the goods upon payment) – standard credit checks apply, and there may be some establishment fees and missed payment fees.
GadgetGuy's take – realme online means better value
Every time you shop at a brick and mortar store, it has to have sufficient profit to pay rent, staff, shelf space, warehousing/distribution, other overheads and profit. The online model means it can eliminate much of that cost so the value proposition is better.
Of course, online shopping means you can't take it back to the physical shop, but OPPO is providing support via its service centres and repair agents around Australia.
Realme is really about niche marketing as the parent company BBK repositions positions OPPO to the premium mid-market and flagship, vivo as great mass-market – the worker's phone – and realme to the youth market much more aligned with the online model.