As we reported three months ago, Apple has recently released a whole new replacement range of MacBook Pro computers. The MacBook Pro is the higher end of Apple's notebook computer range, which start with the MacBook Air, then the MacBook, and then the Pro.
But not all is the same within even the Pro range. There are two sizes – thirteen and fifteen inch screens – and an entry level model. That's what I'm reviewing here: the thirteen inch entry level MacBook Pro.
Features
This model is priced at $2199 and comes as standard with an i5 processor running at 2GHz, the CPU's built in Intel Iris Graphics 540 and a healthy 8GHz of RAM. The SSD – yes, we're all one hundred per cent solid state now – runs to 256GB.
This model differs from all the other MacBook Pro models in lacking the new Touch Bar, a kind of soft-keys bar which sits where the function keys sit on this computer. Consequently is also misses out on the fingerprint sensor which is on the right hand end of the Touch Bar. It's available in Silver or Space Gray.
Likewise it has two external ports rather than the four of the other models. Both are USB Type-C. Either can be used to charge up the computer. And there's also a 3.5mm socket for headphones and microphone. There is no SD card slot, nor any other physical input/output.
Apple doesn't go on about CPU model numbers, but it's widely reported that the particular processor is the Intel Core i5-6360U, one of the Skylake line. Twin core and with evolutionary rather than revolutionary advances over the i5-5xxx series, it has plenty of horsepower for most activities, especially given the decent 8GB RAM and fast solid state storage.
The screen is a Retina model with 2560 by 1600 pixels of resolution for 227 pixels per inch. Brightness is up over previous models to 500 nits. The screen also implements the P3 colour space. That is, it covers a greater proportion of the visible colour spectrum than standard monitors. P3 is also the colour space specified by the Digital Cinema Initiative.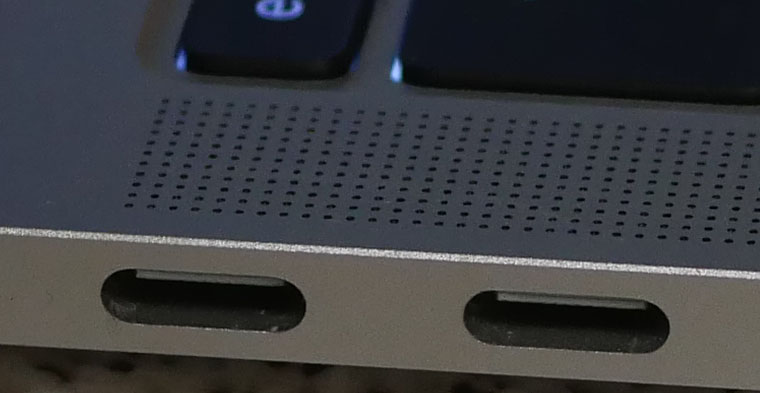 It scores proper 802.11ac WiFi and of course supports Bluetooth. The USB Type-C ports include Thunderbolt 3 support, in addition to DisplayPort output. In addition to the built in display, the computer will drive one of Apple's 5K displays, or two 4K displays at the same time. Display adaptors are required of course. It will even work with a VGA analogue video adaptor.
Something that has received a massive upgrade is the touchpad. The best touchpads in Windows computers aspire to be as good as those in MacBooks, and sometimes they can even approach it for reliability and effectiveness, but the forty-plus per cent increase in size has blown them away. This thing is massive.
Of course, it's multi-touch, and supports up to four finger swipes and five finger taps.
Factory upgrade options include 512GB or 1TB SSDs and an increase in memory to 16GB.
Performance
All apps looked excellent on this computer's screen. In the world of Windows, some apps use old coding so that icons, text or other details employ fixed size bitmaps. Run them on a display significantly more detailed than full HD and those things become tiny, hard to see and hard to use. Apple apps all appear to use scalable fonts and graphical details, so they looked the proper size and nicely detailed on this high res display.
In addition to being very bright and very smooth, it was also surrounded by a bezel that was quite thin: less than a centimetre at the sides and a little over at the top. That tended to make the screen feel larger than it was.
Although I normally use reading glasses, the brightness of this screen eliminated the need for them for all but the very finest work. The screen retained good visibility outdoors in a moderate amount of shade.
Perhaps the most controversial aspect of this computer is the keyboard. We reviewers prattle on about satisfying strokes and good long travels. This keyboard has island keys that have at most a millimetre of travel. Let me be blunt: the keyboard felt weird. What, for all of ten minutes it felt strange to my fingers.
And then I noticed that it was making no difference to my typing speed or accuracy. And soon after that, I stopped noticing that it felt weird, and a little while later it didn't feel weird at all even when I thought about it.
These days I do most of my typing on a mechanical Logitech keyboard plugged into a desktop computer, and I soon found I no difficulties switching between it and this MacBook Pro keyboard. Far more important than the travel was the feeling of security. There was no flex. I do find myself sometimes pounding pointlessly hard on a keyboard, yet despite that there was no movement in the overall structure, just in the relevant keys to the extent that they ought to move.
The touch pad was as effective to use as Mac touchpads usually are, but made easier thanks to the space. Rarely would I run out of room when dragging things. The only time I ever had the slightest problem was with those touchpad conventions used by Macs which differ from those used by Windows. I am, at heart, a Windows guy. But that is merely acclimatisation for me, and absolutely no issue for someone who's a Mac person. Indeed, OSX does everything Windows does. Windows does everything OSX does. They just do some of those common things differently to each other.
Everything else worked perfectly. WiFi performance was utterly reliable. The MacBook Pro connected without difficulty to my network drives. I used the computer out and about with phones as WiFi access points to the 4G network. It worked perfectly well with Android phones, and even better with an iPhone 7 Plus because, since I was signed into my Apple account with both devices, the iPhone and MacBook Pro recognised each other automatically, skipping the whole password thing.
The USB Type-C ports support all manner of accessories. I tried it out using a Belkin Ethernet adaptor and it worked well (I always like to be able to go wired with networking if possible, just in case). Likewise, using HDMI output with Apple's own USB Type-C to HDMI adaptor (that was tossed in with the review computer). Plus a Belkin USB Type-C to USB Type-A socket adaptor, which I used with flash memory and a keyboard.
Having two USB Type-C ports is a completely different proposition to having one. You're free to use all these adaptors without having to worry about whether any of them will pass through power.
Still, the four USB Type-C ports on all the other MacBook Pro models would be even better.
One of the things that OSX does better than Windows, though, is manage power. At least that's what I'm putting down as the reason for the better battery life in this computer than you'll get in any comparable Windows computer. Looping a 50Mbps 4K video in VLC, this computer easily beat the best of the SSD-based Windows computers I've tested. When the battery level got to 4% remaining, the picture started breaking up, pausing and becoming heavily pixellated, suggesting the processor had switched to a lower clock speed to conserve power.
In the end, when the computer shut itself down I reached for the stopwatch and pressed the button at 2 hours, 59 minutes and 59.41 seconds. I'll call that an even three hours.
That's a significant margin over Windows computers and really quite impressive.
Just leaving the computer on while doing nothing, the battery lasted for 24 hours and 49 minutes. So I guess that Apple's ten hour battery life claim seems about right. Normal work would likely give you that much time. A Windows guy like me has to respect that.
And it only took a couple of hours to charge up again.
Conclusion
I know what I'm doing more with Windows than with a Mac. But I must say that this entry level 13 inch MacBook Pro makes the thought of switching extremely tempting.
Excellent all round performance, very good battery life, brilliant touch pad, very good screen