With Apple's latest version of iOS – iOS 10 – has come a nifty new home control and security system called "Home Kit". This is designed to take the pain and complications out of the whole control and security thing, so that consumers can easily install the products they want without expensive service people. Apple provides the framework and networking infrastructure, and Siri so you can have voice control. Other companies provide the products. Here's I'm looking at one of those products, the OMNA 180 CAM HD from D-Link.
Features
The Omna 180 CAM HD is much smaller than I imagined when I first saw the pictures. It stands only 132mm tall and the cylinder is 58mm in diameter. It does look rather nice with its aluminium case, broken only by black sections for the camera near the top, the speaker at the bottom, the LED at the front and the inlet for power at the back. The power plug – which comes from a wall wart – is shaped to fit neatly into squarish hole. The connection is Micro-B USB. Underneath is a slot for a microSD card (up to 128GB, Speed Class 10 for recording footage). There's also a reset button.
That reset button is the only control on the whole unit. Everything is controlled through apps.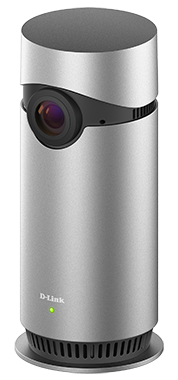 Inside is a full HD camera with a 180 degree (horizontally; 66 degrees vertically) field of view, a microphone, and the speaker alluded to. You can talk through the unit, or listen from it. Sound is recorded with videos. There are also IR LEDs which allow IR capture (in black and white) at up to five metres.
The video is transmitted live at whatever resolution, up to 1080p30, supported by the network bandwidth.
Because it uses "Home Kit", it will only work with Apple devices (including, apparently, Apple TV). Your iPhone or iPad must be running iOS 10 (or later). Not even Macs will work with it. (Yes, a version of Home Kit has been around since iOS 8, but this new stuff requires iOS 10.)
Because your Apple stuff already has permission to securely access outside resources – specifically iCloud – you can even access the camera when away from your home. Everything runs through Apple's servers. But you'll need additional devices for that. Specifically, this requires an Apple TV running Apple's tvOS 10.1 or an iPad running iOS 10.1, or later for both. One or the other acts as a "hub" to serve the content up to iCloud for remote access. Presumably the various Home Kit compatible devices don't pack enough grunt to manage this on their own.
I had the iPad – an iPad Mini 4 loaner from Apple – but not a second device capable of running Apple Home or the Omna app. So, until I come up with a workaround, this review will concern local use only.
Setting up
Well, if the instructions of the Quick Start Guide were anything to go by, you couldn't get any easier. There are four steps only, the picture-grams indicate, and two of them are to do with plugging the Omna into a power point. The next is to download the Omna app, and the final step is to press the "+" icon on an app on your iOS device.
I took that app to be the Omna app which I started, whereupon there was some granting of permissions and enabling of iCloud required. Since I didn't read something well enough before accepting it, I soon found myself at the iPad Mini 4's Settings page, not knowing what to do. I went back the app, but it simply wanted me to "Select [My] Home" from a list which was empty. So I went over to the D-Link website to see if there was a fuller manual. Unfortunately, the manual download was in fact the self same Quick Start Guide.
Ah, perhaps the "My Home" app/function built into iOS10? That immediately asked me if I wanted to search for accessories, and sure enough, it instantly found the "Omna 180Cam HD", as it called it. I looked again at the instructions, and sure enough it did in fact have "My Home" shown on the screen of the app with the "+" button.
Later I came to the conclusion that this should have been able to be done through the Omna app as well, but for some reason it had hung. I should have closed it down fully and restarted it. But, that said, the selling point of modern technology is that it's supposed to be "Idiot Proof". Even if I'm an idiot, there ought to be clear instructions?
Anyway, rant over.
So once "My Home" had found Omna, it asked me to position its individual code number (which is on a sticker on the back, as well as the quick start guide) in a window using the iPad Mini's camera. Did that and it instantly connected the camera to the network. It was so, so fast. I had a chance to give it a name (typically the room) and either use a photo or take a new one to give it a visual ID.
The Omna actually appeared as two devices within My Home. One was as the video camera, but the other was as a motion detection device.
In Use
Before getting into it, I gave the iPad Mini 4 a reboot and tried the Omna app again, and now it worked fine. There's some crossover between what it does and what Apple's "Home" app does, but Omna provides generally greater control.
From within my home, with the iPad Mini 4 running on the same network, the camera provided a smooth, sharp and colourful image. I could hear what was going on in the other room and could talk. There seemed to be a delay of a good part of a second between what was happening in the other room and its appearance on the screen, most obvious when I tried having a conversation over the system. But that's not its purpose.
The dark room mode worked well, too. That switches the camera mode so that it works in black and white (regular colours make sense when you're translating an invisible wavelength into a visible picture). To make sure things really were dark, I put it in a cupboard. It took a couple of seconds to switch over, but produced a clear result.
Reconnecting to the network if power is lost (that is, when I pulled the plug, and then plugged it back in) took around 47 seconds. No intervention was required. Once the front LED switched from red to green, it was right to go.
You can grab a screen shot just by touching the camera icon on the view screen. This is saved to the iPad/iPhone and viewable through its normal pictures app (or through the Omna app). You don't appear to be able to record video to the iOS device, only to the SD card.
The app had an odd weakness: having the iPad Mini 4 horizontal made for a bigger picture, and thus better quality with the full HD feed, but none of the icons were available for switching audio or taking pictures. I had to rotate it to portrait mode for that.
Recording and motion
Some things are complicated by the controls being split over two apps. For example, you switch whether or not you want notifications from the motion detector on or off in the Apple Home app, but control everything else about it in the Settings section of the Omna app, including sensitivity and watch zones. There are a grid of sixteen areas within the camera's field of view and you can select any number of them as "Detection Areas".
It's likely that D-Link doesn't think people will want to use notifications. There were no notifications by default. Instead, the motion detector triggered the video recorder. Indeed, I could find no way to trigger video recording manually. When triggered, twenty seconds is recorded – with a few seconds of pre-recording, it seems. So it must buffer whatever the camera sees to allow each recording segment to commence before the motion that triggers the recording to start.
D-Link's judgement on notifications seems sound. When I switched on notifications, I was getting a motion detector notification every thirty seconds. Of course, that's because I had it in my office, pointed at me and I was always moving. You can change the "Motion Retrigger Delay" to up to five minutes, but even that's going to be irritating if, as is likely, you'll have the Omna installed in a room actually used by people at least some of the time, so your iPhone will be making it's notification noise every 30 seconds to every five minutes.
The recording quality is good and sharp, but surprisingly it isn't full HD. Instead it records at 720p. Perhaps this is to extend the capacity of the SD card. The typical twenty second clip consumed around two megabytes of space, with a range of 1MB to 2.4MB. The more movement, the larger the file. The format is H.264 (ie. Blu-ray format) in an MP4 container.
NERD STUFF: Skip the next two paragraphs if you like. If I can believe the data on the recordings provided by the information panels in the VLC video player on my computer, the audio is in AAC format and uses a very low 16kHz sampling frequency, yet a very high bitrate of 512kbps. The video bitrate seems to run at between 300 and 900kbps, depending on the action. I'm surprised that the audio bitrate isn't brought down to 128kbps or lower. That's good enough quality for the great majority of MP3 music that people listen to, and AAC works better than MP3.
Since I'm me, and since the unit uses a Micro-B USB port for power, I of course plugged it into a computer to see what would happen. No, it didn't provide the contents of the microSD card as a USB Mass Storage device. Yes, it did power up but it only worked a little. I think the power supply was marginal. The unit's own power supply is rated at two amps output. No, it did appear in Windows Device Manager as even an unknown device, so there is no USB compatibility at all. Yes, after all that it worked properly again when I connected it back to it's own power supply.
Conclusion
Despite my little rant, the unit really is simple to set up. It just needs slightly better instructions (in case things go wrong), along perhaps with a page or two about extending things further. Like, for example, if you want to be able to view through it when you're away from your home network.
Great picture, pleasant looking, if you live in an Apple ecosystem, you're likely to be very pleased with one or more D-Link OMNA 180 CAM HD cameras.
Extremely easy to set up … if all works smoothly; high quality picture; auto recording; works extremely well in Apple eco-system
Need two Apple devices for remote viewing and operation; a little more information in the manual would be nice; no control buttons in app in landscape mode