Tablets seem to be a little out of fashion these days. It's phones this and phones that and, sometimes, that horrible portmanteau "phablet". But when the iPad was introduced back in 2009, it really was a game changer. In part because Apple did such a great job on the first ever model (see our recent look back at the original – one I still use daily.)
What I also use daily, and have been for more than six months, is the current iPad Mini 4. The principle reason is not as a general purpose computing device, nor as a data entry device, but as a controller and an occasional iPhone replacement.
You see, I'm always using and reviewing gear that is app dependent, app controlled, or just works better in some way with an app. Or I'm reviewing a bit of gear – say an audiophile digital to analogue converter – which purports to work with iPads and iPhones. For that, I need an iPad or iPad Mini.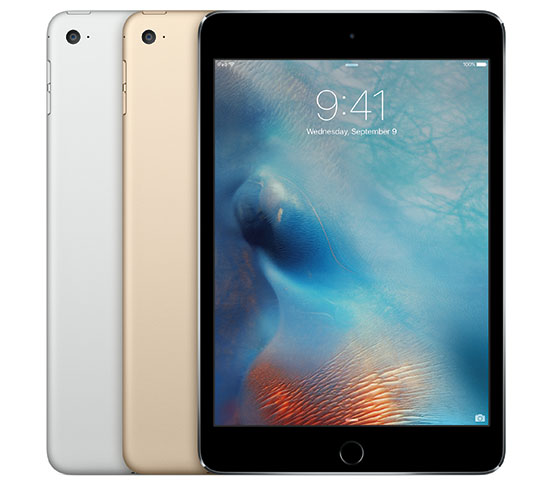 And I have one of those – the original Mini as well as the original iPad. But just as the former stopped at iOS 5.1.1, the Mini stopped at iOS 9.3.5. But things like Apple "Home Kit", which helps home automation, entered the picture in iOS 10.x. When it came to reviewing the D-Link Omna 180, which uses that system, Apple helped out with the iPad Mini 4.
Features
Not just any old iPad Mini 4. This is the top of the line 128GB WiFi + Cellular model. You used to be able to buy it in sizes as small as 16GB – which I wouldn't have recommended. Now it's available only in 128GB, which gives enough space for just about every imaginable use. The Mini 4 WiFi only version is $579, while the Wi-Fi + Cellular model pushes that out to $779.
It comes in three fairly demure colours – Silver, Gold and Space Grey – but you can embolden it with official Apple smart covers which are available both demure and bright, such as the burnt orange one I've been using. Around the office, that makes the iPad Mini 4 very easy to spot.
The device is beautifully thin – just 6.1mm, which is thinner than most phones – and 203mm tall by 135mm wide. The review model is a featherweight 304 grams and the WiFi only model is only a few grams lighter.
It adheres to the traditional iPad/iPhone button layout: power on top right, volume near top on the right side, home button on the bottom front. The Nano SIM, if you're using one, goes in a pop out tray near the bottom on the right side. No memory expansion is possible.
The Home button also acts as a fingerprint sensor, so it can unlock the iPad Mini 4, and you can use your fingerprint to authorise purchases and such.
The screen has a 7.9 inch – 201mm – diagonal and is in a 4:3 aspect ratio. It works out very close to 12cm across by 16cm tall in portrait mode. The resolution is 2048 by 1536 pixels.
It has a "fingerprint-resistant oleophobic coating", and since this is an Apple product, the oleophobic – oil rejecting – qualities are first class. If I leave the cover open I find myself having to wipe a bit of dust off, but almost never feel impelled to use a microfibre cloth to wipe down the surface.
The device is powered with an A8 64 bit processor, with the M8 motion coprocessor.
It seems to be a tradition that tablets have lesser cameras than phones – that's as true in the Android world. So the main camera on the iPad Mini 4 is an 8 megapixel f/2.4 unit. It has some nice features, like a panorama mode capable of building wide shots of up to 43 megapixels. It can also capture full HD video at up to 30fps, and slow motion at 720p at a frame rate of 120fps. It can also do time lapse video. The front camera has a mere 1.2 megapixels, and can do only 720p video, but is good enough for Facetime.
There are dual microphones and full Siri support.
It's fitted with version 4.2 Bluetooth and WiFi up to dual band 801.22ac with MIMO. It comes with a digital compass, three axis gyro, accelerometer, barometer and ambient light sensory. The Wi-Fi + Cellular model adds GPS and GLONASS (that's the Russian GPS). Physical connectivity and charging is via a Lightning connector. It comes with a charger. The battery has a 5124mAh capacity, or 19.1 watt-hours.
Apple says that's good for ten hours of WiFi web surfing, watching video or listening to music, or nine hours of surfing while on mobile data.
Performance
On first setup I installed it as a new device, rather than trying a backup from my old iPad Mini. I find quite the accretion of old apps (which worked with products reviewed years ago) develops if I just daisy chain setups from previous devices. As part of the setup it offered me the opportunity to set up Apple Pay, apparently offering to photograph my credit card in the process. Since I'm not planning on using it as a carry-around device, I declined. But I'd note that to decline you have to select "Set Up Later in Settings" – which seems kind of insistent.
It is good though that it has the whole Apple Pay thing going should you want to go that way.
As I've suggested, my main use has been for apps, particularly for controlling music devices – and using Apple's AirPlay system – and things like security cameras.
And it was a delight to use. Indeed, the only irritation with the device through eight months of use has been the massive iOS updates that came fairly quick fire with iOS 11, then the fixes through to 11.1.1. Some seemed to be 2GB or more in size. For those of us locked into ADSL+ connections providing 2007-appropriate speeds, that can rather interfere with one's regular online activities.
That aside, everything was fast, apps installed surely, but finding them is just a little clunky because you have to specify, after searching, whether you want the iPad only or iPhone only options to be display. Quite a few times I'd think an app was missing and then realise it was only available under the other option. It would be nice if the store could offer up all compatible apps at once, perhaps with a marker indicated which one is better optimised for the platform.
Also remember, while many iPhone things will work on the iPad Mini 4, not all will. In particular, Apple's CarPlay system, which integrates the CarPlay-compatible head unit of a car with an iPhone, won't work with an iPad or iPad Mini. So don't take it with you in your friend's car with the expectation that you'll be able to play your music through that kind of system.
I did whack a Nano SIM into the iPad Mini 4 for a little while and went wandering with the device, and indeed it worked very nicely. If that was my application, I'd have no hesitation using it that way. My applications being what they are, I'd stick with the WiFi only model and save the money.
Conclusion
Do note, if you want to get into iPadding at the lowest possible price and you don't envisage needing lots of space of media, you might want to consider going to the full sized current model iPad with its 9.7 inch screen. The 32GB model is $469, or a full $110 lower in cost than the iPad Mini 4, and apart from the reduced storage has virtually identical internal specifications, except that it sports the next generation A9/M9 processor rather than the A8/M8.
But if you aren't crunching big numbers and want a slim, attractive device for controlling your Apple-oriented home, the iPad Mini 4 is a beauty.
Delight to use, stacks of storage, very well developed, works beautifully in Apple ecosystem, slim
Large iOS updates, app store functions split between iPhone and iPad, some Apple things like CarPlay don't work