All the talk is about the Huawei Mate 9, the Chinese giant's premium model. Sadly we haven't been able to lay our hands on one of these. Perhaps not so sadly, because while everyone loves a premium phone, not everyone can afford it. Well, a couple of weeks ago Huawei launched the budget Huawei GR5 2017 phone, priced at $399 and with a camera of which Huawei seems particularly proud. So we had a look at that instead.
Features
The phone comes with a full HD, 5.5 inch LCD display behind unspecified glass (so I'm assuming not Corning Gorilla Glass). As such, it's moderately large, but not excessively so. It's 151mm tall, a hair over 76mm wide, and 8.2mm deep. There's a slight camera bump for the twin lens camera. It weighs 162 grams.
The glass is "2.5D", which means rather than being sunk into a bezel, it sits slightly above it with curved edges to the glass making for a smooth curve. Out of the box it comes with a stick on screen protector of the kind for which you'd pay $20 to fit to many a more expensive phone. It was bit of a fingerprint magnet, and slightly undersized, detracting from the style of the phone, so I pulled it off and the phone looked quite a bit nicer as a result.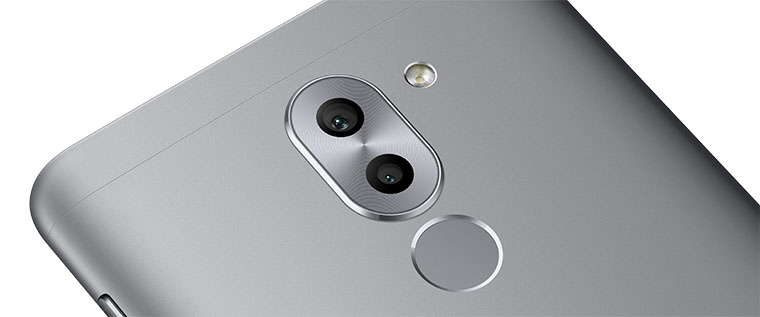 I think the back case is plastic. At least, that's the impression I got when tapping it with my fingernails, but it can be hard to be certain. Certainly the phone did not feel to my grasp to have quite the "body" and solidity of a premium model. But it looked pleasing with its black front, curved glass edges and space grey back with twin lenses, flash and fingerprint sensor.
Yes, you can use your prints to unlock the phone. It also comes with a side-and-back protective case.
The phone supports 4G. Specific band coverage isn't indicated. It of course has WiFi built in, but this is single band (2.4GHz) WiFi supporting the 802.11n standard, not 802.11ac.
Hey, low cost does involve some sacrifices.
In the same vein, neither is there NFC (Near Field Communications), but of course there is Bluetooth (version 4.1). The charge and communications connector is Micro-B USB. There are two speakers on the bottom and a headphone socket at the top.
The phone runs a Kirin 655 Octa-core processor, four of the cores running at up to 2.1GHz, four at up to 1.7GHz with 3GB of working RAM. The OS is Android 6.0. There's 32GB of storage built in, and you can either use two SIMs or one SIM and a microSD card to expand storage. I added a 128GB card and this worked fine. The phone automatically started using it for photos.
The non-removable battery has a capacity of 3340mAh.
Huawei's tweaked interface – EMUI 4.1 – overlays the standard Android. It has the soft apps and return keys the Android way around, with return to the left. The home button is also soft, with all three showing at the bottom of the display area when required.
I rather liked the interface. Aside from anything else, when I pressed and held a black area to bring up the Widget editor, it turned out not to be the method used with this phone, but rather than leaving me not knowing what to do, it popped up a message telling me to pinch the screen. And that worked.
In addition, in the editor, you can create pages to the left of the home page, not just to the right.
You might want to change the default wallpaper fairly early. I pulled the phone from my pocket at one point and for several seconds thought I'd somehow given the screen a stress crack, but it turned out to just be the background pattern.
Performance
As a general rule, I've had mixed success in transferring my basic ID details from my standard Android phone to low cost ones. And very little success in having Google manage the whole thing automatically, including installing apps and the like.
But this phone was an exception. I just used the "Setup nearby device" function in the Google setup menu, followed the prompts, and in thirty seconds the phone was busily downloading all my favourite apps, as well as getting me logged into email and such.
It didn't bring over my wallpaper or ring tone, so there was still a little configuring to do. The Micro-B USB connection allowed the phone to connect to my computer with no drama, allowing the quick transfer of the aforesaid wallpaper and ring tone.
The phone supports the OTG – On the Go – function with keyboards and mice and external USB memory, allowing them to be plugged into the Micro USB-B connection and do their stuff. However it would not work with an external DAC with any of the usual music players. So I used a special music app (USB Audio Player Pro) that can take hardware control of the Micro USB-B connection. But this only produced a very distorted noise rather than music.
Regardless, I'd try to avoid using the phone's standard music app because it insisted on ordering music in track title order, alphabetically, rather than track number order.
While on the connectivity front, the phone was able to mirror its screen to the Miracast-compatible Microsoft Wireless Display Adaptor plugged into a TV.
The WiFi hotspot function worked well. The password could be changed in the usual manner and there wasn't a ridiculously silly default password set. In addition to using it as an access point to the 4G network, you can use the unit as an access point to a more distant WiFi access point via the WiFi bridge function.
In general the phone worked swiftly and smoothly, with just the occasional pause while things were being thought about. Not, though, a sufficient delay to cause many problems. However I suspect gamers might prefer something a little faster.
The quick shortcut menu, dragged down from the top of the screen, was editable so you can put your favourite functions close to where you need them.
The Quadrant benchmark had the overall performance of the phone at half or less than that of a modern premium model, and well below the mid-priced Samsung A5 I looked at a couple of days ago. The Huawei GR5 2017 scored 17832 overall, compared to the Samsung's 32902.
But videos played smoothly so for regular use it was fine indeed.
The fingerprint sensor worked quickly and surely. You can record several fingers for unlocking.
One tends to get used to hype about how wonderful particular features are in generally low cost devices, and one consequently tends to develop low expectations. Which resulted in me getting a pleasant surprise with the Huawei G5 2017's camera.
The twin camera function involves a 12 megapixel main camera with a subsidiary 2 megapixel camera, the main function of which is apparently to help the main camera focus, and providing some effects. The phase density auto focus wasn't super fast at all, but worked at a reasonable speed. Most of the time. Sometimes it waited what seemed like a second between pressing the button and the picture being taken. With bright light things seemed to go faster.
The photos turned out to be colourful, bright, quite detailed and with a good contrast range. They wouldn't quite measure up to the best photos from the best premium phones, but I've seen current model higher priced phones with cameras that do a poorer job than this one.
There were some interesting photo modes too. A good Panorama one, an expert mode that lets the user adjust pretty much everything, and a "Light Painting" mode, which is the same as the "B" – Bulb – setting on an old-fashioned camera. This'll keep the shutter open as long as you like and you can "paint" the object you're photographing with light.
The low light sensitivity was good and fairly noise free images were produced.
Battery life was very good. After 18 hours, without many calls but lots of photos and general playing with apps, the phone was left with 80 per cent power. My usual phone would be nudging 50% by that time.
Conclusion
For $399 you can't expect a phone that'll challenge the top models out there. But what you can expect is a practical, effective one. And that's what the Huawei GR5 2017 model phone is. And its good functionality is nicely enhanced by its ability to take better than average photos.
Good value for money, pretty decent camera, good full HD screen, good battery lif