Kaiser Bass calls the R30 a "WiFi Car DVR" (for digital video recorder). Most people would call it a dash cam rather than a DVR. Why have a dash cam? They became popular in some foreign lands where having a video record of one's interactions with law enforcement authorities could be wise. It was not for no reason that so many dash cams recording the Chelyabinsk meteor exploding over Russia in 2013.
Youtube also shows us many of instances of would-be insurance fraud involving pedestrians throwing themselves at cars. Some are laughable, some are deadly. Either way, the motorist would have been very pleased to have exonerating video.
While these problems are fewer in Australia, accidents do happen. Video may not always be conclusive, but often it will be. So what's a cost effective way of obtaining this potential protection?
Features
At just under $270, the Kaiser Baas R30 WiFi Car DVR is certainly cost effective, and has some conveniences that also make it rather useful in operation. In particular, it has WiFi connectivity so that you can review footage in situ without having to take out the storage card or connect to a computer. There's also GPS data captured with the video, and a shock sensor which triggers automatic "Event" capture.
As is usual with dash cams, it's a tiny little thing. The main body is 63mm wide, 43mm tall and 21mm deep and it weighs 66 grams. On one side is the camera lens. On the other are three control buttons. On one edge are the connections. On the other are a couple of tiny speakers. Somewhere on there is also a microphone, although it's not marked on the diagram in the manual.
The connections are the power input, a Micro-B USB socket for copying video to a computer and a slot for the microSD card. A minimum size of 8GB is required along with a speed rating of Class 6. The maximum size is specified as 64GB, which is what I used.
The camera comes with five metres of USB power cable and a two outlet cigarette lighter power adaptor rated at two amps total. For what it's worth, I couldn't get the camera to work for a while until I finally realised that the power adaptor was defective. Once I switched to the generic adaptor that we keep in the car anyway, all problems were solved.
There are also half a dozen cable clips with adhesive pads so that you can route the cable across your windscreen in the least unsightly way possible.
The camera can record at resolutions of 720p, 1080p and 1296p. The first two are pretty much standard HD and Full HD. The third one has 2304 pixels across. All are at 30 hertz. One of the three buttons on the back is for grabbing still frames. Their resolution depends on the video resolution, and are 1, 2 or 3 megapixels respectively. The camera has a 125 degree field of view.
The video is recorded using the H264 codec, otherwise known as MPEG4 AVC, the same as that found on most Blu-ray discs, while the sound is recorded in ADPCM format, which is an oldie but a goodie and ought to be widely supported.
Putting it in place
Installation of the Kaiser Baas R30 is mostly just a physical process. Sliding the camera onto the compact adjustable mount, exposing the sticky pad on the mount and attaching it to the inside of the windscreen, running the USB cable to your cigarette lighter, using the cable tidies to keep things neat. Oh, and popping in the microSD card.
But if I may be permitted a suggestion: use Blu-Tack for a while. The wide angle of view provided by the camera means that positioning isn't really all that critical, but you never know for sure until you try it. Once you remove the protective film and attach the mount to the windscreen, you're kind of stuck (sorry about that). The whole rig is very light. Just pull off a three centimetre strip of Blu-Tack, lay it over the flat part of the mount and then press that firmly against the windscreen glass. When you're happy that the camera is in the right place for a good view, is easily reachable for when you want to capture a still or mark an event, is placed so that you can see its indicator lights, and isn't distracting when you're driving, then you can stick it permanently. Blu-Tack is plenty strong enough for the job.
One other thing which I didn't realise at first: for correct time stamping you need to set the time of the unit. That requires a WiFi connection. The computer software won't manage those aspects of the unit, at least as far as I could find.
Performance
It's hard to see how using a dash cam could be easier. Once it's set up, it starts when you start your car, and stops when you switch off your ignition. Easy as! A steady red indicator light shows that the recording is working fine. The GPS light flashes orange for a few seconds while it's determining its location, then goes steady once it has a lock. It was always steady by the time I'd reached the end of my street – perhaps 200 metres from my home.
When you switch off the car, the recording light flashes a few times as it shuts down the recording.
The only intervention you might consider is hitting the photo button to capture a still of something, or hit the "Event" key, which marks a bit of video for retention.
It turns out that unit records as a series of relatively short duration recordings – the default is five minutes (even so, that's around 300MB for 1080p), but you can change that to three or ten minutes. If you hit Event, this duplicates the action of an automatic Event, which is invoked by the shock sensor. I lack sufficient dedication to this job to actually crash my car to make sure it works, so I suppose we'll have to take that on faith. In any case, the Event button grabs a section of the current recording – starting about eight or ten seconds before the button was pressed – and moves it into a different folder where it won't be overwritten. Regular recordings do get overwritten as the microSD card starts to fill up but with a good sized card, there'll be many tens of hours of driving before that happens.
I looked into the format of a couple of recordings – I used the 1080p ones. The video bitrate was around 6.6Mbps and the quality seemed to reasonable, given that it's a small device with a very wide field of view. It was certainly clear enough to the point of allowing number plates to be distinguished. The auto exposure adjusted brightness according to lighting conditions.
The WiFi feature allows you to check out the recordings without having to plug into a computer. You press the WiFi button to start up this function, then use your phone or tablet to connect to the access point it establishes. The Motor+ app (iOS or Android) then connects to the R30 and allows you to change settings, of course, but also view any of the recordings, and download them to the device. The communication speed wasn't sufficiently fast to allow 1080p recordings to stream cleanly. There was a fair bit of pausing while a new section was buffered. But the unit also records a 240p version of the same stream, and this is adequate quality to allow you to identify the bit you're look for, and ensure that it was properly captured.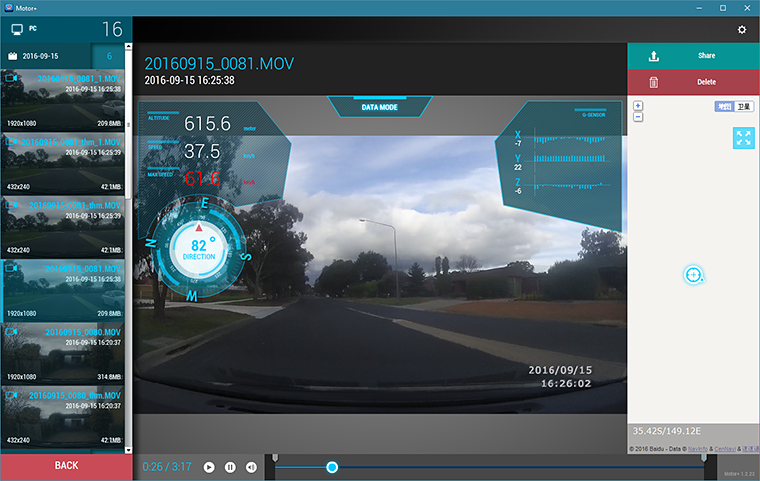 For downloading to your computer, just use the Mac or Windows version of Motor+ and use the supplied USB to Micro-B USB cable. You can play back from the camera this way, smoothly, and choose which segments you want to download. When you're playing back, data panels show you your speed and direction and altitude and the X, Y and Z measurements by the G-Sensor shock detector, as well as time and date.
There's also a panel to show you where you were on a map, but this didn't work for me. I used the Kaiser Baas Chat support system on their website, and they were very helpful, getting me to upload a recording. I shall report back on what is found in due course. [See update below.]
The unit runs fairly warm when recording and when connected via USB to a computer. When connected via WiFi, it runs really quite hot after a while. It'd probably be best to not leave it on WiFi for really length periods of time.
Conclusion
The Kaiser Baas R30 offers good value for money, good quality, and some very useful features. It's certainly worth consideration, especially if you anticipate a future of pedestrians bodily flinging themselves at your car, or if you are just a bit worried that upcoming collision.
Update – 9 October 2016
Kaiser Baas responded to my support request on 4 October – that is, a bit over two weeks later – with a new software (version 1.2.34) download. Which I promptly forgot about. But now I've returned to it, installed the new Windows version of the Motor+ software. (Note: it isn't Windows verified so you'll have to click a 'More Info' when Windows complains in order to proceed with the installation despite the warning. Also, you must uninstall the old one (version 1.2.33 was what I had been using) first.
And, yes, this has fixed the issue. Here's a similar frame to the one above, now with map and route:
On the map, the blue part to the left of the location circle shows the route travelled so far, while the blue to the right shows where I'll be going. So it seems the software reads the location information for the whole file and displays it, and then tracks your present location on the map, updating every two seconds. If you click on the blue icon with the four arrows near the top of the map, it expands to fill most of the display while the camera view shrinks to a small window:
So all that makes it even better than I originally thought.
Good value for money; useful WiFi capability; GPS tracking; automatic event (ie. crash) capture; very easy to use
GPS/Map display software didn't work with test unit