I'm feeling guilty. I've had the rather nifty Moto 360 Sport watch here for at least a couple of months, yet, day by day other reviews have seemed to take priority. So my apologies to readers and to Motorola for my tardiness.
A big part of the reason for the delay is reviewing the Moto 360 Sport reasonably fully is a thoroughly daunting challenge. Reviewing it exhaustively is, I think, impossible. A device like this is so flexible there will always be little surprises, and there's no reason that even if you find a limit to its capabilities today, they will be there tomorrow as another feature could be added in a live update, or might be found in an app.
Features
So what is the Moto 360 Sport? I lightly referred to it as a "watch" earlier, and yes it is; a "smart watch". It shows a watch face that can tell you the time, date and so on. But that it also communicates with your phone so that it can do things like give you notifications, display text messages and so on.
But then again, it's also a very well equipped fitness tracker band, with heart rate monitor, gyroscope, altimeter, accelerometer and light sensor, allowing it to track your every move. And so on.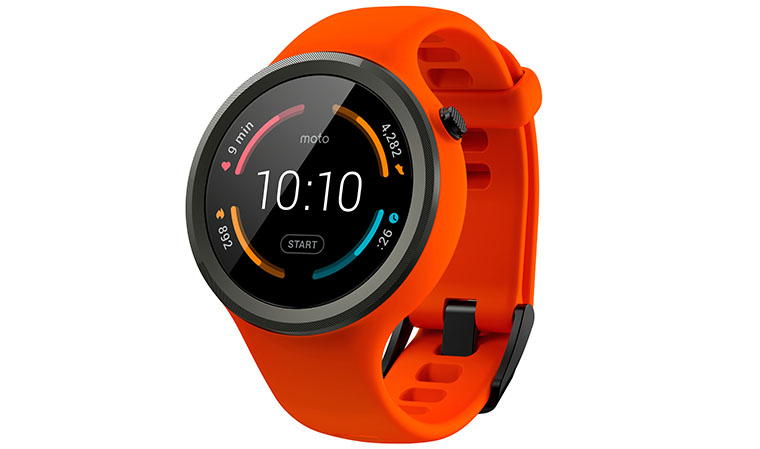 It has a Qualcomm Snapdragon 400 quad core processor (up to 1.2GHZ) – what a computer scientist of past decades would have called a "super computer". There's half a gigabyte of RAM for the processor and 4GB of storage. The device communicates via Bluetooth and WiFi (b/g standards, not n or later). There are microphones (two of them) so it can hear what you say, and a battery with a 300mAh capacity.
It charges wirelessly on the included dock. You just plonk the watch down on it.
Smart watches remain a little chunky. The case is 45mm in diameter, which is kind of in keeping with modern styles, but 11.5mm thick, which is rather thicker than any normal watch. Still, I don't think it looked too out of place on my wrist.
It weighs 54 grams including the silicon band and I found it very comfortable to wear.
It features what Motorola calls an "AnyLight Hybrid Display". This is round, of course, except for a flattened bottom edge, and has a resolution of 360 pixels wide by 325 pixels tall, for a pixel density of 263 pixels per inch. The "Hybrid" part means that it works both backlit and from external light, which means you can see the face indoors and under the beating sun.
The main app you use with this phone is Android Wear. That means a non-proprietary system, which means the ready availability of other apps with different functions. You can use either Moto's own fitness apps, or a Google's (to retain the openness to other devices) or download different ones. Companion apps within the watch manage communications with the matching app on the phone. How your exercise stats are displayed will of course depend on the app you use.
The watch is fairly robust. The face sports Corning Gorilla Glass 3 and is an IP67 rating for "ingress protection". The "6" means completely dustproof while the "7" means up to a metre of immersion for up to half an hour. That means … don't go swimming in it. But you can be confident all will be fine if you do get splashed, rained upon, or happen to fall into the pool.
It's available in black, white and "flame orange".
Setting up
The watch can be used with Android and iOS phones. I stuck with the former because switching associated devices is not something to be undertaken lightly: to unpair from a phone performs a factory reset on the watch. That's a feature of Android Wear and isn't a problem for normal people who change phones every couple of years, but circumstances brought me to having to switch from one Android to another anyway, and I didn't want to go through the setup even more times.
The instructions are in a little concertina-folded pamphlet because not many are needed. You start by plonking the watch into the charger cradle and leaving it be for a couple of hours while it charges up. When it's full, you install the Android Wear app on your phone, fire it up, grant the million permissions (only one button press required) to give it access to everything on the phone, and then follow instructions. The app soon found the phone and after a couple of quick confirmatory button presses, was properly paired.
Whereupon it immediately determined that the firmware in the watch needed updating, and did so. That only took a few minutes despite my mediocre broadband connection.
At some point soon after setup, my phone produced a notification offering to set the Moto 360 Sport as a "Trusted Device", which meant that my phone wouldn't require the usual unlock process whenever the Moto was nearby. Which did turn out to be quite convenient.
The main comms are via Bluetooth, but you can also have the phone link to WiFi so that it can be used independently of the phone.
Performance
The Moto 360 Sports was a lot of fun. It tracked all my walking along with heart beat about as accurately as anything. I suppose you can fool it like all trackers if you like to fool yourself, but why would you? Using it was in most respects extremely simple. You can easily change watch faces. You can have colourful or businesslike or traditional or artsy. There are lots of additional faces you can download from the Android Wear store, some at the cost, lots for free. Many can be further customised by changing fonts, number style, colours and so on.
In general, each watch face actually consisted of a pair: one for when the watch was on, one when it was in "off" mode. "Off" is the power saving mode when the watch is actually set to "always on". This is a dark screen, barely backlit, so these faces are designed to be visible in those circumstances.
Being a conservative type, I chose the "Classic" face, which was backed with a simple pair of light hands over a black background for maximum visibility. And despite my mediocre closeup vision, this worked a treat. I was able to tell the time at a glance, indoors and out, without waking the phone up into bright mode.
The only weakness in that function was that in that mode, on two or three occasions over a couple of months, when I had been sitting quietly for a while, the clock stopped. That is, I'd glance at the time and the hands hadn't moved since last time. I'd tap on the watch face to wake it up and the hands would instantly jump to the correct positions.
Some faces have special functions, like the "Sports" one which consigns the time to a numeric display in the centre, while using colour arcs around the outer part of the dial to show your workout stats.
Another provides the ability to connect to other people's smart watches when they are nearby. Once they are connected the first time, they appear as icons on your watch's face when they're in range and you can send messages directly to them, and receive them in turn.
I think. Without other Moto 360 Sports wearers handy, it was hard to check this one out.
Tapping, or pressing the side button, is how you wake up the watch. Everything else you do is via swipes and touch or hold to select. It's all pretty intuitive (and a mini tutorial introduces it when you set up the watch). Swipe to the right and you get the full menu with all the apps (including the flashlight, which makes the display go as bright as it can). Swipe up for recent notifications. Swipe down for access to quick functions like "Do Not Disturb", "Theater Mode" which turns off the screen so you don't irritate those around you in the dark, a temporary brightness boost and a battery meter.
Through the Moto Body app you can have your "data" shared with the Google Fit, X Record, Mapmy, Strava or Fitbit apps. Since I mostly use Fitbit, I enabled that one. It didn't work. There are various complaints online about this and as always, who's responsible: the Moto people or the Fitbit people? It takes two to tango, or to share data. Fitbit's app exists to support the Fitbit hardware, which is how Fitbit exists and continues to make money.
You can communicate with the watch by voice. Basically it works the same way as an Android phone. You make sure the watch face is lit up and then say "Okay Google", or by using voice recognition with some of the apps.
This started off being incredibly frustrating. But I persisted and things started to click. Finally it got to the point of being about as reliable as I find Google Now to be in general, which is somewhere in the eighty to ninety per cent range. The voice to text conversion actually seemed to be faster than that performed by my phone. In addition to the usual searches, it worked well with OneNote, adding notes to the QuickNote tab.
Battery life is going to depend very much on your usage. Motorola says that it's good for "Up to a full day of mixed use with Ambient on". My significantly lower usage rarely consumed more than half the battery capacity.
But I've got to say, I didn't really care. The ability to just pop it onto the wireless charging cradle made this task so easy that it didn't matter.
Conclusion
As a smart watch with inclinations towards sporting activity, I'd have to give the Moto 360 Sport an "A", if not a gold medal (which I'm in no position to judge). But do consider the "ecosystem", as we like to say. If you've thus far been a Fitbit person, you're likely going to have to discontinue that and move to, say, Android Fit, buy new smart scales if you're using an Aria and so on. So work out whether you want to make the whole move.
---
Aside from the obvious photos, the pictures of the watch faces shown above were grabbed using the Android Wear app on my phone.
Clear display in all light, highly versatile, simple wireless charging
Fitbit data transfer didn't work