The instant espresso market we refer to as "inspresso" is hot at the moment, but most of the machines tend to offer a plastic look that might be premium, but generally isn't. What if you want something that is truly premium?
Features and performance
If you're in the market for a truly premium experience, generally you have to look at products made from what people consider a premium material.
Plastic can be premium, but unless it's built like a hockey puck, you'll probably want to look past the polycarbonates of the world and instead gaze upon harder materials, such as glass, metal, alloys, or the super lightweight carbon fibre.
Nespresso's coffee makers have never really gazed upon this type of material before, and while we've seen a few elements here and there, you really only have to browse one of the Nespresso stores or another electric retailer to find that the majority of encapsulated coffee machines are made with plastic.
To change this, Nespresso has teamed up with the Whirlpool-owned KitchenAid, a company that still designed products in its home of the USA, and at practically invented and then revolutionised the stand mixer.
KitchenAid machines tend to have a retro look about them, appearing as if they just rocked up from the 50s and 60s, and you can find this soft and circular bulb-like look across most of its products, ranging from that legendary K stand mixer — the KSM series — to kettles, toasters, food processors, and even a SodaStream variant.
And now the next machine to get the KitchenAid look is a coffee machine, with Nespresso and KitchenAid collaborating for a new machine.
Nespresso's formula isn't taking a huge change for this machine, and this still relies on the same pods we've found to work on the other Nespresso machines, meaning if you have a CitiZ, Pixie, Inissia, Maestria, UMilk, Lattissima, or anything else featuring the "Nespresso" name on it, this is more of the same, albeit in a different body.
That means the technology is technically the same, with another 19 bar pressure pump, a thermoblock to heat the water, and the capsule system up top with an auto-eject mechanism.
There just so happens to be slightly larger water tank than most machines offer, supporting as much as 1.4 litres of water.
The other major difference is in the construction, and while plastic may well be what most Nespresso machines are made from, this is die-cast metal, something you can hear when you knock on the body.
A fold-up tray can also be found, bringing smaller cups closer to the coffee spout, with the area behind this sporting the spent pod box, which can hold up to 14 used capsules.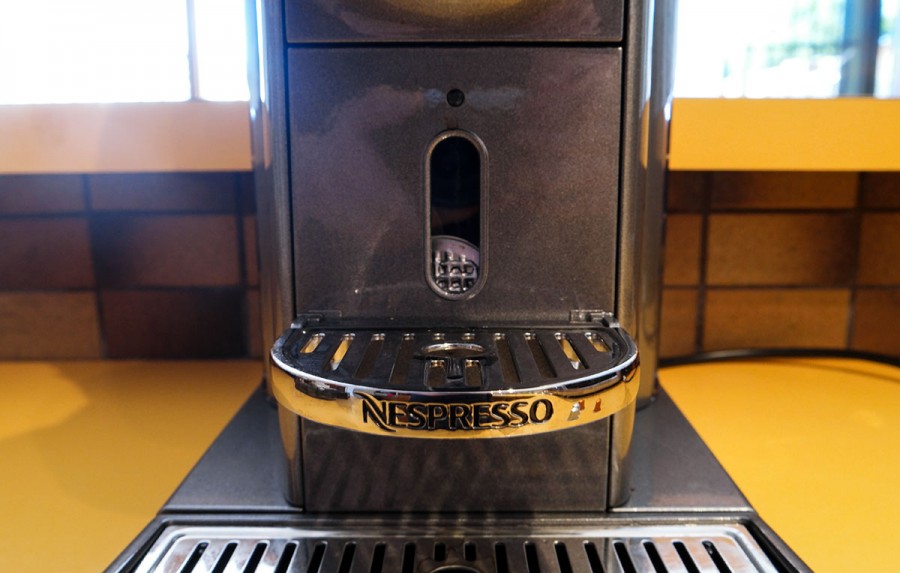 Plugging it in is easy, and this merely requires one plug for the machine, followed by a filling up of that water tank. You may want to run water through the machine a few times, but you quickly find that with a starting time of around 30 seconds, the Nespresso by KitchenAid isn't a slow machine.
That's the other thing, by the way: it has no real name,
It's not like the "Pixie" or the "Maestria". Rather, this is just the "Nespresso by KitchenAid", though feel free to call it by the stock number Nespresso gives it, which is KES0504.
Or just forget about the name and make some coffee, because that's what we did.
To use the machine, KitchenAid has made things super easy, with basically a knob, a button, and a lever.
First, the lever: you push this up to open the machine's pod door up top, exposing the capsule slot and letting you load one of the Nespresso Grand Cru varieties of coffee pod, before pulling down the lever back to its original position.
This presses the pod in place and now you're ready to select the strength.
Like the Maestria machine from a couple of years ago, the Nespresso by KitchenAid is built on the logic that you can control the rough length of water you want by using a control knob. Back in that old model, you had two knobs for espresso and lungo — short and long) — and numbers one through to five based on the length of each.
KitchenAid has pulled back on the numbers this time, and instead asks you to rotate a knob either to the left or to the right to pick between numbers one through three of either espresso or lungo.
Like it short in a ristretto? Move the LED indicator controlled by that knob to position one. Prefer a slightly longer espresso, set it to three. Fancy a longer beverage? Move it to five or six.
When you're ready, hit the centre Nespresso button to start the water up, which will send the water through the coffee pod, grounds, and through the tiny little group head in the machine, sending out coffee to the glass or mug below.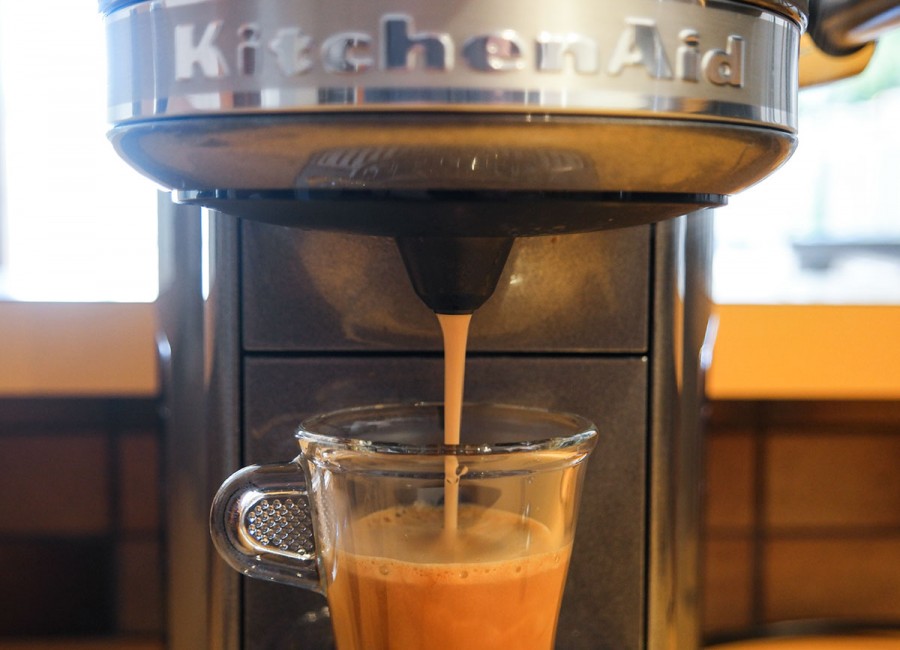 Just like every other Nespresso we've seen before this, the provided you use the same settings each time, the coffee will come out exactly the same, and that's pretty much what Nespresso machines have been designed for.
Coffee snobs may sit there and argue that Nespresso machines lack the personality of hand-prepared espressos, but this is perfectly great tasting coffee that always turns out the same way, which is the point.
When you're done you just pull the lever up not just to load in another capsule, but to release the mechanism to send the old capsule into the spent capsule container below.
Easy.
While we love the style — adore it, actually, as it brings that element of retro kitchen class to a machine made for now and the future — it feels as if KitchenAid hasn't thought the entire thing through.
Sure, it's a coffee capsule machine that oozes pure KitchenAid style, practically begging any kitchen that gets this to also grab one of the classic stand mixers like out of "Desperate Housewives", and everything else KitchenAid so that it blends in.
But what it doesn't have is a KitchenAid-designed milk frother.
Instead, you get the same old basic Nespresso Aeroccino 3 model we've seen included in Nespresso machines for yonks, with its cylindrical form that looks nothing like the curved industrial metal look Kitchenaid has going with this unit.
This is a bit of a shame, not because you get an old Aeroccino milk texturised, because they're perfectly fine, but rather that KitchenAid didn't rebuild this element too, because it would have gone with the product better than the same one you get with other machines.
Hey, it doesn't even have a docking element on the base, which is even more curious because versions of pretty much every other Nespresso machine provided this as an option. We've seen it on the Maestria (which this replaces), the CitiZ, and the U Milk, so why not here?
Why doesn't the Nespresso by Kitchenaid have a docking element? It surely could, and yet it doesn't.
Conclusion
Not exactly style over substance, the Nespresso by KitchenAid is an example of what happens when premium is done right. Mostly, anyway, with a convenient cuppa that looks the part but just misses out on a matching milk frother that looks as good as it does.
We feel that we should point out some of the differences between this and the other machines, because you need to know that for the most part, you're paying for the KitchenAid name, design, and construction on this one.
Really, there's little difference between what this Nespresso does and the other models, and this is plainly about look and feel, which it nails without any problems.
It's not like the Lattissima Pro, either, which included a built-in milk texturiser and an LCD screen for helping you make those drinks, some fancier than others.
No, this is for espresso and long blacks plain and simple, though because you get that Aeroccino unit on the side, you can make a cappuccino, too.
If that's what you're after and you want it done in style, the Nespresso by KitchenAid is definitely worth a look.
Finally, a properly premium Nespresso machine; Metal design suits it; Lever is a beautifully simple way to operate the machine; Fairly large water tank;
Milk frother doesn't really match the industrial design of the KitchenAid; Milk frother doesn't connect to the KitchenAid body at all;