Oppo is turning them over fast, and it seems to be paying off. According to Counterpoint Research data, the Oppo A57 phone – reviewed here – was the fourth biggest selling phone globally in July this year, and the second biggest Android model. It was beaten out of third and first place respectively by … the Oppo R11, Oppo's newest flagship. This takes over from the Oppo R9s (reviewed here, just six months ago).
So let's see why everyone seems to be buying the R11. Well, why 2.1% of the global purchasing public were buying it in July.
Features
Of course, a top of the line Oppo model is priced somewhere in the middle of the price range for several other brands. The R11 is actually $49 less than the R9s was on its release. Yet just about everything has been upgraded: processor, camera, OS (now Android 7.1.1) and I'd say the screen as well, although others may differ.
The screen has actually shrunk a little. It's 5.5 inches, down from the very nearly 6 inches of the R9s. But its full HD resolution (1080 by 1920) is now delivered via an AMOLED display, for deeper blacks and colours. The screen is protected by Corning Gorilla Glass 5.
The Android home button is below the screen, as are the return and apps soft keys, so the full resolution is available for showing whatever. The apps key is to the left, the return key to the right. The home key doubles as a fingerprint scanner.
The rest of the construction is metal. The phone is thinner than average at 6.8mm. There is about a millimetre of bump for the two (!) cameras. A slim back-and-sides case is supplied with the phone. If you put that on, there's no longer a bump. The phone is available in black, gold and rose gold. UPDATE: And now red has been added.
The phone runs a new Qualcomm processor, the octacore Snapdragon 660, with four cores running at up to 2.2GHz, the others to 1.9GHz, and there's 4GB of working RAM. It has 64GB of storage built in and you can add a microSD card of up to 128GB.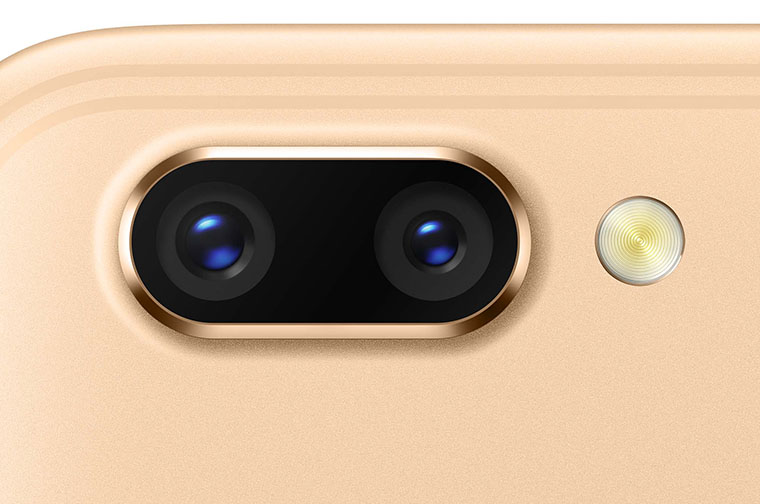 WiFi is dual band 802.11a/b/g/n/ac. Bluetooth is 4.2 LE. There is no NFC. If you forgo the memory expansion you can load up two 4G SIMs.
The power connection is still Micro-B USB. It supports On The Go connections, but Oppo retains its uniquely inconvenient requirement that you have to switch it on via the setup menu after ten minutes of non use.
The front camera is a 20MP f/2.0 model with the inevitable "Beauty" function. You can leave your beauty unaltered, or boost it by as much as six! There are two rear cameras. They seem to work less like the iPhone 7 Plus model of a main and telephoto, and more like the Huawei/Leica model of a main camera with assist. The main image-capturing one is a 16MP f/1.7 camera – the one closer to the corner of the phone. The assist camera is a 20MP f/2.6 unit next to it. Oppo worked with Qualcomm to customise an image processor to work with this system. Given the amount of processing that is performed on smart phone photos, the provision of more data from an extra camera is welcome.
A 3000mAh battery is built in. The phone supports Oppo's VOOC fast charge system and a compatible power adaptor is provided for the purpose.
Performance
It took a little longer to set up than usual because I followed a path that turned out to be a dead end. I doubt I'll be the only one.
You see, you can't just transfer your Google credentials over to the phone from another via NFC, so you have to key them in. That's fine. Then Oppo gives you a choice: do you want to set the phone up as a new phone, or import stuff from an old one. I chose the latter, and then was given a choice of importing from an Android phone or an iPhone. I chose the former, to be greeted with a large QR code which I was to scan using the old phone. Specifically, the Clone Phone setting under Backup & Restore.
But there was no such setting in my Samsung, nor in the Huawei I'd also been using. Nor could I find an app that seemed relevant in the Play Store. I'm guessing that this is an Oppo thing. It would have been nice to make that clearer. So I went back a few steps and set the phone up as a new one, and started installing my favourite apps one by one from the Play Store.
But perhaps Oppo can be forgiven expecting you to be coming from an Oppo phone given those sales figures.
Now here's perhaps the most surprising thing about this phone. Oppo has majorly reworked its ColorOS operating system. It's now version 3.1 and it overlays Android Nougat 7.1.1. In general, I find it a bit hard to see why Android phone makers bother to provide a non-standard GUI over the top of whatever Android they're running. Rarely do they offer significant advantages. Perhaps it's just an attempt to lock you into a brand through making you less comfortable with other implementations, but even that doesn't work, for the differences are usually too minor to present much of an impediment to a switch.
But I can see exactly why Oppo has introduced ColorOS 3.1. It is trying to make this phone into an iPhone.
Well, make it look and work somewhat like one. Physically, Oppo phones have long done so. Now let me count the ways in which it follows iOS. The first thing was shortcuts. I've sometimes whinged about how Oppo phones have notifications and shortcuts on separate pages, in some implementations requiring you to swipe down for notifications, then left to get to the shortcuts. All that's changed. I swiped down and found notifications, but everything was different. There were no shortcuts, and I could swipe all I liked, but nothing happened. I tried swiping away a notification to the right, and it wouldn't budge.
But after a little while I learnt what was going on. To get rid of a notification, you swipe to the left. The notification moves half way across and reveals two buttons: "Settings" and "Delete". A little different to iOS because in that the buttons are "View" and "Clear", but that's being picky.
So where, then, are the shortcuts? Ah, swipe up from the bottom of the screen! Just like iOS. And there, just like iOS, you'll find function short cuts across the top of the swipe up box, and app shortcuts at the bottom, and between them buttons for the "Nightly Shield" (the night setting that reduces the blue light in the display) and something called Oppo Share. Oppo Share? Guess what, that's pretty much the same thing as Apple's AirDrop. If someone is nearby with an Oppo R11, you can share stuff right to their phone.
Another Applish thing? Try re-arranging the icons on a screen. You can do it, but they all pull up into the grid to the top left. You can't put an app at, say, the bottom of the screen away from the rest. Just like an iOS device.
I think that's about it, but you see how a person switching to Android from an iPhone would find this comforting.
Meanwhile, all the other cool Android stuff remains. Oppo hasn't gone overboard. For example, you still get widgets (along with Oppo's access to them via pinching a blank bit of screen). You still have Google Now rather than Siri. Indeed, after a couple of days, the phone updated its Google Now to Google Assistant.
Once you realise those iOS flourishes have been applied, the phone becomes easy to use for Android people.
There were one or two rough edges. At one point the phone told me it had downloaded some updates for itself and was planning to install them overnight. I told it to go ahead straight away. When I checked back on it ten minutes later, everything was Chinese. With some educated guesses based on icons (do you know the Chinese characters for "Done"?), I managed to navigate through the settings to the language section and switch back to English (Australia). Or maybe switch to it the first time. I think only the UK and US versions were available when I first set up the phone.
Those shortcuts are far more editable than with previous Oppo phones. I was able to put personal hot spot front and centre where I like it. But do not use that feature until you've gone into the phone and changed the password. "12345678" is not a good default.
The rear camera was really very impressive. There's no RAW mode so you're pretty much stuck with whatever processing Oppo has chosen to deploy. As it turns out, it has chosen wisely. For example, while it sharpens up images a bit, it isn't overdone like the Samsung Galaxy S7. You can zoom in and get good detail without that unfortunate edginess that mars the latter.
In dark scenes, it was very nearly as good as the Samsung too. There were some differences in tuning – Oppo went for a somewhat darker look – but it was clean and showed all the important elements of the picture.
It was a touch less detailed and grainer in a shaded area in the corner of a photo taken of a bright object, but it shows how much I'm stretching in order to point this out.
The phone scored 2369 on the Basemark OS II benchmark, which puts it at two thirds the performance of the fastest phone I've tested. On the Basemark X gaming benchmark it pulled down 34224, or better than three quarters of the power of the current best of them.
Conclusion
So, $649 for an excellent AMOLED screen, an extremely good camera, good mid to upper range overall performance. Looks to me like the Oppo R11 deserves its place on the Android leader board.
Great value for money, fine screen, good overall performance, strong camera performance, ColorOS 3.1 may make Apple to Android transition easier
OTG switches itself off after ten minutes of non-use, very unsound default password for personal hotspot, port Micro-B USB rather than Type-C