Once again Oppo has released a phone that defies its pricing in design and performance. The Oppo R9s is the current premium model from the brand in Australia. And you know, if you keep a finger over the Oppo logo on the rear a lot of people are going to think that you have an iPhone 6 Plus. (What, not a 7 Plus? The single camera is the giveaway there.)
Features
So what do you get for your $598? Before embarking on that, for a sense of proportion let me note that this is 47 per cent of the price of a 32GB iPhone Plus.
You get a phone with a beaut full high definition 5.5 inch AMOLED screen, in a slim (6.58mm) case, with a hot processor with 4GB of working memory, and 64GB of built in storage, powered by a 3010mAh Lithium Polymer battery. Unlike an iPhone, you can expand storage by slipping in a microSD card of up to 256GB, or alternatively use the same space for a second Nano SIM so you can use two different phone networks.
The hot processor is an eight core Qualcomm Snapdragon 625 processor running nominally at 2.02GHz (also known as an MSM8953). A Mali-T860 graphics processor handles the picture processing.
The screen gets the latest in the form of Corning Gorilla Glass 5. In fact, the phone comes with a screen protector already fitted. The case is metal, with a soft gold hue to the back and sides giving it a classy appearance. Apparently there's a black model as well. The six thin horizontal lines, three at the top and three at the bottom of the case, add to the style, and Oppo says that they are the antennae for 4G and WiFi.
The phone also comes with a slim silicone or plastic case. It's transparent and covers the sides and back with a cut-out for the camera (the rear camera bump is about a millimetre). It's not heavily ribbed at the corners or sides, but would certainly take some of the force of an impact on the edges. That is a nice touch because phones from the less well-known brands aren't as well served by third party accessory makers.
Power is provided by means of a Micro-B USB socket. I yearn for the day when everyone has switched to USB Type-C. Oppo has long had a fast charge technology called VOOC and that's provided with this phone, allowing it to fill up quickly. It also has a 3.5mm earphone/microphone port at the bottom.
It comes with Android version 6.01 and Oppo's ColorOS 3.0 interface. The phone supports fingerprint recognition and the sensor has a new "hydrophobic" (that is, water rejecting) surface so that this works even when the finger is wet. This is on the home "button" at bottom front. Like the current iPhone models, this isn't really a button but more a sensitive area, so while it's marked, it doesn't move. There's a brief vibration providing feedback, but it feels different to that on the iPhone which attempts, somewhat successfully, to emulate the feel of a button clicking.
Both the front and rear cameras pack 16 megapixels. The front one has an f/2.0 aperture and supports a "beauty" mode to make selfies look prettier. The screen can flash to provide plenty of light. Oppo is particularly proud of the rear one which features a new sensor co-developed with Sony. This camera has an f/1.7 aperture and features dual phase detection auto focus. Video at 720p, 1080p and 2160p (ie. 4K) resolutions is supported.
Bluetooth 4.1 is provided but not Near Field Communications – NFC – for easy pairing and for potentially performing financial transactions. WiFi is dual band and supports standards up to 802.11ac, which is right up to date. There are a wide range of LTE/4G data bands – being a kind of International phone, it's fairly versatile on that front. And of course the Dual SIM functionality is useful for travellers.
Performance
I set up the phone the lazy man's way: namely, to have it clone itself as much as possible from my regular Samsung phone. The Android "Setup Nearby Device" option was offered during the setup wizard, the phones found each other and the R9s gained appropriate access to my stuff. But it didn't really do much more. It didn't download and install my apps (as the Google notification suggested it would). All it offered was updates to the apps which were already on the phone.
I didn't mind too much because it kind of forced a discipline on me to pick and choose what I wanted to install, instead of simply piling in the stuff that I've accumulated over too long a time. But it did mean I had to do things like manually change my wallpaper and so on. But, hey, this is going to be a one-off for most people.
There was one disconcerting aspect to the setup. Early in the piece it gave me the opportunity to provide my fingerprint, which I did of course, and it sought an alternative login code. All phones with fingerprint unlock capabilities require a backup of some kind. But instead of asking for a PIN or an alphanumeric password, it wanted a pattern. Quite a few phones have this. It's where you trace out a pattern on the nine dot grid.
But I always doubt my memory and so I decided to chase down the lock settings and set a PIN instead. But that option was missing. It's pattern-only on this phone.
I thought I might as well add a couple more fingerprints for safety (never know when you might lose a finger!) Oddly, when it asked for verification before proceeding, it accepted any finger as verification, not just one of the fingers for which I'd already added a fingerprint. If you lend your phone to a friend, watch them. It'd be easy enough for them to add their own fingerprints.
The ColorOS3.0 version of Android has one or two quirks, which I discussed in my review of the Oppo F1s phone a while back. One tip: to organise widgets, don't touch and hold the background. Pinch in on it.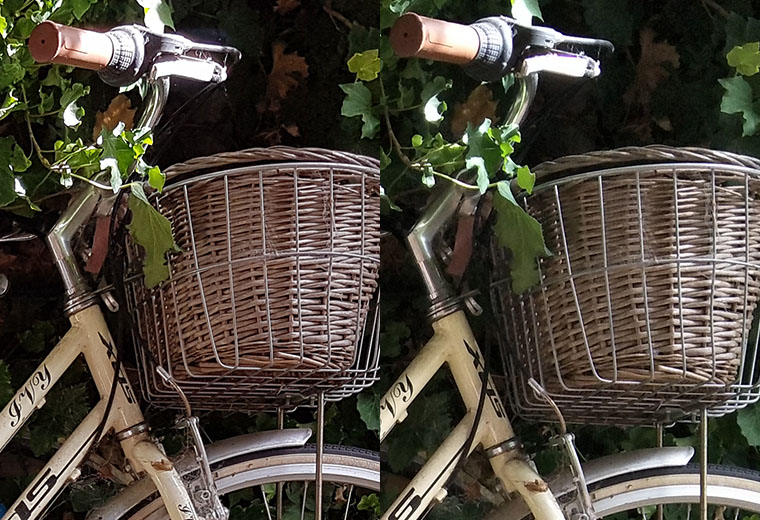 The phone starts up with a lockscreen slideshow of random pretty pictures which it drags in from somewhere or other. Some of these include pretty people. Not my style. Happily you can switch this function off and just replace it with your own wallpaper if you like.
The notifications area was harder to access than normal. When you pulling down from the top of the screen, many phones show a quick task launcher as a bar across the top, but this one consumed most of the screen. An additional swipe to the right was necessary to switch to the notifications page. As for the quick tasks, there were a number of useful functions on the page, but there didn't seem to be any way to edit which ones appeared. I would have liked to put the personal hotspot there, but couldn't.
Incidentally, if you do use the personal hotspot, change the defaults. A password of "12345678" may be regarded as insufficiently obscure (whoops, I've given the game away there!)
The soft buttons – back and recent apps – are the Samsung way around, with the back key to the right.
The screen was large, bold and easy to read. The default brightness setting was perhaps a touch lower than I would have liked, but was easily fixed. Those 5.5 inch screens really do make apps easy to use.
The phone worked as expected in every way with calls and data both. It managed well over 30 megabits per second downloads from the network over 4G when I had a decent signal. All apps worked perfectly. I normally install the Google keyboard on Android phones because I like the way its swipe writing works, but the default Oppo keyboard was perfectly competent in this regard as well, so I didn't bother.
The MicroUSB connection supports On The Go (OTG) functionality, which means that with an adaptor you can use a keyboard, a mouse, USB flash memory or an external digital to analogue audio converter for higher sound quality. Oddly this has to be switched on in the settings menu and it switches itself off again after ten minutes of non-use.
The phone was fairly frugal in power consumption. Big batteries help there. While I'm not a heavy user, I did do a fair bit of messaging and photo taking over the course of today, and the phone is still on 79% battery after all that, some sixteen hours after I took it off the power.
Camerawork
The rear camera was in general very good. Certainly at least as good as anything else at that price. I compared it to cameras on the Samsung Galaxy S6 and S7. With regular happy snaps it was as good as anything. In auto mode the place of focus was a bit uncertain and I learned to touch the screen where I wanted the focus to be, just to make sure.
The wide aperture of course lets in more light and so is indeed useful in low light conditions, but the phone tended to go for a darker picture in such conditions than the Samsungs. In a sense this was actually the more realistic decision because, well, things really do look dark in dark situations. However some may prefer the enhanced brightness. There was generally more grain or noise in the dark areas in these pictures than with the Samsung phones.
Taking dusk-time outdoors shots (with my phone hand braced against a tree) tended to leave things soft, likely because of the shallow depth of field. In daylight, I was very happy with the phones pictures and could use it as my main phone camera.
One fun feature: it will also capture animated GIFs. There are 28 frames in each, each of 0.12 seconds for a total of 3.36 seconds duration, and each is 320 by 240 or the other way around, depending on camera orientation.
There's an Export mode to allow you to control most settings manually, but there was no RAW setting for saving photos (RAW is largely unprocessed output from the camera). However as we can see, the rendering and compression engines did a good job so it will be mostly real enthusiasts who will miss the RAW option
Conclusion
So, great value for money and general performance ranging from very good to excellent. Oppo is on a winner with the R9s phone.
Exceptional value for money, fine looks, very good screen, good battery life, expandable storage
OTG switches off automatically, can't edit quick launch items, no NFC