I'm guessing that for many people, there's really only one brand of action camera. But of course the major consumer electronics companies have the expertise and resources to do their own to very good effect. Which is what Sony has done in several models over the years. Its current top of the line model isn't cheap, but it does 4K and comes with waterproof enclosure and a remote viewer.
Features
At least, the review model did. As this is the "R" version, it comes with the "Live Remote Kit". You can get the non-"R" version – the Sony FDR-X3000 – absent the kit for $649, some $250 less.
So what do you want from an action camera? The obvious requirements are good quality video, lightness, robustness, decent battery life, physical compatibility and … easy operability.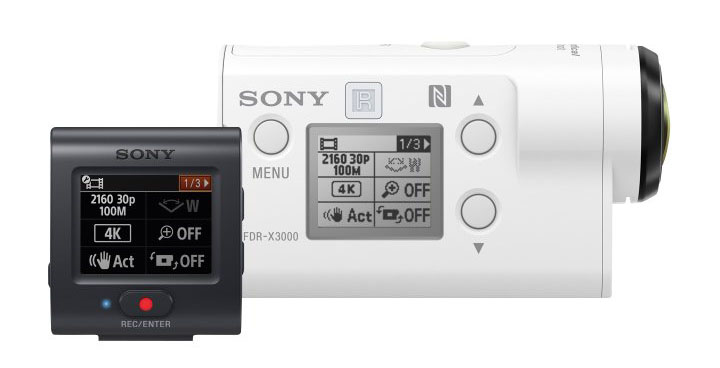 That last one is vital, although too often ill considered. But the vital moments can be lost if you're trying to work out how to start recording, or to change a setting, and whatever it was you were trying to capture could be long gone. And usually you should be concentrating on what you're doing – you know, the "action" that you're using the action camera to record – not on how to make the camera work.
That's something we'll mostly deal with below. But we must note that part of easy operability is being able to aim the device in the right direction. The "Live Remote Kit" provides a screen to allow this. Meanwhile, lightness? Robustness? Battery life? Physical compatibility?
Well, for weight we're talking 114 grams, including (of course) the battery. The viewing and control device – the Live Remote – weighs 46 grams.
The camera isn't a cube, like some of the others, but actually shaped like an old-fashioned camcorder, with a body that's a little like half a cigarette pack in shape (is one still allowed to use such comparisons?), with a lens on one end. So let's say a shrunken camcorder, since it measures a total of 83mm from the front of the lens to the other end, stands 49mm tall and is slightly under 30mm thick.
Holding it upright, with the lens away from you, on the right hand side is a menu button, up and down arrow keys and 25mm monochrome display. The display is for showing status and allowing menu control, not for showing what the lens is seeing, nor for playing back recordings. On the top is a slightly recessed power button and a more prominent record button, which doubles as "Enter/Select" when you're using the menu.
A moderately bulbous Zeiss Tessar lens captures the picture. This has a maximum aperture of f/2.8. There are three focal length modes, both for video and for still pictures: in 35mm equivalent terms, 17mm, 23mm and 32mm. The device can focus down to around half a metre away. There are two levels of optical image stabilisation, plus "off".
The sensor is a 7.2mm 8.2 megapixel "Exmore R" CMOS unit. It's "back-illuminated" in the backwards sense used in these matters. For ease of manufacture reasons, sensors were originally made with the light sensitive layer behind the assorted circuits and wiring needed to run the system and convey the digital data to the remainder of the electronics. Enough light got through all that to make it work. But by flipping it around, so that the light from the lens falls on what, in earlier designs would have been at the back of the sensor, sensitivity is increased. The smaller each pixel is, the greater the increase. With a 7.2 8.2 megapixel sensor, the pixels are pretty small. Sony says that the minimum illumination in which the device is useful is 6 lux.
But the lower the light means, amongst other things, the slower the shutter speed. In fact, the device supports shutter speed from 1/30th of a second to one ten thousandth of a second.
Sony of course uses its "BIONZ X" image processor to make sense of all the data. It can record 480p or 720p at up to 240 frames per second for smooth slow motion, 1080p at 24, 25, 30, 50, 60 or 120 frames per second, and 2160p (x 3840, makes UltraHD) at 24, 25 or 30 frames per second.
Oh, and still photos at 12 megapixels.
With the video it'll record stereo sound. You can plug in an external stereo microphone. There's also a Micro HDMI output, a Micro-B USB connection for charging and data transfer, and of course a slot for a memory card. This can be a microSD card – Sony says it's good for microSDXC, and doesn't specify an upper limit. I successfully used a 64GB card, but I guess at least 128GB would be fine. I went 64GB because my 128GB cards aren't U3 rated, and for 4K video, or even 1080p with up to 100Mbps data rates permitted, Ultra High Speed 3 is a good, likely vital, idea. Alternatively you can use a Sony Memory Stick Micro.
The standard unit comes with a buckle to attach the camera to things. It also has a standard screw thread mount in the base, as does the underwater housing with which it is supplied. The camera itself is splash proof. In the housing, it's safe to depths, says Sony, of sixty metres. Sixty metres is around 197 feet.
If I cast my mind back to my primitive diving instruction, that comes to over six atmospheres of pressure. Those are scary depths, rarely approached by scuba divers. At half that – thirty metres – nitrogen narcosis starts to have a significant impact on divers who are pressure matched to the water. When you get to fifty metres, you should start to expect dizziness, hysterical and uncontrolled laughter and hallucinations.
In short, the camera is rated, inside its housing, to go far deeper into water than any sensible person ought to without very specialised equipment.
The Live Remote is a 45mm by 55mm by 17mm thick device with control buttons and a 38mm colour display through which you can see what the camera is seeing. It connects wirelessly to the camera. You can also use it to change camera settings and play back photos or videos already on the camera's memory card.
It comes with a cradle for charging its internal battery.
Sony says the battery life for the camera is between 50 minutes (WiFi on, UltraHD recording) and 135 minutes (WiFi off, 1080p30 recording). The Live Remote's battery life is 155 minutes.
Performance
Not being the super athlete that I'd like to be, all other things being equal, I didn't use the camera while engaged in exciting adventures. Instead I tried to simulate them whilst rarely exceeding a fast walk.
The first thing I noticed was that the camera was easy to use, even on its own. Although that display on the side is small, it is well organised. Nonetheless, it's worth spending a bit of time practicing its use, just to make certain that you can press the right buttons confidently when speed is important. Those settings include things like the angle of view and the format of the video that you wish to take. Or the mode: photo or video.
But you can also control the settings, and indeed the camera, using the Live Remote or using the "PlayMemories Mobile" app on Android or iOS. In both cases WiFi Direct is used – the control device connects to the camera as though it were a WiFi access point.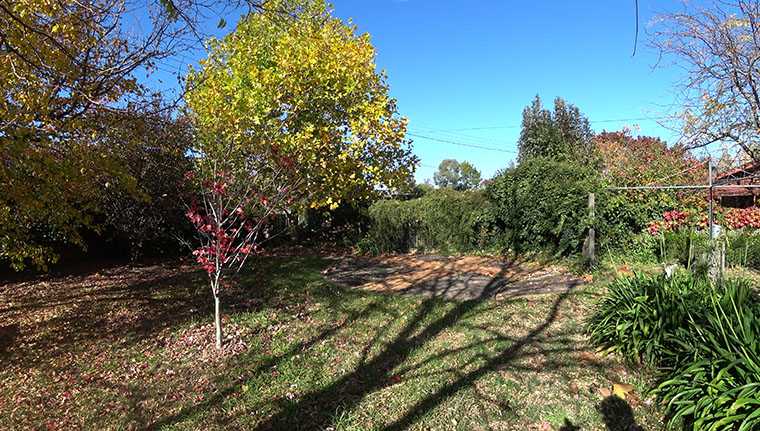 Both worked very effectively. The advantage of the Live Remote is that it doesn't use your phone's battery, and you can use the included wrist band to hold it. Somehow balancing a phone while engaged in physical activity doesn't seem like the right way to go. You can also purchase an optional "ring" mount which cants the Live Remote at the right angle for viewing while you're aiming the camera, which is also attached to the mount. There are also various other adapters available as options.
I seemed to be able to control the camera and view its picture using the Live Remote from up to about thirty metres away, although at the extremes, responsiveness to things like pressing the "record" button was slow.
A big question with any ultra high definition digital camera or video equipment is: is the lens up to the job? Sure, having eight million pixels on the sensor is all that is required to claim 4K status. Well, remember this one has a Zeiss lens and it soon became apparent that 4K picture quality was noticeably sharper than full HD. How to demonstrate this? I imported the video of a static scene shot both ways to my computer and grabbed comparable frames from both.
But you might want to choose 1080p (or even 720p) in some cases for the faster frame rates (4K tops out at 30fps) or slow motion. Fact is, the video quality was first class.
The image stabilisation was excellent. I'm terrible at holding a camera steady during video shoots, but even I managed to produce some moving footage that looked smooth enough to have been done with a Steadicam.
I took three pictures with the intention of showing the extent of the three angles of view available on the device. Even the "Narrow" setting is moderately wide angle. Having taken the photos, though, it seemed rather pointless because on examining them, I realised that there's no optical zoom facility. All that happens is that as the progressively narrower options are chosen, more pixels are discarded from the edges of the frame.
So it wasn't surprising that "Medium" and "Narrow" aren't available for 4K video mode. It's wide all the way with that.
The waterproof housing was effective. Mostly plastic, its front panel (through which the video camera takes its pictures) looks to be like a high quality glass, so there's very little picture distortion from it. There are push-through buttons for all controls.
Using a USB 3.0 port and a very fast Lexar microSDXC card, I could copy in the videos from the card installed in the camera at around 25MBps. That's pretty fast, but if you've got a lot of video to copy, I'd suggest a fast card reader would probably be worth it.
Conclusion
If you want an extremely high quality action camera, with excellent video quality, decent ease of use and a super-waterproof casing, the Sony FDR-X3000R 4K Action Camera with Live Remote Kit is definitely worth checking out.
Very good video quality, extreme depths possible with supplied case, decent app, effective remote controller/screen