With the majority of Australians situated along or near the coast, it can be easy to forget that the inner part of the country is very different. Heavy bush or dry conditions mean more dust, more dirt, and with less mobile towers, harsher reception needs.
In fact, "harsh" is a good way to explain the outback, at least in relation to technology, as most devices are made for the city when you're close to power plugs, clean surfaces, and communication towers.
So a device made for the outback has to be handled differently. It needs to be stronger, a survivor, and a true battler.
And that just might be what Telstra has made in the Tough Max, a phone that is well and truly made for Australia.
Specs
Manufactured by ZTE, Telstra's latest device — the Tough Max — appears on the surface to be a bit of a surprise.
Arriving with a Qualcomm Snapdragon 410 processor clocked at 1.2GHz and 2GB RAM, it's not the grand-master flagship you may expect, but rather something geared at budget people looking for something a little more.
And that might be what they'll get, with 16GB storage equipped to this phone and a microSD slot to raise the storage amount considerably if need be. Google's Android 5.0 "Lollipop" runs on the phone out of the box, though with no extra overlays and a fairly stock experience.
Connections for the handset are also fairly stock and pretty close to budget devices, offering 802.11b/g/n WiFi, Bluetooth 4.0, GPS, and Category 4 4G LTE, meaning speeds as high as 150Mbps down and 50Mbps up. Only two wired connections are offered on the phone, arriving in the form of a microUSB port on the left edge and a 3.5mm headset jack up top.
That 4G antenna handles itself a little differently than other phones, mind you, because unlike most antennas, the phone has also been rated "Blue Tick" which means it can pick up on a longer band of reception which is especially handy in the bush, which is what the Telstra Blue Tick system was designed for in the first place.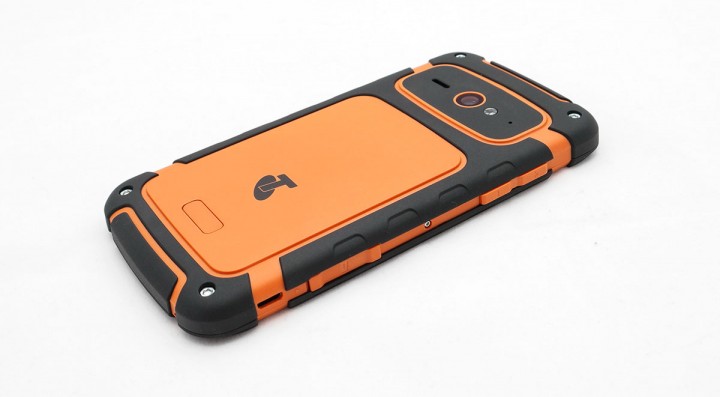 Cameras are also included, and you'll find a 13 megapixel camera on the back with a flash and HD video capture supported, while the front relies on a 5 megapixel camera.
You'll even find support for Qi wireless charging in the handset, and a place to plug in an antenna if you need it.
All of this sits under a 4.7 inch high-definition screen supporting 1280×720 and Corning's Gorilla Glass 3 for screen protection.
And then there's the casing and protection, with a larger plastic chassis than normal, door covers for the microSD and microSIM slot, and a degree of ruggedisation supporting IP67, offering a small amount of water-resistance and a fairly sizeable amount of dust-resistance.
There are a few buttons here on this device, with three printed-on soft buttons at the bottom for back, home, and multi-task, while physical buttons include a volume rocker on the left edge, a power button on the right, and a torch button up top that switches on the LED on the back of the phone.
The battery on the Telstra Tough Max is rated at 2500mAh and is built into the phone, making it not replaceable.
Design
Telstra's latest phone appears, at least on the surface, to be a little different from all the other phones out there.
While most devices try to cut back on the amount of excess plastic, scaling back to something more slim-line, fashionable, and pocket friendly, the Telstra Tough Max doesn't try to mince words and certainly doesn't hold back.
Dressed in thick charcoal and orange plastic, this a phone with a point: "I'm a survivor" it screams, with a rigid case, extruded edges, and a design that is certainly not like anything else.
You won't get confused with anyone else's phone, that's for sure, and the design of the Tough Max — also called the ZTE T84, since ZTE made the device — is more like what you get when you take a 4.7 inch phone and slap a durable ruggedised case on the outside.
That means the Tough Max isn't the prettiest phone on the market, though it does look like it can take a beating, and that's all that really matter.
Surprisingly, it's still a somewhat comfortable device to hold, with the plastic ridges giving you something to grip onto.
It's pretty clear it's not a premium device, but with this design and intent, we're not so sure it needs to be.