The Ring Floodlight cam is an outdoor Wi-Fi, HD, siren equipped, security camera with dual 3K spotlights that illuminate when motion is detected.
It is part of the Ring family including security cameras, video doorbells, chimes, and Ring's cloud video recording.
It will also integrate with smart devices and hubs, including Samsung SmartThings, Wink and now OK Google, and Amazon Alexa. You can also use IFTTT to connect with other devices and get the most out of your smart home. Apple HomeKit support is supposed to be coming.
Review: Ring Floodlight Cam
What is it? The Ring Floodlight Cam is a motion-activated, HD security camera with two 3K, 1500 Lumen LED floodlights, a 110dB siren alarm and two-way talk.
Why use it? To monitor 24/7 areas such as a driveway, pool or fence to see who is legally or illegally coming and going.
Watch this short 1.5-minute marketing video.

In the box
The Ring Floodlight Cam
Two LED spotlights
Mounting bracket, gasket and screws
Instructions
Available in Black or White, it has an industrial design that will be obvious but not ugly, on any home.
It needs a permanent 240V connection that means using a licensed electrician to install. It cannot connect to a 12V power source.
The camera needs to be mounted vertically on a wall as the mount has a limited adjustment.
It is IPX5 rated – can withstand an accidental hose down but ideally is mounted flush to a wall under the eaves.
Finally, it needs to be within the range of a within Wi-Fi N 2.4GHz home router or extender.
Lights, camera, action
Ring's marketing states it has 3K LEDs as if that is a measure of brightness. In fact, it means 3000 degrees Kelvin colour temperature – cool white light. They are 1500 lumens each that means roughly the equivalent of a standard old style 100W light bulb. Two are fine to light up an area of say 30m2 (5 x 6m driveway), but they are not technically floodlights.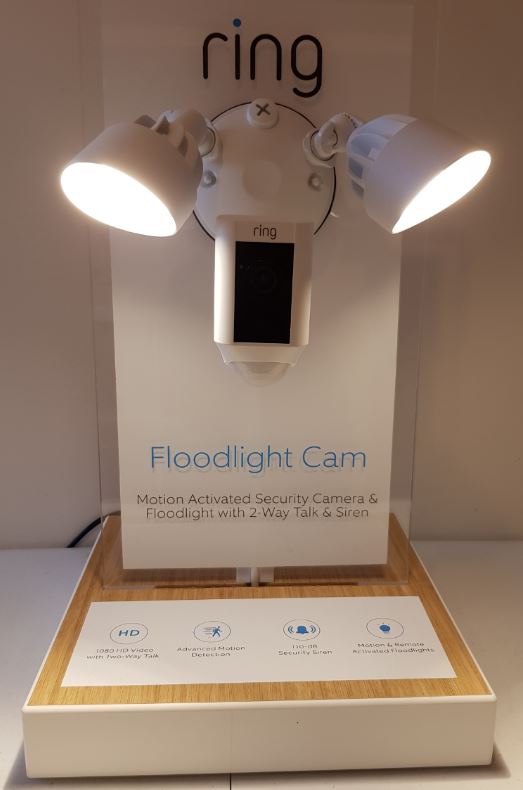 While it can replace traditional old-style 150W Par38 floodlights note these have about 2,600 lumens each.
Not that it is an issue, but neither are they dimmable so be careful you don't place them where light may annoy others or reuse a light circuit that may have a dimmer switch.
LED lights do have a fixed life. I understand this is about ten years (assuming that it not used as a 25/7 floodlight replacement). If they wear out they are not user replaceable – you need a new Ring Floodlight Cam.
The camera
It has a 140-degree field of view which means some curvature of straight lines at the edges of the image.
Marketing material says it produces 1080p quality, but the best I could get was more like 480 or 720 @15fps – slow and blocky. The camera provides the best image it can based on Wi-Fi speed, internet connection and conditions at the time.
Before I blamed the camera, I looked closely at the setup. It was within 3 metres of a D-Link AC3200 dual band router, my Samsung Galaxy Note 8 had 866Mb/s rock solid connection, and the app reported an RSSI of 24 (0 is best, and 60 is maximum for 1080p) – easily enough to get 1080p.
At first, I suspected it was because the 2.4GHz Wi-Fi band was so crowded in our busy office – a PC or even a microwave was affecting the signal.
After a lot of soul-searching and damning the camera quality, I found the culprit. While we have download speeds of 30Mb/s, upload speeds are terrible at around 1Mb/s – all shared by about ten staff. We can't wait for fibre and the NBN!
So, the camera sees an image, sends it up to the Ring video cloud at <1Mb/s and it comes back blocky and pixelated to the GN8. The camera is throttled by the cloud connection speed. Ring FAQ state that at least a 2Mb/s upload is needed.
I ran the tests again after work hours, and the results are below (forgive out messy test lab).
The quality is 720p in the day and night with flood shots and 480 with Infrared.
As you can see, if you don't want the lights to come on the camera has six infrared LEDs to assist with night vision.
So any recommendations are based on good upload speed. Also remember if your internet is down Ring cannot do anything because it does not have onboard storage.
That also means that while Ring can alert you to movement it cannot record it unless you have Ring cloud subscription. That also means you cannot download evidence for police either, so you have to take out a subscription.
Motion detection
The PIR (passive infrared) sensor detects movement over a 270° radius and can be fine-tuned to reduce or increase its sensitivity. You can set it to respond only to humans and ignore pets.
You can also schedule the motion sensor so that it's active only on certain days/times.
The app allows you to create irregularly shaped motion zones (you can skirt around a tree or a flag on a pole) so that these objects won't trigger the lights and camera.
The app – for Android, iOS and Windows
You use the app to set up the camera, motion detection zones and schedules. You can read more here.
After that, it is your gateway to real-time viewing. You receive alerts when the camera detects motion, but you won't be able to see the video that triggered the alert.
Ring offers two subscription plans, both of which include cloud storage and video review with sharing (you can view recorded clips, download them, and share them on social media directly from the app).
The first is for one camera – $4 per month or $40 per year. The second is $15 per month or $150 per year. All cover 60 days video storage, video review and video sharing.
It is the best value as it allows for unlimited cameras – remember it is best to use cameras from the same company that use the same app. It extends the warranty from one year to the life of the product (and includes both damage and theft protection)
Two-way sound
More like one-and-a-half-way sound. There is a time lag – its length depends on Wi-Fi and Internet speeds. The lag is appreciable – you feel like saying "Rodger" after each sentence.
Alarm
It can be set to give off a 110dB alarm which is the equivalent of a screening child, and we all know how effective that can be. It is more to alert an intruder you are watching.
Data use
If 2Mb/s upload is minimum that is 15MB a minute. With motion detection set correctly you may have 5-10 minutes of motion per day, and you will watch live video as well – about 2GB over a month. It may pay to hook it up to a 3/4G pre-paid broadband router if Wi-Fi availability or internet bandwidth is an issue.
GadgetGuy's take
Yes, we swore at it – pathetic camera quality nowhere near HD. But it was not the camera's fault. We normally test such equipment at an NBN equipped home, but the display unit provided was just a little bulky to take there.
The Ring Floodlight Cam provides adequate video quality (depending on bandwidth), and its motion sensor, and zone setup is excellent. As part of a Ring ecosystem of cameras and video doorbells, it is a good buy.
You will need a Ring video subscription.
Pros
Good picture quality in daylight
Floodlights can supplement mono IR for night
One of the best and most flexible motion detection zone setups
See live video via the app and two-way talk enabled
Quality metal construction and easy to adjust angles
Cons
Video recording especially of motion detection events requires a Ring cloud subscription
No microSD card backup
Lights are not as powerful as traditional Par38 floodlights
The two-way talk will be laggy to unusable if Internet speeds are slow
Price
$379 from major retailers, hardware stores, security companies and online
Rating
Overall: 3.8 out of 5
Features: 4 out of 5 – it has all the features expected of a floodlight cam – it just does not quite live up to the marketing hype. Needs some offline recording, e.g. SD if the internet is down or you don't want to subscribe.
Value for money: 4 out of 5 – reasonable given the cost of competitive products
Performance: 3 out of 5 – If you have good internet and Wi-Fi speed then you can take this rating up a notch
Ease of Use: 4 out of 5 – Easy enough to set up but needs offline recording
Design: 4 out of 5 – Attractive enough and not out of place on a home's exterior
Combined floodligh and secuirty camera
Performace is affected by Internet and Wi-Fi speed