Letting you see who's at the door from afar, even if they don't ring the bell, the Ring Video Doorbell 4 keeps watch over your doorstep.
Like many smart home devices, I initially thought of smart video doorbells as the classic solution looking for a problem. Ironically, it wasn't until the pandemic struck and we couldn't have visitors that I finally saw the value in being able to see who is at the door.
To me, the real benefit of a smart doorbell is not the ability to see who rang the bell and talk to them. It's the ability to know when someone comes to the door but then sneaks off without ringing the bell.
During lockdown we all had more deliveries coming to our door, but couriers have an annoying habit of slinking away without knocking or ringing the bell – potentially leaving your precious parcel sitting unattended on the porch for hours. Lockdowns are hopefully behind us, but the boom in online shopping seems here to stay so it's still important to keep an eye on deliveries.
A video doorbell also lets you know when your family comes and goes, which is a compromise on privacy if you don't want to put smart cameras inside your home.
Having spent some time with the Google Nest Doorbell (Battery), which has its strengths and weaknesses, I was keen to see how its Amazon-owned rival Ring Video Doorbell 4 stacked up. Down the track, I'm also testing out the Arlo Essential Wireless Video Doorbell, which looks like a strong contender.
Review: Ring Video Doorbell 4
| | |
| --- | --- |
| Australian website | here |
| Price | $329 RRP ($359 with indoor Chime bundled) |
| Warranty | 1 year |
| Other | You can read other GadgetGuy Ring news and reviews here |
First impressions
The Ring Video Doorbell 4 offers the option of hardwiring into your existing doorbell's wiring, or relying on the built-in battery (I opted for the latter). The faceplate pops off so you can remove the battery and recharge it every few months via micro-USB. Ring includes a Satin Nickel faceplate in the box, plus it sells a choice of different coloured $25 faceplates to match your house.
To install the doorbell, remove the faceplate to reveal four tiny holes for attaching it to the front of your house with the supplied screws. Unfortunately the deep, narrow holes make it very tricky to install the screws when the doorbell is sitting upright against the wall. Pro tip: you'll almost certainly drop the screws a few times, so clear the space underneath the doorbell and don't try installing it at night unless you want to hunt for the tiny screws in the dark.
Ring also includes a plastic wedge, which you can insert between the doorbell and wall if the doorbell is installed in a corner or alcove. This lets you tilt the doorbell away from the adjacent wall so you've got a clearer view of your front yard and people approaching the house.
It's best to install the doorbell about 1.2 metres off the ground so you get a good view of people's faces. The camera offers a wide 160-degree horizontal, much wider than Google's 90-degree view, so you can see much more of your front yard and the street. The trade-off is Ring's 84-degree vertical view – narrower than the Google's. This means the Ring can see less of the ground below it, so you can't always see a parcel sitting on the doorstep.
Set up is pretty straight forward using the iOS or Android Ring app. You can adjust the sensitivity of the motion detection and create zones, as well as set how long the camera waits before checking for motion again. All of this reduces false alarms and conserves battery life.
Like Google and Arlo, Ring also offers a range of indoor and outdoor cameras for around the house, which I'll look at in a separate review.
Alerts
One of the Ring Video Doorbell 4's strengths is the ability to offer intelligent motion alerts. It can notify you every time something moves out the front, or you can set it to only send alerts and record clips when it actually sees a person – although this requires the Ring Protect subscription, which we'll get to later.
The doorbell can send alerts to your phone when it sees something important or someone presses the doorbell. Thankfully you can choose the alert sound, unlike the Google doorbell which frustratingly insists on making the same sound as an incoming text message. You can also open the app at any time and scroll back to view video from previous events.
Like the Google doorbell, the Ring is not smart enough to tell the difference between someone walking up to the door and someone walking out of the door. This means you get a smartphone alert whenever someone leaves the house, even if you're just going out the front to the bins.
Of course, smartphone alerts aren't enough. You'll also want to hear "bing bong" throughout the house, so everyone knows someone is at the door.
If you can't attach the Ring to your existing door chime, you can pay a bit extra for a wireless Ring Chime to install in the house – an option the Google Doorbell lacks. Alternatively, Ring sells the Chime and Chime Pro separately.
Sadly, Ring's choice of doorbell sounds is rather hideous, like most cutesy melodic smartphone ringtones, and "doorbot" is the most acceptable if you're looking for something that actually sounds like a doorbell. You can also opt for motion alert sounds via your smartphone and/or the Ring Chime, with the ability to individually adjust the volume of each Chime in your home.
If your home is full of Echo speakers and screens, you can use the Ring Alexa Skill to answer the door through Alexa devices. As with Google and Nest devices, all Alexa devices shout "someone is at the front door" – which becomes pretty annoying after a while. At least Alexa lets you choose which devices respond, whereas with Google it's all or nothing.
Along with video, the doorbell features two-way audio so you can talk to your visitor via your smartphone or Alexa devices.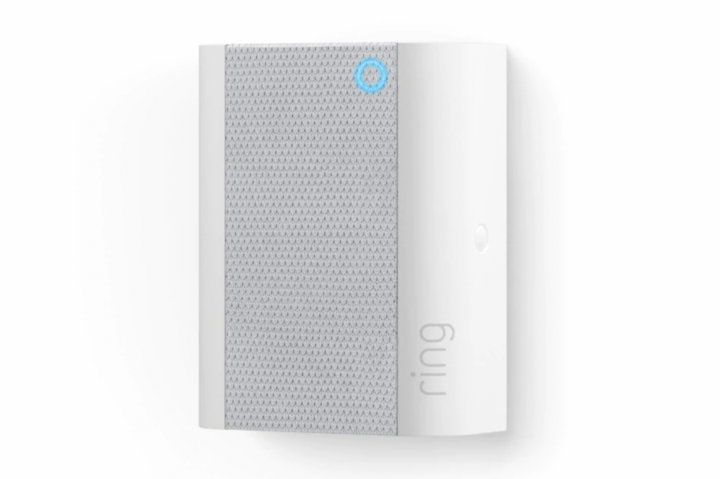 Ring Video Doorbell 4 Specs
| | |
| --- | --- |
| Dimensions | 12.8 cm x 6.2 cm x 2.8 cm |
| Weight | 240 gm |
| Field of view | 160° horizontal, 84° vertical |
| Video | 1080p HD, colour Pre-Roll |
| Night vision | Black and white |
| Audio | Two-way audio with noise cancellation (Pre-Roll does not include audio) |
| Wireless | 802.11 b/g/n/ac Wi-Fi connection @2.4GHz & 5.0GHz (Channels 52 and above) |
| AC Power | 8-24 VAC, 10-40VA, 50/60Hz |
| Weatherproof | -20°C to 50°C. Weather Resistant – when hardwired, the device allows charging in the range of 0° to 45°C, otherwise charging is disabled |
| Body Colour | Satin Nickel |
| Faceplate colours | Satin Nickel, Galaxy Black, Night Sky, Smooth Black, Blue Metal, Gold Metal, Silver Metal, Pearl White |
Subscription
Like most smart home devices which upload video to the cloud, a Ring Protect subscription is required to access some of the Ring Video Doorbell 4's advanced features. You can cover just the door for AU$4 p/m or AU$40 p/a, or multiple Ring devices for AU$15 p/m or AU$150 p/a.
While Google retains recordings for three hours even without a subscription, Ring isn't as generous. It doesn't capture any recordings unless you pay for a subscription (which stores recordings for 60 days), without which it's only really useful for receiving alerts and checking the door in real-time.
Even then, you only get doorbell and motion notifications, missing out on intelligent People Only notifications unless you pay for a subscription. You also revert to basic smartphone notifications, missing out on rich pop-up notifications which show you the view from the camera.
Ring's Quick Replies feature works without a subscription, letting you automatically play a message if you don't answer the door within a certain time. There's a choice of six scripted options and you can't record your own.
If you have a subscription, visitors have the option to leave a message, which you can play back later, acting like an answering machine for your front door.
If you are paying the subscription, the Ring smartphone app is much more intuitive than the Google Doorbell features built into the Google Home app. The Ring app has a clearer event timeline and makes it easier to find what you're looking for.
Quality
One of the Ring Video Doorbell 4 key strengths is that, when running on batteries, it responds to motion or a doorbell press much more quickly than the Google Nest Doorbell (Battery).
When someone presses the Ring doorbell, it makes a sound and the indoor Chime rings in less than one second. So does the smartphone notification if you're on Wi-Fi. If you're away from home on mobile broadband, it responds almost as quickly – giving you time to answer it. That's a huge improvement on the Google doorbell, which can be so slow to respond that people have often walked away before you get the chance to talk to them via the app.
Motion detection alerts take longer to come through. It's about 12 metres from the street to my front door, and it takes about six seconds to walk that distance. Motion detection alerts typically don't come through until someone actually gets to the door. That doesn't bother me too much, because if someone leaves a parcel without knocking I don't need to speak to them, I just need to know they've been.
What makes Ring Video Doorbell 4 even better than Google's doorbell is the Pre-Roll feature, which was also available with the Doorbell 3 but is now in colour.
When you click on an alert to check the live feed of the door, you get a Picture-in-Picture replay of the four seconds leading up to the event so you know exactly what happened. Meanwhile, Google's doorbell is so slow to respond that you often only see the back of someone's head as they walk away, or a glimpse of their shoulder as they walk in the front door.
GadgetGuy's take
The Ring Video Doorbell 4 outclasses the Google Nest Doorbell (Battery) in almost every way. It's far less annoying to live with, thanks to a lot more granular control over notifications. It also responds quickly enough that you can actually see who's at the door and speak to them.
While Amazon owns Ring, the doorbell's support for a standalone wireless Chime means it doesn't need to be wedded to Alexa speakers and you can still make good use of it in a Google-centric home. Unlike Google's doorbell, the Ring Video Doorbell 4 is far less likely to wear out its welcome.
Would I buy it?
Yes, whether I was a Google or Amazon-centric home.
Ring Video Doorbell 4 – the all-seeing eye (review)
With plenty of advanced features and granular controls, the Ring Video Doorbell 4 could be a welcome addition to your front door.
Positives
Responds quickly
Standalone wireless Chime
Intelligence alerts and adjustable notification tones
Colour pre-roll
Negatives
Requires subscription to record video clips
Vertical viewing angle could be better
Tricky to attach to the wall