Everyone loves pizza, so why not have a genuine pizza oven? That is where Roccbox portable pizza oven comes in although you are going to have to eat a lot of pizza to justify it.
If you identify with the cartoon character Garfield's love of pizza, then you may just need to run out and buy a Roccbox portable pizza oven. You can use it in the backyard, at a beach, hell anywhere you need pizza.
But before we review the oven, let me give you some sage advice. I was a qualified pizza chef. In the 70's I was a training manager for a little-known start-up operation that built a chain of red-roofed, pizza restaurants – Pizza Hut. To say I have made thousands of pizzas and trained hundreds in the secret art is an understatement. I miss the old dine-in Huts.
Dough is the key
A true aficionado will make dough from plain flour ($3 per kg), water (650ml), yeast ($2.40 for 5 x 7g sachets – two per kg), salt (tablespoon) and olive oil (4 tablespoons). It is easy, foolproof, there are many online recipes, and you do not need a commercial mixer to do so.
Once mixed, leave the dough to rise. If you like thin and crispy use half the recommended rise time. If you like thick and doughy use the full rise time. Cut the dough into 200-300g chunks (10-12-inch).
1kg of plain flour makes three to four pizza bases, so this is under $1 each. Hand roll this out, being careful just to use enough flour to prevent sticking and not to over-roll or knead as it removes the air in the dough.
You can store unused bases in the freezer – just separate with cling wrap and place in a large Ziplock bag.
Store-bought pizzas and bases are dull and boring
A typical store-bought pizza costs from $5-10 and frankly they never have enough topping or cheese (you can never have enough cheese). They cook at about 220° in an oven for 10 minutes and if you like eating cardboard (the box may be tastier) then fine.
Store-bought bases are just as bad as they have had any semblance of rise beaten out of them and preservatives added. A typical two-pack costs around $4-6.
Less is more
When I first made a pizza, I piled it high with my favourite ingredients – mile high. Now there was a pizza that the base could not support.
I soon realised that pizza is a delicate balance of dough (thin for less, or thick for more ingredients), passata (tomato cooking sauce – a $2 bottle covers about ten bases), sparse toppings, mozzarella, parmesan and herbs and spices.
The more you load a pizza, you need a thicker base and longer cooking times. If you use a thin crust, you underload and cook very quickly.
And the correct temperature is?
I cook a thin base at about 350-400° Celsius for around 2 minutes and thick base at 250-300° for around six minutes. The best pizza comes from direct contact with a preheated stone base in an open pizza oven.
Why the temperature variance?
If you use sugar in the dough (I don't) it will brown/burn faster
You should use thinly sliced toppings, and they may quickly burn at the edges
The choice of cheese can make a huge difference in cooking temperature and time. Mozzarella is about 17g of fat per 100g (so it does not burn as fast) compared to 'pizza mix' at around 30g of fat and may be higher in sugar and salt, so it burns faster. Parmesan has 29g of fat, but you should use that sparingly
If you use fresh leaves like basil, put them on at the end of the cook for just a few seconds
So, to our review – remembering I know pizza.
Roccbox portable pizza oven
Website here
Price: $899 online only (free metro delivery)
If you think I am passionate about pizza, then that is nothing compared to Roccbox portable pizza oven makers Gozney.
It is their religion. To their credit, they have crafted a perfect portable pizza oven that can make perfect pizzas. If not, remember that a bad tradie blames their tools.
But forgive me if I commit a cardinal sin and say there is nothing wrong with the oven or its design (halleluiah), but for $899, you need to eat a 'lotta pizza'.
By my calculations based on buying a gourmet pizza (from my absolute favourite La Fiamma at Ettalong) the cost is about $20 for a superb Sopressa (pepperoni, tomato, mozzarella, and olives). I would need to make about 50 pizza's in Roccbox (forgetting ingredient and labour costs). If the comparison were with Dominos, then double that number.
If you want to know, the typical 10-12-inch pizza (ham and pine or pepperoni) is about 10,000kj (2,500 calories), and typical adults need about 2,000 calories a day. What about the wine you ask? A 150ml (small glass) of red or white is about 500kj (125 calories), and there are about five glasses per bottle.
In the box
Roccbox portable pizza oven 531 (L) x 413 (W) x 473 (H) with foldable legs extended
Gas burner attachment
Wood burner attachment
Aluminium Pizza paddle (called a Pizza Peel)
Velcro carry strap – very necessary to move it
And a very thoughtful bottle cap opener (pizza goes with beer as well as wine)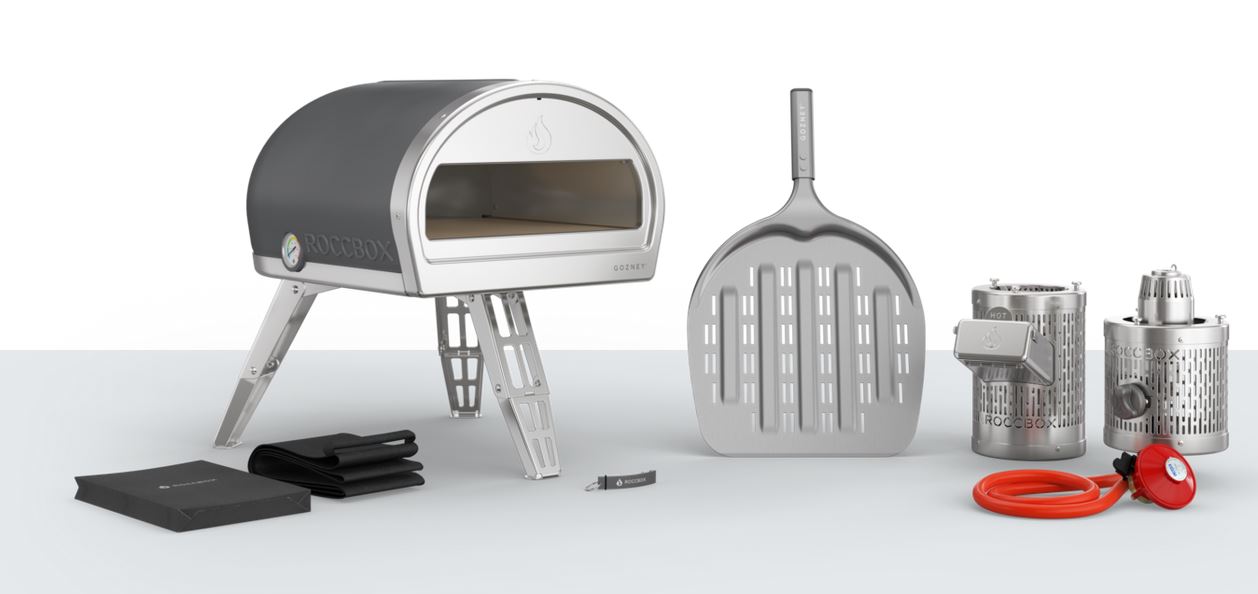 It's a heavy little package – around 30kg including the burner, so it is a two-person lift onto a solid table or bench.
The manual is here.
Gas or wood
Roccbox portable pizza oven is made from insulated calcium silicate, covered by a soft, silicone jacket. The flame rises from the back of the oven and flows over the top of the pizza, heating the body of the oven and its stone floor.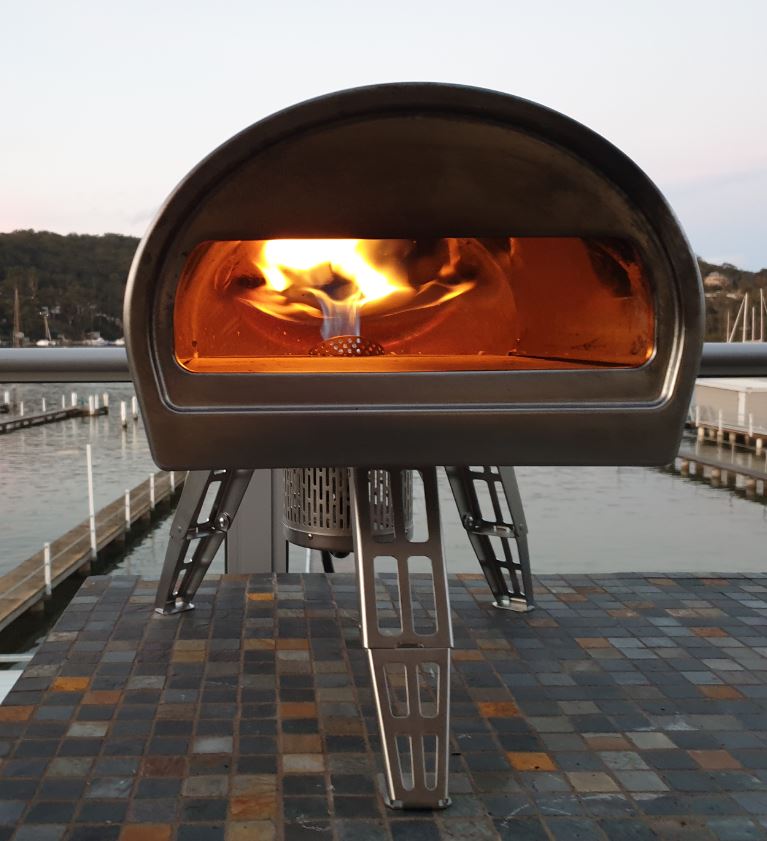 Gas (LPG bottle – no town gas option) can attain 500°+C inside the stone-floored oven.
The wood burner (not tested) can achieve 300°+ but from all reports is harder to light and maintain a constant temperature. And as it is not a smoker (open ovens never can be) the smoke taste wood imparts is quite minor.
As the ideal pizza temperature is 350° then gas it is.
Cooking with gas
Gas has caveats too. On our first attempt, we found it very hard to regulate the heat. Light the gas (piezo ceramic lighter in the burner), and there was a fireball ejection on my first attempt. Note to singed wife – do not stand in front when I am lighting it!
As you will see from the image below you turn the knob anti-clockwise (to the left) to light and then control the flame by turning clockwise. We left it on the solid dot, and within 20 minutes it was at 500°. We turned the dial to low, and 20 minutes later it was still in the red – the stone base retains the heat. Eventually (it seems like eons to the hungry hordes) it edged into orange and we slipped in the first pizza only to have a burning cinder within 60 seconds – still far too hot.
After turning off the gas the thermometer declined to 300°. We relighted and tried again. The second pizza was at 350° cooking in under two minutes with the need to turn it around four times (by 90° increments) to avoid the rear edge burning. Good but no cigar!
Undaunted we vowed to try Roccbox again a couple of nights later.
This time we lit it (no one in front and no spectacular fireball), and instead of placing the knob on the solid dot, we put it on the lower dot. After 30 minutes it had reached about 250° (yellow), so we upped the heat by a ¼-turn, and it was quickly in the red again.
Bottom line – had we had this for a longer review we would have eventually found the sweet-spot for the knob. Gozney should consider putting approximate temperature markings on the dial. And we are not convinced that the temperature gauge is entirely accurate – it measures the stone temp – not the inside oven temp.
Pizza outcomes
Remember that a bad tradie blames their tools. Our first cinder pizza was burnt on the edges and underneath, leaving a thick carbon residue and rendering it inedible.
Our second pizza was better – it was a thicker base with a smaller amount of topping/cheese and total cook time was about six minutes with frequent ¼-turns. It was slightly singed.
Our third pizza was a simple Margherita (Passata, mozzarella, parmesan, fresh basil and goats' cheese instead of buffalo mozzarella) on a thin (store-bought) crust. It took under two minutes for a perfect golden outcome – crisp, not burnt underneath and beautifully melted, golden cheese on top.
Other uses
This is a damned hot oven, and we suspect too hard to accurately govern at gas/electric oven temperatures up to 250°. BTW store-bought pizza cooks at up to 220° so do not try it in the Roccbox.
You may be able to fast cook home-made dough for simple flatbreads or Indian naan, roti or chapati, but we are not aware of many foods that can survive the Roccbox temperatures for baking.
Maintenance: Roccbox portable pizza oven
Once you have reached the correct temperature (and it's stable), you can mass-produce pizzas every few minutes without having to clean the stone floor.
Once you turn it off and leave it overnight, you will see the black carbon on the stone base and around the metalwork at the mouth. All we used was a disposable sponge to clean the base and wipe off the carbon from the metalwork.
You can also tilt the oven on its flat end to remove any larger detritus.
While it seems weather-resistant, it must be placed undercover in a well-ventilated spot away from too much direct sunlight.
Given construction quality, it should last for decades!
GadgetGuy's take – I love the Roccbox portable pizza oven but not this much
If you have a lazy $899, then it is a perfect gift for a pizza lover. Once you learn how easy it is to make the dough, you will be eating pizza until the cows come home.
When you realise that Pizza ingredients cost on average around $3-5 you may decide that recouping the $899 after 50 or so pizzas is worth it.
It may even be a great add on for a café that wants to offer pizzas (outdoor, well-ventilated use only).
But for Joe and Jane Average (that enjoy Dominos home delivery) it may be too much.
And for me La Fiamma says it all.
I cannot fault its pizza cooking quality, nor its build. My only gripe is that you need to get to know how to control the heat for a perfect pizza.
It gains points for simple design and quality build but loses points for cost and the amount of dedication you are going to need to make the perfect pizza – and I should know.
Cute and cool touch exterior
Pizza Peel is mandatory
Steep learning curve for newbies
Hard to regulate/achieve the perfect internal temperature
You must not leave it unattended for even for minute
Pizza requires frequent 90° turns to avoid burnt crust