The Roomba i7 Robot vacuum cleaner is the latest and greatest from iRobot. It's the smartest iRobot yet and even has an optional Clean Base for automatic dirt disposal – or as we call it 'taking a dump'.
We received a Roomba i7, its Clean Base (Roomba i7+ bundle) and an accompanying Braava jet m6 robot mop, ironically just after I had splurged on a Vileda microfiber mop kit to 'properly' mop my timber and tile floors. There is a separate review on the Braava jet m6 (spoiler alert – it beats hand mopping any day).
Where to start with the Roomba i7?
You see we have reviewed several robot vacs including the ill-fated Dyson 360 Eye that claimed to be the first to clean your home properly. Prophetically Sir James stated, "Most robotic vacuum cleaners don't see their environment, have little suction, and don't clean properly. They are gimmicks."
And we agree with Sir James – including lumping his 360 Eye in that assessment (there was a V2 that was slightly better). Note: Engineers may be good at engineering, but users are the ones that have to live with the practicalities of engineering marvels.
Since then, we have well-developed paradigms to review robot vacuums and ensure consistent scoring.
You will find Thomas Bartlett's Roomba 980 review here (3.8-out-of-5), and his experience is, "If you have a reasonably neat and orderly home, especially one on a single level, then the iRobot Roomba 980 vacuum cleaning robot could be a great addition. All that will be left for you to do (aside from emptying the bin and doing the other required maintenance every few months) will be using a hand-held vacuum in the corners it has missed."
Interestingly most robot vacuums score less than 4-out-of-5 because they simply do not live up to marketing hype, nor are they a replacement for a traditional vacuum.
Well, that was until July this year when LG R9 Master Robot at 4.6-out-of- 5 was declared the best so far!
So, we have high expectations for the Roomba i7 Robot vacuum. Spoiler alert it has met them all, so the new winner is…!
Like all reviews, we caution that this uses our standard test home setup (three carpeted bedrooms, large open-plan timber floor living space, two tiled bathrooms, tiled entry foyer and stairs, and a sizeable shaggy feature rug).
We cannot vouch for all surfaces or styles of homes. We can say that if you are not happy with the Roomba i7, then you won't be satisfied with anything less.
Having said that robot vacs cost from a few hundred dollars to a few thousand, so there needs to be a price/performance paradigm as well. So, match your expectations to your budget.
Roomba i7 robot vacuum and optional Clean Base (Roomba i7+ bundle)
Website here
Price: Roomba i7 only $1499 or as a bundle with the Clean Base $1899 online or at major retailers.
Who/what is iRobot?
iRobot is a US company founded in 1990 to develop domestic and military robots. It released Roomba (2002), Braava (2016), and Terra (lawnmowing – 2019). It sold the military arm in 2016 – so no, Roomba is not good for situational awareness, surveillance, explosive ordnance disposal and other missions!
Ken Bazydola at iRobot said,
Robots are inherently a fusion between software and hardware. It's true that software content has increased dramatically, but hardware also has to some extent. Examples of how hardware has become more challenging include the fact that with Wi-Fi, we must ensure that a robot coexists, and it neither impacts or is impacted by other electronics. iRobot has also added substantial processing capability, and our designs must ensure that those processors are effectively cooled to maximize performance.
Aside from cleaning performance, our customers are very excited about the potential of what connectivity and mapping capabilities can do for their robot and the broader smart home ecosystem. And our customers have no shortage of suggestions— from robots intelligently communicating and working together to clean the house, to more customizable cleaning commands, like vacuuming in specific areas that need attention. The improved memory, processing and mapping capabilities of the new Roomba i7/i7+, combined with the cutting-edge software engineering happening behind the scenes at iRobot, means robotic vacuums have entered a new era of features and functions that has only just begun.
iRobot is solely distributed in Australia by IXL Home, a 150-year-old, Aussie family-owned company based in Geelong.
In the box
Roomba i7 (note that the i7+ is a bundled version to work with Clean Base)
Dual Mode Wall barrier (infrared barrier effective to 3 meters to prevent cleaning past that)
Clean Base/charging station
Extra side brush and filter
There is no remote control apart from the Android (tested) or iOS app.
First impression
We christen thee Robbie and your mop mate Squirt. And that is what Google knows you as.
It is a stylish piano black and charcoal circular vac – 33.8cm diameter and 9.2cm high weighing 3.3kg.
IRobot uses a round shape (as most competitors do) to avoid getting stuck in corners. The only downside is that this necessitates a smaller suction area (17cm across) and one 12cm side brush to pick up edge detritus (some have two brushes).
For example, LG and Samsung use a square shape and have a wider vacuum area. But we won't debate the pros and cons of that today.
When you see it in action and understand the narrow vacuum opening, you know the need for it to overlap runs. And you can see the step edge detection sensors and a 'Dirt Detect' floor type sensor that can boost or reduce power as needed, e.g. on carpet versus tiles or timber floors.
The front half of the body has a spring-loaded bumper. If it hits something, it changes direction to navigate around it (part of the navigation and collision avoidance system).
There is a prominent lit 'Clean' button and smaller icons for docking and spot cleaning to its left and right. 'Spot' makes it do a metre-wide, high-power spiral around the current location to super clean.
There is a vSLAM (visual simultaneous location and mapping) camera on top that looks about 45° degrees upwards/outwards to detect its environment and landmarks which it uses for navigation.
Placement
The Clean Base is large at 31 (w) x 40 (d) and 65cm (h) plus room to remove the top bag – that requires some care in placement. It needs .5m clearance on the left, 1.2m clearance on the right and in front as well as a powerpoint.
The Roomba i7 then reverses out of the dock and starts cleaning. It returns to the dock once it has finished or it needs to dump its dirty load.
Setup – the app
Download the app, set up an account and link Roomba i7 to your 2.4Ghz Wi-Fi. It uses that band for maximum distance from the router – about 30 metres.
You can also link to OK Google (tested) and Alexa.
Robbie learns as it goes making a detailed map and working out how to most efficiently clean a space. That takes a few training runs. At the beginning it took 1:28 hours and after the third run was down to 1:13 hours.
Apart from that, the app is very self-explanatory and intuitive.
Charge, runtime and base negotiation
With a full charge, it runs for 75-90 minutes, depending on the floor (carpet to hard). One charge will do a 150m2 (claims up to 180m2) single level, three-bed, two-bathroom, large open space home. It apparently will do an 80% fast charge in 90 minutes and three 3 hours for a full charge.
As a test, we moved the base from one area to another room. Robbie was not fooled for a minute!
Cleaning pattern
We are not sure of its logic. Some robot vacs use a continuous U-pattern, reversing out of the dock and heading north/south and east/west until done.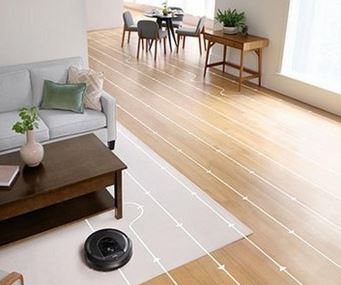 Initially, we thought Robbie was dumb. It was north/south/east/west and every direction in between. But over time, it became far more logical as it worked out how to clean around a couch or under a bed or the most efficient way to clean an odd-shaped room. In doing that, yes, it cleaned the same place several times.
Robbie's ability to find its way around the house was impressive. After about three training runs (yes it cleans as well) you get an accurate floor map, and you can name rooms and place doors or barriers. Then it's a simple matter of saying, "OK Google, Robbie, clean the kitchen." Or select rooms from a checklist, and it will clean only those rooms.
Another great feature is that (once mapped) you can place Robbie anywhere in your house, turn it on, and it will figure out which room it is in – you don't need to start from the dock. That is important for multi-story homes (or in multiple houses), and it can save up to 10 different smart maps.
There can be corners it can't quite get into, but at 92mm high it can easily get under beds, couches and tight spaces. And it always gets out!
Cleaning power
Roomba has two ribbed multi-surface rubber brushes and variable suction using the Dirt Detector sensor for different floor surfaces. A right-side brush, angled at 27° sweeps detritus into the vacuum (good for under kitchen cupboard overhangs). It is smart enough to know that it has to turn around to do the left-side cabinets as well.
Floor surfaces
It is perfect on hardwood, faux wood or tiles.
It is pretty good on a short pile, sisal or medium pile carpet, especially with the automatic Dirt Detector power sensor.
But where we were astounded was that it attacked the huge shag pile feature rug and studiously tried to vacuum. It is the little engine that could – maxed out! We put Robbie out of its misery and cordoned that area off.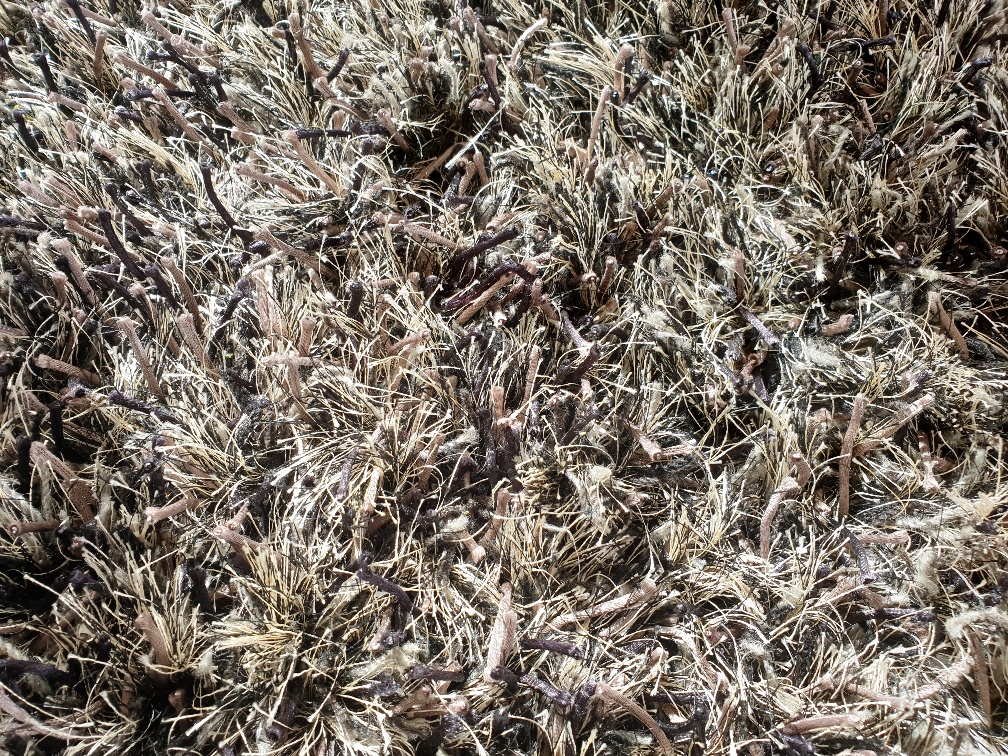 After three weeks of use, my only gripe is that you still need to clean the edges and the stairs – but apart from that, it's a good clean.
Preparation for cleaning
You cannot expect any robot cleaner to just to work! As a guide
Lift all chairs off the ground (if you want it to clean under tables)
Lift floor rugs with tassels that could get tangled in the brush
Tie up loose electrical cables from the floor
Remove clothes/shoes/bags on the floor
Build lower gradient ramps if the door sill is over 20mm (if you want it to clean in those areas)
Close doors to areas you don't want it to clean
Use the app or the Dual Mode IR wall barrier to define no clean zones (handy)
But as one last test, we did nothing – left everything as it was. The obstacle detection is a mix of the bumper (and that does get scratched), the camera and the map. While it still bumps its way around, it's a gentle bump – as if it is expecting it – and it cleaned where it could.
Maximum obstruction sill height
It claims up to 20mm but handles 25mm sills – something that only the LG R9 could manage better.
Noise
At its highest Turbo mode, it was 70dB and in regular use about 60-63dB.
Error handling (when obstructed, steps, cords, clothing)
We did not encounter any errors, but I understand it uses an English voice to tell you what is wrong.
Maintenance
It appears to be very repairable robot vacuums so it should last years. But we have to say that parts are not cheap.
A replacement 1800mAh battery is $139. We would expect a good three years from it, but there is no specification on the number of discharge cycles. Assuming it is 200-300 cycles and you exhaust the battery each clean then expect three to five years at one clean a week. And the app does not indicate battery health – something for a future update we hope.
Replacement kit – main rubber rollers, thee filters, and three brushes are $99
Separate prices – rubber rollers ($59), 3 filters ($46), 3 brushes $39
You can replace wheel assemblies ($42 each), Brush motor ($29) and even the 500ml waste bin (except for the i7+ model)
And the killer is $59 for three Clean Base bags
Typical robot vac issues (these are more generic than specific to the Roomba i7)
Dropping out of the Wi-Fi network. An underpowered router resulting in inadequate home network coverage – get a better router.
Won't clean under couches. Valid if the clearance is not at least 100mm
Scratched chair legs. Its gentle bumper and anti-collision technology mean this is a dubious claim.
Won't negotiate sills – we have tested to 25mm, and it goes where few other robot vacs goe
Will leave dust behind – we vacuumed the same area immediately after with an LG A9 Master, and it picked up very little extra dirt except from the edges. Good suck power!
Cleaned the same room three times. It takes time – a few weeks – to learn the room/furniture layout and then this will not happen.
Scratched my wooden floor. There is no way the vacuum can scratch the floor as on the Mohs hardness scale plastic is far softer than wood. It is more likely that something like a metal screw lodged in the Head. That is a user and maintenance issue – not the vacuum's fault.
A recharge takes hours – yes that is correct and the same for any robot vac. This has a 1800mAh battery and takes about three hours.
Patterned or dark rugs can confuse it – sorry the camera does not get confused as its looking parallel, and at an angle to the floor – not down at it
Clean Bin – good place for a dump
I suspect that most sales will be the Roomba i7+ model although at $400 extra you may decide just buy the Roomba i7 instead.
It is pretty big and takes up quite a lot of space compared to a standard robot vacuum cleaning docking station.
We noticed that the Romba i7 dust bin fills fairly quickly, so it is handy to return to the base and empty it. The Clean Base makes a typical loud vacuum noise when emptying. Replacement bags are nearly $20 each and supposed to last for about 30 empties.
GadgetGuy's take – Robbie – sorry Roomba i7+ is the best robot vacuum experience we have had.
It is smart enough to clean specific rooms (and skip others) on command.
I would put it up there with the LG R9Master – you would be happy with either but they each have different strengths.
| | | | |
| --- | --- | --- | --- |
| Item | LG R9 Master | Roomba i7+ | Winner |
| Clean Bin | No | Yes | i7 |
| Dust cannister | 600ml | 400ml | R9 |
| Filter | Washable 5 step HEPA | Disposable HEPA | R9 |
| Height | 285x330x143mm | 338x92mm | i7 – for height |
| Suck power | 2200Pa | 1700Pa | R9 |
| Suck system | PowerDrive head | Dual rubber rollers | R9 – deeper clean |
| Battery | 5200mAh | 1800mAh | R9 |
| Noise | 48-55dB | 60-70dB | R9 |
| Sill height | 25mm | Claims 20mm but 25mm OK | R9 or draw |
| Voice | Yes | Yes | draw |
Now our next review is the Roomba Braava m6 mop – let's see if the pair tips the scales.
Why buy a robot vacuum?
I have to admit that over the past two years, my attitude has changed. Roomba i7+ and LG R9 Master are a large part of that, and it shows how technology evolves so quickly.
But these are two of the best, and at $1899 (you can sometimes get bargains online) they are a lot more expensive than the excellent LG A9 Stick Vacuum or Mr Dyson's V11.
What is comes down to is what can you afford, and what are your expectations? These two are the closest I have come to meet my expectations for unattended and quality cleaning.
Positives
Reliable, unattended cleaning
Won't fly off the edge of stairs or a balcony
Self-emptying bin (i7+)
Good battery life and smart turbo
Works best on regular cleans when you are out
Negatives
Have to buy new cleaning bags for the tower every three months