Ruark Audio is a British maker of high-fidelity radios and music systems. It's best known for a range of products which combine modern digital technology and a decidedly retro aesthetic. It calls its top-of-the-line R7 music system a "High Fidelity Radiogram", for goodness sake. Radiogram is a word I haven't heard much since the early 1970s. Here we're looking at the next model down, the Ruark Audio R5 High Fidelity Music System.
What is the Ruark Audio R5 High Fidelity Music System?
Okay, it looks old-school. The review one had the walnut veneer around the body with the '60s style "Camira Lead Grey" fabric over the front. You can also order it with a soft grey lacquer finish. Look a bit closer and you see rather more modern aluminium straps underneath for support and an integrated heatsink for the amplifier.
But underneath that oldish look we have a music system that includes:
a still slightly old-school CD player (but it also plays CD-ROM content, such as MP3, AAC and WMA files on disc),
an FM and DAB+ radio tuner,
Bluetooth connectivity, with support for the aptX HD codec,
Wi-Fi or Ethernet networking, with support for Spotify Connect, Tidal, Amazon Music and Deezer, plus DLNA compatibility for use with content on your local network,
a USB port for playing back audio media and for charging devices,
an optical digital audio input,
stereo analogue inputs,
a turntable input,
an OLED front panel display to keep you informed about what's going on,
a programmable alarm clock with once, daily, weekend and weekday settings,
stereo analogue outputs, so you can use a more powerful amplifier and speaker combo,
a headphone output (3.5mm) so you can listen privately.
We also have a system that imparts a sense of confidence, simply by its weight. The thing weighs 9.5 kilograms. It's clearly well-built. The Ruark Audio R5 is large, but not enormous. It measures 520mm wide, 300mm deep and 142mm tall.
Performance
Inside the unit are two forward's firing full range 75mm speaker drivers with neodymium magnets and a downwards firing 130mm subwoofer. The bass reflex port also fires downwards. Those aluminium supports hold the body up by a centimetre or so, allowing them to do their work.
They are driven by a Class A/B amplifier. Ruark Audio says that its "nominal output" is 90 watts. I'm assuming that's for both channels combined.
The Wi-Fi is specified as being 802.11a/b/g/n, which means dual band. The supported file formats are MP3, WMA, AAC, FLAC and WAV. (Does anyone still use WMA? I suppose so, since it's so widely supported.)
The Bluetooth connection supports not just the standard stereo SBC codec, but also the AAC preferred for Apple devices and the aptX and aptX HD which give higher performance with certain Android devices.
The system also supports multiroom operation when the unit is combined with other selected Ruark Audio devices.
Control
I'm now going to talk about something I usually only mention in passing: remote controls. You see, the Ruark Audio R5 has the best remote control implementation I've ever seen. Why such a bold statement? Because it's the first I've seen which fully replicates the controls on the main body of the unit.
Apart from an CD eject button on the front, all the controls are in one cluster on top of the Ruark Audio R5. They consist of a ring of buttons – skip forwards and backwards, play/pause, menu, back, source, preset and on/standby. In the middle of them is a knob which you rotate for volume or to navigate menus and press to select things. The play/pause button doubles as a mute button for things like analogue sources.
And the remote? First, it connects wirelessly, so you can just leave it on your bench or coffee table or the arm of your couch and never have to point it.
Second, it's identical to that control cluster. You only have one set of controls to learn because both work exactly the same way. The only problem using the remote can be that, given the size of the display – around 60mm diagonally – it can be hard to see menu items from across the room.
But there's an app you can use if you prefer. The Android version has a rating of only 3.3/5 stars, with a number of comments claiming connection difficulties. All I can say is that it worked smoothly for me. I could change sources, set the volume, choose radio stations by name, assign presets, adjust the bass, treble and subwoofer levels.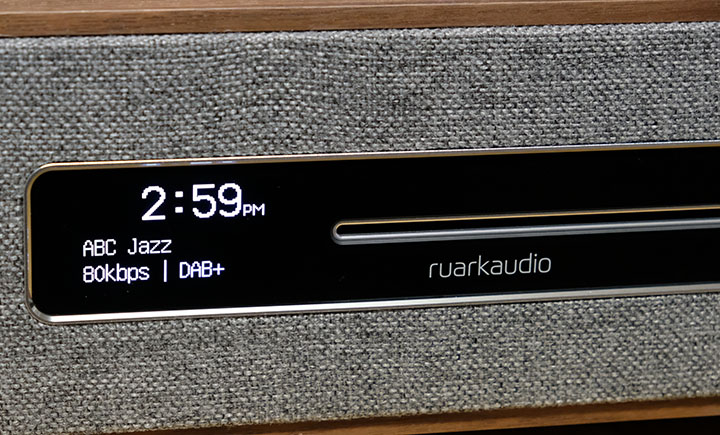 Setting up the Ruark Audio R5
The Ruark Audio R5 comes double-boxed, with ample polystyrene packaging within the inner carton. It's further contained in a cloth sack. Cloth? It feels like a sturdier version of the microfibre cloth used to clean eyewear.
There's a telescoping antenna in the box but it's not for Wi-Fi, it's for the FM/DAB+ tuners. You can screw in coax instead should you be in a low signal area. But with Canberra's recent elevation to "official" DAB+ status, it worked fine in my office, finding the stations on both bands. You can have up to ten presets for the DAB+ band, ten more for FM and a further ten for Internet radio.
Setting up largely involved plugging things in and connecting to your network. I used Wi-Fi rather than Ethernet. This is also old-school: you run through menus selecting a Wi-Fi access point SSID then entering a password. That means winding through an alphanumeric block. It only took a couple of minutes. If you're connecting to TIDAL or similar, you'll need to enter your credentials the same way.
Or, once you're connected to the network, you can use the app to log onto services rather more easily.
The connection was fast and worked reliably throughout.
Ruark Audio R5 Performance
I used the Ruark Audio R5 with a good range of inputs. I even dug around and found a couple of CD-ROMs loaded with MP3 files that I haven't touched in many years. Everything I tried worked perfectly well. In addition to the optical discs, that included DLNA, Spotify Connect, TIDAL and even vinyl using the phono input.
But not Apple Airplay. The Ruark Audio R5 doesn't support that.
The Ruark Audio R5 proved to deliver ridiculously high levels with surprising cleanliness given its size. It easily filled my largish office with tuneful, musical sound. These was real heft to the bass, making it easy to follow the bass lines in music, and even get a sense of the thump of a kick drum.
There was also a surprising sense of stereo separation.
I did spend a while around a metre and a half in front of the unit, listening quite carefully to the unit. That is not how it should be used, and I imagine it's not how Ruark Audio intended it to be used. That kind of listening suggested a slightly hard sound with an unduly prominent treble.
No, it was far better to put the unit on a bench so that it fired sound out into the room, but not directly at anyone. The higher treble levels then worked to fill the room with balanced sound.
Confirmations
It's easy to claim all manner of codec support, but how can you know for sure? That's where I pulled out my old, battered Google Pixel 2 and paired it with the Ruark Audio R5. It confirmed that the connection was via aptX HD. If your phone supports that you're going to get audio quality about as good as Bluetooth can deliver.
As I mentioned, the bass sounded impressive. To more objectively check what it was doing, I measured the bass response. My microphone was close to the woofer on the underside of the unit. As you can see from the graph, the bass output was extremely even from around 57 hertz to 122 hertz. Using traditional hifi measurement bands, it delivered from 50 hertz to 133 hertz ±3dB.
Conclusion
Do you want a real high-end high-fidelity sound system? Well, I wouldn't recommend the Ruark Audio R5 for that role. Unless, that is, it's used as a front end for a separate amplifier and loudspeakers. You can, you know, thanks to the line level output.
No, it's a fine sounding, sensible room audio system. It's easy for anyone in the family to use. It's not cheap, but it looks like a nice piece of furniture. I think there will be many happy buyers of the Ruark Audio R5 music system.
The Ruark Audio product page for the R5 is here.
Stylishly retro look
Very reliable operation
Startlingly good bass for the size
Very expensive
No Apple Airplay