We live in a very connected world. Our reliance on the internet is on par with running water and electricity. So what happens when we decide to travel Australia and live the life of a nomad? How do we stay connected? This guide will look at the latest technology available for caravaners and travelers including options coming in the near future. Also, our findings are a bit different that what's being promoted in the caravan and 4WD industries.
Connection considerations
The Australian Federal Department of Communications found that as of 2021, more people are watching online subscription services like Netflix and Stan than traditional free-to-air TV. So, clearly, streaming video via the internet is now more popular than using an TV aerial.
While mobile phone networks claim 90+ percentage of coverage, this can be a little misleading. The figure actually refers to the population, not the landmass. In fact, 73% of Australia is without phone coverage.
A satellite phone, data or messaging system will work anywhere in Australia, however its antenna needs a clear view of the sky. Otherwise, there may be reception issues when it rains, during storms, etc.
For the best two-way UHF reception, the better the antenna quality and the higher you place your antenna, the better the reception. The same goes for a mobile phone external antenna set up.
UHF antennas have different characteristics that suit different terrains, either for flat or hilly landscapes.
A mobile data solution would require a dual antenna setup to receive and send data at a reasonable speed. Some routers have dual antennas built-in and, and you can tell if it's a true dual system because of the two antenna cables.
Regardless of your mobile phone network, a 000 call will succeed if any carrier has mobile phone reception. If there is no reception, your mobile phone is useless.
On main roads in remote Australia, the distance between roadhouses can be up to 300km with possibly nothing in between.
The windscreen and metal shell of a vehicle will also reduce your signal if trying to access the internet from inside too. And if you do manage to get a few bars of service, your ability to communicate via text, voice and video will depend on your available speed.
Wi-Fi calling
Wi-Fi calling is a key feature supported on the some carrier networks, but not many sub-carriers offer it. This is a cool feature where supported mobile phones can make and receive mobile calls over the internet via Wi-Fi instead of the mobile phone network. So, if you were in a town where your carrier had no coverage, but the caravan park had Wi-Fi, you could use that Wi-Fi for the accessing the web, mobile calls and SMS. Popular handsets that support this include Apple iPhone 7 onwards, Samsung Galaxy S8 onwards and Google Pixel 2 or newer.
Another way you can use Wi-Fi calling is to have a 3G/4G modem/router with high gain external antenna. A high gain external antenna would more likely connect to a mobile phone tower when you are in a fringe area of coverage. Connecting to your Wi-Fi router, say in a 50-metre range of your router, would allow you to make and receive calls and SMS from your handset. The height of the antenna will also make a difference.
Communication ranges
UHF Radio – 1 watt power up to 7km, 5 watts of power for up to 17km
3G or 4G mobile phone – in a perfect environment may allow you to make a call 24km from a mobile phone tower. (Note that a 5G signal is designed for about 500m). Internet is available at high speeds, capable of streaming video. A high gain directional antenna may extend this to 35km.
VHF marine radio – 25 watts may go as far as 100km
Low Frequency (LF) radio – 2000 km or more
Satellite – anywhere in Australia that has a wide clear view of the sky. Internet is available at very low speeds
Long range internet access
Of the different communication types listed above, only some are practical and affordable ways of accessing the internet. We've listed them below, along with some advantages and disadvantages. We've had to rule out radio solutions, as they can't carry the internet, however, you can hop over to our sister publication, Small Business Answers, if you are interested in learning more about buying a portable UHF radio.
Caravan park, internet café or motel
If parked up in a town, chances are a free Wi-Fi will be available somewhere close by. It's simply a matter of finding a Wi-Fi network, connecting your device and entering your details.
Advantages: unlikely to cost you anything extra. You don't need any special equipment other than a smartphone, PC or tablet.
Disadvantages: Connection may be slow or limited, and you have to share with everyone else who wants to use it. No coverage once you drive 50 metres down the road. You may need to give up some personal information like your email address.
Your 4G Mobile phone
Like in the city, you can use your mobile to make and receive calls and access high-speed internet and share your connection (hot spot) with other devices such as a PC, Tablet or Smart TV.
Advantage: You already own one, so there is no extra cost beyond having the right amount of data included in your plan
Disadvantage: Coverage is limited, and the built-in smartphone antenna will not work well in a vehicle and in fringe mobile areas. Mobile phone coverage is only 27% of Australia's landmass.
Cel-Fi
Check our our GadgetGuy article article to learn more. The Cel-Fi is a 3/4G repeater that repeats a mobile signal to your mobile phone. It does not boost the signal, but because it can use a choice of high gain antennas, it will allow your phone to make calls in fringe areas.
Advantage: This allows you to have a better chance of making and receiving calls in low signal strength areas, especially if the smartphone is in the car. Simple to use as once installed anyone in range of Cel-Fi will benefit
Disadvantage: Very slow internet speeds as only has one antenna. Needs to be configured on installation to suit the specific carrier you are using as a different antenna is used for Optus versus Telstra.
3G/4G Internet Modem or Hotspot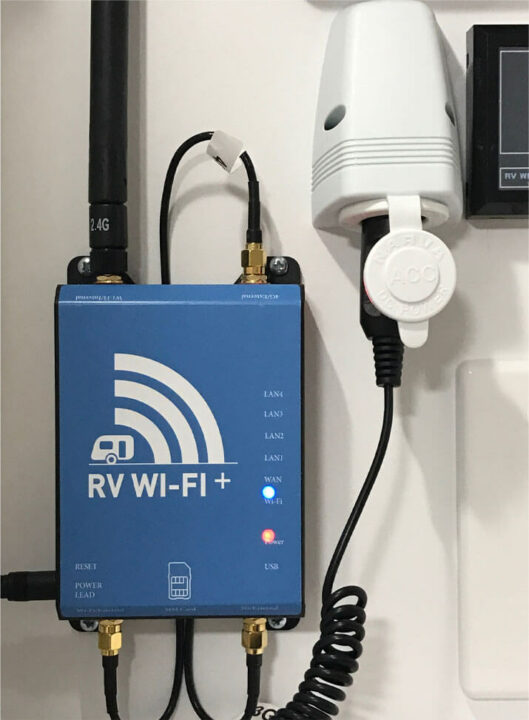 This standalone Wi-Fi modem router requires its own SIM card/data plan. Many models, such as a Netgear hotspot to a specialised RV Wi-Fi, are available from leading retailers. Only consider models that support external antennas to maximise any available phone coverage.
Advantages: Allows for high-speed internet based on coverage. Will support Wi-Fi calling from a supported smartphone.
Disadvantages: You need to pay for a separate SIM plan. Mobile phone coverage is only 27% of Australia's landmass.
4G internet modem with a big pole and directional antenna

The company Out there internet sells a kit specially designed for remote mobile (data) reception. It uses a 3.6m pole with an all in one directional antenna and modem.
Advantage: An all in one kit that maximises reception when at camp.
Disadvantages: This is expensive at $1800. It can only be used while stationary. Mobile phone coverage is only 27% of Australia's landmass.
Satellite phone

Looking like a large mobile phone with an antenna, these devices will give you peace of mind in remote areas of Australia.
Advantages: It will work anywhere in Australia with a clear sky view. Great in an emergency.
Disadvantages: Expensive to operate. Internet speed is very slow. When used for voice, there is a noticeable delay
Satellite communicator

These satellite devices allow a standalone modem type unit to send an SOS, share position, text messaging, weather, and in the case of the Iridium Go, voice and data.
Advantages: Lightweight emergency device. Stay in touch with your position and SMS with friends. Economical for purpose.
Disadvantages: Except Iridium Go, no voice or data.
Better technology coming soon
Although the Australian Government keeps handing out subsidies to the mobile phone networks to build new towers, the landmass coverage will remain small and centred around where most people live. So if you want to be connected almost always, a satellite phone has been the only real option for caravaners and travellers.
The current five Australia-wide available satellite offerings:
Optus MobileSat uses 1 Satellite with voice and data at 2.4kBps
NBN Sky Muster does not allow a mobile installation, fixed address only
Inmarsat – 3 satellites in a very high orbit that support voice, SMS and data at 384kBps
Iridium – 66 satellites in a low orbit that support voice, SMS and data at a very low speed of 2.4kBps
Thuraya use satellites 2 satellites and offers Voice SMS and data at a speed of 444kbps
However, some new players are about to come to town, or should that be the outback, including Starlink, Amazon's Kuiper, Telesat and OneWeb. They are all developing solutions based on Low earth orbit satellites (LEO).
First off the block and already offering limited coverage in Australia is Starlink from Elon Musk of Tesla and SpaceX fame. The Starlink plan will set you back $139 a month for speeds between 50Mbps to 350Mps (NBN's most popular speed for a wired solution is 50Mbps) with low latency and unlimited data. To achieve this coverage and speeds, StarLink plan to launch 12,000 satellites, so it helps to own your own rocket business! Elon Musk is expected to announce a vehicle version soon, having previously quoted availability for the end of 2021.
Thanks to Elon, we could soon be driving around Australia in our caravans with Internet access up to 7 times faster than at home. This really will allow us to work from anywhere.
GadgetGuy's recommendation for caravan internet
When touring Australia, you will want to stay in touch via voice and social media. You will want to watch the latest Netflix series and keep up with the breaking news. All this means you'll ideally need high-speed internet and the ability to make calls. We assume you already have a mobile phone. Based on that, GadgetGuy's recommendation for caravan internet is to purchase a 4G Wi-Fi hotspot and attach two external antennas. Mount this solution in the car so you will always have an improved reception solution with you.
Our picks for a mobile plan is either Telstra or Boost. They have exactly the same coverage, which ranks higher than anyone else. A 12-month plan will allow you to use your data allowance only when travelling, and if you run out, you simply renew.
Assuming you are within mobile coverage of a base station, your Wi-Fi signal will reach your caravan or swag when your vehicle is parked next to them. When available, those on the road a lot should definitely investigate Starlink's solution or similar LEO satellite internet. You will be streaming 4K movies or the national news within the year from anywhere in Australia. You will also make many friends from fellow travellers who want to borrow your Wi-Fi connection. Happy connected travels!