One does not usually associate the term 'smart' to a backpack. Samsonite Konnect-I Backpack with Google Jacquard technology may change all that.
Not wanting to oversimplify Samsonite Konnect-I Backpack with Google Jacquard technology, it is a well-made, slick-looking backpack from Samsonite.
It comes with a Google Jacquard dongle that pairs to your smartphone and a Jacquard enabled shoulder strap so you can brush up, brush down or double-tap to activate Jacquard abilities. You can also customise gestures choosing from actions such as call and text notifications, selfie, navigation, and music controls.
We will break the review into two parts – the excellent Samsonite backpack and Google Jacquard.
Samsonite Konnect-I backpack
We have all heard of Samsonite – it is one of the most counterfeited global brands along with Nike et al. Imitation is the sincerest form of flattery. Well, this bag is real and as far as we can tell unique.
Ironically, Samsonite calls it a 'standard backpack black' Model GW0*09002, and it sells for $329 – website here. There is also a Slim version for $299.
But it is anything other than 'standard'
The first impression is black, tightly woven water-resistant polyester and a very elegant shape. It is light at .99kg and 43.0 x 29.5 x 16.5cm. it will fit most 15.6" (or smaller) laptops.
This thing is a Tardis. Dr Who tragics will know that this means Time And Relative Dimension In Space. In English, it is bigger on the inside than appears on the outside.
I won't cover all compartments but here is what I found
Front – full width horizontal zippered compartment with an internal divider
Left side – a vertical zippered expandable mesh drink bottle holder
Right side – a 2/3rd pocket
Front top – a zippered half-height compartment with an internal zippered pocket and pen etc. storage pockets.
Mid compartment – a full height zippered compartment with two zippered half-height pockets
Behind middle compartment – an external, zippered water-resistant pouch for smartphones, passports and papers.
Rear compartment – laptop sleeve, tablet sleeve, and accessory storage
It also slides over most upright luggage handles
That gets to the rear – the thing you heft on your back: two adjustable, well-padded straps. The left has the Jacquard slider. The mesh back is padded and fully breathable with shoulder and lumbar supports. It does not have a chest strap.
Now if you measure the volume (by the dimensions), it is a 20-litre pack. But in our tests, we can fit nearly as much as a 30-litre pack that I use. Why? It has way more flexibility and is a little deeper from front to back.
Zips are medium-duty nylon, single stitched and reinforced to the bag. Each has a lockable tag (but only the mid and rear compartments are lockable). The padded handle is single rivetted to a reinforced base. Its construction is not as strong as some, but it should handle 20kg without issue or overstressing the bag construction. But remember that aircraft cabin baggage generally has a 7kg limit, so its .99kg weight gives it an advantage.
It has a 2-year global warranty that is ACL compliant if you buy from an Australian retailer. The dongle has a 1-year warranty.
Google Jacquard technology
Jacquard is Bluetooth (BT) that pairs your Android or iOS phone to a dongle. It needs the app, and the dongle needs micro-USB charging and placed in the Jacquard tab on the backpack.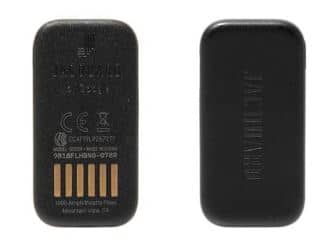 You may see other wearables (Levi's Trucker and Commuter Jackets) with Jacquard (this is the first we have seen). It is IP54 rain resistant.
The app requires a Google account (and the resultant privacy terms), but you have agreed to these before if you use any Google service. It also requires location to BT pair.
You can use the strap to
Brush up
Brush down
Double-tap
Cover – silence (the strap can vibrate)
You can assign these to various functions for audio, keep track, navigation, Google Assistant, and Utilities.
I use it mainly for audio because you do not need to see the smartphone screen to play or pause. But I tried several functions and navigation is next most useful.
The Google Jacquard website is here.
GadgetGuy's take Samsonite Konnect-I backpack with Google Jacquard technology is not your ordinary backpack
Google says Jacquard is universal (uses the same dongle), compact, robust, smart, and evolving.
Evolving is of most interest as the current Jacquard features are handy but not compelling. You can do everything with a smartphone in hand or buds in the ear! So, it is more convenient for times when you don't need to see the screen.
I think there will be lots more use cases – it is just that they are not quite clear yet.
PS – the name Jacquard comes from Jacquard Threads. Only this time these are conductive metal alloys that are incredibly thin, so they can be combined with a variety of natural and synthetic fibres to create different yarns.
Rating explanation
As a premium mid-size, fashionable backpack at $299, it is not cheap. You can get excellent 'dumb' Samsonite backpacks and STM Backpacks for a third-to-half the price.
So, you have to ask yourself if Google Jacquard adds enough value, and only you can answer that.
Positives
Good for things you don't need to see your phone for
Decent haptic strap feedback
Negatives
No compelling reason to buy yet