Thursday, 28 March 2019 – Sydney Cricket Ground. Every banner and hoarding on the ground was advertising Samsung 8K. That is, of course, the newest highest resolution TV on the market. The 8K TVs were the top of the eight 2019 TV ranges launch by Samsung. It has a rather dense coverage of the 4K+ market, with models covering sizes from 43 inches to 82 inches, and prices from $899 to $17,499. Read all the facts and figures about them here.
Samsung's "hero" TV technology is QLED. That uses Quantum Dots to tune the light it produces into fairly narrow wavelengths. For reasons too complicated to go into here, that allows more precise creation of the desired colours. I will add, though, that this is not just another of those profligate tossings-around of the word "quantum" so often seen in promotional material. I have previously discussed Samsung's QLED technology with an Australian professor of quantum physics, and he confirms that it does in fact rely on the specific energies related to the electrons changing levels around specific atoms.
QLED in the Samsung 2019 TV range
The two entry level ranges do not use QLED technology. However, they are fitted out with Samsung's Smart Hub technology, remote controls that allow them to control connected equipment, and which have dedicated Netflix, Amazon Prime and web browser keys. They also support both Amazon Alexa and Google Assistant voice control. And they will be fitted with the new Apple TV app in a firmware update which ought to appear before mid-year, along with Apple Airplay 2 support.
To enjoy QLED, purchasers need to look at the Q60 series or above. They start at $2,299 for the 55-inch model. The giant 82-inch version costs just under $7,000. These TVs clearly offer powerful colours and plenty of brightness.
The next step up starts to get very serious about picture quality. LED, QLED or whatever; all of Samsung's 2019 models are still LCD TVs. And LCD's weakness is in achieving true black levels. This can be largely ameliorated by using a finely tuned array of LED or QLED backlights behind the screen. In elements of the picture which are dark, they are lowered in intensity, largely eliminating the problem of the backlight "breaking through" the not-quite-opaque crystals of the LCD.
Backlighting
That's included in the Q75 range. These start at $2,899 for the 55-inch version, through two more sizes to $5,899 for the 75-incher. Samsung calls this "Direct Full Array Elite". The downside of this technology is that the TV ends up being a little thicker than those which are edge lit. Full specifications weren't available as of this writing, so I can't give precise figures. But I did closely examine the model on display and compare it with the Q60. And yes, I'd say it is a little thicker. But on both TVs the sculpted rears are pleasing enough to the eye that it really makes little difference.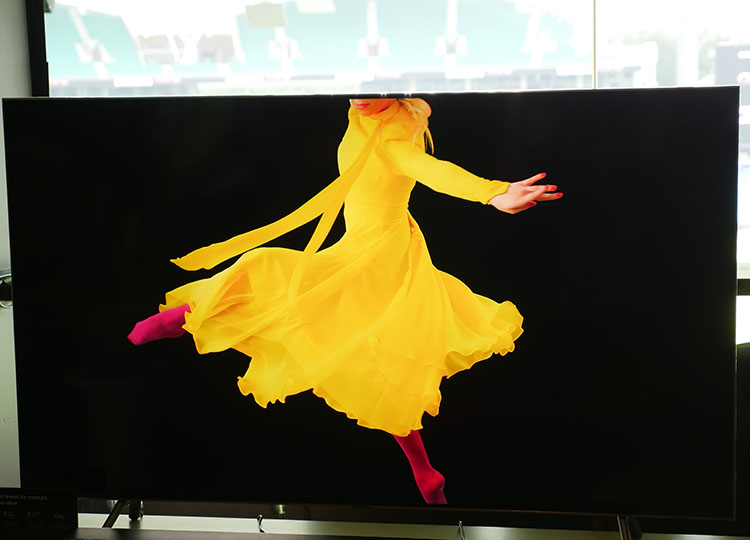 Even better for the eye are deep black levels. At least I think they are. The Q75 TV was set up setup against a window, with the brightly lit SCG behind it. The human eye being what it is, that's guaranteed to make on-screen blacks look deep. I shaded the picture as well as I could, and I think the blacks remained strong. But certainty needs await a formal review.
Another step
The next step up in the Samsung 2019 TV range is the Q80 series. This introduces what Samsung calls "Wide Viewing Angle technology". It says that there's an additional layer in the display which "reflect[s] light further outwards from the 'sweet spot' directly in front of the TV, reducing colour shift and blooming effects to viewers at extreme angles at the sides of the screen." To me, this TV did have an unusually non-TV look to the screen. The model hanging on the wall was displaying a static art-like image as I wondered around the room, and I didn't even notice it initially. My mind just categorised it as a painting.
Hidden cables
But the most obvious enhancement in this model is a killer: "one clear cable". The TV panel doesn't contain most of the electronics and connections. They're in a separate box. Joining the box to the panel is one transparent cable. It's perhaps two or three millimetres in diameter. And this little cable carries both the TV/Blu-ray/Whatever video and audio signal along with sufficient power to drive the screen.
Wall mount the TV and there'll just be one slim cable visible. Score a small slot into the wall, slip the cable into it, plaster and paint and there'll be no visible cable. When it's off, you can have it display useful information or an attractive pattern, and control all that with an app on your phone.
The top product are the Q90 series, and the Q900. The former is 4K, the latter 8K. These pack in everything Samsung has to offer, which means that their picture quality is the best that Samsung can offer. And that means that it's brilliant. The Q90 and Q9000 also have the "one clear cable" option.
We all know that there isn't much, and won't be much, 8K content around for quite some time. Indeed, 4K content remains distressingly limited.
So, can HDMI handle it when it appears? Samsung has to be cautious, because the final standards haven't been approved. It says that its HDMI input will handle 8K, and will comply with the standards as they are settled. But it seems likely that 8K will be largely received from network sources, rather than some new form of UltraHD Blu-ray.
Sound
Samsung also showed off – sounded off, perhaps – its range of soundbars for 2019. There are models from $349 through to $1,999. And they're styled and sized to provide good matches for the TVs. They sounded satisfying, as soundbars go, and the fitted subwoofers did a respectable job into the mid-bass.
I would have liked to hear them pushed harder, but then I'm an audio snob (I use a discrete speaker Dolby Atmos system with a subwoofer than goes down to 16 hertz). I recognised that for most people, soundbars provide much better sound than that in TVs while imposing few to no costs regarding space and styling.
Conclusion
I would like to get a much closer look at some of these TVs in order to form definitive judgements. But, for now, the Samsung 2019 TV range looks impressive.
Samsung's site for its full TV range is here.