The Samsung 27-inch, curved Quantum Dot QLED C27FG73 is a superfast gaming monitor. But why should gamers have all the fun? If you are looking for some of the best colours and fastest response times on a budget, this is it.
GadgetGuy invited a tame Millennial gamer to look it over. Then we review it from a business perspective.
Review: Samsung C27FG73 – 27-inch Quantum Dot Gaming Monitor
(Australian website here)
 Gadgeteer Gamer
OK gamers want two things – detail and fast response times.
I have been using a 27" flat gaming, Freesync monitor that cost about $200. You want me to pay $600 for a 1920 x 1080 monitor. It better be worth that!
I don't care about curves, contrast, glowing gaming lights and that sort of s*&t. I care that I can see everything including in the shadows and that the image keeps up with the gaming action.
Side-by-side with my monitor I can see this QLED (Quantum Dot) has crazy, intense colours. Brilliant. I can see details in the shadows I never saw before. Colour and details – winner Samsung.
Curved? Never though curved was much good. It draws my eyes in and I an seeing 'more' of the screen than I did before. Specially in the corners and edges. Curved – Samsung wins.
Picture mode: What is this FPS, RTS, RPG, or AOS (yes, I know – just pulling your chain). Each changes the style. It's a bit like having movie mode, sports mode – all adjust the colours and depth. Doom looks so much better in FPS mode than my monitor. Halo Wars 2 – in RTS mode is incredible. Modes – Samsung wins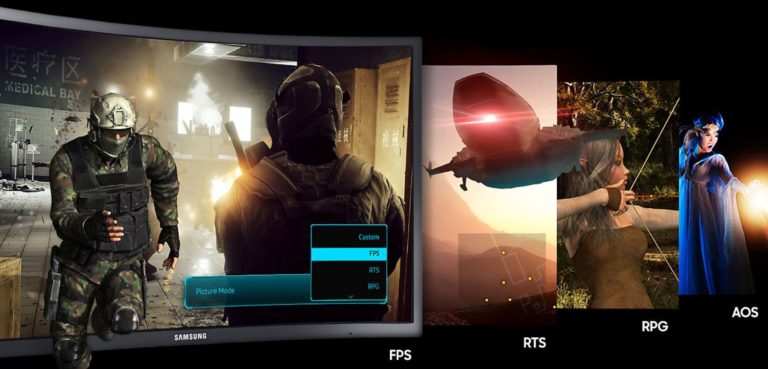 Dashboard. Always thought that dashboards are a bit of a wank. It gives me stats I really can't use. I suppose pro-gamers can. Winner – do you really need it?
Looks. I really like the stand and how can raise/lower, swivel and tilt forward and back. Height adjustment too. Stand/looks – Samsung wins.
Freesync. I have a Radeon RX 550 that supports Freesync over DisplayPort. This monitor uses it, and I can adjust from 70-144Hz.
I used the monitor for a week. Going back to my old monitor – s*&t.
OK, three times the price of a cheap one. I play about eight hours a week – it is well worth it.
GadetGuy. We review tech from a typical user's perspective.
I write about tech. For my day use use I have a pair of Samsung CF591 business grade monitors ($450 each). I also have a 34-inch, 3440 x 1440 HP Z34c monitor with 98.8% sRGB.
I compare thousands of images from the smartphone cameras we test. It gives me 119.3% sRGB coverage. But when looking at C27FG73, the difference is intense. Colours jump out. The Quantum Dot QLED reproduces 125% of SRGB (92% RGB) for truer colours.
I also drive dual monitors so 1080p is all I can handle on a Microsoft Surface Pro 2017 and its dock. I did not have two C27FG73 to compare. But, beside the CF591 it was markedly brighter. It does not have HDR, but it does have higher nits brightness – 350 versus 250.
I played the same 1080p movie on both screens. The C27FG73 has 1ms MPRT (motion picture response time – 4ms GtG), and there was no image lag or blur. The CF591 had 5ms and did exhibit a slight tearing of defined lines.
All at $600 – well below what you may expect to pay.
Technical talk – C27FG73
Panel: 1920 x 1080, SuperVA (Vertical Alignment) Matte anti-glare surface
Curve: 1800R (radius of the arc in mm)
Backlight: Edge-lit W-LED (White LED)
Colours: 8-bit, 16.7M without dithering (excellent), factory calibrated
Colour mode presets: Custom/High-Brightness/FPS/RTS/RPG/AOS/sRGB/Cinema
Brightness typical: 350 nits
Contrast: 3000:1
MRPT: 1ms
sRGB: 125% (92% RGB)
Freesync: variable with auto sync to 144Hz
Flicker-free: Yes, does not use PWM
Viewing angle: +/- 178° but best-used front on
Tilt: -3 to +20°
Swivel: -15 to +15°
Pivot: Landscape to portrait
Height: Up to 135mm above the base
Dimensions with stand: 2 x 541.0 x 280.7 mm x 5.3kg
Ports: 2 x HDMI, 1 x DisplayPort
USB: No
Speaker: No
Headphone port: 3.5mm (signal from HDMI or DP)
GadgetGuy's take. C27FG73 has 'crazy, intense, impressive colours, details and speed
We test many monitors admittedly from a business perspective. The Millennial Gamer was so impressed that he is saving pennies to get one.
His words, "The Samsung C27FG73 gaming monitor is an excellent gaming monitor, crazy intense colours and especially for its price."
From my perspective, it is incredible what a difference Quantum Dot makes to the colour and colour spectrum. Primary colours are excellent – perfect RGB. Secondary (mixed) colours are excellent with even luminance, no banding and no colour shift for off-angle viewing.
The big question now is whether to buy a 4K monitor and to get HDR. The answer is that in business use both are wasted.
In our recent article on the business benefits of dual monitors, you can read why these higher specs are a waste.
I know the C27FG73 is not perfect, but for around $600 it rates right up there. You have to spend a lot more for an incremental benefit.
Pro
Quantum dot for brilliant colour
High brightness
Fast response
Even luminance
Very good detail in the image
Good stand adjustment
Con
None really
A little VA panel glow (can be adjusted for in settings)
Gamer asked where the sexy colour scheme was (many gaming monitors have brash coloured surrounds and stands)
Rating
Rated as a 1080p high specified monitor
Overall: 4.4 out of 5
Features: 4 out of 5 – All required features for gamers but lacking USB Hub and speakers
Value for Money: 4 out of 5 – shop around and add an extra point
Performance: 5 out of 5 – 125% sRGB, Freesync and connectivity
Ease of Use: 5 out of 5 – Plug and play
Design: 4 out of 5 – Dark Blue Black(Matt) and a solid adjustable stand – no garish gaming colours
Price
$600 but I have seen them around $500 at computer and gaming stores. If you get a bargain, then add an extra point.
Sombre design - gamers want bling