The Samsung Air purifier range 2020 has four models that cover areas from 34m2 to 90m2. Two are Samsung SmartThings app compatible for remote control.
GadgetGuy has reviewed quite a lot of air purifiers, and we know what to look for.
Most true air purifiers use a mix of filters – pre-filter (for larger visible particles or <PM10), HEPA (High-efficiency particulate air for micron-sized <PM2.5) and activated carbon (for noxious gas absorption). Some add UV and other sterilising light.
Currently, no filter traps more than 99.X% of everything. We are extremely suspicious of any filter that claims it traps and kills COVID or a similar virus.
Purifiers generally quote a CADR (clean air delivery rate in m3/minute or hour). For example, a typical bedroom 3x3x2.8m (about 25m3) has 25,000 litres of air to clean. Now, if you can close the windows and doors, CADR is not such an issue as once cleaned it remains that way until more 'dirty air' enters the room.
Purifiers either have a directional fan or just vent the air back to the room.
And then we look at ongoing energy and maintenance costs.
Over the next couple of weeks, we will be revisiting all 2019 air purifier reviews and updating them to current specs.
Australian review: Samsung air purifier range 2020
Model tested: AX5500
Australian website here
Warranty: 12-months ACL
Country of manufacture: China
Samsung is a South-Korean global supplier of smartphones, tablets, TVs, home appliances and more.
| | | | |
| --- | --- | --- | --- |
| Model | RRP | Retailers | Availability |
| AX9500 | $1,299.00 | Samsung.com | November |
| AX7500 | $999.00 | Samsung.com, JB Hi-Fi, The Good Guys | Now |
| AX5500 | $799.00 | Samsung.com, JB Hi-Fi, The Good Guys | Now |
| AX40T3030 | $449.00 | Samsung.com, Bunnings | Now |
| AX34T3020 | $449.00 | Samsung.com, The Good Guys | Now |
Replacement carbon and HEPA filer
AX9500
CFX-H100/GB
$199
AX7500
CFX-C100/GB
$149
AX5500
CFX-D100/GB
$149
AX40T3030 & AX34T3020
CFX-G100/GB
$119
First impression – EXCEED
Ironically, this South Korean company makes these in a Chinese factory. Our Coway review, also a South Korean company makes its air purifiers in South Korea. It is no big deal – most of the world's CE and white goods come from China.
In true Samsung style, it is well made with a quality finish and touch controls instead of buttons. The air quality indicator bar glows blue, green, yellow and red to indicate air quality, and there is a digital readout as well.
It is a little larger than I expected at 360 x 783 x 293 mm x 11.2kg but its on castors for easy movement. I would say it is more utilitarian than a fashion statement – as most air purifiers are.
The SmartThings app is not mandatory for its use. If you do, it means creating a Samsung account, connecting it to home Wi-Fi, allowing location and agreeing to terms of use. In return, you get remote control and a digital readout of air quality.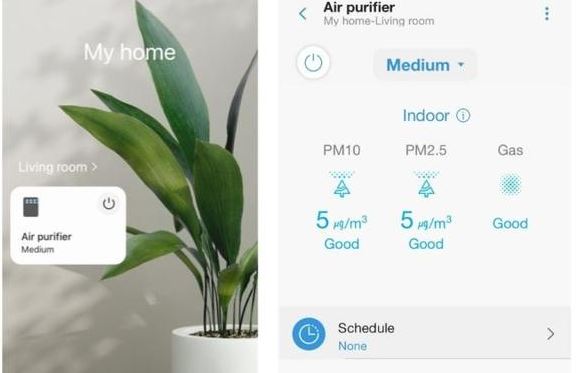 While some may have privacy concerns, Samsung is a company you can trust, and it does not sell your information. In all the time I have been using SmartThings I don't recall getting an advertisement – there is always a first time!
Setup – EXCEED
Insert the filters, plug it into a power point, touch power, select Auto (or a manual fan speed) and that is it. Optionally install it in the SmartThings app (Android or iOS).
CADR – EXCEED (Clear air delivery rate)
This has 467m3/hour. To put that in perspective, a standard bedroom is about 25m3, so it cleans that 19 times per hour. Its claim is good for 60m2 (about 8x8m) where it cleans the air about three times per hour.
This is an excellent rating, but we make the point that once the air is clean, it stays that way until more dirty air enters from opening a door or window. CADR is more important for large open spaces.
Filter Efficiency – EXCEED
It has a washable pre-filter (PM10), Activated carbon deodorisation filter (noxious gas) and HEPA (PM 2.5). It removes 99.97% of particles to .3um.
No filter system does much better, and that means allergy sufferers will benefit. Over the month-long trial, there was noticeable dust on the pre-filter
Airflow – PASS
This has top and both sides exhaust. It's a good system, but during our test, we had to change its position so that the side exhausts (that can be quite strong) did not annoy us. Placement it the key.
It does not have a front exhaust, so it is not a fan like a Dyson.
Sound levels – PASS
Although Samsung advertises a 21dBA Night mode (measured at 30dB), the unit has similar noise levels to most others.
Note that dBA is a weighted scale. It is not the same as decibels at 1 metre. Compared with dB, dBA-weighted measurements underestimate the perceived loudness, annoyance factor, and stress-inducing capability of noises with low-frequency components, especially at moderate and high volumes of noise. Our dB test results are invariably 20-30% higher.
Tests dB at one metre
Night: around 30dB
Auto: varied from 40-50dB
Fan 2 – 60dB
Fan 3 – 70dB
Indicators – EXCEED
The glowing bar goes from Blue (good), Green (moderate), Yellow (unhealthy) and Red (very unhealthy) – it is a measure of Particulate Matter (PM) from an onboard laser sensor.
It also has a volatile gas sensor. Yes, it will indicate flatulence so you can't blame the dog. These sensors are for the readout and auto-mode only.
Timer – PASS
Select from 1-12 hours
Maintenance – PASS as long as you are aware of the future costs
The pre-filter is washable (just like an air-conditioner filter). Over a month, we saw visible signs of dust on it.
The sensors need an occasional clean with a vacuum.
We could not find an estimate of the HEPA or Carbon filters life, but these should between 6-12 months at 24/7 use (4000-8000 hours).
Safety – PASS
The unit weighs 11.2kg and has side handles. It has castors for easy movement.
We applied a 20kg weight to one side, and it moves. That means if young children try to use it to stand, it may roll away, so take care.
Power use – PASS
Maximum wattage is 60W per hour or 60Wh. At typical peak rates, it could cost less than 2 cents per hour.
We tested with an Emberpusle IQ meter over 24 hours, and it consumed 17 cents.
Model variances. Samsung has an explainer here
AX7500 has three fans and two sets of filters for up to 90m2. It consumes 90Wh.
AX40T3030 is for 40m2 and is perfect for bedrooms. It consumes 40Wh
AX34T3020 is for 34m2 and is perfect for bedrooms. It consumes 30W.
GadgetGuy's take – The Samsung air purifier range 2020 cleans the air and is well-priced
We don't comment on price because something is worth what you pay for it.
It seems to do everything that similar units at nearly twice the price do.
While this AX55 model has SmartThings, you really don't need to use that. Set it on Auto, and away it goes.
All its missing is a forward fan – if you want that then its Dyson domain.
Positives
Use with or without an app
Recommended for up to 60m2 room
Negatives
Don't have to use the app if you are convcrned about privacy