Somehow 20 inches just doesn't look as big as it used to, and if there's one thing we keep threatening to do, it's upgrading our monitor. Now might be the right time, because Samsung has three new monitors on the way, and they look like they might impress.
The new displays on the way to computer and electronics retailers cover two of Samsung's product series, with the deluxe Series 9 – where those shiny aluminium uber-thin laptops fit – and the Series 7.
We'll tackle Series 7 first, as there are two monitors being launched there, each of which sit under a thousand dollars.
First is the SC750 ($469, above), what Samsung is describing as an "ergonomic monitor" that features a simple look, a 24 inch screen size, and the ability to pivot at 90 degrees, working either as a regular horizontal monitor, or standing up in portrait mode for viewing those extra long documents.
Next is the SC770 which costs a little more at $799, but offers something else entirely: touch.
Adhering to what makes Windows 8 usable, the SC770 is Samsung's first touch-screen, supporting up to ten points of multi-touch on a 27 inch Full HD screen, and able to be tilted back in its position.
Finally, there's the Series 9 model, and for this Samsung is releasing a pre-calibrated monitor for people who desire strong colour reproduction and sharp images, the SB970.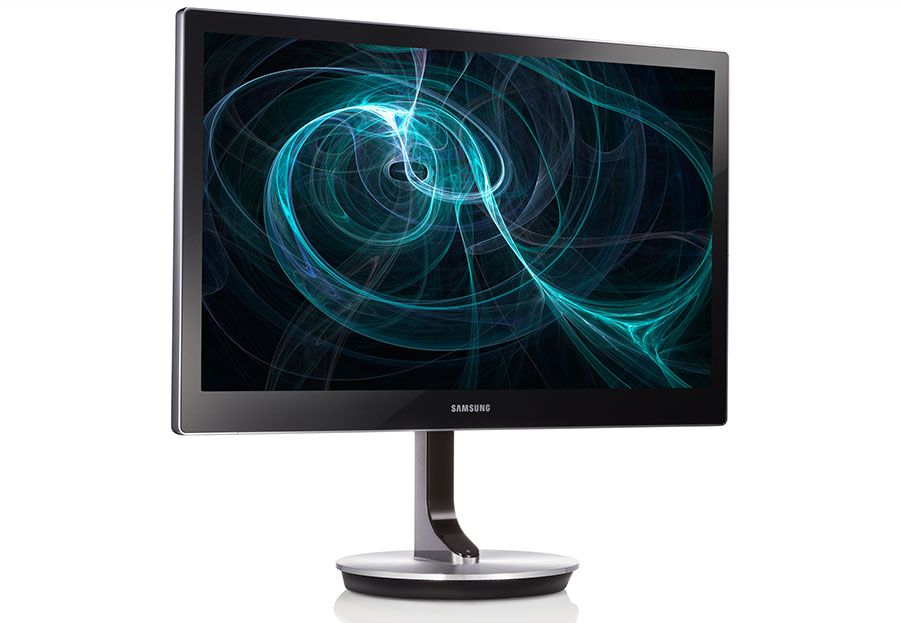 Aside for being tuned by specialists to get the best colour, the monitor also uses a proprietary Samsung technology to make sure the colour is as accurate as possible, while also featuring a 2560×1440 resolution in a 27 inch screen, higher than the Full HD screens out in the marketplace, and competing with many of the high-end screens from manufacturers such as Dell and Apple.
The SB970 comes with a rather heavy price tag at $1199, but does feature more ports for you to plug in on, including HDMI, DVI, DisplayPort, MHL (mobile display transmitted over microUSB in smartphones and tablets), and a USB hub.
While we're yet to see the new monitors Samsung has announced, one of the things we're noticing from the spec sheet is the types of panels being used, and none of them are Twisted Nematic.
A type of display that's often used in laptops and inexpensive screens, Twisted Nematic displays – or "TN panels" as they're more commonly known – are a pet peeve of ours, often showing washed out colours from vertical angles and requiring that you change your viewing position to get the best result.
In recent years, manufacturers have started shifting to better technologies, such as Vertical Alignment (VA-based displays), AMOLED, and the In-Plane Switching (IPS) screens used in the Apple iPad, among others, with much of this transition happening as a result of tablets and smartphones.
The good news about this is that it's also affecting monitors, evident by Samsung's announcement this week of the new monitors. All three of these look as if they're based on new versions of VA and IPS displays, with both the Series 7 models based on Vertical Alignment technology, while the Series 9 is an evolution of IPS.
With all of these displays essentially avoiding low-grade screen technology, consumers are the ones benefitting, and that's a good result in the end.
The trio of monitors should be hitting stores within the next couple of months, with both the ergonomic Samsung SC750 and colour-calibrated SB970 hitting stores now, while the touch-capable SC770 is scheduled to hit stores in August.