Samsung makes good phones. The Samsung Galaxy A70 packs so much into a mid-market device that it is a great phone.
Samsung has a reputation as 'king of the heap' in the Android flagship world. Rightly so as over the past few generations, it has focused on innovation as well as reliability. It was early to include IP ratings, Qi charging, multi-cameras and huge screen-to-body ratios. You can't go wrong. The Galaxy A70 proves this again.
But while all its attention was on its premium flagship Galaxy S-series, it lost ground in the mass-and mid-market. And it hurt as Huawei's Nova, Motorola's G-series, Nokia's everything, OPPO's R-and-A-series, and others ate Samsung's lunch – and then some.
DJ Koh, President and CEO of IT & Mobile Communications Division at Samsung Electronics knew it would take something special and he vowed to bring many Galaxy features to the lower-cost A-series. The result is a range of Galaxy A-series phones that are winners in every segment.
The Galaxy A-series range
Just released overseas is the Galaxy A80 with an innovative rotating triple camera – you have the same quality lenses and shots front and rear. When it gets here, we will be first in line to review it. And a Galaxy A90 may make its way here too. The Australian line-up of the Galaxy A-series includes:
GadgetGuy has a detailed specification comparison here.
How we rate smartphones
We develop comprehensive paradigms – what must a phone in a certain price category do? That way it avoids odious comparisons with other brands. Our original four categories have grown to seven.
Foldable $2500+
Premium Flagship $1600-2499 (usually a flagship with more memory/storage, additional camera lens and now 5G)
Flagship $1000-1599 (account for about 10% of sales)
Premium mid-market $800-999 (10% and often last year's flagship at run-out price)
Mid-market $500-799 (about 25% of the market)
Mass-market $200-499 (about 25% of the market)
Value pre-paid <A$199 (about 30% of the market – good for pre-paid and children)
The Galaxy A70 sits in the mid-market about $150 below the top of the category. It directly competes with Google Pixel 3a and the slightly more expensive Nokia 8.1, Google Pixel 3a XL, Samsung S9 (runout) and LG V40 ThinQ (runout).
The A20, A30 and A50 are in the mass-market segment. These variously compete (in order of price) against LG Q6/Q7, OPPO AX5/AX7, Huawei Nova 3e/i, Nokia 4.2, Huawei 3i, OPPO AX7/R11s, Huawei P30 Lite, Nokia 7.1 and OPPO Reno Z.
Buy here – or you will regret it
We issue the standard warning that you must buy the genuine model with Australian firmware as it works on all Australian Telco carrier LTE bands, has Australian signalling (for accurate billing) and can make a 000-emergency call (not 911) without a SIM. These also work with Australian PayWave readers.
The Australian model is SM-A705YNXSA. The 'YN' is Australia.
International models with A705FXXX are not for Australia.
Review: Samsung Galaxy A70 Model SM-A705YNXSA
In the box
Handset
USB-C charger 5V/3A, 9V/2.77A (25W) and USB-PD 3.3-5.9V/3A and 3.3-11V/2.25A
USB-C to USB-C 90cm cable
3.5 mm standard earbuds and mic
Factory fitted screen protector
Clear plastic bumper case
The Galaxy A70 first impression
You first notice the huge (6.7-inch), vivid, full 2.5D curved edge, flat Super AMOLED screen with very narrow bezels all round and a teardrop notch.
The back has a shifting hue material called Glasstic, and yes, it is a fingerprint magnet. It has a bottom-firing speaker, a 3.5mm headphone jack and three cameras (in the upper left).
Overall, it is a full screen (86%) glass slab, elegant enough and slightly taller and narrower (20:9 screen ratio) than most phones. It raises the bar enormously over Samsung's previous mass-market (non-Galaxy) A and J models.
Screen
Size: 6.7-inch
Resolution: 2400 x 1080
PPI: 393
Ratio: 20:9
Type: Super AMOLED with Always on display
S-T-B-R: 86.28%
Colour depth in bit/colours: 16m
Brightness: approx 550 nits to 700nits (peak)
Contrast: infinite due to OLED producing true blacks
HDR: No
Colour gamut: 98% sRGB (Natural) and Vivid (closer to DCI-P3 with RGB adjustment)
Colour temp: Slider cool to warm
PWM flicker: Negligible at higher brightness
G-T-G: 4ms
Delta-E: 1.8 (Natural) and 3.9 (Vivid)
Notch: Infinity-U centre teardrop
Screen protection: Gorilla Glass 3
Rear: Glasstic
Daylight readability: AMOLED is good for daylight legibility
It is an excellent screen not typically found in the mid-market. But Samsung makes great AMOLED screens, so why not use them to beat the competition – and it does.
At 98% sRGB (web colours) its very good for amateur photographers who want to see their photos on the internet. And it's quite good in the DCI-P3 space to show movies.
It does not have HDR capabilities. It will look best with 1080p SDR content.
Performance
Processor
Qualcomm SD675 11nm LPP
Six efficiency cores Silver (Cortex-A55)
Two power cores Kryo 460 Gold (Cortex-A76)
Spectra 250L ISP
AI engine
X12 LTE Modem
Hexagon 6854 DSP
GPU
Adreno 612
RAM
RAM: 6GB LPDDR4X
Storage: 128GB UFS 2.0 106GB free
OTG Support: Yes to 2TB
Micro-SD card expansion: 512GB
The Qualcomm SD675 is a fast, mid-range eight-core processor with an emphasis on power when you need it. The new 11nm die is LPP (Low Power Plus). It is in the new Motorola Z4 as well – this would normally have an SD855. It allows six efficiency cores to run from a very low 300Mhz and two up to 2Ghz. In idle mode it barely sips power.
There was no evidence of throttling under a 100% load stress test, and all cores maintained a consistent maximum GHz rating – excellent. The temperature under load was 37° near the camera.
It is faster than the 2017 Qualcomm SD835.
GeekBench 4 single/multi-core test is 2367/6554 with an overall 5901 Compute score. To put this in perspective, it beats a Samsung Galaxy S8.
It's fast, smooth and not laggy even with multiple apps open.
The Adreno 612 has an emphasis on good colour and screen performance, not so much games. Older mobile games to 30fps are fine, and you may be able to play PUGB.
Comms
Wi-FI
Wi-Fi AC, dual-band, 2×2 MIMO, Wave 2, VHT80
Max speed: 866Mbs
Wi-Di, Hotspot
BT
Bluetooth 5.0 with aptX
NFC
YES
USB
USB-C V 2.0
Wi-Fi signal strength is -55dBm and among the strongest tested to date. That means it will hold onto 5Ghz signals further from the router.
NFC supports Samsung Pay and Google Pay. You don't often get this in mid-range phones.
Sound/Video
Sound
3.5mm audio jack
Earpiece speaker
Down-firing mono 4W speaker
Mics – 2
Buds type: 3.5mm standard
Res
Qualcomm aptX and SBC codec
Record: 24-bit/192kHz in stereo only
Play: 24-bit/192kHz
MP3, M4A, 3GA, AAC, OGG, OGA, WAV, WMA, AMR, AWB, FLAC, MID, MIDI, XMF, MXMF, IMY, RTTTL, RTX, OTA
Video
Will downmix video content from 3840×2160@30fps to 1080p
MP4, M4V, 3GP, 3G2, WMV, ASF, AVI, FLV, MKV, WEBM
Speaker
This is a mono device – the earpiece and the bottom down-firing speaker are 1.0.
Maximum volume: Ring 83dB (great), voice and music 70dB – more than enough for a good hands-free experience.
Deep Bass: 20-40Hz – none
Middle Bass: 40-100Hz – none
High Bass: 100 to 200Hz – none
Low-mids: 200-400Hz – creeping in
Mids: 400-1000Hz – building
High-mids: 1-2kHz – flat
Low-treble: 2-4kHz – flat
Treble:4-6kHz – flat
High Treble: 6-10kHz – flat
Dog whistle: 10-20 – OK to 16kHz then off the cliff

It has no bass and low range mids leading to strong mids to upper highs making this bright vocal. That means a clear and crisp voice, but it can be shrill for music and movies.
You can play with the equaliser, but frankly, the single internal speaker is incapable of adding more bass or mids.
Headphones
The device is capable of high-quality BT and 3.5mm output in stereo (or more).
It also has 'adapt sound' to emphasise certain frequencies over headphones – Under 30 years old (favouring bass), 30-60 years old (favouring mids) and 60+ (favouring mids-higher frequencies).
We tested the 3.5mm buds – themselves a curiosity these days, and the sound was adequate. For better sound, buy better quality cabled buds.
Using our reference, Sony WH-1000Xm3 headphones and the aptX (not HD) sound was great. The sound stage was wide and separation excellent. The 'adapt sound' pre-sets make quite a difference to our Sony headphones but no more so that the Sony pre-sets themselves.
Other
Other
Under glass fingerprint sensor FPC102X
Face recognition as well as swipe, pattern, pin or password
GPS
Single channel GPS, QZSS, GLONASS, SBAS, Beidou, Galileo
An under glass fingerprint sensor is as yet unheard of on a mid-range device. It's a bit finicky, but you get used to it. I prefer Face Recognition, which is fast and accurate.
GPS use was excellent for a mid-range device with not one missed turn and adequate announcement notice.
Battery
Battery
4500mAh battery
USB-C charger 5V/3A, 9V/2.77A (25W)
Supports USB-PD 3.3-5.9V/3A and 3.3-11V/2.25A
GeekBench 4 100% load: 12 hours and 13 minutes100-0% battery
Supports Quick Charge 4+ and achieves 50% in around 35 minutes
Approx recharge 0-100% 1.5 hours
The battery is very large for this class of device. Coupled with the power-sipping SD675 can produce some amazing battery statistics.
Tests:
1080p Video loop, 50% brightness, Airplane mode up to 20 hours
Audio playback (claim) 128 hour
GeekBench 4 battery test (100% load, screen dimmed and aeroplane mode): 12+hours
100% load, maximum brightness, Wi-Fi/BT/NFC on: 5 hours
Given typical use we expect this to run for 24+ hours between charges.
4G LTE
LTE
X12 LTE 600/75
Bands 1, 2, 3,4, 5, 7, 8, 12, 13, 17, 20, 28, 28, 40, 41, 66
Sim
Single Sim
Separate microSD slot
Other
VoLTE – Yes
VoWiFi – depends on carrier
The signal reception was very strong and up there with those with a Telstra Blue Tick for regional use; -83dBm compared to the reference Samsung Note9 of -95dBm (lower is better). It also located the next nearest tower at -111dBm – excellent.
It appears that only the single sim version is for Australia.
Operating system
OS
Android: 9
One UI: 1.1
Galaxy special apps including Samsung Pay, Bixby, Camera, Health,
Google apps (all) plus Lens, Assistant
Spotify, Netflix, Facebook, and Microsoft apps
Android Pie has loads of features, including AI, to learn about your use and adapt the phone to it. In the test week, we started to see minor improvements, but we would not expect to see Pie AI kick in for a month or so.
I like Samsung One UI. It is a light touch over Android 9 (and 10 etc) and is a bit like the grease on the wheels. It smooths over the rough edges of pure Android and works flawlessly. It adds things like night mode and dual app use.
Bixby is Google Assistant's access to the phone. It has been beefed up for countries where Google is not available.
The phone has Knox 3.3 protection, including secure folders with face recognition access.
Build etc
Colours
White or Black
Build
Plastic frame with Glasstic shatter resistant back.
Reasonable grip
Good rigidity – no #bendgate here
Dimensions
164.3 x 76.7 x 7.9 mm x 183g
IP Rating
No
Few mid-market phones have an alloy frame, and the plastic frame resists all attempts at bending.
Glasstic (Wiki article here) is a marketing word for a mix of organic polymers and non-crystalline amorphous solid glass that gives it high plasticity (deform without breaking – high shatter resistance) rather than glass that will shatter, break and flake off.
It has approximately the same Mohs hardness scale as glass (approx. 6-7) on a scale of 0-10 (higher is harder), so it should wear as well.
Gorilla Glass (a mixture of alkali-aluminosilicate and glass) trades off between scratch resistance (GG 4/5 has a 9 rating) and shatter resistance (GG 6 has a 6-7).
Bottom line – it could be a good idea to use a bumper cover.
What's missing
Missing
IP Rating
Notification LED
An IP rating is not an invitation to go swimming – it is for accidental drops in the toilet and to protect in inclement weather. Because of the design (all bar a microphone hole is in the base and the fused construction means this is perfectly fine if caught in the rain.
It is a shame there is no notification LED but it has an Always On Display Lock Screen that more than makes up for it.
Camera
Note there is currently no other three-lens rear camera in the mass-market
Rear Camera 1
Primary
MP: 32MP binning to 12MP
Sensor: S5KGD1 RGGB
Pixel Size: .8um (binning to 1.6um equivalent)
F-stop: f/1.7
ISO: 100-800
FOV: 78°
Stabilisation: No OIS – EIS for 1k@30fps video
Focus type: PDAF
Zoom: 8X digital
HDR: Auto
AI scene recognition
Flash type: single,
Saved images: RAW or JPEG
Video:4K@30fps with stereo recording
Google Lens: Yes
Rear Camera 2
5MP depth and live focus
S5K5E9
F/2.2
1.12um
Contrast autofocus
Rear Camera 3
8MP Ultra-wide angle
S5K4HA
f/2.2
1.12um
Contrast autofocus
FOV: 123°
Selfie 1
32MP
S5KGD1
F/2.0
Focus: Fixed
Stabilisation: no
Flash: no
Video: 1080@30fps
Camera overview
It is a triple camera, but, the 5MP is just for depth (bokeh and live focus). You have a standard and an ultra-wide lens that you select from (two trees or three trees icon).
The 32MP sensor has small .8um pixels. While that is good for fast focus and low noise, it does not capture the light that larger pixels do. So, it does what the Google Pixel does – pixel bin (stack) to give a significantly larger 1.6um pixel size equivalent and saves as a 12MP file. It works well in daylight and office light and adequately in low light.
You can shoot in 32MP for exceptional detail, but you lose HDR, and it has slower focus and a couple of seconds for post-processing times.
The same 32MP sensor is also on the selfie lens and defaults to pixel binning and 12MP.
AI software
It has an extensive range (20) of scene optimisers, flaw detection (detects blinks and blur), AR emoji etc.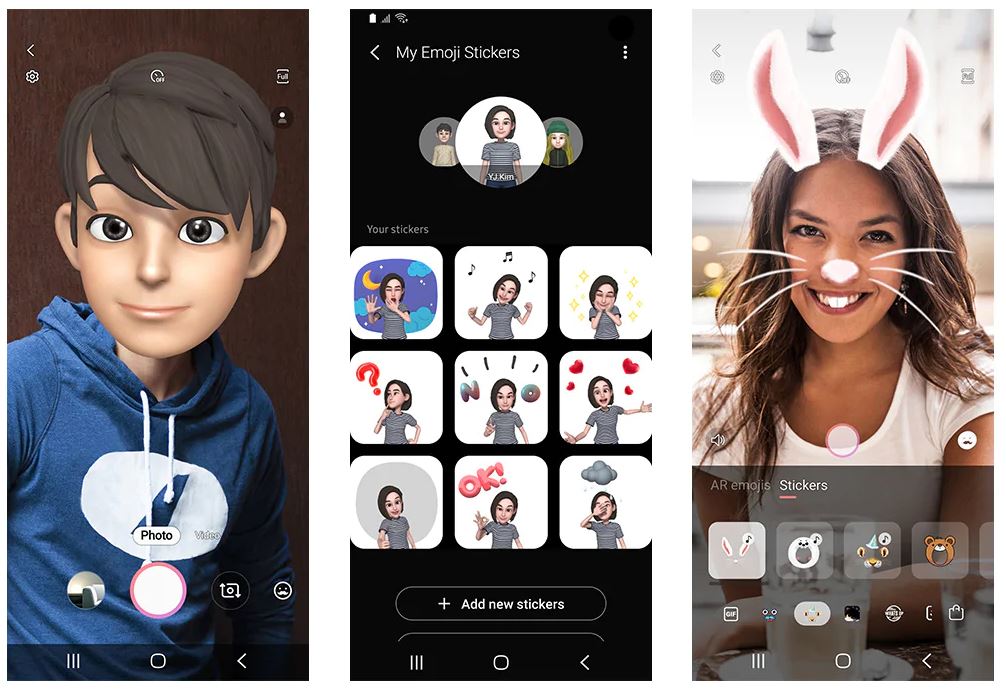 Tests – all auto
Daylight, outdoors
Perfect colours and detail. Scene optimisation detected Blue Sky – it made little difference to this perfectly exposed shot. HDR is automatic.
We also shot in Ultrawide, and as expected with a 123° FOV, it produces curved images towards the edges.
Indoors Office Light (400 lumens)
Good colour, definition and detail.
Low light (room with less than 100 lumens)
Colours were adequate, but the details were missing. Too much blow out on the computer monitors. Low light is its weakness, and we suspect Samsung will be working on firmware updates to correct this. It also lacks night mode.
Selfie
32MP means lots of detail, but the camera defaults to 12MP (pixel binning). If the light is good you will get great detail and good colours – an above an average selfie. The lack of fill light or flash means lower light selfies are not on.
It also has normal and close modes – the latter is just by cropping the centre 8MP from the 12MP image.
Bokeh
The 5MP lens captures good depth information an enables post-processing to adequately separate the foreground from the background. The same caveats apply – it works really well in good day and office light and misses the mark in lower light.
Video
It will do 4k@30fps, but in our opinion, it is pushing the capabilities a little too much in anything but good daylight. Where it excels is 1080p@60 or 30fps (where EIS kicks) in, and you can't fault colour or detail in a good light.
Camera summary
For a $649 phone its excellent. It has a weakness in low light, but despite this its more than you can expect for the money.
GadgetGuy's take _ Samsung is on a winner with the Galaxy A70
While reviewing the Galaxy A70 I kept reminding myself it is a $649 device, yet it has features that cost a lot more in other devices. If we rate this as a mid-range device, it is 5-out-of-5 – hands down. It loses a point here or there because of low-light camera performance, and it should have an IP rating – even if it's very low.
Samsung is on a winner here. It is by far the best mid-range yet. You buy it for a reasonable camera, great battery life and that huge screen – in fact, the largest AMOLED on the market.
It has a great mid-range Qualcomm SD865, terrific performance and Samsung quality. It is for those who want an immersive AMOLED screen.
The Galaxy A50 uses a similar camera setup, but the processor is a Samsung Exynos 9610, and we are yet to see how that compares in post-processing power. We suspect it is similar the SD675. The A50 at $499 may be the sweet spot and sits in mass-market pricing.
Samsung Build quality is excellent - looks more expensive than it is
Battery life is excellent, and 25W charger is totally unexpected
Wi-Fi and LTE signal strenght reception is excellent
Huge display and 98% sRGB - perfect for social media
Great day and office light camera
No IP rating
Not for hardcore mobile gaming
Many expect dual sim now in this price bracket