Let's face it – the Samsung Galaxy Buds Live look like jellybeans and, well, that is probably a good piece of design. Down with in-ear-canal buds!
Audiologists state that ears and canals are as unique as fingerprints. Buds are a one size fits all regardless of whether they have a range of soft tip sizes.
In-ear-canal buds boost the 'apparent' volume by up to 10dB. While over the ear headphones may reach 80dB (traffic noise level) buds can reach 90+dB motorcycle level. That is one reason why audiologists universally recommend over-the-ear headphones.
Buds can go too far in the canal pushing ear wax further inside. That means you need to play music louder to get through that mess. The ear canal is extremely sensitive, and buds often cause ear infection unless the soft rubber tip is disinfected between use.
'Earonomically' individually designed in-ear-canal hearing aids are fine for 24×7 use, but earbuds are not. Listen to your mum, who should have issued the universal warning, "Don't put anything smaller than your elbow in your ear."
Anyway, that is a good introduction to Samsung Galaxy Buds Live.
There are so many ear 'health' reasons to move to this design. You see active noise cancelling relies on a wedge-tight fit into the ear canal and produce an abnormal pressure on the eardrum.
The Samsung Galaxy Buds Live address the issues of in-ear canal buds.
First, they don't go in-ear canal at all. Samsung calls its design 'Open Active Noise Cancellation' where the soft noise isolation pads (two pad sizes) gently seal around the outer ear. It solves the Apple EarPods issue while giving reasonable noise isolation.
At this stage, we can't tell if they are any more prone to falling out – you will have to wait for the review for that.
Then there is the noise cancellation tech. It can reduce background noise by up to 97% in low-frequency bands.
iFixit has a teardown here, and the buds score a remarkable 8/10 for repairability. The top cover pops off. BTW – Apple EarPods get 0/10 for repairability.
Specs
27.3 x 16.5 x 14.9mm x 5.6g each
AKG 12mm driver and passive bass reflex
Active noise cancellation uses an external mic to generate the corresponding anti-noise
True Wireless Broadcom BCM43015 including BT multi-point to share content
BT 5.0 audio with SBC, AAC and a new Samsung scalable codec supports UHQ (24bit&96Hz) on Samsung smartphones. Also Windows 10 Swift Pair compatible
Accelerometer, Infrared, Hall, Touch, Grip, Voice Pickup Unit
Three mics per bud plus voice pickup unit (jaw vibration – similar to bone conduction)
Water-resistant IPX2
Easily replaceable CP1254 AC 3.7V/.2Wh Li-Ion battery for between 5.5 and 8 hours (ANC on/off).
Bixby (for use with Samsung smartphones)
Touch controls – either ear
Spotify integration
Android or iOS
Mystic Bronze, Mystic White and Mystic Black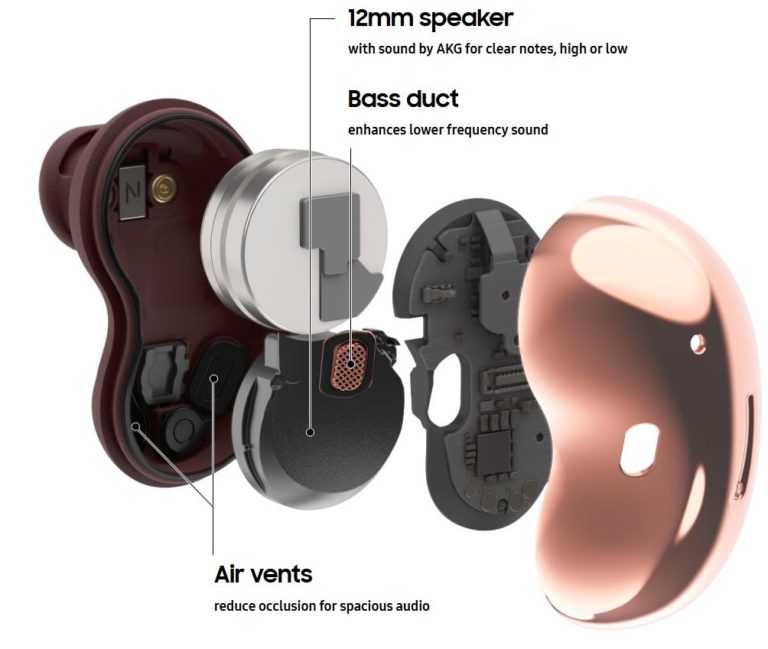 Case
50×50.2×27.8mm x 42.2g
Qi wireless charge (5W)
Battery 3.85V/472mAh/1.81Wh (not sure about third-party availability)
Additional approx. 15 hours case recharge
5-minute charge = 60 minutes play
GadgetGuy's take – Samsung Galaxy Buds Live is a bold step in the right direction
They are the first 'buds' that I feel comfortable wearing – wait for the review.
They are eminently repairable – easy to replace batteries means these are a keeper.
And they are look kind of cool. Although I won't be wearing Mystic Bronze!
They are not a replacement for the also new Galaxy Buds+ (review here 4.3/5) but a superset of features that more than justify the $319 price (Website here).