Samsung Galaxy Buds Live have affectionately been called Jellybeans, but one thing is for sure – the type of buyer it targets won't care.
Samsung Galaxy Buds Live are, well an unconventional luxury experience. From the Mystic Bronze (or white or black that we don't consider that deserve to have the pre-nominal 'Mystic'); the pretty ring box shaped Qi charge case; the odd kidney/jellybean shape; and even the price – $319. These are the Galaxy owner's chic Kardashian accessory.
So perhaps I am the wrong person to review them. As a budding audiophile, I can pick every little flaw, but I can also compliment where they excel.
Let's be clear up front. They are not an audiophile's delight. Noise cancelling is average at best, and yes, they did fall out during exercise. But I expect Galaxy Buds Live owners won't give a 'whatev darling' about specs or performance. It is a fashion item with pretty respectable performance all around.
Australian review – Samsung Galaxy Buds Live Model SM-R180NZW
Website here
Price: $319
Warranty: 12-months
Country of Manufacture: Vietnam
Samsung is a South-Korean global supplier of smartphones, tablets, TVs, home appliances and more.
We use FAIL, PASS and EXCEED against all test parameters. PASS meaning it meets all our expectations.
First impression – EXCEED
A pregnant jellybean. Mystic Bronze is not my colour, but the white version is quite tolerable.
The Qi/USB-C ring box charger case would be at home at a jewellery shop. It comes with a USB-A to USB-C 80cm 'too short' cable and pair of larger slip on wingtip seals.
Fit – you must get it right – PASS
Size: 27.3 x 16.5 x 14.9 mm x 5.6g – these are light
Remember these are noise cancelling so there should be at least some noise isolation. There is not. They do not fit into your ear canal (and that is a good ear health thing).
They rely on a kind of reverse twist and insert and locate the ear wings (small and large 'rubbers' provided) at the top of your ear (ear pads inwards and upwards) and the speakers over your ear canal.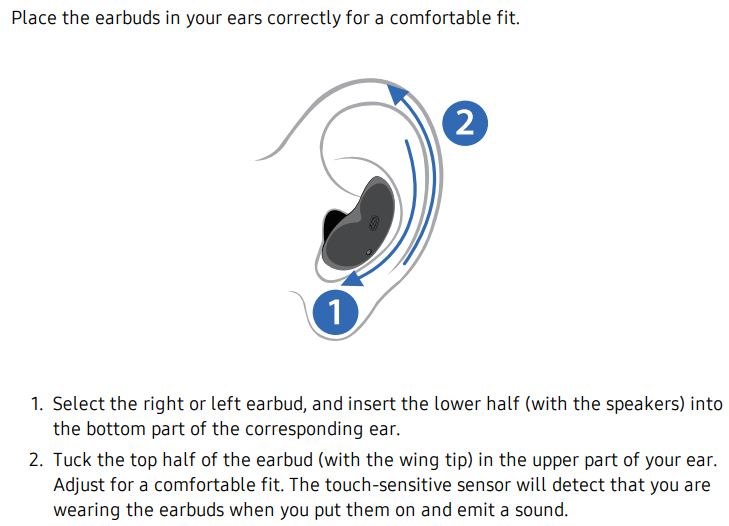 Over a week of use, I perfected the insertion and de-sertion. They have a tendency to pop out during exercise if not properly placed.
Setup – PASS
You must use the Samsung Galaxy Wearable app. It works on Android and iOS. The app requires you to have a Samsung account, but overall, the privacy provisions are reasonable. It also integrates the Buds with Smarthings – Samsung's IoT app.
Volume – PASSable
I have heard louder, but these pass for adequate volume levels. The Galaxy Buds+ are a tad louder, but that is because they are in-ear canal.
Sound stage – PASS+
While its normally no wider than your head, there are times where you swear the sound is coming from several centimetres outside it. It also has particularly good Left/Right separation, and you can hear
Noise cancellation – FAIL – well, barely pass
Noise cancellation relies on two things.
First, sound isolation is to reduce noise above 800Hz and 85+dB and relies on a good fit between the ear canal and the buds. These do not have any sound isolation, so you will hear things like washing machines, dryers, and vacuums as if they were right there.
Next, generating anti-noise from 20-800Hz and volume – 60-85dB like office chatter or traffic noise. ANC aims to reduce extraneous noise somewhere between 20-30dB without affecting the content.
We can't easily measure this apart from having a conversation with the ANC switch on and off. It makes very little difference. In the end, I turned ANC off as it improved the sound signature. But note that you also may need to turn the 'relieve the pressure with ambient sound' button on.
Sound signature – PASS to PASS+ depending on the content
It has Equaliser options – we tested all on a variety of jazz, rock, instrumental, classic and synth.
Normal is the best setting. It has a modicum of bass (100Hz) that drops off very quickly (recessed)
Bass adds a tad
Clear boosts mid-range a little clearer voice
Treble Boost – forget it as these have treble in spades!
Dynamic – we could not work this out
The natural signature is close to Balanced: (bass boosted, mid recessed, treble boosted) also called V-shaped and the default on many devices – despised by audiophiles. It is best for hip-hop, pop, synth and instrumentals.
Balanced means the EQ can slightly adjust the signature towards either
Bass: (bass boosted, mid/treble recessed) – for bass music but can sound boomy or muddy
Analytical: (bass/mid recessed; treble boosted) – crisp but can be overly harsh and not pleasant for most music
Balanced is almost the opposite of warm and sweet that can go between bass and mid-centric.
So, the sound signature is PASS for $319 but nowhere near the audiophile quality of the Sennheiser Momentum 2 4.7/5 for $549.95.
If all that is gobbledygook read our guide to sound signatures and why it is so important.
Deep Bass: 20-40Hz – nil
Middle Bass: 40-100Hz – nil to about 80Hz peaking at 107Hz
High Bass: 100 to 200Hz – declining
Low-mid: 200-400Hz – declining
Mid: 400-1000Hz – flat
High-mid: 1-2kHz – building
Low-treble: 2-4kHz – flat
Treble:4-6kHz – flat
High Treble: 6-10kHz – a slight decline to avoid treble harshness
Dog whistle: 10-20 – flat to over 20kHz
Latency – PASS
On the Samsung Galaxy S20 Ultra, there is noticeable latency. On a lower cost MediaTek smartphone using SBC, there is a hint of latency between audio and video.
Codecs – PASS+
BT 5.0 audio with A2DP, AVRCP, HFP. It uses the SBC, AAC and a new Samsung scalable codec supports UHQ (up to 24-bit/96-512kbps) on Samsung smartphones. It is also Windows 10 Swift Pair compatible.
We could not identify the codec in use. Our test was on a Samsung Galaxy S20 Ultra 5G, so we assume it was using its scalable codec (that appears to be aptX/LL compatible on Qualcomm Snapdragon smartphones).
BT 5.0 allows you to store up to eight device connections and auto-switch from one to another, although you may have to place them in the case to disconnect the buds from some devices before swapping.
We tested on a Windows 10 Surface Pro 7, and it was definitely SBC. Volume was a tad better than from the smartphone.
Microphones – EXCEED
There are three ANC mics per bud plus three mics, including a voice pickup unit (jaw vibration – similar to bone conduction). It has one of the better handsfree phone results.
Touch controls – PASS
You have the choice of what the right bud does on a long hold – ANC, Bixby, Volume Up or Spotify. The left bud then can be any of the above (except what you chose for the right). It takes a bit of learning to get the hang if tap, double-tap, triple-tap and touch-and-hold. You can also block touches.
Battery – PASS
It has USB-C, Qi charge and the ability to reverse charge if you have a compatible Samsung Galaxy Smart Phone.
The buds use an easily replaceable CP1254 A3, 3.7V/.2Wh Li-Ion battery for between 5.5 and 8 hours (ANC on/off). We achieved over six hours with ANC and almost eight hours with AMC off.
The case has a 3.85V/472mAh/1.81Wh (not sure about third-party availability) for about 15 hours recharge. It has 5 minutes for one hours play.
Charge time: The case seems to take hours on Qi (5W) – it was over seven hours. We did not test USB-C 2-3 hours.
The buds take under one hour to go from 0-100%.
Bixby – who? FAIL
You can summon Hi Bixby just by saying it. When will Samsung realise that Google Assistant is the preferred voice assistant here?
It will read aloud all announcements and notifications from the smartphone.
Spotify integration – PASS
Once you select a playlist on your phone or PC, you can pass it off to the Spotify client. You need to activate the Spotify 'tap'.
GadgetGuy's take – Samsung Galaxy Buds Live is interesting but more a fashion statement than serious buds
For the review, I wore these for an hour each day for a week and then for eight hours.
The best thing I can say is that I grew used to the sound signature that is perfect for classic jazz like George Gershwin's Rhapsody in Blue with lots of pianos, trumpet, woodwind and sax. It is crystal clear, and the spatial separation is superb.
The worst thing I can say is that my favourite test track, The Blues Brothers Peter Gunn Theme lacks 'oomph' – that guttural power that only good headphones can bring out.
I think Samsung has made a marketing mistake calling these ANC buds. That puts them up against far better buds. If they had coined a better name like open vent 'noise calming' then it would have scored so much better. But then I would probably save money and get its Galaxy Buds+ ($299 4.3/5)
Would I use the Samsung Galaxy Buds Live daily?
Probably not for me. My daily buds are the Jabra 75t (review here RRP $299) that are IP55 and have more of a warm and sweet sound signature (I Play more Blues Brothers than Gershwin). Audiophile Thomas Bartlett likes the $399 Sony WF-1000XM3 that have true ANC – 4.6/5.
If you are considering these, then place a value on the fashion statement. Otherwise, they are just good buds with way too much competition.
iFixit has a complete teardown and gives the buds record 8/10 for repairability!
Positives
SBC, AAC and Samsung Adaptive codecs
Qi, reverse and USB-C charging
Microphone quality is superb
A better alternative than AirPods
Negatives
No noise isolation and a low level of ANC
IPX2 is not for exercise