Samsung announced two big phones in August, with a phablet for every purpose: style and substance. We've done style, so let's find out what Samsung's answer to substance is really like, the Galaxy Note 5.
Features
The latest iteration of Samsung's other major smartphone series (the other being the regular "Galaxy" phones) is here with a faster belly, more solid skeleton, and a brighter view on the world.
First off, there's what inside that counts, and here on the Note 5, you'll find an eight-core Samsung processor made up of one quad-core section clocked at 1.5GHz and another quad-core section sitting at 2.1GHz, bringing the total speed to 3.6GHz.
Samsung is pairing this processor with 4GB RAM, and in Australia providing a total of 32GB of storage on the unit, with no microSD slot in case you wanted to upgrade it.
Google's Android 5.1 "Lollipop" runs on the Galaxy Note 5 out of the box, complete with the latest incarnation of Samsung's TouchWiz Android overlay.
Connections are next, and for that you'll find quite an array of support for a flagship phone, complete with 802.11a/b/g/n/ac, Bluetooth 4.2 with support for A2DP, Near-Field Communication (NFC), GPS, and 4G modem support running on the new high-speed Category 9 technology, one of only two phones released in Australia (at the time of publishing) to support this new high-speed connectivity.
Cameras are also here, too, with Samsung equipping the Galaxy Note 5 with a 16 megapixel rear shooter with flash, while the front-facing camera gets a 5 megapixel camera module.
The rear camera can also capture video at 4K Ultra HD if need be.
A fair amount of sensors can also be found here, too, with a barometer and heart-rate monitor complimenting the typical assortment of an accelerometer and proximity sensor, and Samsung has even seen fit to throw in a fingerprint sensor underneath the home button.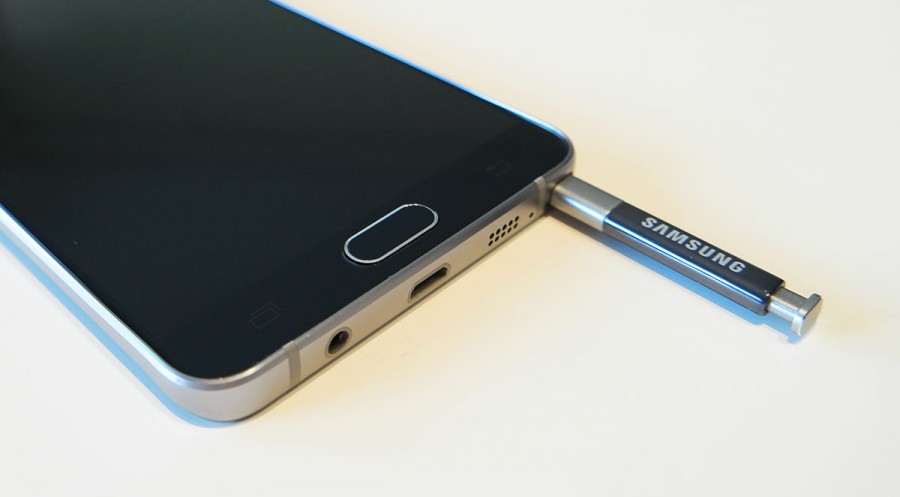 Also a little different in this smartphone from other smartphones is the inclusion of a stylus.
This is the S-Pen, Samsung's magnetic external input device that works in tandem with the special screen the Note series of devices relies on, allowing you to scrawl and scribble notes on the device and save them. The tip of the S-Pen is much finer than that of capacitive stylus pens, helping the S-Pen to feel more like that of a regular pen for writing.
And this works in conjunction with the screen, which is also a little different from what other companies may offer.
For the Galaxy Note 5, you'll find a 5.7 inch Super AMOLED display running at the Quad HD resolution of 2560×1440, providing a pixel clarity of roughly 515 pixels per inch. Corning's scratch-resistant Gorilla Glass 4 protects this display, which should prevent the odd key from cutting deep into the screen if left together in the same baggage.
Buttons on this handset are your typical Samsung variety, with two volume buttons on the left edge, one power button on the right, and three buttons below the display, offering a soft button for multitasking, the physical home button with a fingerprint sensor beneath it, and a soft button for back. Both of the bottom soft buttons are backlit.
Ports are few, however, with only a 3.5mm headset jack and microUSB charge and data transfer port down below, while a nanoSIM slot sits up top ejected through a pin ejector tool.
The battery in the Galaxy Note 5 sits at 3000mAh and is not removable, however Samsung does include a wired fast charger in the box. Samsung's Galaxy Note 5 includes support for wireless fast charging which can be found through an optional accessory.
Performance
If you've ever wondered how a tablet could improve a smartphone, you've never played with a Galaxy Note.
The concept is one Samsung came up all by its lonesome, and is a combination of the two areas, as a big phone is created with functionality found in both categories, but with extra use from a stylus, allowing the written and scribbled word to be used, also.
Back in 2011 when Samsung first unveiled this concept in the Galaxy Note, the idea was panned, with some saying it would never work, and that it would never reach critical success. Four years on and with Apple joining the area, the phablet has been a huge win, and is now one of those devices to be considered when you're not sure what you need, and when you can't live without a big phone ever again.
That's just what it's like for some people: once you go with a big phone, you'll never go back to something small again. Your hands just won't adjust.
For the fifth generation product, Samsung isn't interested in a minor touch up, though. It's not here to gloss over the excellence that you could find in the Note 4 and just add in a new processor. Rather, this is about tightening up the world's main phablet, and about making it a showpiece for all to admire.
Does it succeed?